What are you looking for in a partner?
While many singles have a short list of requirements for their perfect match, including physical attractiveness, personality, and hobbies, others have another very important detail on that list – net worth.
We aren't talking about gold diggers or sugar babies; we're referring to singles with a lot of wealth who want to date those who are used to a more opulent lifestyle.
If you are a wealthy single who wants to stop wasting time looking for your wealthy peers on mainstream apps, Millionaire Match may be a great site for you.
To learn whether Millionaire Match lives up to it's high end claims, we took a deep dive into everything they have to offer. Before you spend any money or time on this app, take a look through our review to see if Millionaire Match is right for you!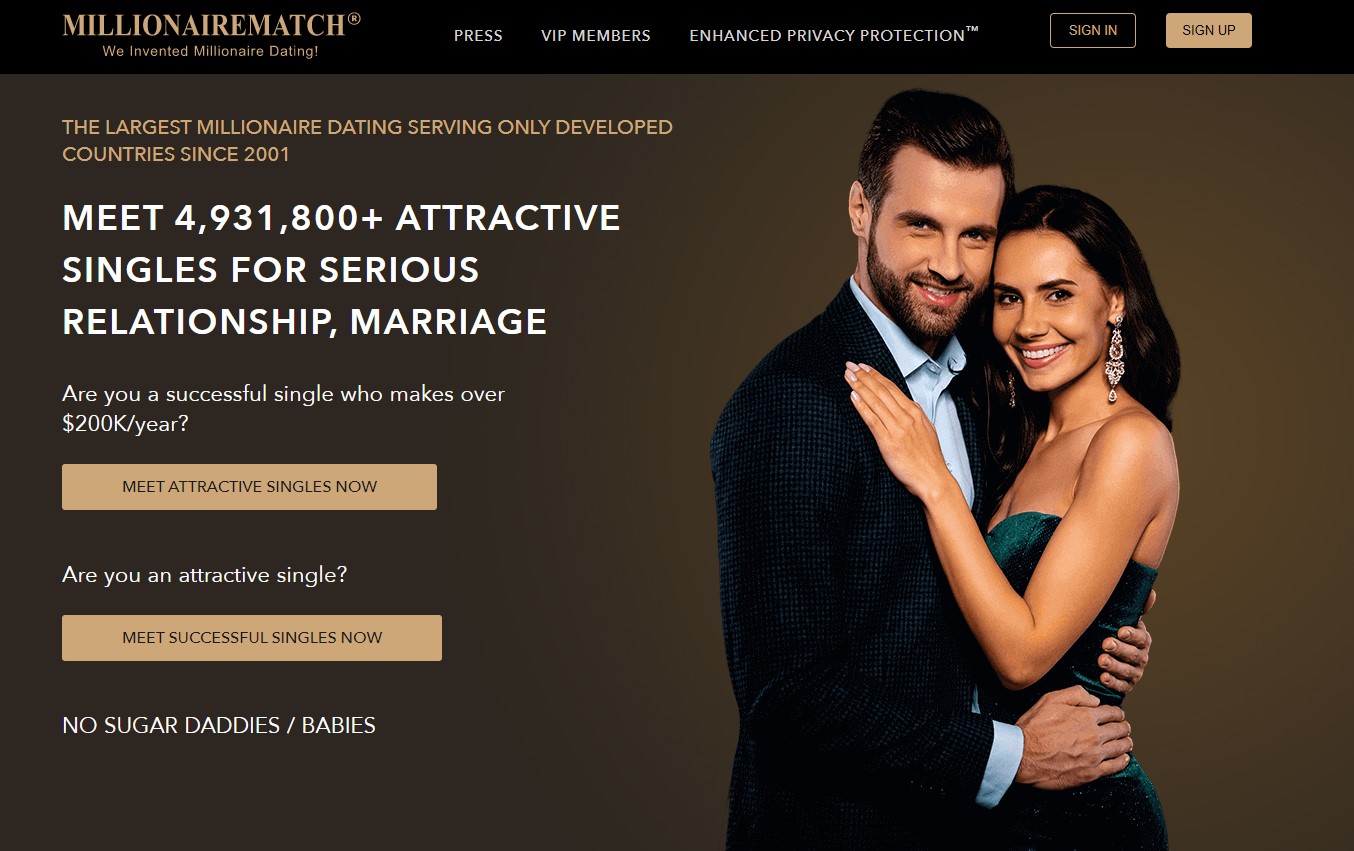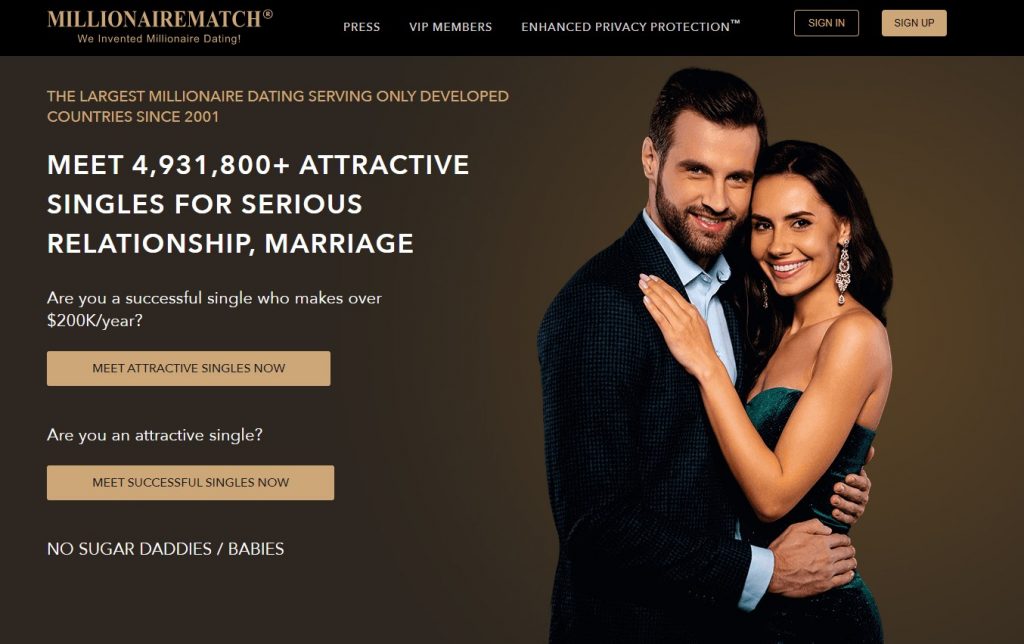 Millionaire Match – The Bottom Line Up Front
Dating as a wealthy single can be difficult. You constantly have to wonder about things like if someone is only interested in your money, or if your watch will fit in among a certain crowd of peers. If these concerns sound familiar, Millionaire Match may be a good fit. The site is 100% dedicated to helping wealthy singles connect with people interested in dating someone just like them.
The site pushes hard that it's not a sugar dating app or a place for gold diggers. It's simply a dating app that caters to people making somewhere over $200k a year. During our Millionaire Match review, we found the site has almost 5 million members, 2 million monthly conversations (people are active), and a lot of accolades from places like Forbes and the Wall Street Journal.
So, is Millionaire Match a good investment? We think so. At the very least, you should take a minute and poke around a little bit to see who might be available in your area. And while we know money may not be an issue for you, we do have a link below for a free trial to check things out.
---
Overall Millionaire Match Rating
| Category | Score |
| --- | --- |
| Quality Matches | 9.0/10.0 |
| Features | 8.5/10.0 |
| Ease of Use | 8.5/10.0 |
| Support | 8.0/10.0 |
| Cost | 8.0/10.0 |
| Overall | 8.5/10.0 |
8.5/10.0
Pros and Cons of the Millionaire Match Dating App
Pros
A great place for singles making over 200k a year to meet!
Has highly rated apps for IOS and Android.
Avoids sugar daddies and sugar babies for a classier, more effective dating experience.
The App has a large middle-aged user base, which leads to a more mature environment.
Cons
Some gold diggers slip through the cracks and manage to make free accounts.
The free membership is very limited.
The paid memberships are slightly pricier than mainstream dating apps.
Who Millionaire Match Is Good For
Wealthy singles tired of dealing with gold diggers while online dating.
High quality singles who are willing to pay more for better amenities.
Those interested in a free trial of an elite dating app.
Singles who are well established in their lives and careers.
Who Millionaire Match Might Not Be Best For
Low income singles who cannot relate to a wealthy lifestyle.
Gold diggers and sugar babies searching for rich older singles to support them.
Millionaire Match Review – Table of Contents
Fast Facts About Millionaire Match
Site Name: MillionaireMatch.com
Paid or Free: Paid site with a limited free trial
Average Sign-Up Time: 5-10 minutes
Paid Membership Pricing: Plans starting as low as $45 per month
Unique Millionaire MatchFacts and Figures

Millionaire Match has over 4.9 million members and counting!
The platform hosts over 2 million monthly conversations.
The majority of users with the certified millionaire badge are men.
The average age of Millionaire Match users is between 35 and 50.
The app has a 4.7 star rating on Google Play.
The app has a 4.9 star rating on the Apple App Store
Millionaire Match Features Overview
Millionaire Match provides a large array of high-end features to ensure that the singles using the platform get the most for their money. Some features are fairly standard (messaging, liking, searching, etc.), but we are mostly impressed by the additional features you won't find on just any dating app. Here are a few of our favorites:
Certified Millionaire
When you use sites that cater toward the rich and elite, you can sometimes run into singles claiming to be more prestigious than they really are. Luckily, Millionaire Match has a certification system that allows Millionaires to prove their net worth and receive an accolade on their profile.
Featured Member
Premium subscription holders become featured members that are highlighted and shown at the top of search results. This can greatly increase your odds of being seen on the app and leads to more matching and communication.
Luxury Feed
Millionaire Match has some social-media style features to it ranging from a blog space to a social feed. This feed is where singles can post their luxury purchases to share with other singles on the site. It is a fun way to see what other singles near you are interested in.
The Quality of Singles at Millionaire Match
Overall, Millionaire Match is flush with fantastic, wealthy, attractive singles. In fact, a free Millionaire Match account you will grant you access to view the profiles of over 5 million successful singles on a network that creates over 2 million conversations each month.
Just the name alone is a dead give away that the singles on Millionaire Match of a very specific quality! However, there are a few things working against the platform. 
There is still a possibility to run into gold diggers and sugar babies who have lied their way into a free account. Though the site's mods claim this to be a rare occurrence.
You will be finding people based on their wealth and looks, which may not account for personality.
How to Sign Up at Millionaire Match
Signing up with Millionaire Match is fast and easy. All you need is your name, email, and phone number to begin the signup process. You will also need at least one photo of yourself.
The majority of the signup process involves answering questions and prompts to fill in your profile and provide a basis of information for your matches to view. The process takes around 5-10 minutes depending on how much you want to say and how quickly you type!
Price | How Much Does Millionaire Match Cost?
| Membership Type | Monthly Price | Total Price |
| --- | --- | --- |
| Premium - 1 Month | $70.00 | $70 |
| Premium - 3 Months | $56.67 | $170 |
| Premium - 6 Months | $45.00 | $270 |
---
Millionaire Match is definitely more expensive than a lot of popular dating sites. There are a few reasons for this. 
First, Millionaire Match's premium features are extensive. We will discuss these features in detail further in this Millionaire Match cost breakdown, but there are dozens of advanced features available for the cost of a premium membership.
Another reason the price is higher is to match the status of using the site. This is a platform for wealthy singles, and being able to pay the premium membership cost helps to prove your wealthy status.
The last reason the prices seem high is because of the bundling option. If you bundle together 6 months of service into one payment you are saving around 65% on the standard monthly cost. So, the prices may seem high at first glance, but they break down to a fairly reasonable price that is comparable to standard dating sites.
Payment Types Accepted at Millionaire Match
Millionaire Match can be paid using a few different methods. The main method is credit/debit card. Most major cards are accepted (Visa, MasterCard, Discover, Amex, etc.). You can also use Paypal CCBill to pay for your subscription.
How Will Millionaire Match Show Up On My Bill?
Millionaire Match makes your billing and records keeping very simple. Your membership will show up on your bill as "MillionaireMatch."
Is My Millionaire Match Membership a Recurring Charge?
Yes. Your membership will renew automatically at the end of your billing period (1 month, 3 months, 6 months). To prevent your membership from renewing, you will need to cancel the auto-renewal before the end of your billing period.
Millionaire Match Customer Support Review
Millionaire Match has a middle of the road customer support setup. The majority of support comes through their FAQ page, which is filled with useful information. However, direct contact can only be made through an email address. This includes direct contact regarding urgent issues and billing problems.
Those who pay for a premium membership gain access to live chat sessions with their "counsellors," which is a slight improvement to the customer support options. Though, we'd like to see expanded live support for all users.
Millionaire Match Free Trial
It might seem surprising that a site that caters toward the richest singles in the world offers a completely free trial, but it's true! The Millionaire Match free trial is genuinely, 100% free and has no expiration date! If you're ready to give Millionaire Match a try you can claim your free trial using the button below (if not stay tuned to learn more about what you will and won't be getting).
What You'll Get With a Millionaire Match Free Trial
With a free Millionaire Match account you will get access to view the profiles of over 5 million successful singles on a network that creates over 2 million conversations each month. On top of that your Millionaire Match trial will unlock all the following features:
Live Chat Support
Respond to Messages
Winks
Upload to a Private Album
Show Off Luxuries
Create and View First Date Ideas
Profile Notes
Post and Answer Match Questions
Spark Feature
Advanced Blog Tools
View User Activity
Post Comments on Profiles, Blogs, and More
Access to Mobile App and Site
Features You Won't Get With a Millionaire Match Free Trial
While your free Millionaire match trial will get you a lot, the best things in life aren't always free. Here are some of the upgrades only available if have a paid membership.
All Free Features
Access MM Counselor
Initiate Messages
Respond to First Date Ideas
Advanced Search
See Who Likes You
First Look at New Members
View Reverse Matches
View Certified Millionaires
View Login History
Hide Profiles
Browse Anonymously
Take Priority Place in Search Results
Become a "Certified Millionaire"
Set Profile Privacy Settings
Undo Spark skips
View Dating and Safety Tips
Get Priority Customer Support
Get Access to Personal Account Manager
Do I Need to Add Credit Card Information Before My Free Trial?
No! Millionaire Match doesn't require any payment information before you begin your free trial. That is only required if you are attempting to purchase a premium membership plan.
Can I Get Certified as A Millionaire on My Free Trial?
The "Certified Millionaire" status is reserved for Millionaire Match's most premium users. Free users, no matter how much money they make, cannot receive this title.
---
Millionaire Match FAQ
Is Millionaire Match a Trustworthy Platform?
Yes! Millionaire Match has been operating since 2001 and has gained the trust and respect of millions of users. Payments are protected by SSL encryption and the use of usernames over real names enhances your personal privacy.
Do I Have to Be an Actual Millionaire to Use Millionaire Match?
No! You only need to be a millionaire to gain a certified millionaire marking. The salary ranges on Millionaire Match begin at $200,000/ year.
I Make Less Than $200,000 a Year. Can I Still Use Millionaire Match?
Yes. However, approval of your profile is determined by a moderator after you've joined. The general rule is you must either be wealthy or be attractive to have an account on Millionaire Match.
How Do I Know if Someone is Lying About Being Rich on Millionaire Match?
It can be hard to determine if a match is being honest about their net worth. However, Millionaire Match has a feature called "certified millionaire" that allows users to prove their net worth to the mods and get a special marker on their account. So, if you stick to accounts with certifications, you can be confident that you are talking to an actual millionaire.
How do I Cancel a Millionaire Match Membership?
Millionaire Match makes it easy to cancel your premium membership. You simply need to log into your account, go to settings, and click "Membership." From within this menu you will find information about your membership and the option to disable your account.
Do I Need Facebook to Sign Up for Millionaire Match?
No! Though signing up through Facebook is an option, you can sign up with your personal email just as easily. We prefer this method because it is more secure than signing up with Facebook.
Is Millionaire Match a Sugar Dating Site?
Millionaire Match is not the same as a standard sugar dating platform. The site exists for wealthy, successful people to meet each other or meet attractive singles. While some users may utilize the site for activities similar to sugar dating, that is not the goal of the platform.
If you visit MillionaireMatch.com you will clearly see "No sugar daddies / babies" on the homepage.
Can I Try Millionaire Match for Free?
Yes! You can sign up for Millionaire Match for free, but you will need to pay for a membership before using some of the most important features on the platform like: initiating messages, boosted support options, full search features, etc.