Attention! Right, Face! Forward March! You can't blame our experts for getting into the military-mode for our Military Cupid review. This site is one of the only sites on the web that's dedicated to members of the military and people that are interested in dating people that are in the military.
Overall Military Cupid Rating – 4.0/5.0
Quality Matches – 4.0/5.0
Features – 4.0/5.0
Ease of Use – 4.5/5.0
Support – 4.0/5.0
Price – 5.0/5.0
If you're on this page, we probably don't have to tell you why someone would want to date someone in the military or why someone in the military would want to date someone looking for military.
For those that aren't aware, a lot of people like to date military men and women because they typically have their lives together. They are organized, disciplined, and follow regimented patterns well. That's without even talking about that sweet, sweet government insurance. Did somebody say Tricare?
For the military folks interested in this site, you're most likely looking for someone who understands your lifestyle. Men and women that understand the deployments, the lifestyle, and your commitment to your country will make dating a lot easier. No one wants to get a Dear John letter, and that can be avoided by dating people that understand the military lifestyle.
If you're ready to see if this site is for you, stand at ease (or sit) and get ready for our Military Cupid review.
---
Military Cupid Review Basics
Site Name: Military Cupid
Paid or Free: Paid site with a free trial
Average Sign Up Time: Around 5 minutes
Paid Membership Pricing: Memberships starting at $10 per month
Pros:
Fantastic price well below industry norms
One of very few sites dedicated to military dating
Easy to navigate member area
Cons:
Ads on site during free trial
The Editor's Reviews on the Site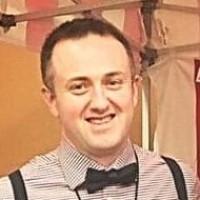 "As a military guy myself, I'm pretty particular to anything that says it's designed for soldiers. While the site isn't as flashy as some of the more mainstream dating sites, it still gets the job done. I'd recommend creating a free account and searching around your duty station first. If you see someone you like, then you can upgrade your account."
– Jason Lee, Chief Editor of Best Online Dating
"It's hard to argue with what you're getting for the price here. Especially when you count on the fact that the military is a small community, it's great to see a niche dating app that caters to men and women in uniform. Oh, and if you aren't in the military but you want to date someone who is, you'll be welcomed here with open arms."
– Christina Anne, Contributing Writer
---
Jump to:
The Sign Up Process
One of the refreshing parts of our Military Cupid review was the sign up process. If you know anything about the military, it's that efficiency is sometimes lost in the details. Things that should take five minutes end up taking about 5 days for whatever silly snafu reason. But, the Military Cupid sign up process actually only took us five minutes. Not just the first sign up screen, but the entire sign up process only took us about five minutes.
Prior to starting our Military Cupid review, we had seen a screenshot of the profiles and could see they were loaded with tons of information. One of our fears was that the site was going to force us to put in all of this information before letting us in to see the potential matches. We're on board with having people fill out their profiles before getting access to the matches, but not an overkill amount of information. Thankfully, this was not the case with Military Cupid.
Yes, there is a TON of information that you can add to your dating profile, but you don't have to do much of that during the sign-up process unless you want to. We recommend putting in the bare minimum, a picture, so you get the free hour trial, and then checking out the military singles they have listed. If you see people you like and decide to join, then you can go back and invest more time into your profile.
One quick note for you to pay attention to during the sign up process…
When you sign up through the link above, you'll get a normal free trial as well as the option to get an hour full free trial. How? We'll show you. First, click the link above. It will automatically take you to the sign-up process with the normal free trial. When you get to the photo loading section, you'll have the option of getting a one-hour free trial just by uploading one picture. Here's what you'll see.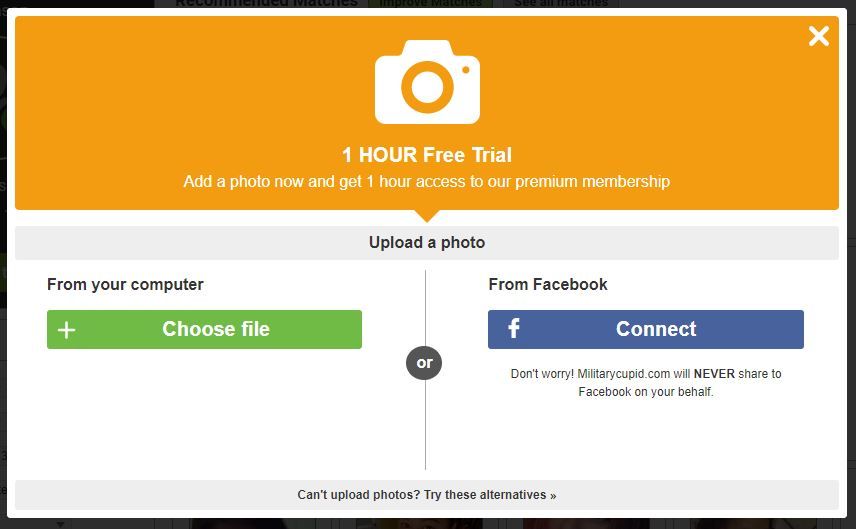 ---
Are there good, quality matches on this site?
Here's a funny story. When we first started searching for matches during our Military Cupid review, we thought it was a ghost town. Why? Well, we quickly realized that we weren't searching properly. In our defense, we hadn't had our coffee and weren't following our SOP (standard operating procedure for those of you that are still on the civilian side of things).
Once we got our act together, we realized that there were plenty of members on the site. In fact, the homepage of Military Cupid says it's somewhere in the neighborhood of 600,000 members.
This is definitely less than some of the bigger dating sites, but to be expected with a specialty niche site. If you're looking for military singles or you're in the military and want to date someone that finds that uniform sexy, you'll be pleased with the quality of options here. Regarding gender, there were plenty of men and plenty of women on the site. We did notice that it looked like there were more men who had upgraded to platinum accounts as you can see by the special badge that they get.
What does this mean for you? Well, if you're a woman, you'll probably get a ton of messages with a free account. You'll still have to upgrade to message the people that you want to, but you'll probably get a lot of interest from singles right out of the gate. If you're a male, you're probably going to want to invest in at least the Gold Membership to see some activity.
Overall, we were pleased with the quality of members we saw during our Military Cupid review. As we recommend with specialty dating sites, though, is that you take advantage of the free trial we have for you and see what you think of the matches on there. If you don't see anything you like, you can leave your account up in case any paying members message you (you can message them back for free). If you see some singles you like, put on your boots and get to it!
---
How easy is the site to use?
If there were such thing as a "standard" online dating site, Military Cupid's set up would be it. What does this mean? This means that everything is pretty easy to find, set up where you think it would be, and overall is easy to navigate. The site does have a bit of an older feel to it without a lot of flashy graphics like some other dating sites, but don't let that fool you. Remember, you're not looking to join a site because it looks cool. You're looking to join a site because it's effective and offers what you're looking for.
Good news, though! The site is LIGHT YEARS better than any military computer system you've ever used. Yes, we know that's not saying much, but it's still a positive. Actually, it's really not in the same category as any military system we've seen. Maybe it's comparable to the new AKO, but we haven't spent a lot of time on that yet.
The bottom line is that our team found during our Military Cupid review that the site was very easy to use. It didn't shock us in terms of flashy appeal, but the functionality was great, and it'll be nice for someone who doesn't have hours to try and learn how to use a new dating site. For those of you that are military, we can definitely say that it works much better than most military sites.
---
Are there any great features?
Features at Military Cupid were good with quite a few things that we like to see. The one thing we were fans of was that the site didn't overload you with too many unnecessary features. First, let's take a look at what the profile pages look like on Military Cupid. Here's what the top half of the profile looks like. As you can see, we did blur a lot of the information out because this is an actual profile on the site. If this blurry female looks like someone you're interested it, go search the California area and see what pops up 😉
You'll see in the top right that they give you all the basic details about your match, when they were last online, and then how you match up with them on what are usually the deal breakers.
These include:
Education
Children
Drinking
Smoking
Religion
Occupation
You'll also see some green dots out to the right letting you know if you match or not with their criteria. While this is nice for a quick glance, it's probably not that necessary. If you can't see what they checked for something like "Religion" and remember if that matches what you're looking for, you should probably spend some more time figuring out what you're looking for in a match. Regardless, the feature is there in case you need it.
Below that, you'll see the overview of the member which is basically their intro about themselves. If you scroll further down and click the more about me tab, you'll find A TON more information that you can include about yourself and about your desired match. One thing that was interesting to us was that they only had one question that pertained to military service. We would like to see more questions about this as the site is dedicated to military members. The good news is that just leaves more stuff for you and your potential match to talk about.
Here's what you'll see when you scroll down and then what you'll see on the More About Me tab.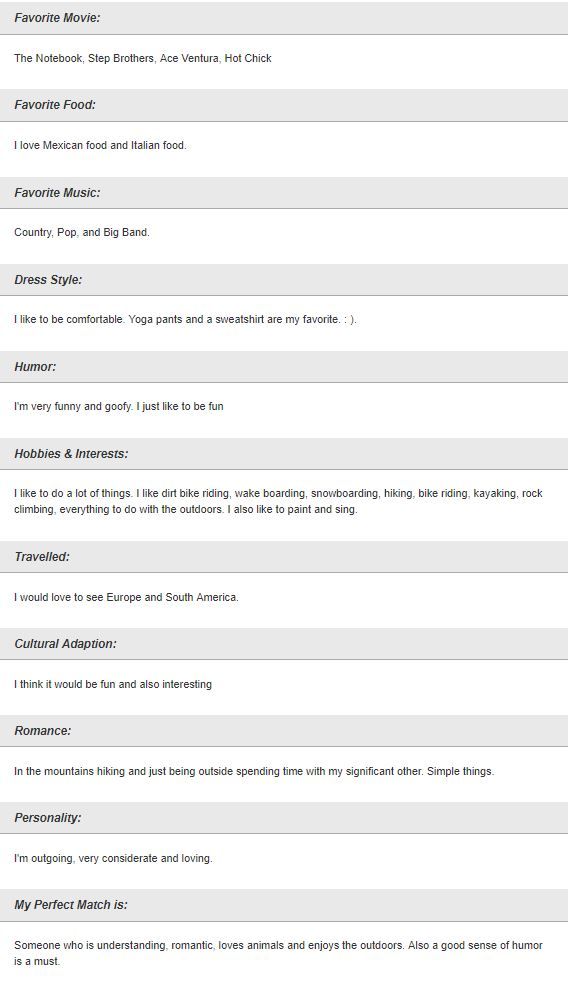 The one area of this that we thought was pretty important for military singles was the question on whether or not someone was willing to relocate. If you're currently actively serving, this really won't apply to you because the military owns your butt.
But, if you're looking for someone on the site who isn't military, this will be important to know. We can tell you that from our research during our Military Cupid review, we saw a ton of people that had checked they were willing to relocate. This means you can open up your search parameters if you join the site and cast your net a little wider.
Search Function
Our Military Cupid review revealed that the site does have a robust search function that allows you to sort members by a lot of different options. There are TONS of different options to choose from starting with your basics like location, age, last online, etc. Beyond that, well…let's just show you all the options you have to search by.
Member Dashboard
Want to see what things look like after you create an account? Here's a sneak peek for you. You'll notice that we blurred out the photos, but when you create your account, you'll see everything clear as day. You'll be able to see your recommended matches right when you log in, and you'll have your search options right to the left of the page. Your other options of features are going to be available across the top of the screen.
One thing that caught us off guard at first was that it looked like only the top 4 or 5 rows of matches had pictures and then it turned into the abyss that is picture-less profiles. Good news, that was not the case. If you see this on your screen, just scroll down a little bit and all of the pictures will load for you.
Activity Feed
From the top of your dashboard at Military Cupid, you can click over to your activity feed which will show you all of the activity on your profile in one convenient spot. You'll see singles that are interested in you, who have favorited you, and who have viewed you. You'll also see all of your activity including the people you've viewed, your favorites, and your interests.
This is also where you can block any members you don't want to see or hear from anymore. All of this activity can be seen on the right side of the screen in a scrolling activity feed. Here's what that area looks like.
---
Tell me about the customer support.
Military Cupid was a fully dedicated section of the site for help and assistance. They have an FAQ section with a lot of the most common questions you might have and an email support option. Overall, we would say that their customer service options were good. We would like to see a live chat option added at some point, but we're picky. Hopefully, you won't need to ever use the customer support, but it's nice to know that it's there if you need it.
---
Price | How much does this dating site cost?
The cost of membership at Military Cupid depends on the type of membership you choose and the length of term that you select. Military Cupid has two different membership levels to choose from – Gold and Platinum.
The Gold membership is their first level paid membership. With this membership, you're able to communicate with all members (including those that haven't paid for a membership), live chat, unlimited messages, no ads, and the ability to hide your profile or browse anonymously. Below are the costs associated with the Gold level membership. As you can see, the longer term you select, the cheaper it gets.
| Membership Type | Membership Length | Membership Cost |
| --- | --- | --- |
| Gold Membership | 1 Month | $29.98 total |
| Gold Membership | 3 Month | $20 per month |
| Gold Membership | 12 Month | $10 per month |
| Platinum Membership | 1 Month | $34.99 total |
| Platinum Membership | 3 Month | $23.33 per month |
| Platinum Membership | 12 Month | $12.30 per month |
The highest level membership they have at Military Cupid is the Platinum Membership. The platinum comes with all of the features of the Gold Membership but several more features to try and help increase your chances of finding what you're looking for.
This includes ranking above other members, doubling your profile space, VIP highlighting in searches, extra search features, an advanced matching algorithm (we're not actually sure what this is), and the ability to have messages translated into your language automatically.
Here is a convenient chart to show you the differences between the two paid memberships and the free trial with Military Cupid.
If you notice, the free trial does allow you to communicate with any paid members that contact you. We highly recommend that at a bare minimum you create a free account and take a look around. You might even find something you like!
---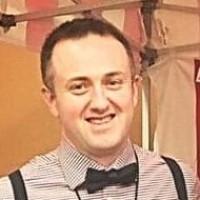 Written By: Jason Lee
Jason Lee is a data analyst with a passion for studying online dating, relationships, personal growth, healthcare, and finance. In 2008, Jason earned a Bachelors of Science from the University of Florida, where he studied business and finance and taught interpersonal communication.
His work has been featured in the likes of The USA Today, MSN, NBC, FOX, The Motley Fool, Net Health, and The Simple Dollar. As a business owner, relationship strategist, dating coach, and officer in the U.S. military, Jason enjoys sharing his unique knowledge base with the rest of the world.