If you're looking for a second chance at love, the dating app LoveAgain might have caught your eye. It's marketed as a mature dating site for men and women who are getting back on the market, but does it deliver?
We set up some profiles and used LoveAgain for two weeks, and now, we have some important info to share. Keep reading our LoveAgain review to find out if you should be looking for better mature dating sites. (What we found will probably surprise you).
NOTE – Before you read too far we just wanted to let you know that our LoveAgain review exposed some pretty ugly truths and as a result, we gave it a well earned 0 out of 10 rating. There are plenty of better apps out there! Click here to see some of them.
Is LoveAgain Worth It? – The Bottom Line Up Front
LoveAgain claims to be a mature dating site for older singles searching for "the one," but it's anything but. In reality, it's a casual dating app, and most of the members are well below retirement age. Also, instead of helping members meet compatible partners, it only considers a few personal preferences and the location when selecting matches. Even more concerning, the site seems to be a scam, so your chances of getting defrauded are higher than finding love.
In order to understand why we think it's a scam, you first need to know about the differences between free and premium accounts on LoveAgain. A free account will allow you to do the following:
Browse, like, and favorite profiles
Receive messages
Send winks
Send five messages
Alll the messages you receive with a free account are hidden behind a paywall, with a countdown timer warning you that the message will disappear if you don't upgrade before running out of time.
We were drawn in after receiving 20 messages (all hidden behind a paywall), so we ended up paying for a one-day premium membership. Then, we read and replied to all of the messages.
And guess what? No one wrote back. Each person logged in at practically the same time, and yet no one responded. We know our messaging game isn't bad enough to strike out 20 times in a row. And we continued to strike out since only one member messaged us after we upgraded our account.
That's pretty strange, right?
And that brings us to the next issue, and it's an even bigger deal.
We went through a five-step cancellation process five times, and yet, our membership is still set up for recurring billing. Only this time, it isn't going to bill us $1.29. Nope, it intends to charge us $43.68.
LoveAgain's parent company, NSI Holdings, has a reputation for subscription scams and shady (and illegal) marketing practices, and now we see why. And in case it's not already bad enough, we have other issues with this dating site.
We're pretty sure a lot of the members aren't who they say they are. Lots of the photos look fake, and some of the messages we received contained broken English, even though the senders said they lived in the United States.
There are probably some legit members on here, but you can only talk to them if you upgrade your membership, and then you'll have to fight to cancel it.
We actually had to call our bank and let them know what happened. It was a headache, and we want to save you the trouble.
Fortunately, there are plenty of other dating apps that actually help people find dates. To be blunt, don't try LoveAgain…we think you need to find a better dating app. Stay safe and form real connections by checking out one of the best casual dating apps or browsing through the top dating apps for serious relationships.
---
LoveAgain Review Rating and Basic Info
| Category | Score |
| --- | --- |
| App Store Rating | N/A* |
| Google Play Rating | N/A* |
| Userbase | Approx. 500,000 |
| Online Since | 2012 |
| Starting Cost | $1.29 a day |
| Our Review Score | 0.0/10.0 |
*There is no native LoveAgain dating app available.
0.0/10.0
LoveAgain Alternatives to Consider
So, you stumbled across LoveAgain for one of two reasons. Either you're looking for mature dating or something casual. As you can tell from our review of LoveAgain.com, this site isn't a good fit for either option. Don't worry, we have you covered. Let's look at some LoveAgain alternatives for casual and mature dating.
Zoosk – Both Zoosk and LoveAgain are mainly used for casual dating. However, Zoosk uses machine learning to improve your matches, while LoveAgain only considers about a few preferences and location. Zoosk also has real people instead of scammers, and you can cancel your premium membership without problems. Honestly the list goes on and on about reasons you should use Zoosk instead of LoveAgain. (Read Our Unbiased Zoosk Review)
SilverSingles – LoveAgain claims it's a mature dating site, while SilverSingles actually is. Most of the membership base is over 50, while LoveAgain's members are mainly between 25-34. Also, LoveAgain connects people based on looks and distance, while SilverSingles use the five-factor model of personality to match singles. Oh, and SilverSingles has real members and an honest business model, which we certainly can't say about LoveAgain. (Read Our SilverSingles Review)
Tinder – We admit that we don't like the casual dating app, Tinder, but it's still better than LoveAgain.com. Free accounts are limited on Tinder, but still allow you to message your mutual matches, so it doesn't trick members into subscribing. Tinder also has some scammers, but that seems to be all you'll find on LoveAgain. (Check Out our Tinder Review)
Pros and Cons of the LoveAgain Dating App
Pros
One-day membership option (although it's a subscription scam).
Can search for online members.
Cons
Free members can't read messages.
Little engagement after upgrading to LoveAgain premium.
Many of the profiles look fake.
Can't cancel the premium membership.
LoveAgain Features Breakdown
Our Love Again review is full of reasons to avoid this site at all costs. Even so, we want to cover some of the features. These features will provide more insight into why we don't think it's a good dating site.
Like Gallery
Along with the basic search filters, you can hit up the Like Gallery to like, message, or pass on members. A lot of the profile photos were NSFW, so be careful about where you use this dating app.
It looked like there were more legit profiles in the Like Gallery, although we encountered several possible fakes. Also, we only landed a single match, and that didn't go anywhere. And as we mentioned earlier in this review of LoveAgain, you have to pay for membership to talk to anyone, and it's impossible to cancel the auto-renewal.
Flirtcast
You can send a message to a bunch of users at once using the Flirtcast feature. But here's the thing… you can't see what the message says before sending it. We tested it out, and now, we're wondering what we said.
We generally don't like mass messaging members on any dating site, but this is the worst we've seen. For instance, the international dating site ColombianCupid lets women send mass messages. However, it provides a prompt and lets users delete it to customize the message.
Promote My Account
We know that online dating can wear you out from time to time. Seriously, emotional fatigue from online dating is a thing. Still, we don't like the Promote My Account feature. Basically, LoveAgain runs your account for you when you're away. It sends messages, likes profiles, and builds your favorite list.
You can choose from three types of messages:
Random meetups
Serious relationship
Short-term relationships
Unfortunately, you won't have any idea who you're interacting with when using this feature. also, we didn't find it to be very beneficial. We tested it out and didn't get a single response.
We also can't help but wonder if this is just a way for LoveAgain to run a subscription scam. Instead of having employees or bots send the messages, it uses this feature. Either way, we recommend avoiding this feature and the entire dating site.
Video Chat and Chat Rooms
LoveAgain advertises video chat and chat rooms, but neither are on the site, even after upgrading. The site has a history of announcing features, only to remove them without letting members know. We wouldn't have been as frustrated had it not been one of the reasons the site gave us when prompting us to upgrade. That falls in line with its shady business practices, though, so we shouldn't be surprised.
Quality of Singles – LoveAgain User Base Review
We've reviewed hundreds of dating sites and Love Again has one of the lowest-quality membership bases we've seen. The entire site feels like a scam, with a few real folks sprinkled in. Even the real people don't seem to be that chatty – likely because they ditched the site after realizing what it really is.
And look, we know that people lie on dating profiles. However, most people are honest about where they're located. However, we received messages from members claiming to live in the United States, but they were clearly not fluent in English.
And even if you do encounter a real person, the profiles are far too basic.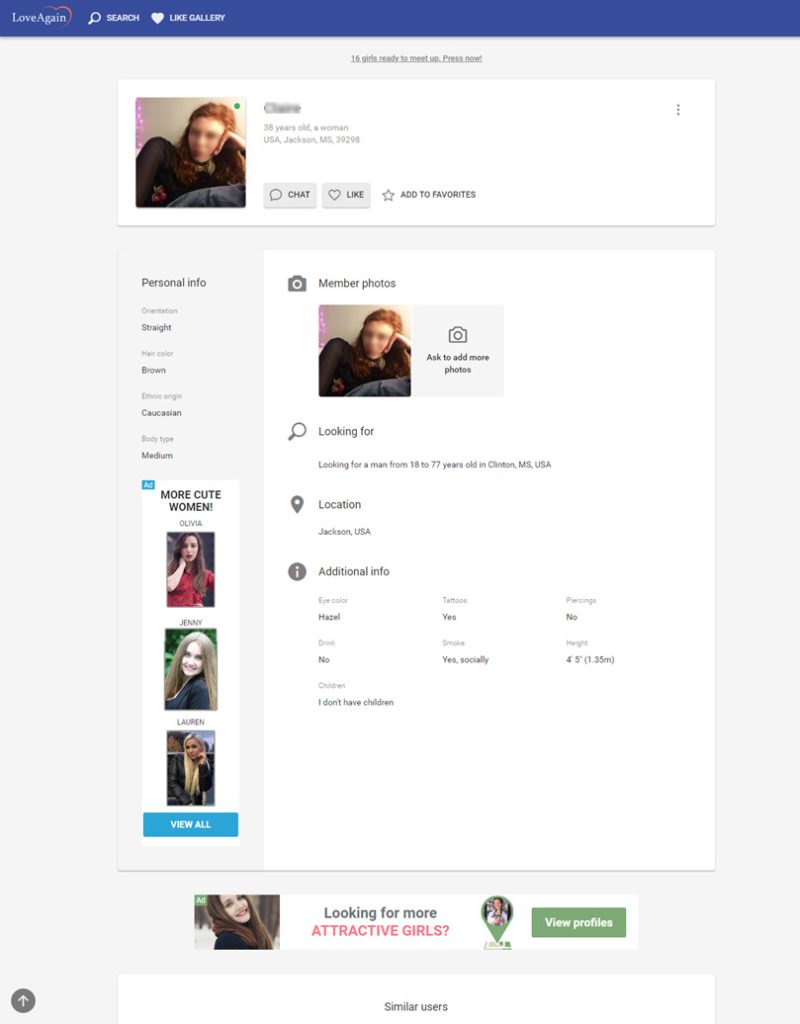 We honestly can't find any reason to use the LoveAgain dating site. It feels like a low-effort, scammy cash grab.
Reviewing LoveAgain Pricing – How Much is LoveAgain Premium?
LoveAgain features a unique $1.29 daily premium trial rate. As a concept we love that, but if you've read to this point you know that it's too good to be true (and will end up costing you much more). Even if nothing shady was happening on the LoveAgain dating site we would still say that the price of Premium membership exceeds the value of the product.
You can see a full breakdown of LoveAgain Premium prices and purchase options below:
| Membership Length | Cost | Total Cost |
| --- | --- | --- |
| 1 day | $1.29 daily | $1.29 |
| 1 month | $47.99 monthly | $47.99 |
| 3 months | $29.99 monthly | $89.97 |
| 6 months | $22.99 monthly | $137.94 |
User Complaints About LoveAgain
We were shocked when we discovered that LoveAgain has a 4-star rating on SiteJabber and a 4.1-star rating on Trustpilot. However, Trustpilot has a warning on the top of the page, stating it's had to remove fake reviews for LoveAgain. Many of the reviews still sound fake, and don't mesh with our personal experience at all.
After doing some digging there and in other user reviews online, we've picked out the legit reviews, and now, we're going to share them with you. We stand by all of these complaints since we experienced the same issues. This proves that LoveAgain is a shady dating site (…to put it nicely).
Premium Membership Scam – Lots of members say they received a ton of messages, so they upgraded to read and respond to them. Like us, they never heard back from any of the members.
Fake Profiles Galore – As we mentioned, LoveAgain is full of fake profiles, and other members have noticed it, too. According to previous members, you can even find multiple profiles using the same picture.
Spam Messages – Members don't like Flirtcast messages, either. They come across like spam and fill up the inbox. It's so bad that some members have deleted their accounts for this reason alone. Well, they've tried to, but that's not easy.
Unable to Cancel – Paying subscribers have reported problems cancelling their memberships and their accounts, just like us. If you've already signed up, we recommended reporting it to your bank and the authorities.
Non-Existent Customer Support – Forget about contacting customer support if you have a problem, according to some members. They say it's hard to reach anyone, and they aren't interested in your issues if you do. We're here to second this complaint. We've tried to figure out how to cancel, and no one will help us.
---
---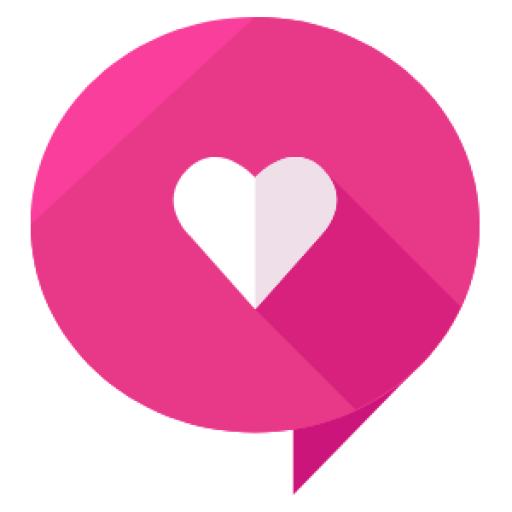 Written By: Healthy Framework Team
The Healthy Framework team has a combined 50+ years of experience in the online dating industry. Collectively, the team has reviewed over 300 dating apps and is known as one of the leaders in the relationship advice and information space. The team's work has been featured on Zoosk, Tinder, The Economist, People Magazine, Parade, Women's Health, Her Campus, Fox, and more.