Have you heard success stories about LatinAmericanCupid, and wondered if they're true? We get that. After all, its parent company, Cupid Media, has a big marketing budget, so it's hard to know what's an advertisement and what's the truth. Well, we ignored the marketing messages when testing the site, and now, we're ready to share our first-hand experiences in our LatinAmericanCupid review.
We didn't just pop on the site for a few minutes, either. Instead, we spent a full week interacting with members and trying the features. Keep reading to get our thoughts on the matching algorithm, membership base, engagement rate, and so much more.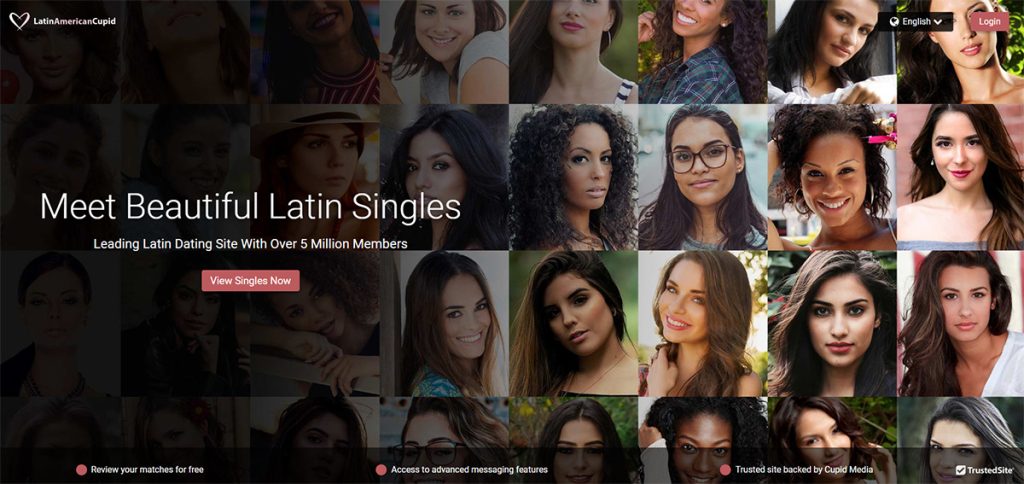 Overall LatinAmericanCupid Review Rating
| Category | Score |
| --- | --- |
| Google Play Rating | 3.6/5.0 |
| App Store Rating | N/A |
| Active Users | 5 million+ |
| Online Since | 2003 |
| Starting Cost | $13.75 a month |
| Our Review Score | 7.5/10.0 |
7.5/10.0
---
Is LatinAmericanCupid Worth It? – The Bottom Line Up Front
LatinAmericanCupid helps singles in Latin America and the Western world find long-lasting love. Even with local dating on the menu, most Latin American members are looking for partners overseas, especially in the United States. Members can set over 30 search filters to find compatible matches, and the system works – although there are some drawbacks.
So, let's get the biggest issue out of the way first.
Free accounts are more limited than on most dating apps. Usually, members can message their matches without upgrading, but not on LatinAmericanCupid. Still, members with Standard (free) accounts can chat with premium members.
Unfortunately, our research shows that most of LatinAmericanCupid's members have free accounts. For example, we received 42 messages within 48 hours of signing up, but only 11 were from premium members.
All those messages show that LatinAmericanCupid has a high engagement rate, but upgrading is necessary to get the most out of it.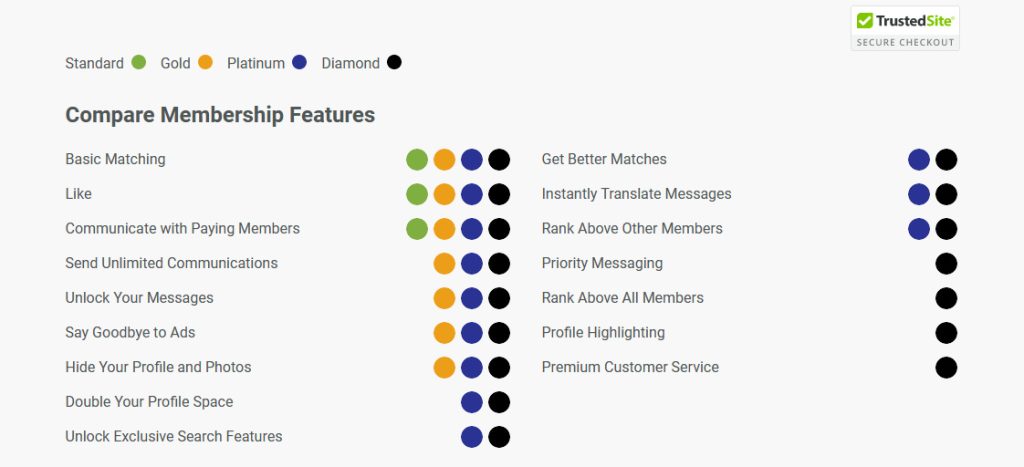 LatinAmericanCupid offers three membership tiers, and each unlocks additional features. You'll be able to chat with both Standard and premium members if you get the cheapest plan (Gold), which starts at $13.75 a month when subscribing for a year. It's well worth it, especially when you consider how chatty the members are here.
But even if you don't upgrade, you'll have access to those killer search filters that we mentioned at the top of this review of LatinAmericanCupid.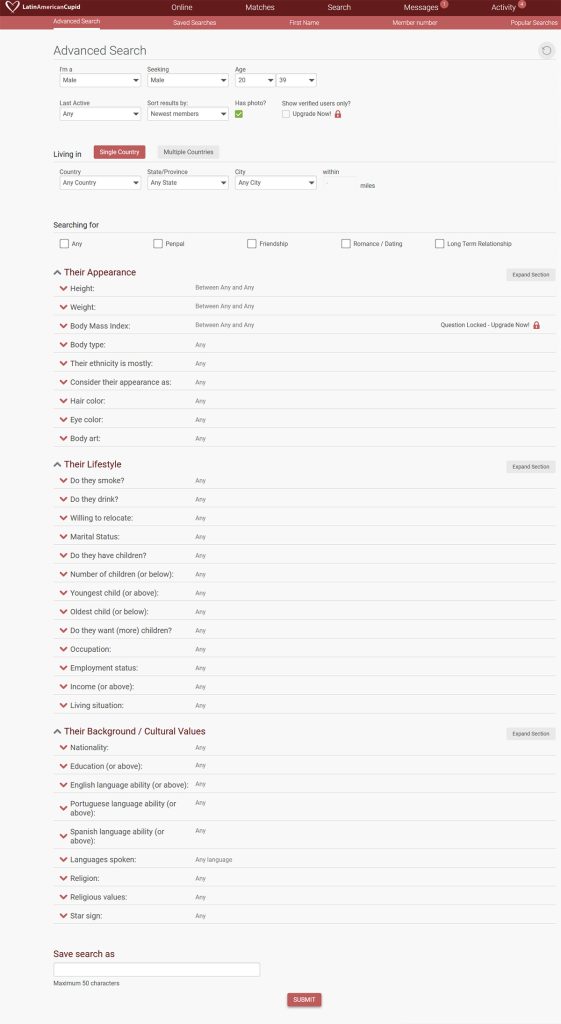 While some of the filters are what you'd expect on a dating app, others stand out, such as language fluency and the willingness to relocate. Plus, all members can filter profiles by dating intention, although it's not as necessary here as it is on some apps since LatinAmericanCupid is a dating app for serious relationships.
While we like the search filters, we were still overwhelmed with the number of profiles that came up after setting them. We ended up with over 1,000 profiles to look through, so beware of online dating burnout when using the site. Still, we really liked the quality of the profiles. They contain a lot of info, so after a little digging, we were able to tell who was likely a real match and which profiles to skip.
While it takes some work (and money) to find a real match here, we think LatinAmericanCupid is the premiere dating app for connecting Latin Americans and Westerners. The membership base is highly engaged, and most people are looking for long-lasting love. Check it out by claiming your free trial to LatinAmericanCupid today.
Pros and Cons of the LatinAmericanCupid Dating App
Pros
Extremely engaged membership base (we received 42 messages in two days).
Premium members can search for verified profiles.
Cheapest membership tier includes unlimited messaging.
Open to singles in countries around the world.
Standard members can chat with premium subscribers.
Huge pools of amazing Latin American singles.
Tons of search filters for precise matching.
The site is run through Cupid Media, which is a longstanding and reputable company.
Cons
No iOS app (but you can use the Android app or website).
Most members have Standard (free) accounts (especially the women).
An overwhelming number of matches.
Many features are hidden behind a paywall.
Being a niche site, there are fewer overall users.
LatinAmericanCupid Features Breakdown
Most LatinAmericanCupid reviews mention that the site has a basic layout, and we agree. Still, it has some interesting features that protect members and improve communications. There are a couple of duds, too, so let's dive in so you'll know which to use and what features to ignore.
IMBRA Safety Information – Available to Standard and Premium Members
United States citizens have to follow the International Marriage Broker Regulation Act when bringing someone to the U.S. on a fiancé visa. They're required to disclose various details, including their criminal histories, marital status, and previous marriages as a way to protect their partners.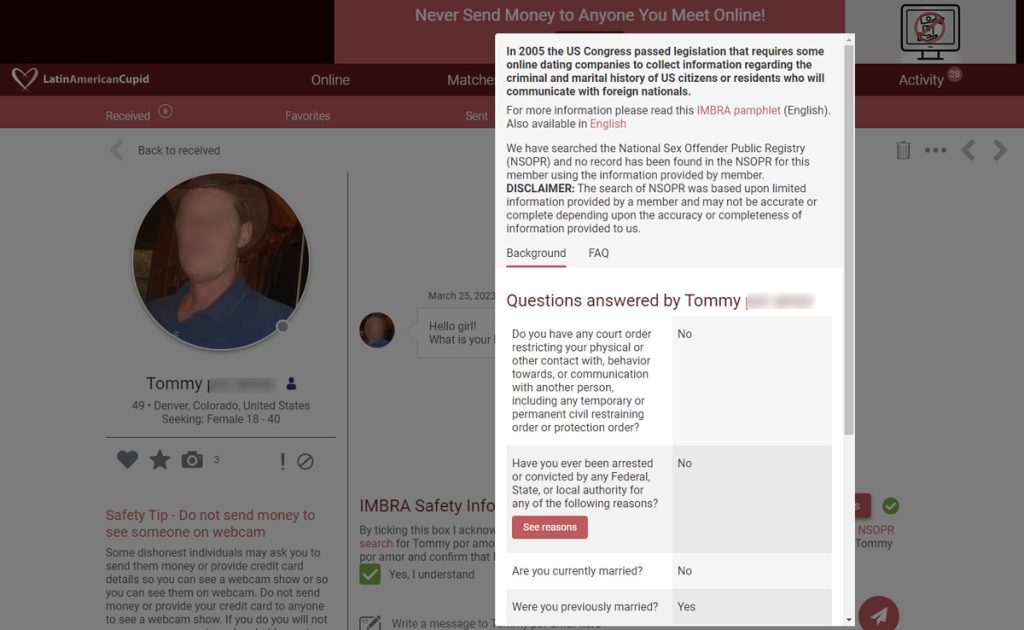 LatinAmericanCupid prompts American members to fill out the IMBRA safety form when using the app. Then, when Americans message people living in other countries, the site includes a copy of the completed form.
Also, LatinAmericanCupid searches the National Sex Offender Public Registry after members complete their IMBRA safety form. We think this goes a long way in helping members stay safe.
Message Translation – Available to Platinum and Diamond Members
Platinum and Diamond members and the people they chat with can access instant message translation during their conversations. You just have to click "Translate" under the message, and it'll spit out the translation in a millisecond. Seriously, if you blink, you'll miss it popping up on your screen.
You can also click "Retranslate" if needed, but we haven't found that to be necessary. The system is as accurate as it is fast.
Mutual and Reverse Matches – Available to Platinum and Diamond Members
As much as we like LatinAmericanCupid's search filters, we admit that we'd prefer a personality-based matching algorithm. While that's not an option on this site, premium members unlock mutual and reverse matches.
When you meet a member's criteria but they don't meet yours, you'll have a reverse match. Then, if you and the other member check all of each other's boxes, you'll end up with a mutual match.
We appreciate a more advanced matching algorithm, but it doesn't really work on LatinAmericanCupid. Most members leave the "Looking For" fields blank, or at least only fill out a handful of them. LatinAmericanCupid ignores the blank fields, meaning a lot of your mutual and reverse matches will only match in a few key areas.
Show Verified Users Only – Available to All Premium Members
As we mentioned in our review of LatinAmericanCupid, we really love the search filters. However, one of our favorites is only available for premium members. After upgrading, you can set your search criteria to only show verified users.

While researching for our LatinAmericanCupid review, we've heard from some guys who were scammed on here, so we think this is a good idea to use this filter if you have a premium membership.
Still, we have to mention that more men than women verify their profiles on LatinAmericanCupid. Thus, you won't see nearly as many profiles if you remove unverified members from the search results.
Make the First Move – Available to Female Members
Women can send out a message blast to their matches, allowing them to reach a bunch of people at once. You can send the pre-filled message or delete it and add your own.
We did this twice, sending 142 messages in all. We received a response within 30 seconds, but it was hidden behind a paywall, so we weren't able to respond. We dug a little deeper by going to our "Sent" folder and clicking on each of the messages we sent.
We were shocked to see that all 142 recipients were free members. That means this was a total bust. That being said, we aren't big fans of sending one message to a ton of people anyway. Normally, we'd ignore this feature but wanted to test it for our review of LatinAmericanCupid.
Check out our guide on sending the first message in online dating. After reading the tips, you'll see why message blasts are a bad online dating strategy.
Find Premium Members – Available to Standard and Premium Members
This isn't technically a feature, but it's an important workaround if you're going to stick with a Standard account. LatinAmericanCupid offers a few ways for members to find premium subscribers, so you can identify who you can chat with on the app.
First, Diamond members receive a diamond badge on their profiles. You don't even have to click on the profile to see it. Just browse the site and look for the diamond icon (as pictured above).
Second, both Diamond and Platinum members' profiles are listed at the top of the results and are twice as large as the other profiles. That's an easy way to find out who has upgraded.

And finally, you can check your "Sent" folder after messaging members. If the recipient has a Standard account, you'll see a message prompting you to upgrade. Since Gold members don't receive badges or larger profiles, this is necessary to ensure you don't miss anyone.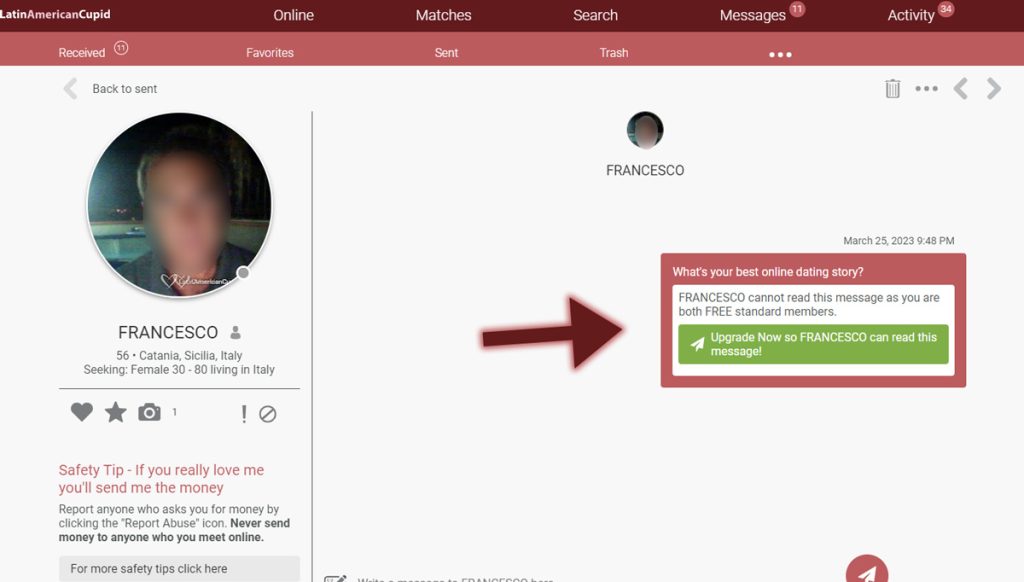 User Complaints About LatinAmericanCupid
Based on our first-hand experience, we truly believe that LatinAmericanCupid is one of the best Latino dating apps you'll find. That being said, it's not perfect. We poured over user reviews of LatinAmericanCupid and saw the same three complaints numerous times.
Fake Accounts – While we didn't run into scammers while using LatinAmericanCupid, other members haven't been as fortunate. Some say that men pose as women, move the conversation to WhatsApp, and ask them to send money. Get our thoughts on how to spot online dating scammer photos. Also, don't move a conversation over to WhatsApp or another platform before you get to know the other person.
Few Premium Accounts – We also noticed this problem when preparing our review of LatinAmericanCupid. It doesn't look like many women upgrade, and only around 25% of men do. If you want to have success on LatinAmericanCupid, we recommend paying for a membership.
Poor Customer Support – While we think LatinAmericanCupid has a solid customer report team, not everyone had the same experience. Keep in mind that you can get premium customer support with a Diamond membership.
Quality of Singles – LatinAmericanCupid User Base Review
We can sum up LatinAmericanCupid's membership base with one word: motivated. For starters, many of the members are actively looking for long-term partners, so they log into the site often. For instance, there were 1,498 men and 1,444 women online on a random Friday night, and from what we've seen, that's the norm.
We've noticed that a lot of the members seem to be looking for people to chat with right away, so they reach out to members who are also online. Seriously, members liked our profile and sent us messages at rapid rates when we were online. In fact, we have LatinAmericanCupid open right now and just received two likes and three messages in the last few seconds.
Sticking with the theme of motivated members, male and female members typically craft pretty detailed profiles here. Most also add pictures, although it doesn't look that way when searching for new members.
First, members can't add photos until after they sign up, and that can take a few minutes. Also, photos are checked to ensure they comply with LatinAmericanCupid's terms of service, so pictures usually aren't visible for ten minutes after creating an account.
As you can tell, we really like LatinAmericanCupid's membership base, but we do have some bad news – especially for the guys.
Most of the female members have free accounts, so there's some pressure on the guys to upgrade so they can communicate. Cupid Media doesn't release info about how many premium members it has, but based on our research, we'd estimate that around 25% of the men who actively use the site have premium accounts.
Another issue – we've heard complaints about scammers on the site. Most of the victims say they were lured over to WhatsApp before being asked to send money. One member did ask us to move the conversation to WhatsApp, and we didn't respond as a precaution.
Reviewing LatinAmericanCupid Prices – How Much is Premium?
| Membership Type | Membership Length | Monthly Cost | Total Cost |
| --- | --- | --- | --- |
| Gold | 12 Months | $11.25 | $134.99 |
| Gold | 3 Months | $22.49 | $67.48 |
| Gold | 1 Month | $33.74 | $33.74 |
| Gold | 1 Week | $67.48 | $16.87 |
| Platinum | 12 Months | $14.17 | $169.99 |
| Platinum | 3 Months | $26.66 | $79.98 |
| Platinum | 1 Month | $39.99 | $39.99 |
| Platinum | 1 Week | $80.00 | $20.00 |
| Diamond | 12 Months | $28.33 | $339.98 |
| Diamond | 3 Months | $53.32 | $159.97 |
| Diamond | 1 Month | $79.98 | $79.98 |
| Diamond | 1 Week | $160.00 | $40.00 |
Let's just cut right to the chase: is Latin American Cupid Expensive? Well, it is more expensive than being free, sure. Still, the site is surprisingly well priced when compared to other dating sites with the same amenities and security features.
There are three premium membership tiers – Gold, Platinum, and Diamond – which allow you to adjust your membership to fit your budget. You can even save yourself a ton of money by purchasing multiple months of membership upfront.
Payment Types Accepted at Latin American Cupid
As an international dating site, they've made paying easy by accepting a multitude of options. Here is a quick list of all the ways you can pay for your Latin American Cupid membership:
Credit/Debit Card (Visa, Amex, Discover, Mastercard, and Diners Club International)
Google Pay
Paysafecard
Bank Transfer
Skrill
LatinAmericanCupid Free Trial – Claim Yours Now!
We have all fallen victim to the predatory style of free trial that asks for your credit card information and includes details about recurring charges in itty bitty fine print. Then, your card gets declined buying groceries in a week when you are being charged for a site you never plan to use again. We've been there, and it sucks!
Luckily, this site is not like that! LatinAmericanCupid's free trial is genuinely free. There is no need to input any payment information before you start your trial and you can use the free version of the site as long as you please!
While we do think the paid features on Latin American Cupid are worth the price, we know that being able to test drive a site for an extended period of time is important to many users. So, if you are one of those people, you will love Latin American Cupid's free trial!
---
Features Included with Trial Account:
Create a profile
Add profile photos
See who's online
Search and browse profiles
Open and view basic profiles
Show interest in profiles
Add profiles to your Favorites list
Basic matching
Communicate with premium members
Features Not Included in Trial:
Message all members
Live chat on instant messenger
Send and receive messages
Ad free experience
Hide your profile and browse anonymously
Rank above non premium members in results
Double your profile space
Get a VIP profile highlight
Advanced search filters
Advanced matching algorithm
Message translations available
LatinAmericanCupid Alternatives
Our LatinAmericanCupid review has been mostly positive, but still, you can't help but wonder what else is out there. See how LatinAmericanCupid compares to three other popular dating apps for Latin Americans.
AmoLatina – AmoLatina and LatinAmericanCupid both connect Latin Americans and Westerners, but they couldn't be more different. Fake profiles pop up on LatinAmericanCupid from time to time, but they're out of control on AmoLatina. Plus, AmoLatina has been accused of using bots and employees to message members to get them to spend coins to chat. On the other hand, LatinAmericanCupid has a stellar reputation and the team works hard to shut down scammers. (Read Our Complete AmoLatina Review)
Chispa – While you can find local dates on LatinAmericanCupid, it's mainly used for international dating. On the other hand, the Latino dating app, Chispa, connects people to local singles in the United States, Latin America, and elsewhere. You can message your matches for free on Chispa, but one member must be a paid subscriber on LatinAmericanCupid. Both are excellent Latino dating apps, so we recommend LatinAmericanCupid for international dating and Chispa to look locally. (Read Our Unbiased Review of Chispa)
MexicanCupid – MexicanCupid is also one of Cupid Media's niche dating sites and is similar to Latin American Cupid. Both sites are open to people around the world and focus on international dating, although MexicanCupid is most popular in Mexico and the United States. LatinAmericanCupid is popular in the U.S. and throughout Latin America, explaining why it has around 3.5 million more members. (Check Out Our Full MexicanCupid Review)
LatinAmericanCupid FAQ
Is there a LatinAmericanCupid app?
Yes! There is a Google Play store app for LatinAmericanCupid.com. The site is mobile-optimized, so those who can't download the app can access their profile from the browser on their mobile device. Sadly there is no LatinAmericanCupid app for iOS.
Can I message for free on LatinAmericanCupid?
Yes and no. If a premium member messages you, you will be able to message them back. However, you won't be able to initiate messages as a free member.
Should I sign up with Facebook Login?
Signing up with a Facebook Login is an option, and can allow you to quickly transfer profile details and photos to your LatinAmericanCupid account. However, linking your profile to another site with a frequency of data breaches may not be in the best interest of your data privacy.
Do I need a cell phone to sign up?
No! You don't need a phone number to sign up for an account and you can access the site online. This means that even those with no cellphone have the opportunity to meet great singles on LatinAmericanCupid.com.
How can I sign up for free?
If you want to sign up for a free trial of LatinAmericanCupid, just follow our links all over this page. This will take you right to the sign up page, where you can quickly gain access to the free features of the site. Then, when you are ready to upgrade, simply click the upgrade button at the top of the page.
---
---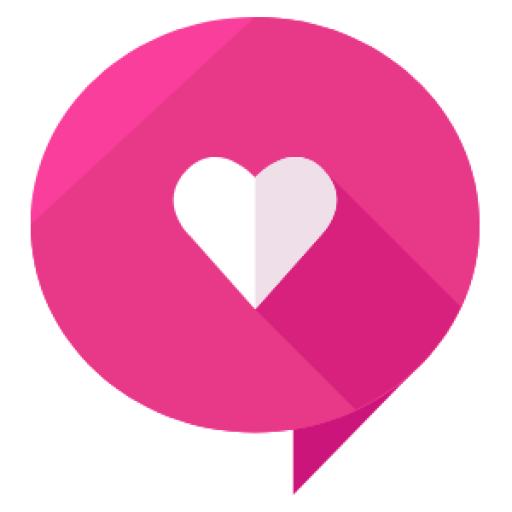 Written By: Healthy Framework Team
The Healthy Framework team has a combined 50+ years of experience in the online dating industry. Collectively, the team has reviewed over 300 dating apps and is known as one of the leaders in the relationship advice and information space. The team's work has been featured on Zoosk, Tinder, The Economist, People Magazine, Parade, Women's Health, Her Campus, Fox, and more.