Dating online has different challenges for different people, but plus sized singles tend to have more disadvantages than most. It can be hard to accurately portray your body size in a profile photo, and some meetups can end in awkwardness if a person's body isn't what the match thought it would be.
Then you've got people who will intentionally match with plus sized singles just to mock them or lead them on.
It's a tough world out there and traditional dating sites can lead to big beautiful women and men feeling less than desired. The truth is, there are sites like Large Friends where plus sized singles are sought and celebrated.
The only question is, are the site's features and design worth taking the time to sign up? Read on and we will show you everything we discovered while reviewing the Large Friends platform!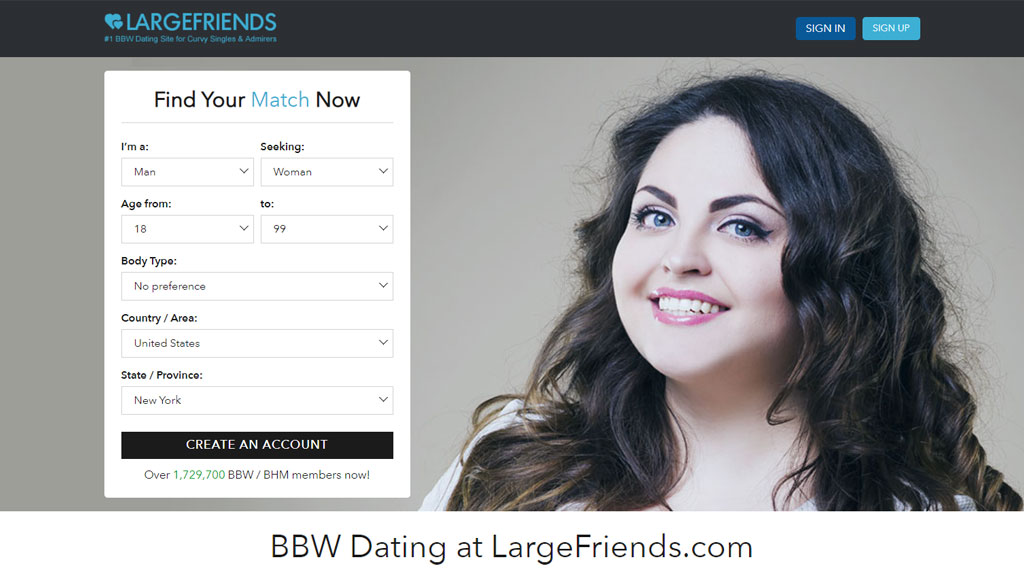 Is Large Friends Worth It? – The Bottom Line Upfront
Large Friends earned a rating of 8 out of 10 from our team. The app is a unique platform where plus sized men and women can feel free to interact and date without fear of cruelty and rejection. That alone makes this site worth a look!
On top of that, Large Friends has a surprising number of interesting features and an easy sign up process. We even have a link for you to sign up and test out the site, completely free. So, if you are interested in plus sized singles or being accepted as a plus sized single, Large Friends is definitely worth a look!
---
Overall Large Friends Rating
| Category | Score |
| --- | --- |
| Quality Matches | 9.0/10.0 |
| Features | 7.5/10.0 |
| Ease of Use | 7.5/10.0 |
| Support | 8.0/10.0 |
| Cost | 8.0/10.0 |
| Overall | 8.0/10.0 |
Pros and Cons of the Large Friends Dating App
Pros
Large Friends has a dedicated app for android users, meaning you can take your dating journey on the go.
The site is a safe space for BBWs and BBMs to meet and make unique connections.
The sign up process is very quick and users can use our free trial link to try it out for free.
Cons
The site allows couples and those seeking couples to join, which gives it a far more casual feel than other dating sites.
If you're not attracted to plus sized singles, the site is not for you.
There is only an app available for Android devices, so iphone and Apple device users will need to use the actual website.
---
Who Large Friends Is Good For:
Singles who are attracted to plus sized beauties, whether or not they are plus sized themselves.
Couples seeking fun with another individual or couple.
Those interested in having access to both casual and serious dating opportunities.
Who Large Friends Might Not Be Best For:
Singles who are not attracted to plus sized people or who intend to be cruel to any overweight matches.
Plus Sized singles who are not interested in dating other plus sized people.
Apple users who want a dedicated mobile app.
Best Alternatives to Large Friends (With Free Trials)
Maybe the Large Friends dating site isn't for you? Lucky for you the internet is a huge place and you have plenty of options for safe online dating. The first step is deciding what you're looking for.
If you know you want to sign up with a plus sized dating service then it may be worth looking into our review of WooPlus. WooPlus was rated slightly better by our team so it's at least worth comparing the two for yourself.
But hey, no one ever said plus sized singles had to sign up with a BBW dating app. If you're looking for some mainstream options, here is a list of some of the most popular dating sites for plus sized singles right now:
Large Friends Review – Table of Contents
Fast Facts About Large Friends
Site Name: largefriends.com
Paid or Free: Extensive free trial then monthly membership
Average Sign-Up Time: 5-6 minutes
Paid Membership Pricing: Plans starting as low as $15.95 per month
Unique Large Friends Facts and Figures

Large Friend was launched in 2002 and has quickly become one of the most popular plus size dating sites on the web.
There is only an Android app available and it has a rating of over 4 stars.
The site has hundreds of thousands of active users.
Most users on Large Friends are between 25 and 35 years old.
Large Friends Features Overview Features Overview
Large Friends has a lot to offer free trial users, but premium features are even greater. Here are three of our favorite perks to signing up for a premium membership:
Account Managers
Premium users have access to all major features and full communication tools, but there is a feature that goes far beyond the standard tools – Account Managers. These are real people that manage your account and give you advice on creating a profile that will wow other users.
It's like having a dating coach without spending thousands of dollars!
Premium Membership Rewards
Large Friends offers an interesting incentive for participating in their blog and chat rooms. If a premium user leaves comments, shares pages, invites members, or interacts in a number of ways, they will be rewarded.
These rewards can vary, but gaining free premium membership time is one common reward.
Premium Wink
Winks are used to show users on Large Friends that you are interested. Free members have access to basic Winks, but Premium users can use Winks that push to the front of the crowd and create accessible conversations with other users. It's just one of the many basic features that are advanced for those willing to pay!
The Quality of Singles at Large Friends
Large Friends is a niche dating site. This means that they cater to a very specific set of singles. In this case, it is singles that are, or interested in dating, plus sized singles.
So, if you are interested in dating plus sized singles, Large Friends has a high quality user base you will love. Some of the sexiest plus sized singles can be found there! Additionally, the site is welcoming and the users' profiles are almost always flush with great bios and catchy headlines.
How to Sign Up at Large Friends
Signing up for an account on Large Friends is simple, but thorough. You will start by adding your email address and creating a password. Then, you will transition into creating your profile details.
This includes your gender, height, ethnicity, relationship status, profile headline, biography, and details about what you are looking for in a match. You will also have to upload at least one photo.
The process is simple and takes around 5-6 minutes to complete.
The easiest way to get started is by following our free trial link, below!
Price | How Much Does Large Friends Cost?
There is only one membership type and three different membership term lengths you can choose from. Pricing ranges from $15.95 per month up to $29.95 per month, depending on how long you choose to purchase for.
| Membership Type | Membership Length | Membership Cost |
| --- | --- | --- |
| Gold Membership | 6 Months | $15.95 per month |
| Gold Membership | 3 Months | $19.95 per month |
| Gold Membership | 1 Month | $29.95 total |
Pricing for a largefriends.com membership is all-inclusive and there are no "additional add-ons" or upsells that they're going to throw your way. If you pay for a Gold membership, you get everything. When you first join the site, you're considered a Standard Member which is largefriends.com's version of a free membership.
Comparing the Large Friends cost with the rest of the industry, this is in line. A 1-month membership is about a dollar a day (or about 50 cents a day with the 6-month membership). All memberships are charged as a one-time charge.
The 1-month membership at largefriends.com will automatically renew while the other two options do not. You can easily turn this off, though, by contacting support or updating your billing preferences.
Payment options include:
Visa, MasterCard, and American Express
PayPal
Personal Check
Money Order
Customer Support Options
When it comes to dating platforms, it seems that the last consideration for modern amenities in the customer support page. Like most other sites, Large Friends' customer support exists almost exclusively through a large FAQ page.
If you have questions that aren't answered on this page, you can reach out to customer support through email. Large Friends says their customer service representatives are available 24/7, but our inquiry email took approximately 60 hours before we received a reply.
Large Friends Free Trial
The Large Friends free trial is fairly extensive compared to other free trials in the online dating industry. The industry standard is that you gain access to the inside of the site, can look at a few matches, and typically have no communication abilities. With the Large Friends free trial, we were pleased to see quite a bit more.
Not only do you have access to every member's profile and all of their photos, but you are able to respond to messages and chats from other members completely free of charge. This means that with your Large Friends free trial, you may be able to find that special someone you're looking for before you even have the chance to consider upgrading to a paid account.
---
What You Get With Your Large Friends Free Trial
You can create your entire profile, put in details about your desired match, and upload up to 25 profile pictures
You can reply to unlimited messages and online chats from paying members for free!
Post date ideas and view others, post questions to matches/friends and respond to others, and comment on profiles, photos, blogs, and forums
Access to the "Let's Meet" features and access to ALL member's full profiles and all of their uploaded photos and information
Your Large Friends Free Trial Won't Include…
Sending first messages or chats to members (you can only respond to others)
You can't see how often a member replies to messages
You won't be able to search by who is new, interested in you, location, body type, or who marked that they were interested in you
---
Large Friends Dating App FAQ
Do I Have to Be Plus Sized to Use Large Friends?
Nope! Large Friends is open to users of all sizes. Standard sized members must be open to dating a plus sized single and there is no tolerance for body shaming on the app.
Is the Large Friends Site for Hookups or Serious Romance?
Large Friends can be used to find friends, hookups, or serious partners. There are tons of ways to use the app to fit your needs.
I am in An Open Marriage. Can We Join Large Friends Together?
Yes. Large Friends welcomes couples to join the app and for singles to seek out couples.
Is Large Friends Open to Lesbian and Gay Singles?
Large Friends is LGBTQ friendly and allows individuals to seek out whichever gender they choose.
Can I Download Large Friends on my Apple Device?
No. Unfortunately, Large Friends is only available through Google Play to be used on Android devices. IOS users may be able to access the website on their mobile browser, but there is no dedicated app available at this time.
What is The Spark Feature on Large Friends?
The Spark feature is a way for users to not get overwhelmed by a sea of matches on the platform. On the Spark page, users are shown a single user at a time and they can quickly choose whether they are interested or not. It is very similar to the swipe-matching seen on sites like Tinder, Bumble, and Hinge.
How Can I Try Large Friends for Free?
If you want to try Large Friends without the need to input credit card info or pay even a dime, check out our free trial link. It will take you to a free sign up page where you can get your profile created and begin utilizing some free features in less than 10 minutes!