InterracialDatingCentral is an interesting, niche dating site that creates a place where those seeking interracial relationships can meet. However, the site claims to be even more than that. They state they are an all inclusive site where anyone can meet fantastic singles as long as the idea of interracial dating doesn't bother them.
This gives the appearance that the site is a safe haven for those of all races to seek love while avoiding the seedy, racist side of online dating.
We love the concept, but we also know that dating sites need more than good intentions to be worth your time and/or money. So, we signed up for the site and scoped out the features, cost, customer service, members, and much more.
Want to see what InterracialDatingCentral is all about? Read on to see what we learned!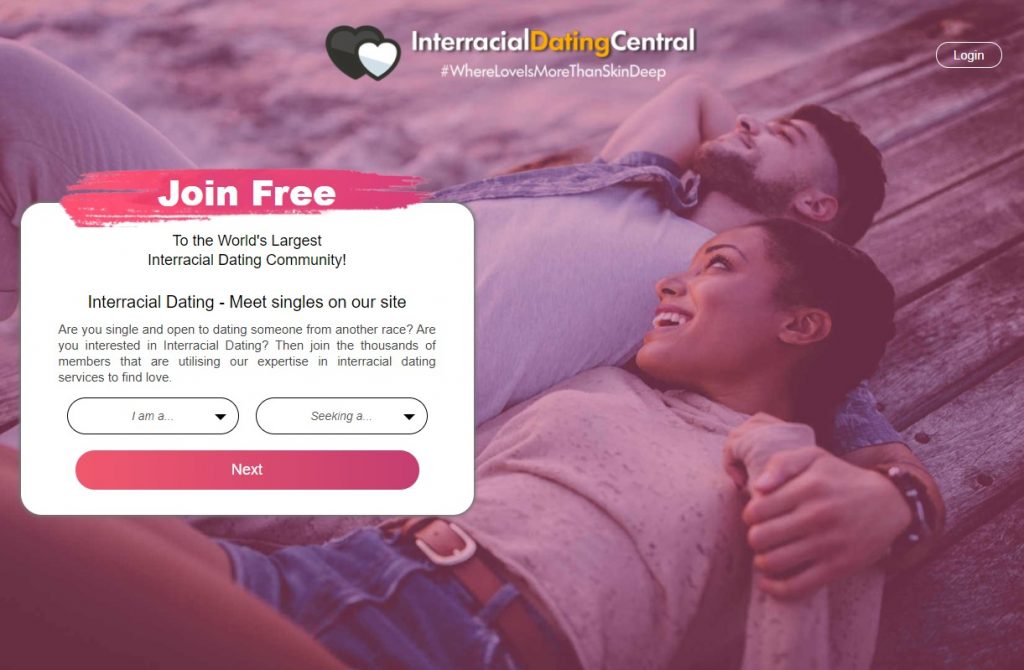 InterracialDatingCentral – The Bottom Line Up Front
When we determine if a dating site is worth it, we consider a lot of criteria.
Is it hard to sign up?
How much does it cost?
Can you trust your data on the site?
The list goes on!
With InterracialDatingcentral, we had a tough time finding anything negative about the site. The cost is low, the free membership is useful, the profiles are real, and the customer support team seems to care.
If we had one complaint, there is maybe a little too much banner advertising. Overall, we really think InterracialDatingCentral is worth the time of anyone who is open to dating any and all races of people.
---
Overall InterracialDatingCentral Rating
| Category | Score |
| --- | --- |
| Quality Matches | 9.5/10.0 |
| Features | 8.0/10.0 |
| Ease of Use | 8.5/10.0 |
| Support | 9.0/10.0 |
| Cost | 8.5/10.0 |
| Overall | 8.5/10.0 |
8.5/10.0
Pros and Cons of the InterracialDatingCentral Dating App
Pros
A safe and inclusive environment for all singles.
The site is super easy and fun to use.
There are almost no fake accounts to be found on the site.
The site is actually usable for free accounts.
Cons
Some features are behind a paywall.
There is no algorithm or questionnaire based matching service.
Not as large of a user base when compared to mainstream dating sites.
There is no app available for the site.
Who InterracialDatingCentral Is Good For
Singles who are specifically interested in dating singles from another race.
Those who are interested in people for their personality and not their skin color.
Singles that want an easy to use and inclusive platform.
Who InterracialDatingCentral Might Not Be Best For
Singles who seek to only date their own race or general skin color.
Anyone who isn't open to an inclusive dating site.
Those who want a dating site that contains no banner ads.
InterracialDatingCentral Review – Table of Contents
Fast Facts About InterracialDatingCentral
Site Name: interracialdatingcentral.com
Paid or Free: Paid site with a limited free option
Average Sign-Up Time: ~ 5 minutes
Paid Membership Pricing: Plans starting as low as $11.66 per month
Unique InterracialDatingCentralFacts and Figures

The site was launched in 2003.
The site sees over 3,000 daily logins.
Over 100,000 users on the site are from the United States.
The genders on the site are split nearly 50/50.
InterracialDatingCentral Features Overview
This InterracialDatingCentral review is filled with information on cost, singles, customer service, and anything else you might want to know, but nothing is more important than the features. What good is a site filled with great singles if you can't figure out how to find them or talk to them?
Here are some of our favorite features from the site!
Flirts
Flirts are available to both paid and free members. This easy-to-use feature allows you to show your interest to others on the site and try to get them to initiate messages. This is a great feature for free members who can't initiate messages on their own.
Anonymous Searching
Anonymous searching is a favorite feature on most dating sites. This allows you to look through profiles without users being able to see your activities. This is perfect for those who are nervous about using a dating platform.
Flirting and View Information Review
Premium members have an added perk of getting a detailed report on members who send flirts, view their page, or add them to a favorites list. This can give you a great indicator of which users you should look into based on their profile and interest in you.
FYOOZ
InterracialDatingCentral is owned by a company known as Chellaul Corporation. This corporation has a magazine called FYOOZ. This can be reached through a link on the InterracialDatingCentral site and contains lots of useful articles about dating, lifestyle, and more!
Online Dating Coach
Premium members can utilize the site's online dating coach at no additional cost. This includes a free, monthly session with the coach which can help you enhance your dating skills, evaluate your dating needs, and lead to successful relationships.
The Quality of Singles at InterracialDatingCentral
The quality of singles at InterracialDatingCentral is extremely high! The moderators work hard to keep fake profiles off the site and avoid letting bigots accost members. This had led to an extremely low instance of fake accounts and catfish.
Not only are the accounts all real, the singles are open-minded, attractive, and communicative. The only negative marker toward the singles is that there aren't as many of them on the site as you would see on a general, non-niche dating site.
How to Sign Up at InterracialDatingCentral
Signing up for InterracialDatingCentral is super fast and easy. There are a few pages of information to fill out regarding your personal information, sexual orientation, location, race, preferred race, etc.
You will also begin filling in the bio information for your profile.
All-in-all, the process takes only a few minutes. The overall speed will depend on how thoroughly you fill in information and how quickly you type.
To get started, all you have to do is click our link!
Price | How Much Does InterracialDatingCentral Cost?
| Membership Length | Monthly Price | Total Cost |
| --- | --- | --- |
| 1 month | $23.96 | $23.96 |
| 3 months | $12.12 | $36.36 |
| 6 months | $10.76 | $64.56 |
Customer Support Options
InterracialDatingCentral has some of the best customer support options we've seen on any dating site. There is phone support, email support, and even live chat support. This means you can get your questions answered extremely quickly!
You won't find a live chat feature on many dating sites, so that is definitely a plus in our book!
Try InterracialDatingCentral Now
---
InterracialDatingCentral FAQ
Is InterracialDatingCentral LGBTQ Friendly?
Yes! Upon signing up with InterracialDatingCentral, you will be asked about your gender identity and the gender you seek while dating. The site, unfortunately, doesn't allow for more detailed specification to cover people who are non-standard genders, but it is a great starting place for LGBTQ inclusion on the site.
Is InterracialDatingCentral only for Caucasian and Black singles?
No! Anyone from any race can use the site to find singles of all other races. The dating site's goal is just to match open-minded singles to one another.
Can I See my Admirers as a Free Member?
No. Free members will not be allowed to see who is viewing them, liking them, or saving them to favorites lists. However, paid members can see this info. So, free members are encouraged to show interest when they can to try and prompt paying members into messaging them first!
Who is The Date Whisperer?
The Date Whisperer, Carson Simons, is a dating coach that creates great videos to help singles find success in dating. Her videos are available to members through the FYOOZ page.
Can I Try InterracialDatingCentral for Free?
Yes! To sign up totally free and try out InterracialDatingCentral, just follow our link!
What Do Free Members Get?
Free InterracialDatingCentral members can:
Reply to messages
Send "Flirts"
Add profiles to favorites lists
Utilize the sites advanced search engine
Paid InterracialDatingCentral members can:
Do everything a free member can
Initiate conversations
See information about users who send flirts, view their page, and more.
Search anonymously
Access FYOOZ articles and videos
Access to Online Dating Coach
How Do I Use Online Dating Coaching?
InterracialDatingCentral offers quick access to a dating coach that can help you navigate the world of dating (online or offline) and improve your chances of starting meaningful, fulfilling relationships. You can do this by clicking the "dating coach" button on the site. There, you can access a monthly dating coach session for free. The feature is only for premium members.