If you have tried dating before, in person or online, with no luck, there's a chance you're suffering from something we like to call, Pond-Too-Small Syndrome. The facts are, this world is huge, and sometimes you just don't get lucky enough to end up living in a place where your soulmate happens to be a local resident.
That doesn't mean there is anything wrong with you, it just means you need to expand your horizons.
International Cupid is a dating site that claims they can help you do that. This platform, run through Cupid Media, is one of the largest and most well established international dating sites/apps in the world with a user base to show for it. But, size isn't everything.
Today, we are diving in to look at everything International Cupid has to offer to see if they are truly worth the time, effort, and money. Before you cast your international dating net, check out what we learned about International Cupid.
Is International Cupid Worth It? – The Bottom Line Upfront
Dating internationally can be a bit complicated. When you meet someone from across the world and fall in love are you going to be willing to find a way to end up in the same country? Are you content with a permanently long-distance relationship? Are you prepared for immigration laws and the red tape that surrounds international marriage?
If you aren't dedicated to the long term success of an international relationship, then International Cupid is not a site that's worth your time.
However, if you are prepared to dedicate yourself to an international relationship and simply need a platform to help you connect with international singles, then International Cupid is definitely worth it! The site has a wide selection of singles from around the world along with integrated chat features, translation services, and anything else you need to get your relationship started.
---
Overall International Cupid Rating
| Category | Score |
| --- | --- |
| Quality Matches | 8.0/10.0 |
| Features | 8.4/10.0 |
| Ease of Use | 9.3/10.0 |
| Support | 9.0/10.0 |
| Cost | 8.5/10.0 |
| Overall | 8.64/10.0 |
8.64/10.0
Pros and Cons of the International Cupid Dating App
Pros
You can find romantic partners from countries all around the world with minimal effort.
The free version of the International Cupid app has enough features to make it usable long term.
The sign up process is both quick and also enhances your matching experience.
Cons
Local user pools are often considerably smaller than on non-international dating sites.
Many premium features are reserved for top-tier paid members.
There are some fake profiles on the International Cupid site/app, for which you need to be careful.
Who International Cupid Is Good For
Singles who struggle to find compatible singles in their local dating pool.
Those interested in meeting new people from all over the world.
Singles who are prepared to take on the challenges of an international romance.
Who International Cupid Might Not Be Best For
Singles who want to exclusively date within a certain distance of their home.
Those who want to avoid singles of differing nationalities, languages, or cultural backgrounds.
Singles looking for a dating app they can use on Apple devices.
International Cupid Review – Table of Contents
Fast Facts About International Cupid
Site Name: International Cupid
Site URL: internationalcupid.com
Paid or Free: Paid site with a limited free trial
Average Sign-Up Time: ~6 minutes
Paid Membership Pricing: Plans starting as low as $10 per month
Unique International CupidFacts and Figures

The most common age range for female users on the site is 25-35 years old
Has a 3.8 star (great) rating on Trustpilot.
The site has over 4 million registered users
The platform has been helping match international couples since 2004
International Cupid Features Overview
Sure, International Cupid may be one of many sites under the Cupid Media umbrella, but they are completely original in their approach to dating. When you consider their overall goal – matching international singles, they have to be. Because of this, they have some entirely unique features on the platform alongside some Cupid Media classics.
Exotic Beauties Gallery
This is a feature completely unique to International Cupid. It can be all too easy to fall into a Eurocentric mindset when it comes to beauty standards.
To help combat this, International Cupid highlights singles with interesting, unique, and stunning beauties from around the world. This is a place to find new singles, appreciate different aesthetics, and learn new things about your personal taste in partners.
Cupid Tags
This is a pretty standard Cupid Media feature, but one we really love. You can tag your own profile with little details that describe you.
These little descriptions become easily searchable identifiers that help you show up in other users' search results. If someone searches for a general set of profiles you may be one of hundreds of results. Now, if they add in a search term that matches your Cupid Tag, you'll suddenly find yourself at the top of their search results.
Message Translator
This may be one of the most useful and important features on International Cupid. Platinum members will gain access to automatic translation services. This service automatically translates messages to and from recognized languages so that you can maintain conversation with matches from all over the world.
Compatibility Guide
Another standard Cupid Media feature, the compatibility guide is simply a measure of compatibility that can be seen on any member's profile. This measurement is taken based on your preferences and the small personality quiz given during sign up. Compatibility is shown as a percentage level – the higher the percentage, the more likely you are going to get along with that match.
The Quality of Singles at International Cupid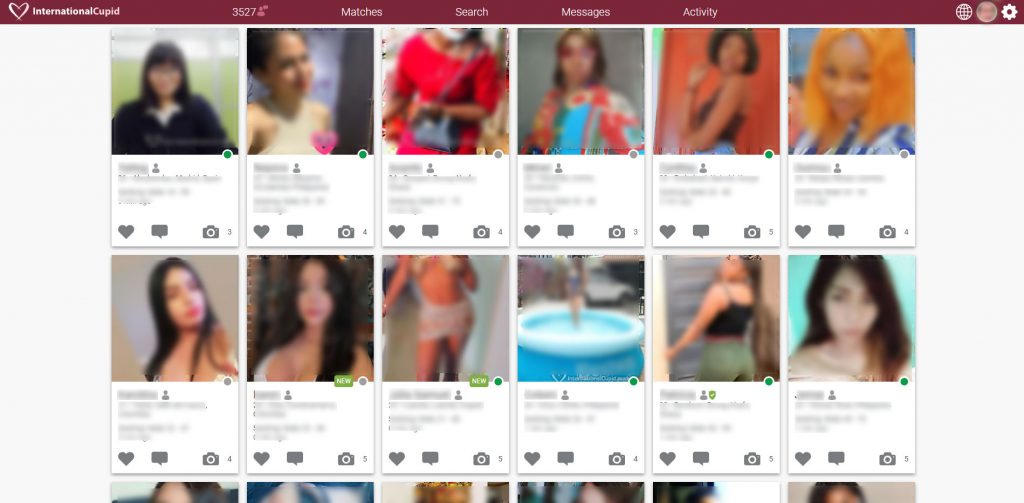 International Cupid has a lot of members and as such has a lot of variety in the quality of profiles. We've seen some amazing profiles and some members that don't seem to care much what people think about them. It kind of makes you wonder why they bother with signing up for a dating site in the first place.
Still, we'd say the overall majority of users we found on International Cupid had information profiles, nice profile pictures, and seemed genuinely interesting. Plus, the platform works to highlight the best of the best of these profiles, making the overall quality seem even greater.
How to Sign Up at International Cupid
Signing up for a free International Cupid membership is as fast as it is easy. All you need is an email address, a few minutes of your time, and a good profile pic.
There is a short personality questionnaire, but it's actually pretty fun to take! You can knock the whole process out in just a few minutes.
If you are ready to begin, simply follow our link!
Price | How Much Does International Cupid Cost?
| Membership Type | Length of Plan | Monthly Cost | Total Cost |
| --- | --- | --- | --- |
| Gold | 12 Months | $13.75 | $165.00 |
| Gold | 3 Months | $27.67 | $83.00 |
| Gold | 1 Month | $41.50 | $41.50 |
| Gold | 1 Week | $81.48 | $20.37 |
| Platinum | 12 Months | $17.50 | $210.00 |
| Platinum | 3 Months | $33.33 | $100.00 |
| Platinum | 1 Month | $50.00 | $50.00 |
| Platinum | 1 Week | $100.00 | $25.00 |
| Diamond | 12 Months | $31.67 | $379.98 |
| Diamond | 3 Months | $59.99 | $179.97 |
| Diamond | 1 Month | $89.98 | $89.98 |
| Diamond | 1 Week | $200.00 | $50.00 |
International Cupid Customer Support Options
Phone (US and Canada): 1-844-505-3027
Phone (UK): 0808 281 2918
Phone (Australia): 07) 3186 0281
Phone (International): +61 7 3186 0281
Fax: +61 7 3103 4000
Mail: PO Box 9304 Gold Coast MC QLD 9726, Australia
The customer support team at InternationalCupid.com is available to answer your calls from 9am to 4pm (Australian Eastern Standard Time). If you find yourself needing a little bit of help outside of those hours you will need to find the customer support option at the bottom of their page or in the main drop down menu of the site. Once you select customer support, a window will open that looks like a live chat box.
Don't be fooled, this is just a search field. Begin typing in your issue and the site will look for blog posts, FAQ articles, legal articles, or anything else that might answer your question. We were surprised at how well this system was able to answer most questions we thought of.
International Cupid FAQ
I Only Speak One Language. How Can I Date Internationally?
With International Cupid's Platinum Membership, language barriers are a thing of the past. They will automatically translate your messages to a match's native language and vice versa to ensure a seamless interaction.
Is International Cupid Legal?
Of course! International Cupid is simply a dating site where people from around the world can meet and potentially fall in love.
Is International Cupid for Travel Hookups?
No. The singles on International Cupid are looking for serious romances and long term relationships.
Is International Cupid LGBTQ Friendly?
Yes. International Cupid is LGBTQ friendly.
Is International Cupid Completely Free?
No. International Cupid has a free base version, but many features, including outgoing messaging, are reserved for paid members. To learn more about this visit our International Cupid free trial page.
How Can I Sign up for an International Cupid Free Trial?
If you are interested in trying International Cupid but don't want to spend money on a membership, simply click our link!