The casual dating app Hily has been growing like crazy since it launched in 2017. It added 16 million members in 2020, and now, over 22 million people use the app. The massive growth got our attention, so we decided to set up an account and test the site for two weeks. Stay tuned for our full Hily review to learn all about our personal experience using the app.
We're going to cover it all, from the membership base to the number of messages and matches we received, pros and cons, and user complaints… And, of course, we'll bottom line it all so you'll know if Hily is the right dating app for you.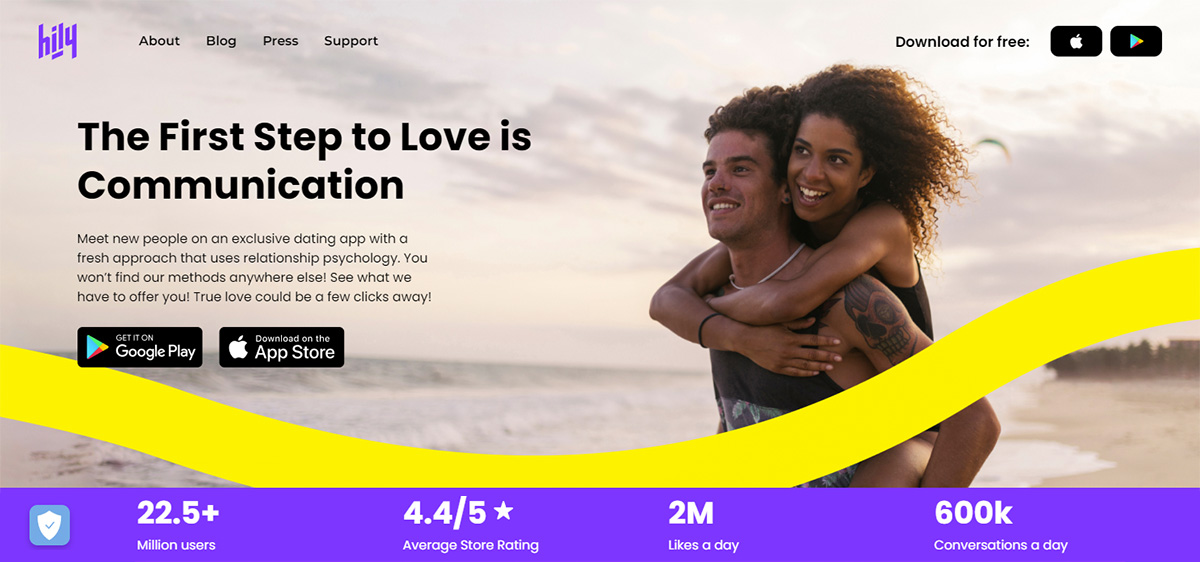 Overall Hily Rating and Review Scores
| Category | Score |
| --- | --- |
| Starting Cost | $14.99/week |
| Online Since | 2017 |
| Userbase | 22 Million+ |
| App Store Rating | 4.2/5.0 |
| Google Play Rating | 4.3/5.0 |
| Our Review Score | 7.8/10.0 |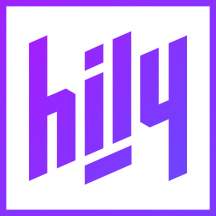 7.8/10.0
Looking for a casual dating app in 2023? you can't beat Zoosk! It's easily the best Hily atlernative – Read full review.
Is Hily Worth It? – The Bottom Line Up Front
As a casual dating app, Hily is designed to help people make fast and fun connections. And based on Hily's own data, it works. According to Hily, its members:
Engage in 600,000 conversations a day
Go on 318,000 dates a month
Start 112,000 relationships a year
After using the site for two weeks, we think those numbers are legit. The membership base is active and motivated, and the likes, matches, and convos come at rapid speed here – even for free members.
So, let's start our review of Hily by looking at free accounts. While most casual dating apps put the best features behind paywalls, Hily allows free members to do the following:
React to up to 100 profiles a day
Send one Major Crush each day
Use one rollback a day
Text and video chat with matches without limits
View and create live streams
We averaged nine matches and three new convos a day with a free account, and the numbers exploded after upgrading to premium. Now, a premium account is a little pricey – $14.99 a week, $119.99 a year, or $199.99 for a lifetime membership. Still, we think it may be worth it for a lot of Hily users.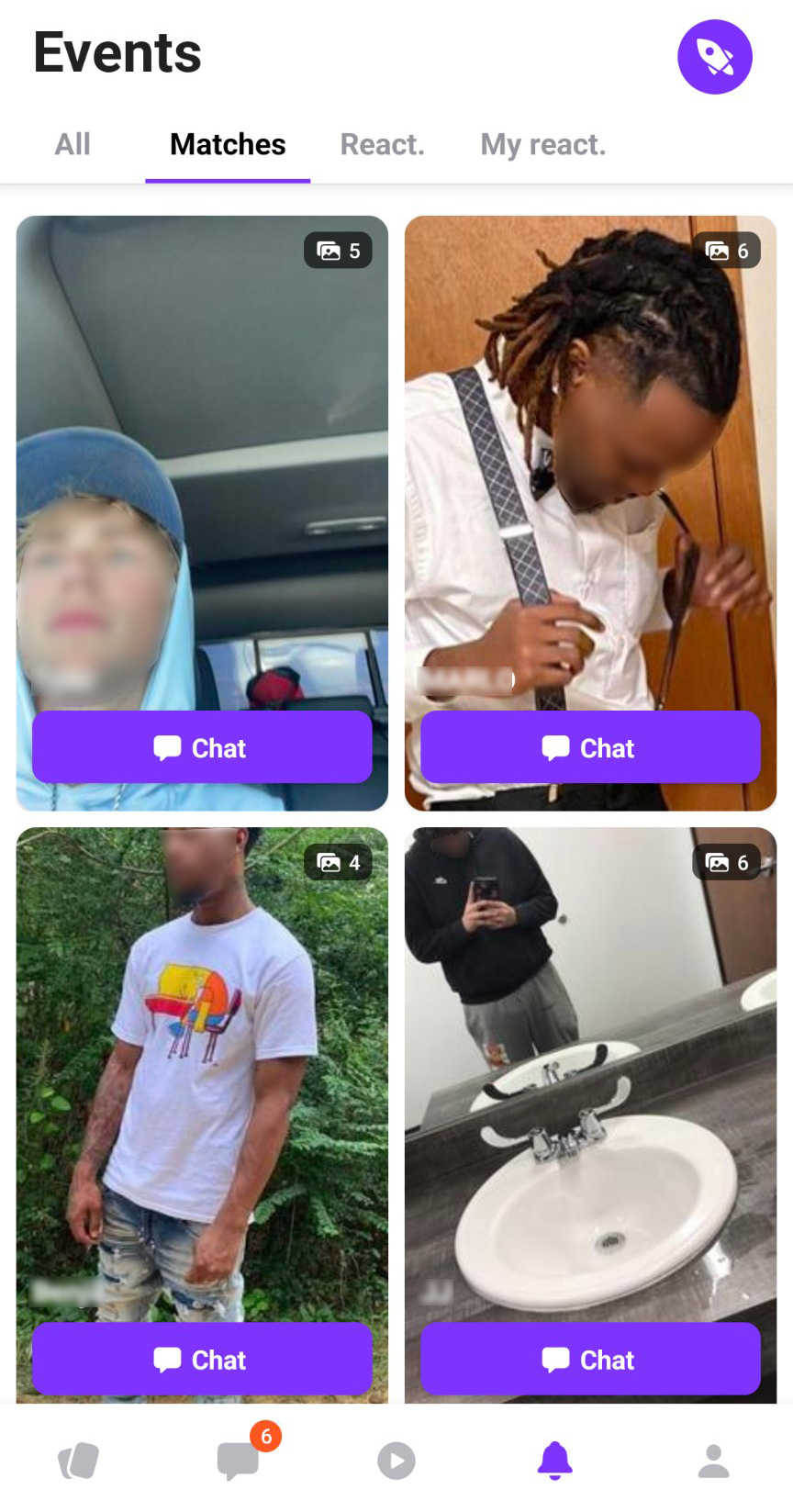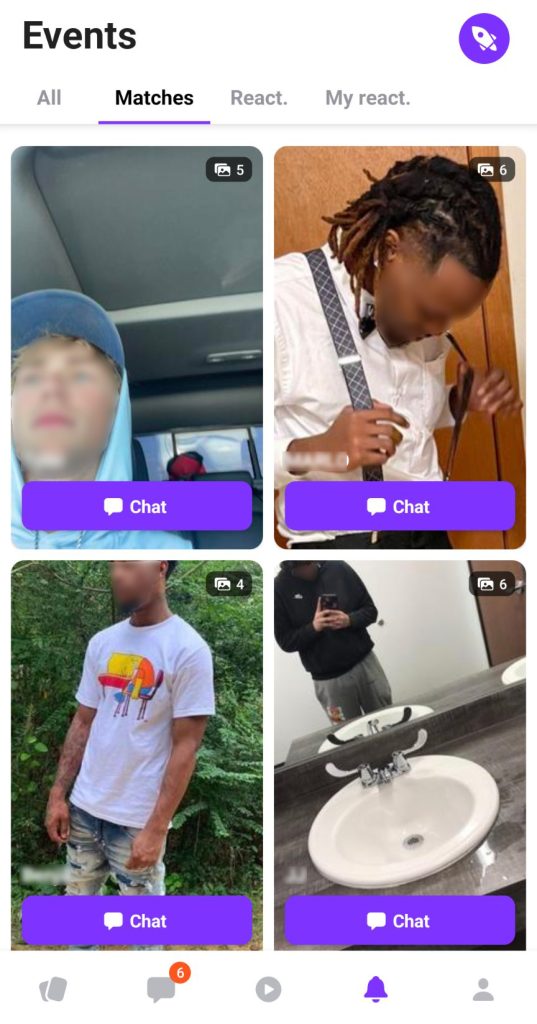 As premium members, we could:
Send unlimited likes
See how liked our profile
Send 10 Major Crushes a day
Rollback ten swipes
Conduct 10 Compatibility Checks a day
Access advanced filters
By seeing our likes, we were able to grow our matches to 20 a day, leading to around eight daily conversations. We even got asked out on several in-person dates, so we can definitely see how Hily members go on 318,000 dates a month.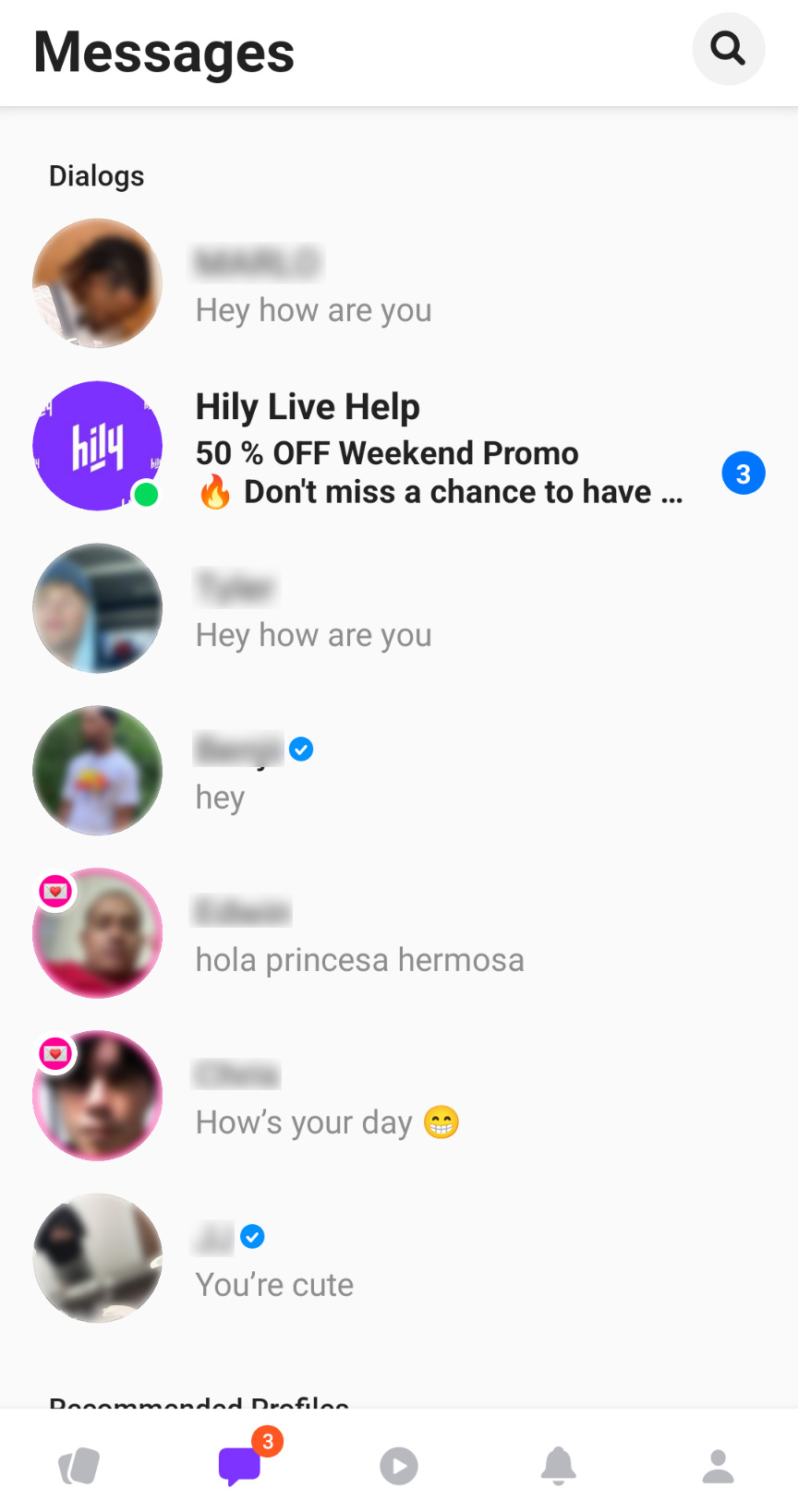 So, what about the quality of the matches?
At first, our matches were all over the place, but they improved the more we interacted with the app. See, Hily uses AI technology that learns as it goes. Basically, the more you use the app, the more your matches match your interests and personal preferences.
Still, there are limits to the matching algorithm when using a free account. We saw lots of profiles that we wouldn't consider swiping right on, but the system got much better when we searched with a premium account.
Along with unlocking nine additional search filters, our premium membership allowed us to run ten Compatibility Checks a day to see how we stacked up in key areas. We were able to weed out a lot of potential matches using this feature alone.
If you're interested in casual dating that might become serious, we recommend skipping Hily and claiming a Zoosk free trial instead. However, if you're in the mood for a fun hookup app, Hily is one of the best casual dating apps out there.
Pros and Cons of the Hily Dating App
Pros
Can message and video chat with matches for free.
Compatibility checks let you know how in sync you are with your matches.
The app has a social media feel to it which makes communication incedibly easy.
The verification process helps to prevent scammers and bots on the app.
The Auto-blocker protects users from rude and crude messages in their DMs.
Responsive, engaged membership base.
Cons
Hard to form deep connections on Hily.
Profiles are fun but don't focus on personality.
Chat requests aren't reserved for mutual matches, so randos can (and will) chat request you.
Many of the best features are reserved for paid premium members only.
Streamers can't cash out virtual gifts (but can receive rewards from the app).
User Complaints About Hily
With 4.2 out of 5 on the App Store and 4.3 out of 5 on Google Play, most members have positive experiences with Hily. Still, we came across some complaints when reading user reviews of Hily. Let's go over some of the complaints that came up over and over.
Lots of Ads – This is something we experienced when using the free version of Hily. There are a lot of ads on this dating app, but you can get rid of them by upgrading to premium.
Glitchy App – Hily can get a little glitchy, especially when flipping through photos. You might find yourself back to the first picture mid-flip.
Low-Effort Profiles – Users also note that far too many members don't take the time to fill out their profiles. As we mentioned earlier in our Hily review, this is most common with men's profiles.
Hily Features Overview
A lot of features grabbed our attention when we were preparing our review of Hily. While most of them were hits, we also found a miss or two. Let's go over some of the most popular features, along with our thoughts.
Hily Boost – Available for an Additional Fee
You can purchase a profile boost if you want to get in front of more people. We received twice as many views when we boosted our profile, but we still don't think it's worth the extra money. See, we had plenty of likes and views without boosting, so we don't recommend throwing extra money at the casual dating app.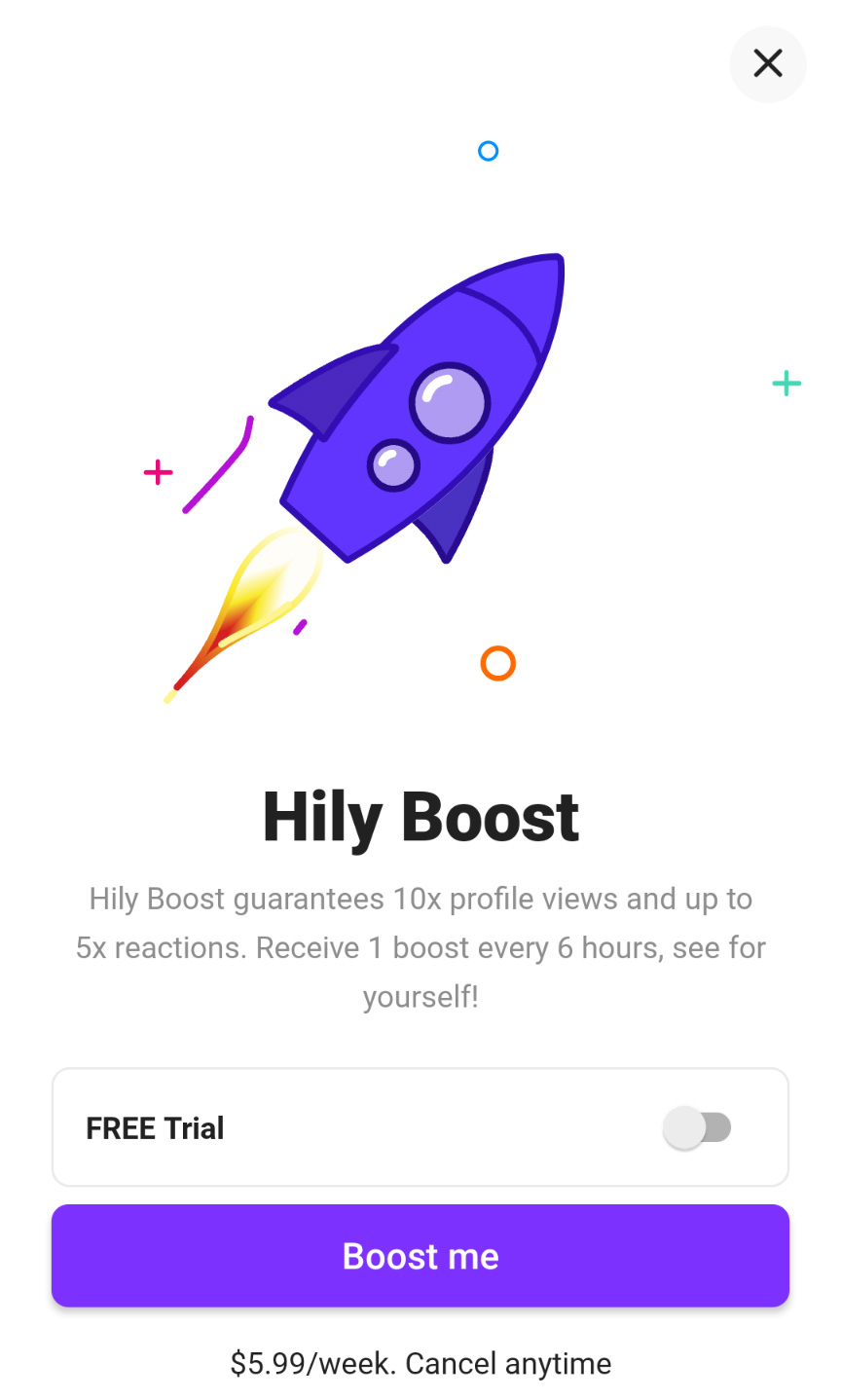 Instead, make some tweaks to your profile if you aren't getting many likes or views. Find out how to write the perfect dating profile so you can get tons of attention.
Major Crushes – Available to Free and Premium Members (Limited with Free Accounts)
While you can message your matches for free, you don't always want to wait before connecting. If you see someone you want to contact before matching, you can send them a Major Crush. Then, you'll be free to chat before getting a match.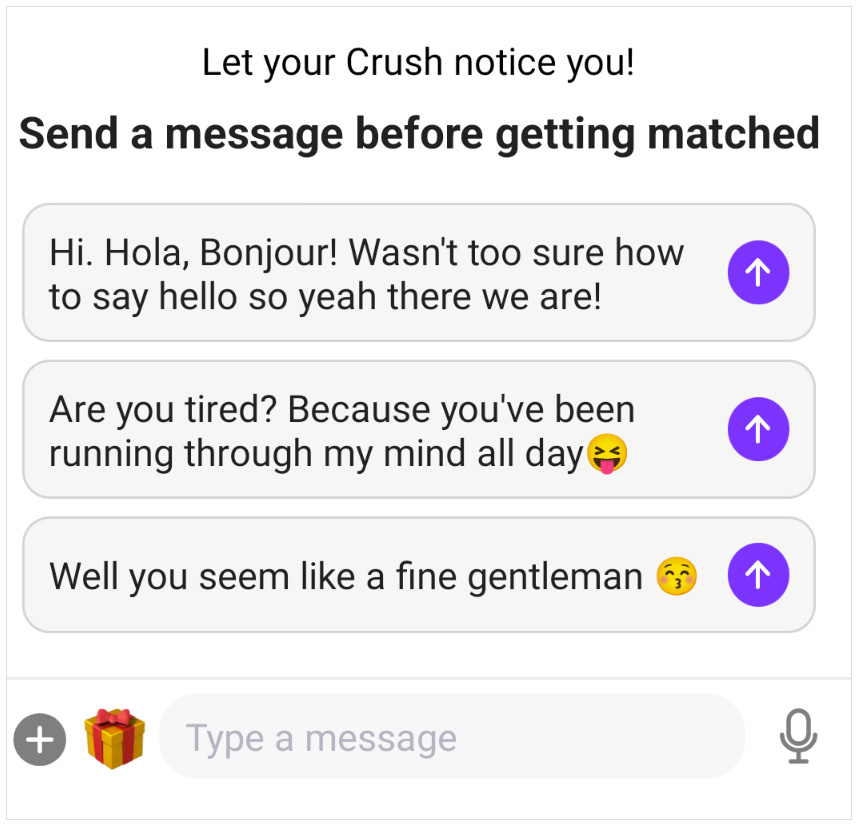 While Major Crushes are mainly a premium feature, Hily occasionally gives them out to free members. Just this morning, we logged in to find out our free account had received three additional Major Crushes to use.
This feature was hit-and-miss for us. We received responses to around a quarter of the Major Crushes we sent. That's not a super high response rate, but we still think this feature is worth using.
Profile Videos – Available to Free and Premium Members
Speaking of dressing up their profiles, members can also add videos. Think of the videos as short introductions that let you know more about members. We wish that more profiles had videos, but we enjoyed the ones we saw. If you plan on connecting here, we recommend adding one because you can show off a lot more personality in a video than you can in the profile itself.
Anthems – Available to Free and Premium Members
While the profiles on Hily don't get very deep, they are fun. For instance, members can include anthems for people to listen to when visiting their profile. You just need to select a song from Spotify, and it'll show up on your profile. We noticed that a lot of members use this feature, and it does add a bit of flavor to the hookup app.
Video Chat – Available to Free and Premium Members
Video chat is mentioned in a lot of Hily reviews since it's so popular with members. The app lets both free and paying subscribers video chat with their matches, as long as both people enable the feature. The app can be a little glitchy, so you can lose your internet connection in the middle of a video chat. Still, we like this feature overall, although we think Hily can improve upon it.
Live Streams – Available to Free and Premium Members
Members can create and view live streams, and also have the option of sending streamers virtual gifts to get their attention. There are some cool live streaming options, such as versus mode, which allows members to battle it out. (This is similar to live Battles on the casual dating app, Zoosk).
Unfortunately, you can only filter lives streams by gender identity and country, so it's hard to find people in your area.
Still, we recommend live streams if you want to become an influencer or build your friend group. Just keep in mind that Hily doesn't let streamers cash out their virtual gifts for real money. However, according to Hily's Streaming Policy the app may reward the efforts of its most popular streamers.
Global Search – Available to Premium Members
You're locked into your location if you use the free version of Hily. However, you'll have the option to look for singles anywhere in the world as a premium member. Then, you can use the Global Search filter to change the location.
We tested it out and are happy to report that it's easy to use. However, our engagement rate did go down by about half when reaching out to members in other locations. That makes sense considering that most members want to find people nearby.
Compatibility Check – Available to Premium Members
Members can take a 40-question compatibility quiz when signing up. Then, premium members can conduct compatibility checks to see how their answers compare to the other member's answers.
Now, this compatibility check doesn't come close to comparing to eHarmony's 80-question compatible quiz. eHarmony digs deep into people's psyches to see what makes them tick and uses those answers to match them with other members.
But here's the thing about Hily…
It doesn't need to get that deep since most members aren't looking for husbands and wives. As a casual dating app, it goes just deep enough to let members know if they're compatible for casual fun.
Quality of Singles – Reviewing Hily's User Base
So, we were drawn in by how visually appealing the profiles are on Hily, but quickly learned they're also pretty basic. Most members enter general info, such as what they're looking for and a few interests, but that's about it.
Now, women tend to add a lot of photos, but it's different with guys. A lot of the men on Hily don't include clear pictures of their faces, and we came across far too many avatars and images of sports figures. Come on, guys! You can do better than that!
Fortunately, the guys on Hily and other dating apps can turn things around by improving the quality of their profile photos. Whether you're a guy or a gal, read our thoughts on using professional photos on a dating app.
So, enough about photos. Let's move to the legitimacy of the members.
From our experience, the people here tend to be legit. We didn't come across any fake accounts when preparing our Hily review, and that's a rarity, especially considering how fast the signup process is.
We think this has to do with the Risk Score Hily assigns members. Members with lots of complaints, unverified profiles, and low-effort messages earn high Risk Scores, causing the app to block them from sending personal info. Now, that's a solid way to cut down on scammers.
Finally, the people on Hily are extremely active. Our phones were pinging constantly with new alerts. If you've been disappointed with the likes and messages you receive on other dating apps, Hily might be right for you.
Hily Alternatives (Other Casual Dating Apps to Consider)
Casual dating apps are hot right now, so Hily has a lot of competition. Check out three of its biggest competitors, along with our thoughts on how they stack up to Hily.
Zoosk – Hily and Zoosk are both casual dating apps with a lot in common. Both use machine learning to match members and offer video options. However, Hily lets members video chat, while Zoosk lets members go on Great Dates. Zoosk costs a little less, has a few extra free search filters (including filtering by children and relationship status), and has more than 40 million members. Both are solid casual dating apps, so we recommend testing each one to see which is a better fit.
Bumble – The profiles are pretty similar on Hily and Bumble, and you'll find many of the same types of members. However, you have to wait for the women to reach out on Bumble, which can be annoying. Hily is an equal-opportunity dating app. Both men and women can message members, which we prefer. (learn more about Bumble)
Tinder – While both Tinder and Hily can help you schedule some casual encounters, we prefer Hily. Tinder has a lot of fake profiles and a pretty weak matching algorithm that basically just considers distance and looks. Hily's matching algorithm can feel like that at first, but it improves after you use the app for a bit. (See full Tinder Review)
How to Sign Up for Hily – 6 Easy Steps
Signing up at Hily is super fast and straightforward. First, just head to the App Store if you're an iPhone user or to Google Play to download the Hily app to your device. From there you'll follow these steps:
Choose to sign in with Snapchat, Facebook, or your email. (we recommend your email).
Provide your basic information like your name and birthdate.
Read the location permission statement and allow the app to find your location.
Upload at least one profile photo with a clear shot of your face.
Take a quick, click-through personality test to help the app get a feel for your dating needs.
You're all set! Start browsing the Hily App.
Pricing Review – How Much Does Hily Cost?
| Membership Type | Price |
| --- | --- |
| Weekly | $14.99 weekly |
| Yearly | $119.99 yearly |
| Lifetime | $199.99 one-time |
As stated in Hily's Terms of Use agreement all subscriptions are set to automatically renew. You'll want to keep a close eye on this and cancel in time if you don't want to be charged again.
In addition to Hily Premium+ you can also buy unblurs and boosts separately. Here's a quick look at pricing for those add-ons.
Major Crushes, Unblurs, Rollbacks, and Compatibility Checks – 5 for $7.99, 25 for $19.99, and 100 for $29.99
Stream Boosts – 1 for $2.99, 3 for $7.99, and 5 for $9.99
Truth be told, we don't really think it make sense to purchase these packages.
For example, buying 10 unblurs would cost $15.98 buying them outright, but you get 10 daily when you upgrade to Hily Premium+ (so you can effectively get 70 unblurs for $14.99 this way).
It's also worth noting that Hily veeeerrrry heavily pushes their 1-week free trial. You really have to be paying attention to know that you can exit out the first time they ask. And then, they will immediately ask again (on a page that's even more misleading).
There is a button that says continue and one that says "begin 1 week trial", but even if you choose continue it will start signing you up for the 7 day Hily free trial. If you don't want to sign up for the Hily Premium+ free trial (and immediately start paying when it ends), then you have to use the back arrow at the top of the screen.
Hily FAQ
Can I Message Matches with Hily's Free Membership?
Yes! Free Hily members can message request any of their matches. The perk to a premium membership is being able to message singles you haven't matched with.
Is Hily Meant for Hookups or Long-term Romance?
Hily has a large focus on compatibility over looks, which makes it optimal for creating long-term connections. Most polled users say they are looking for love, but a smaller number of users do use Hily for casual dating and hookups.
How Does Hily Know My Matches Are Compatible With Me?
When you sign up for Hily you will complete a personality test that is the base for matching you with other users. When you find a single you are interested in, you can look at your compatibility score. This shows the percentage of compatibility and which questions you answered the same way.
I Have Been Ghost-Banned on Hily. What Do I Do?
If you think that you have been banned on Hily, you can reach out to customer service for further information regarding your ban and whether or not your account can be restored back to full access.
How Do I Cancel my Hily Membership?
Your subscription isn't held and monitored through Hily, which can make canceling a bit of a hassle. The steps for canceling depend on whether you are on an Android or Apple device. The steps are as follows:
Canceling Hily Through Google Pay
Go to the Google Play store and ensure you are signed into the appropriate account.
Tap "menu," and select "subscriptions."
Find the Hily app in the list of subscriptions.
Tap "cancel subscription."
Confirm as directed.
Canceling Hily Through Apple Pay
On your device, tap your name.
Tap "subscriptions."
Find the Hily app in the list.
Tap "cancel subscription."
---
---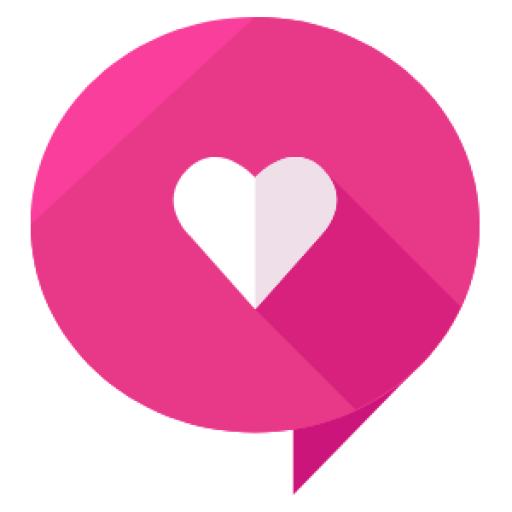 Written By: Healthy Framework Team
The Healthy Framework team has a combined 50+ years of experience in the online dating industry. Collectively, the team has reviewed over 300 dating apps and is known as one of the leaders in the relationship advice and information space. The team's work has been featured on Zoosk, Tinder, The Economist, People Magazine, Parade, Women's Health, Her Campus, Fox, and more.