When it comes to real Christian dating, the options are surprisingly limited. And when you want a Christian dating app that goes a little deeper than just "how often do you go to church?—here are your matches", the list becomes close to pretty non-existent.
That is until now. A brand new dating site recently launched called Higher Bond is aiming to be the right option for serious singles in the US looking for faith-based dating. According to the site, it's "built for Christian singles who value faith as the driving force behind their relationship decisions."
Don't Miss This! (3 Month Membership for Free)
We'll be right back to your regularly scheduled review, but before we continue there's something you need to know.
Higher Bond is currently giving away 3 months of premium Higher Bond Membership 100% free for a limited time. If you're at all interested in this new Christian dating app this is an offer you can't pass up!
But is Higher Bond worth it? Is it really changing the game for Christian singles? In this Higher Bond review, we're going to answer those questions and more.


Higher Bond – The Bottom Line Up Front
Higher Bond is clearly working hard to be the leader for serious Christian singles looking to find a faith-focused relationship. If that sounds like you, Higher Bond is a must-try (especially with the ability to get three months for free). When you look at their faith-based algorithm, manual approval of all accounts, and marketing focused on a specific niche in the market, it appears to be a big win.
Now, if your faith is not important to you and you're more casual about it—Higher Bond is not going to be the right fit no matter how you slice it. Additionally, the site is quite new, so expect a smaller (though higher quality) pool of singles. If you're cool with that, you're going to like what you see.
Also, Higher Bond does batch-style matching instead of just giving you a list of every single in the area like a lot of other Christian dating sites. The idea behind this is that people have developed unhealthy obsessions with online dating and tend to spend hours and hours every day on the site. Higher Bond wants to show you 3-5 curated matches a day and then send you on your way, hopefully leading to a more balanced life.
All of this (plus everything else we're going to cover in this review), shows that Higher Bond is on the way up—all puns intended. Use the link below to check things out and get signed up free now!

---
Pros and Cons of the Higher Bond Dating App
Pros
Taking a much more faith-focused approach to Christian dating than the currently available options
Will use a powerful matching algorithm built by Pastors, faith leaders, and relationship counselors
Unique first message rules to promote better conversations and more interactions
Special features designed to target the problems with the current state of online dating
Cons
Brand new so the userbase will be small at least during initial launch
There is potential for small bugs while new features are being released
There is an iOS app available but not an Android App (it is however usable through any mobile web browser).
Who Higher Bond Is Good For
Christian singles in the US looking for a serious and committed relationship
Faith-focused singles who are tired of watered-down dating options
Singles who want results without spending countless hours scrolling and swiping.
Who Higher Bond Might Not Be Best For
Anyone who doesn't live in the United States.
Singles whose faith is not a priority in their life.
People who like to flick through an endless sea of options.
Higher Bond Review – Table of Contents
What is Higher Bond?
Higher Bond is a Christian dating site designed for more serious Christian singles who are looking for real relationships. The dating site launched in the Summer of 2022 and the native mobile app (for iOS) followed in April of 2023. The brand currently services the United States as its preliminary market (with plans for international expansion later down the line).
The slogan of the Higher Bond app is "Real Christian Dating" and the mission of the company is that it is "built for Christian singles who value faith as the driving force behind their relationship decisions." Here are a few quick things you should know…
The app is designed to be user friendly and open to all ages (18+).
Higher Bond is a Christian owned and operated company.
Users can select from over a dozen denominations to refine matches.
Multiple features exist to limit the amount of time it takes to get results.
Higher Bond Features Overview
Generally, when new dating apps launch, they're quite lean when it comes to features. Usually, they focus on the most important things (like matching and messaging) and release new features quickly after the launch. For Higher Bond, that's what it appears their strategy will be.
Here are the features the company has made public that are currently available. The link also gets into how Higher Bond handles the matchmaking and dating process.
Signup – The Higher Bond Questionnaire
Everyone who joins Higher Bond gets to take a multiple-choice matching questionnaire that asks questions about their faith, lifestyle, and relationship goals. We've seen things like this before with sites like eHarmony, but this one looks like it's going to be different.
Instead of targeting primarily surface-level issues or things that may be culturally outdated, the Higher Bond matching questionnaire actually gets into the deeper-level factors that can have a profound impact on the compatibility of two people—specifically as it pertains to Christianity.
Some of these signup questions include:
Is prayer important to you?
What denomination do you identify with?
How often do you serve your church or community?
How often do you do a devotional or read your Bible?
Do you watch R-rated movies or shows?
Do you believe in traditional gender roles within the household?
Do you feel it's okay to tell a white lie to protect your partner's feelings?
Higher Bond will take your answers to these questions, plug them into the high-tech matching algorithm, compare them privately with answers from other users, and use that to shape the matches they send you.
The intended result is higher quality matches that you have a much higher probability of compatibility with.
Batch Matching (New Matches Daily)
A lot of people find online dating overwhelming. There's this thought that showing people as many people as humanely possible as quickly as possible is an effective form of online dating. The problem is that it cheapens the quality of interactions and adds an unhealthy air of disposability to people.
What Higher Bond is doing to change this is only sending users 3-5 matches per day. What's awesome about this is:
It encourages users to dig more into their matches and not just swipe them away.
It discourages the unhealthy desire to spend hours on end looking through matches.
It allows you to meet and match at a healthier pace without monopolizing time away from other areas of your life.
First Messages
One of the biggest problems with online dating tends to be the quality of first messages. Low-effort messages like "hey" or the mass sending of copy and paste messages don't promote the best experience for users looking for real Christian relationships.
And the other problem is that even when you take the time to send a great first message, your odds of getting a response always seem lower than they should be.
Higher Bond is looking to correct both of these issues in three ways.
1. Premium users can only start one new conversation per day.
You can always continue chatting with people you're already talking to or receive as many messages from other users as they want to send. However, when it comes to sending a message to start a brand new conversation with a new match, you are limited to one per day.
What this does is makes users spend more time looking through their 3-5 matches to find who they really want to send a message to. It also encourages them to put more effort into that first message, instead of trying to rapid-fire off messages to a lot of singles at once.
2. The first message is always templated.
Sometimes writing a first message is hard. You may not know what to say or how to write in a way that encourages responses. Higher Bond aims to fix this by helping with templated first messages. You'll receive four short questions to answer, and your answers to those questions (along with the questions) are sent to the match you're interested in.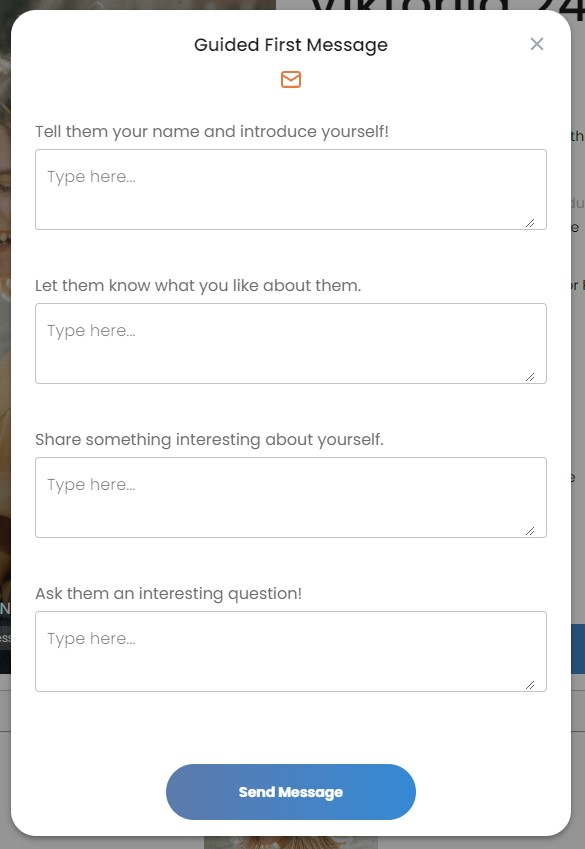 After that, it goes to normal open conversation, but the site is there to help you through arguably the toughest message to send.
3. Free users can always respond to messages from premium users.
At most dating sites, only about 10% of the users are paying for a premium subscription. This means that at most sites if you send 10 messages, only 1 of those people actually has the ability to respond. And if they happen to not be interested, you're going to be out of luck with zero responses.
At Higher Bond, free users are always able to respond to messages from premium users. That means that 100% of the people you send a message to have the ability to respond to you, which is a pretty big deal.
If free users want to initiate their own conversations with one of their matches, they will need to upgrade to a premium account. But no matter what, they'll be able to respond to messages from premium users free of charge.
Account Approvals – Security
One thing that is really cool about Higher Bond is how seriously they take account security. While other dating apps let you join in just a few minutes, Higher Bond has a pretty in-depth review and approvals process. This means you can expect it to take a few to get your account active, but you can also expect a much safer user experience.
Here are the highlights to know:
All accounts are manually approved by customer support.
All users have to submit a verification selfie to prove they are who they claim to be.
All photos are manually approved by customer support. This is not just during the sign up process but at any point in time.
User Photos
Higher Bond allows all users the option to upload up to (6) photos to their account. What's different, though, are two things. First, as we mentioned, every single photo you upload is manually approved by customer support. Usually this takes less than 24 hours unless it's over the weekend.
Second, there are some pretty strict guidelines for photos. Don't expect to see any shirt-off photos, bikini photos, excessive cleavage, etc. Higher Bond does acknowledge that everyone has different ideas of what "showing too much" is, so they err on the side of strict caution.
Here is what the email says if you submit something that is not approved:
We completely understand that everyone has different views on what is showing "too much." It's for that reason that we choose to err on the side of caution with strict guidelines around photo approval.
How Easy is the Site to Use?
Higher Bond launched as a mobile-friendly application, which means you can access it from any device including a phone, tablet, iPad, laptop, or desktop computer. Regarding the ease of use, it's super user-friendly. The layout is easy to follow, features are intuitive and easy to find, and it's not overwhelming at all.
There are some features we'd like to see that have not been released yet (like notifications and read receipts), but the word on the street is that these are coming soon.
How to Signup for the Higher Bond Dating App
If you want to give Higher Bond a try it's a pretty simple process….
First, you'll want to visit HigherBond.com
Once there click any of the signup buttons or "Join Now" in the nav menu.
You will then need to input an email, password, and agree to the apps terms and privacy policy.
Once you've completed this you should see an email in your inbox. This should happen almost instantly and will look something like this….
From there you will be able to complete the questionnaire, input some personal details (like location, age, height, level of education, and interests), and upload a photo to complete your profile setup. Since the questionnaire is quite extensive, the whole process should take around 15-20 minutes.
The Quality of Singles at Higher Bond
While the userbase at Higher Bond is still small, it's super high quality. What we're seeing is a slight edge of females to males with a lot of users from all different age ranges and walks of life. What's real exciting is that a large percentage of the users work in ministry as pastors, youth pastors, missionaries, etc.
Now, if you're not in ministry, that's okay! There are plenty of singles from a wide range of professions. What they all appear to have in common, though, is a love for Jesus and a desire for a faith-focused relationship.
Price | How Much Does Higher Bond Cost?
Higher Bond has one membership type and three different term lengths to choose from. What's nice about this is that you don't have to pick and choose between features or feel like you're getting nickeled and dimed.
6 month membership – $14.95 per month
3 month membership – $17.95 per month
1 month membership – $28.95 per month
As you see, you'll get a sizeable discount for every month if you select a longer term. Keep in mind that all memberships are paid for upfront, which is the reason for the deal. You can find a lot more information at Higher Bond's membership pricing page.
Reviewing Higher Bond Support
While we're still waiting for the curtain to be pulled back on a lot of thing, the Higher Bond Team has made customer support available. We've emailed them at [email protected] a few times now, and were pleased to receive polite and helpful responses within a couple of days. It does appear that support is available six days a week and not on Sundays.
Best Alternatives to Higher Bond
Higher Bond is not going to be the perfect fit for everyone, and that's okay. If that's you, then you can try some of the other Christian dating apps out there. Here are a few of our favorites that might be worth your time to check out.
eHarmony – While not a Christian dating app, eHarmony does also take a matching quiz type approach to fixing people up. If that's something you're interested in, this could be a good option. And while eHarmony is not primarily for Christian singles, it is filled with a lot of people who identify with the Christian faith.
Christian Mingle – Another option that is 100% for Christian singles you may want to consider is Christian Mingle. It's owned by the Spark Network of sites (well regarded) and takes a bit more of a simplistic approach to the dating process. Some might say that it's a bit better for casual Christians, but you will still find many serious Christians on the platform.
---
Higher Bond FAQ
Is Higher Bond a Christian dating site?
Yes, Higher Bond is an online dating website that specifically targets singles who are Christian. Even more, it aims to serve Christians whose faith plays an important role in their lives and relationship decisions.
What denominations can use Higher Bond?
The Higher Bond dating app serves a vast array of denominations that fall under the banner of Christianity. If you attend a Church that identifies as a Christian Church, you will enjoy the Higher Bond dating app.