Do guys or gals catch your eye when you're out and about, and you wish you had the courage to ask them out? You can turn those missed chances into real connections by using a dating app. In fact, the dating app Happn was designed just for that. It matches singles with members they've crossed paths with, so they can stop wondering about what might have been and take action.
That's a unique concept for sure, but does it actually work? And maybe even more importantly, is it safe? Keep reading our Happn review to get all the answers. You might be surprised by what we discovered!
Is Happn Worth It? – The Bottom Line Up Front
Founded in France, Happn is available in over 40 countries, including the United States and the United Kingdom. The hyperlocal dating app updates in real-time, matching you with people you've crossed paths with in the real world. Additionally, you can explore profiles that meet basic criteria, much like a swipe-based dating app. The system works for some folks, but due to safety concerns, thin profiles, and few active users outside of big cities, Happn is a miss for us.
We have a lot to dive into, but let's start with the membership options. We used a free account when preparing our review of Happn, which allowed us to do the following:
Like profiles
Get Crushes (mutual likes)
Cross paths with members
Chat with mutual matches
Video chat before meeting IRL
Play Crush Time
Upgrading comes with some extras, including advanced privacy options and five advanced search fitters. (You can learn more about upgrading by visiting our Happn membership cost page.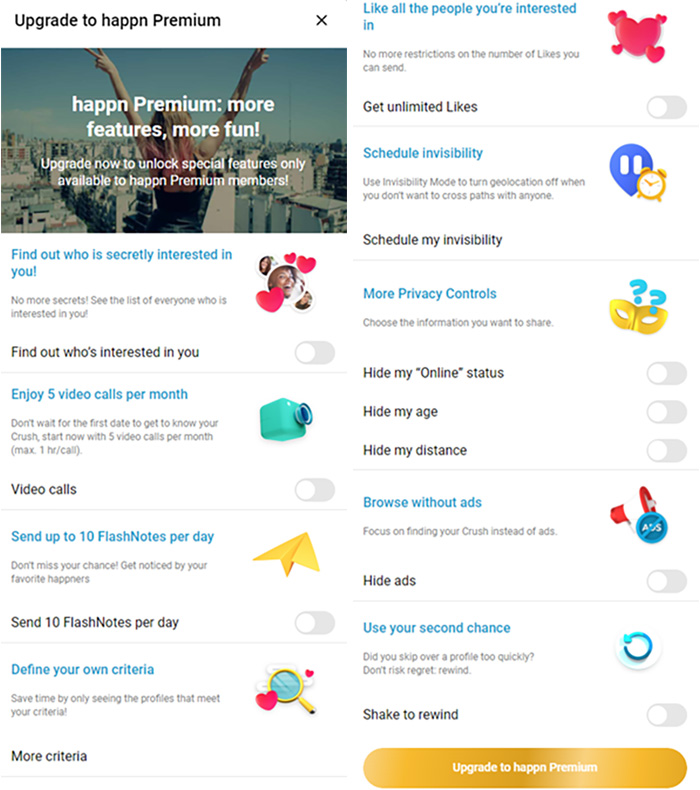 The app functions the same way for free and premium subscribers. In both cases, Happn tracks your location at all times, even if the app isn't open. You can view a map to see who you've crossed paths with within the last 30 days, and even access repeat crossings.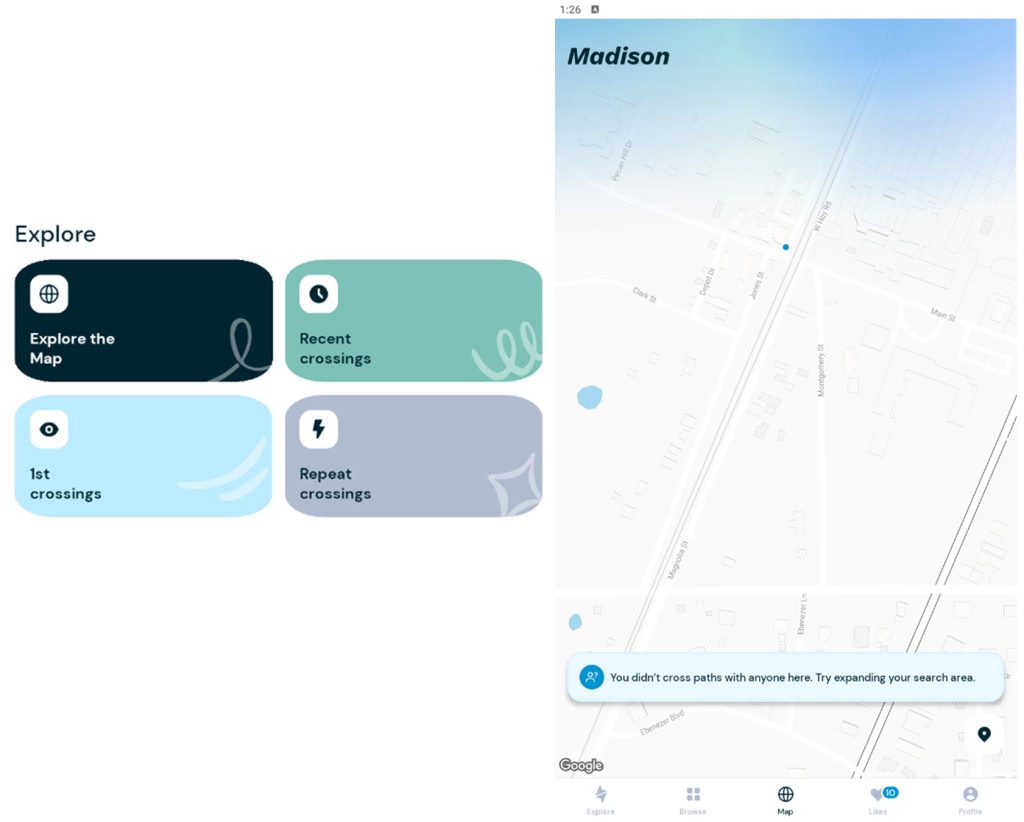 If we're being honest, the GPS tracking creeped us out every time we left the house. Sure, Happn doesn't give other users your exact location, but we still found ourselves looking over our shoulders, wondering if someone had noticed us on Happn.
But while it was kind of disturbing, it didn't end up being an issue for us since we didn't cross paths with a single member in two weeks. Even though Happn has over 100 million members, only around 6.5 million people log in a month. When you divide that up over more than 40 countries, it's no wonder we kept coming up empty – even though we city-hopped like crazy.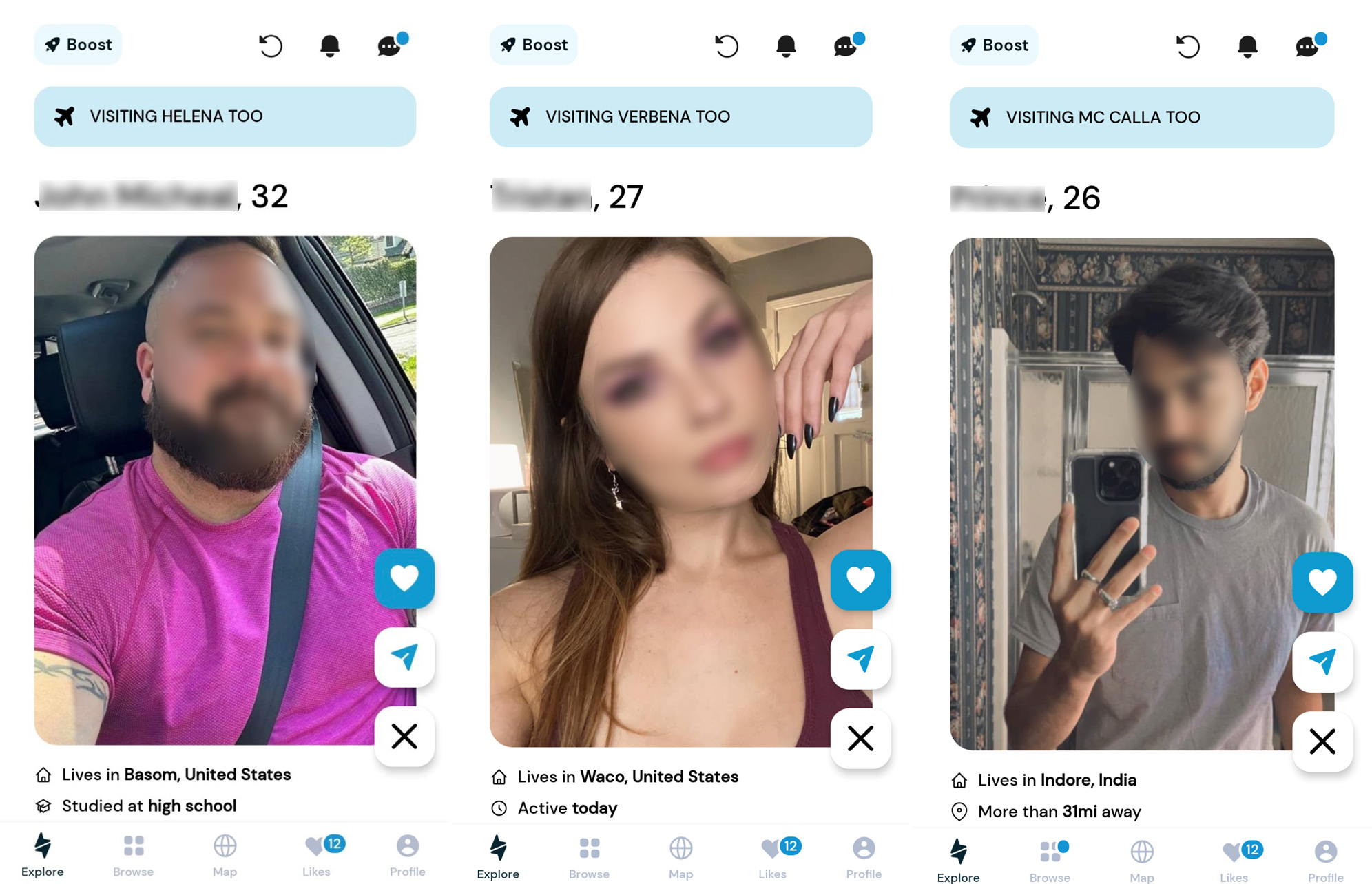 Other members haven't been so lucky.
For instance, The Sunday Mail out of Queensland crossed paths with the same person seven times when testing the app, which resulted in the reporter discovering where the member lived. This is a common complaint for people living in high-traffic areas, so you might want to turn the app to invisible mode if you don't want to rack up repeat crossings.
Without any in-person crossings, we turned our attention to exploring other profiles. And that presented another issue. The profiles are incredibly thin, and Happn doesn't have a real matching algorithm. You can get some extra filters if you upgrade, but they're honestly superficial at best.
Over the course of two weeks, we only ended up with ten Crushes (mutual likes), and they were all duds. If we'd even been able to set basic personality criteria, we wouldn't have matched with any of them.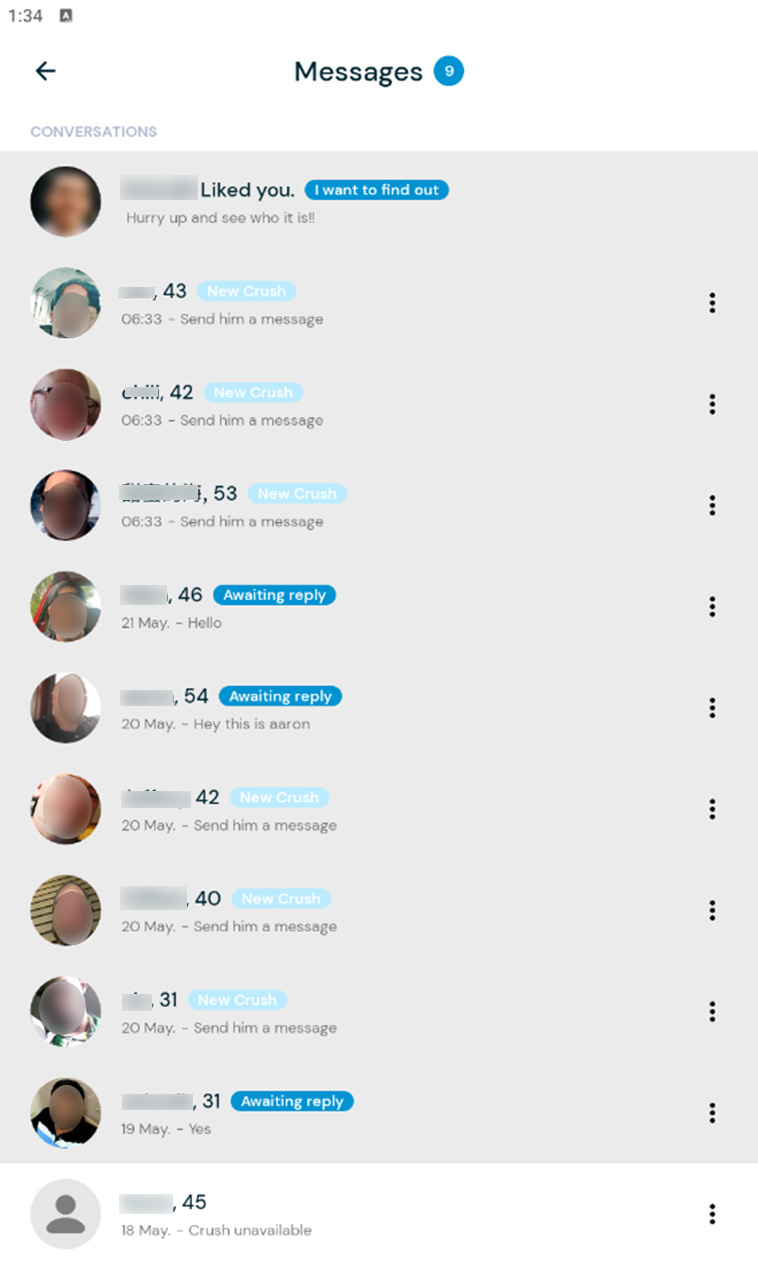 If you do luck out and find a (non-stalkery) match, Happn has a couple of cool features to help you meet IRL. You can let the app know when you're ready to take things into the real world. If your match does the same, it'll alert you both and open up a video chat. That helps with safety, but it's honestly way too hard to find someone you want to meet.
As you can probably tell from our Happn review, we don't recommend this app. Instead, check out the 14 best dating apps in 2023. You'll find options that are much safer and more effective than Happn on the list.
Basic Info and Happn Review Scores
| Category | Score |
| --- | --- |
| App Store Rating | 4.3/5 |
| Google Play Rating | 3.5/5 |
| Active Users | Approx. 6.5 Million Monthly |
| Starting Cost | $15/month |
| Online Since | 2014 |
| Our Review Score | 5.8/10.0 |
5.8/10.0
Pros of Happn
Members can go invisible when they don't want to be tracked (free and paid).
Can let the app know when you're ready to meet IRL.
Free video chat for matches who are ready to meet.
You can buy extra features on their own without having to sign up for a membership
Cons of Happn
Happn has super thin profiles.
Few users outside of large cities.
Members can tell where people live and work.
Have to go out a lot to cross paths with members.
Website has limited features (use the app for full access).
Mobile app has slow load times.
No personality or compatibility-based matching available.
Happn Features Breakdown
A unique dating app, Happn has a lot of features that you've probably never seen before. Don't worry, though, because we're going to give you all the details in this section of our review of Happn.
Hub
You can access the Hub by clicking on "Browse" at the bottom of the app. As the name suggests, this is the app's main hub. It's divided into the following sections:
Discover
Play
Explore
Meet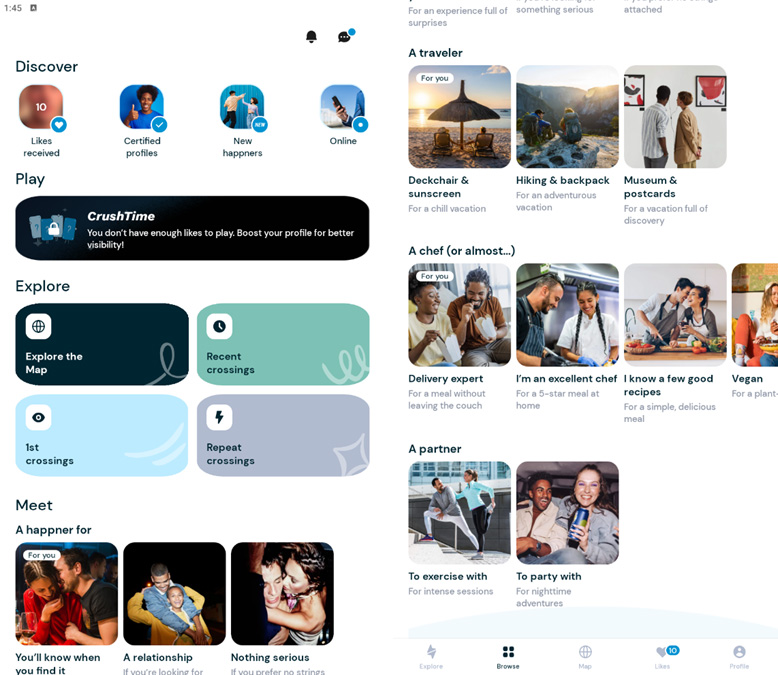 Unless you live in a densely populated area, your hub probably won't have much going on, though. We constantly ran out of profiles to see. Also, our map remained empty for the entire two weeks we used Happn.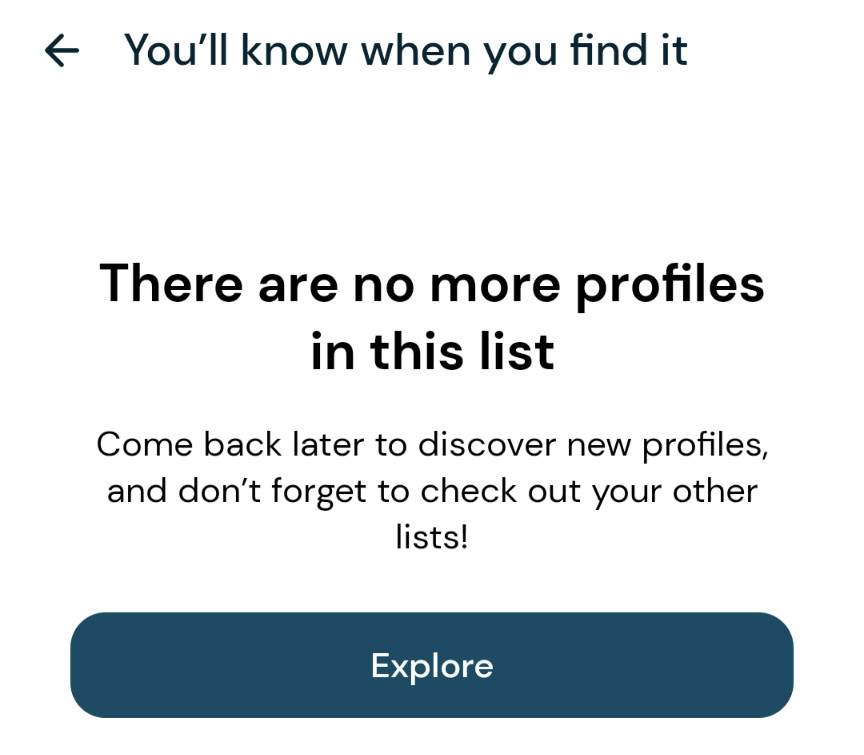 Crush Time
After accumulating some likes, you can play Crush Time on Happn. For this game, the app displays four profile photos, and you have to select the one you think sent you a like. But don't worry too much…
If you don't find your crush the first time you can always play again, but you'll get a different set of profiles the next time around.
We were able to find our crush after playing a couple of rounds. That unlocked free messaging, so we could chat with our crush.
The game itself really isn't all that much fun, but gaining access to free messaging makes it well worth the time. Since many online dating apps won't let free users message at all this is one area where we have to give the Happn app a hesitant thumbs up.
Similarities
Happn launched the Similarities feature in 2021, and you don't have to do anything to activate it. Instead, simply browse profiles while the app checks for things you have in common with other members. If you have something in common, it'll show up at the top of the member's profile.
We're lukewarm on this feature. On the one hand, it's helpful to know if you and another member are visiting the same city.
On the other hand, having interests in common with other members doesn't really mean all that much on Happn. The interests are pretty superficial, so you could have several things in common and still be incompatible. As you'll see in the screenshot below having "4 things in common" pretty much meant we both eat sometimes and go outside sometimes…
Ready to Meet IRL
Once you have a crush, you can exchange messages. After both of you have sent a message to each other, you can let the app know that you're ready to meet in real life. Happn will keep it on the down low until both members indicate they're ready to meet.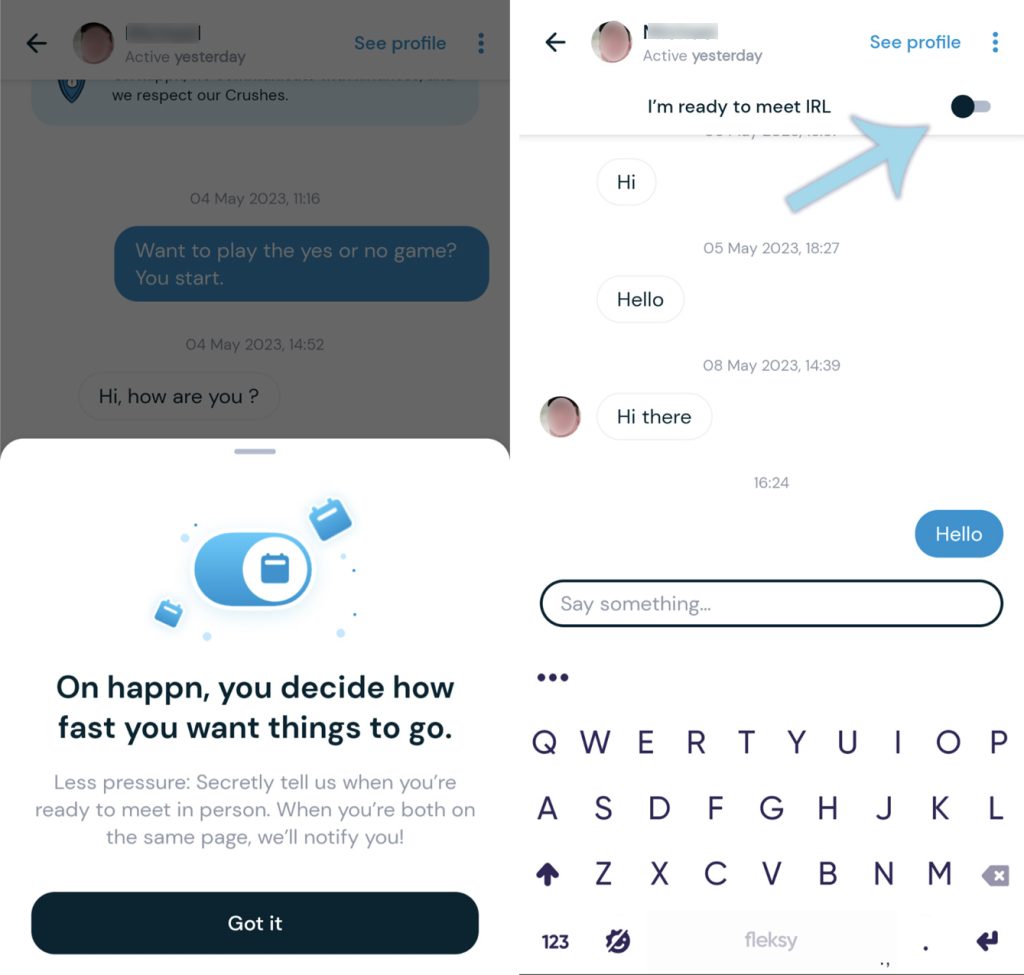 This takes some of the awkwardness out of moving things into the real world. Then, instead of worrying about asking the person out, you can think about the actual date. If you need some help, read our first date tips that will ensure your night out is a success.
Video Chat
If you and your crush are both ready to meet in real life, you'll have the option to video chat. You can video chat for five minutes for free or buy a full hour of video time. Hour-long video chats are also included with premium memberships. With so many safety concerns with Happn, we appreciate that members don't have to exchange contact info via video chat.
Do you want to use a safer dating app? Get the scoop on the eight safest dating apps.
Quality of Singles – Happn User Base Review
Happn has a youngish membership base, with most of the members between 18-34. These members represent all dating styles, from one-night stands to serious relationships. Because members have to include what type of relationship they want when signing up, you won't have to waste your time on someone with a different dating style.
However, you won't learn much else when looking at the profiles. Most of the members don't go beyond the required info, so it's really hard to gauge the overall quality without spending time interacting.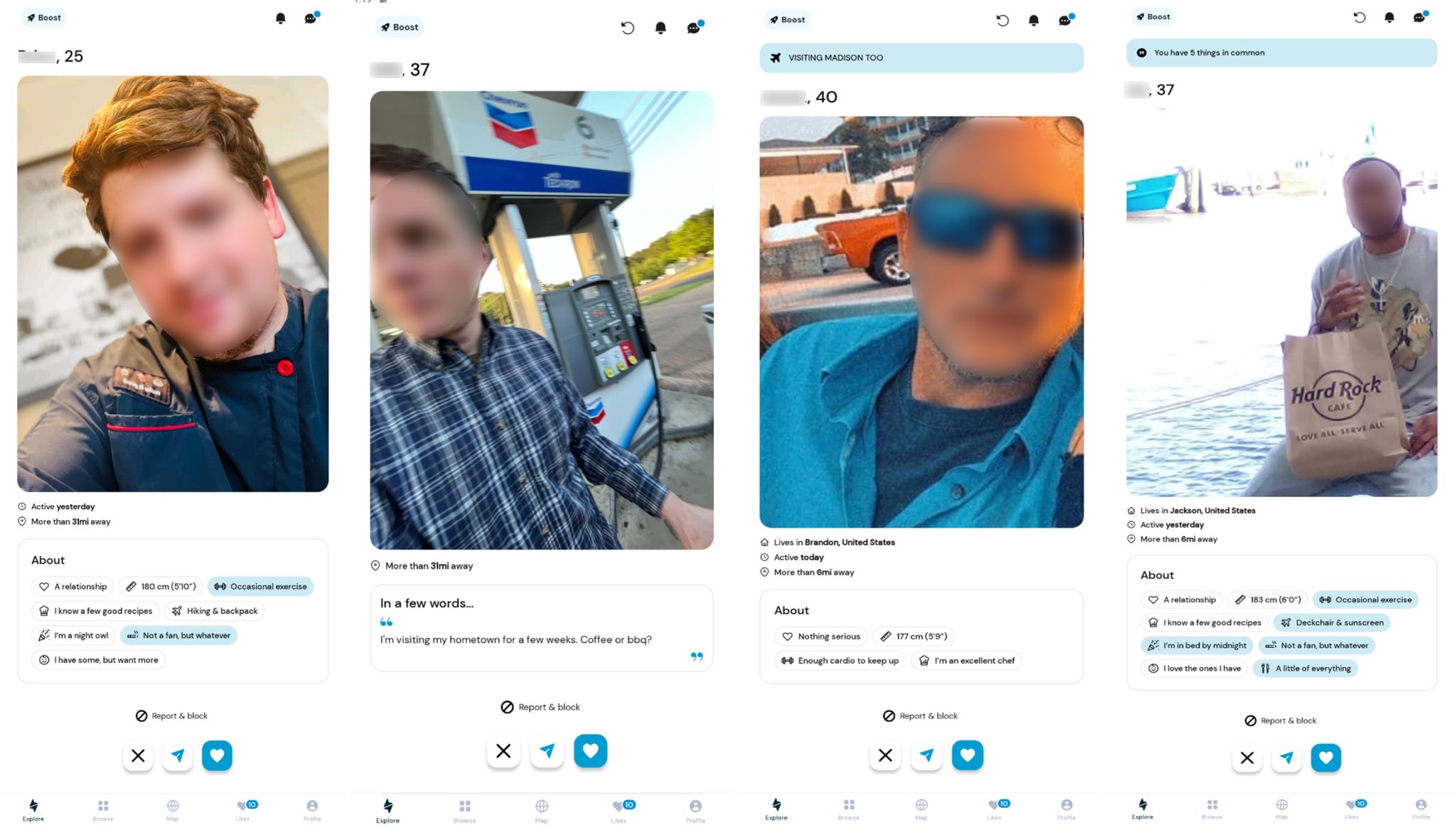 But when it comes to interacting, things can get tricky.
According to Happn, 4.9 million messages go back and forth between members each day, but our experience was a bit different. We only ended up chatting with 30% of our crushes. This makes us think that people like most of the profiles they see, only to take a closer look once they get a match. That's pretty annoying when the membership base is so small in less-populated areas.
At the same time, Happn has a pretty active userbase. You can see when people last logged in, and even in small cities, we encountered lots of active members. Also, the people we saw were legit, although we've heard reports of fakers on here. We'll cover that in more detail later in our Happn review, but for now, find out how to spot online dating scam photos so you can stay safe.
Overall, the membership base is OK but not great. Let's look at some Happn alternatives so you can get in front of high-quality singles.
How to Sign Up at Happn
Signing up with Happn is incredibly simple. First, you just need to download the app from your phone's standard app store (Google Play or Apple Store). Once you have installed the app, you can open it and begin the signup process.
You can choose to sign up through your email, Apple ID, Google Account, or cell phone number. The most secure way to sign up is through a google account created specifically for the app. However, quickly signing up through Apple ID, an existing Google, or your phone are all fine options.
We recommend avoiding connecting this, or any other dating app, to your social media accounts.
Once you have connected an account through one of the methods, you can fill in your profile and begin using the app!
3 Happn Alternatives to Consider
Are you worried about the lack of members and safety issues on Happn? Check out these alternatives so you can find your match.
Zoosk – Like Happn, Zoosk attracts members who are interested in hookups, short-term relationships, and long-term partnerships. Happn uses location data to match members, while Zoosk's behavioral-based matching system considers compatibility when recommending profiles. Zoosk's matching system is superior, but you do need to pay to chat with matches, unlike on Happn. (Grab a Free Trial to Zoosk)
eHarmony – Serious daters use eHarmony, while you'll find serious and casual singles on Happn. Instead of matching people by location, eHarmony focuses on compatibility by pairing people based on the 32 Dimensions of Compatibility. Matches can't chat for free like they can on Happn, but eHarmony's members are more motivated and ready to get serious. (Read Our Unbiased Review of eHarmony)
Tinder – Some reviewers refer to Happn as a more dangerous version of Tinder and we agree. Both apps use location data to match members, although Happn shows where you've crossed paths. Both are mainly used for casual dating and have limited profile data. However, you're more likely to find matches on Tinder because it has 75 million monthly active users to Happn's 6.5 million. (Claim a Free Trial to Tinder)
Happn Pricing Review – How Much is Happn Premium?
With one month of premium membership starting at $24.99 we were pretty surprised by how much more expensive Happn is than other casual dating apps on the market. Perhaps this has to do with the added cost of managing all it's users GPS location at all times? Or maybe the smaller user base makes it difficult to bring prices lower at this time?
Regardless of the reason, we would have to say it's probably not worth the price of admission at the time of this Happn review.
If you'd like more details on exactly what Happn costs check out the table below:
| Membership Type | Membership Length | Monthly Cost | Total Cost |
| --- | --- | --- | --- |
| Premium Membership | 1 Month | $24.99 total | $24.99 total |
| Premium Membership | 6 Month | $15.00 per month | $89.99 total |
| Premium Membership | 12 Month | $10.00 per month | $119.99 total |
User Complaints About Happn
The user reviews of Happn are pretty mixed. Some people enjoy finding matches out in the wild, while others have some serious issues with the dating app. Check out what real users have to say about Happn.
Few Users – Members outside of big cities have trouble using the app as intended. They don't cross paths with anyone, and run out of profiles to explore pretty quickly. If you live outside of a large city, we don't recommend using Happn.
Meaningless Filters – Premium members can set five search filters, but according to users, they're pointless. Members report seeing profiles that don't match the preferences they set. On top of that, the filters are superficial, so even when they work, people have trouble forming real connections on Happn.
Fake Profiles – Lots of members have stumbled across fake profiles and scammers on Happn. You can report fake profiles, but members say new ones pop up as soon as the old ones come down. While we didn't have this issue, be careful if you decide to use Happn.
Happn FAQ – Answering Common User Questions
Can I buy extra features on the Happn App?
Of course! If you want to use features like FlashNotes, Video Calls, or Boosts without buying a premium subscription, you can head over to the app shop for individual pricing options.
Is Happn a good app for casual romance?
Given the "random encounters" premise of Happn we would say this is exactly what this app is meant for (and it seems to be how most people are using it. That being said, it's not exactly "good" by our assessment. Click here to see some better casual dating app options.
How do I avoid friends and family on Happn?
Use Invisibility mode! It is the perfect way to browse through matches without anyone seeing your profile in their list of singles. Also, if you do come across a profile of someone you want to avoid, you can use features like user blocking.
Can I cancel my paid Happn membership?
Yes! You can cancel your membership at any time, but it is not done through the app itself. Your payment plan will be set up through your Google account or IOS account, which means you must cancel the recurring payment on that end. There are in-depth directions on Happn's help blog if you need more information.
---
---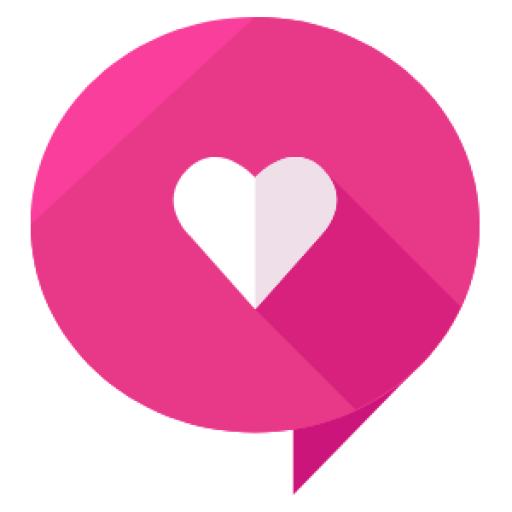 Written By: Healthy Framework Team
The Healthy Framework team has a combined 50+ years of experience in the online dating industry. Collectively, the team has reviewed over 300 dating apps and is known as one of the leaders in the relationship advice and information space. The team's work has been featured on Zoosk, Tinder, The Economist, People Magazine, Parade, Women's Health, Her Campus, Fox, and more.