When it comes to casual dating as a gay single, there are few unfamiliar with Grindr – the granddaddy of all hookup sites. The app launched in 2009 and has spent the last 12 years being a staple in the mobile dating world.
Though popular, Grindr is still a niche dating service, as it caters specifically to men seeking other men. Still, the user base on Grindr is huge and we want to dive into what about the app is so great and what they could stand to change.
Interested in what Grindr has to offer? Read on for a deep dive into the apps cost, features, and so much more in our in-depth and honest Grindr review!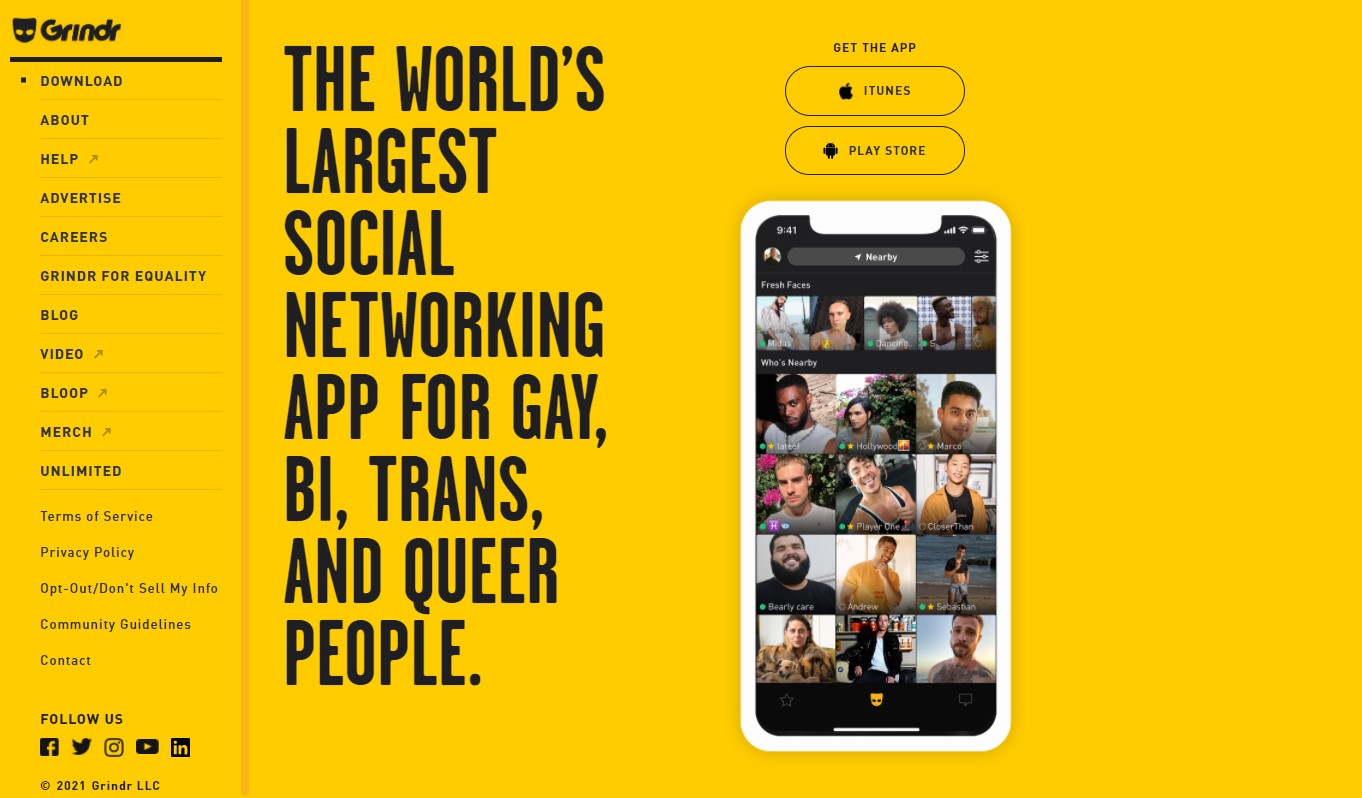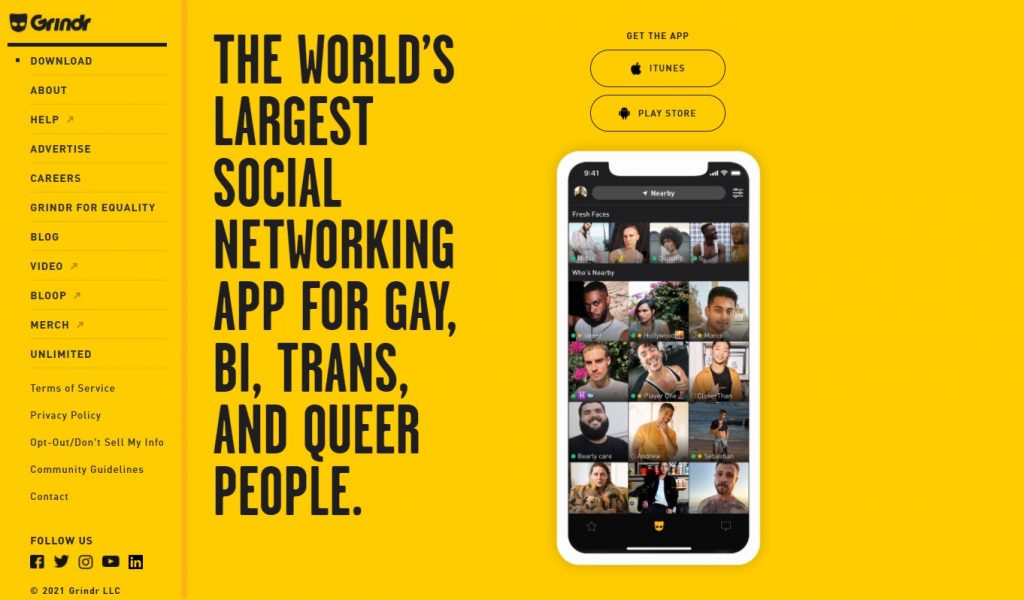 Overall Grindr Rating
| Category | Score |
| --- | --- |
| Quality Matches | 6.5/10.0 |
| Features | 8.0/10.0 |
| Ease of Use | 8.5/10.0 |
| Support | 4.5/10.0 |
| Cost | 9.0/10.0 |
| Overall | 7.0/10.0 |
7.5/10.0
Pros and Cons of the Grindr Dating App
Pros
Grindr is a great way to easily find and meet new people
You don't have to worry about being tied down by a commitment-hungry match
It's completely free and completely anonymous
Cons
Most singles on Grindr aren't looking for long-term friendships, romance, or anything else.
You might be embarrassed by running into a family member or friend.
The app can be pretty glitchy from time to time.
Is Grindr Worth It? – The Bottom Line Upfront
Let's be real, it depends on what you're looking for. If you are a gay or bisexual man seeking casual, no-strings-attached hookups, Grindr is tops! The app is easy, fast, and free to use. It really is the gold standard for hookup apps.
However, we know there are millions of men out there that want more than a weekend fling. Anyone seeking a little bit more out of their love life should steer clear of the Grindr scene and try a more traditional dating app instead.
So, what are you looking for? Grindr can be a gateway into some fast and fun companionship, and you don't even need to pay for the upgraded subscription to have a good time.
Who Grindr Is Good For
Gay singles who want a little bit of fun.
Anyone who needs a digital wingman to help them meet new people.
Those who like a fast and straightforward approach to bolstering their sex life.
Who Grindr Might Not Be Best For
Grindr is meant for men seeking men, so other singles won't have a good time.
If you are looking for a serious relationship or the potential for romance, look elsewhere!
Grindr Alternatives
---
Fast Facts About Grindr
There are over 27 million users on Grindr
3.6 million men are using Grindr each day
Grindr was launched in 2009 and is one of the oldest dating apps on the market
3.5 star rating and over 500,000 reviews on Google Play
4.1 star rating on the Apple App Store
Grindr Review Information
Site Name: Grindr.com
Paid or Free: Free site with some paid features
Average Sign-Up Time: ~ 2 minutes
Paid Membership Pricing: Plans starting as low as $3.99 per month
Grindr Review – Table of Contents
Grindr App Features Overview
Grindr sets a great standard for free apps because users can get a full experience without ever spending a dime! None of that, "we're totally free, but you can't message anyone unless you pay," nonsense. However, there is something to be said for the paid features found through Grindr Xtra.
Here are a few of the features we really love:
Unsend
Unsend is a feature that pretty much any communication based app should incorporate. Ever type up a message that felt right at the time, but the moment you hit the send button you regret it?
Unsend is the answer to that despair-sparking scenario, as it lets you cancel and remove your last message.
Maybe you called someone the wrong name, sent a message to the wrong person, or clicked the wrong photo from your camera roll. Yeah, unsend is definitely a feature we would be willing to pay for!
Expiring Photos
With expiring photos there is no need to share your Snapchat with your matches. Instead, send them a photo that only stays for a single 10-second viewing before disappearing forever.
We enjoy the sense of mystery and allure that comes with sending a one-time only photo to matches. It might not be worth paying for extra features on its own, but it is definitely a fantastic addition to other paid features.
Chat Translate
Grindr is a lot of fun to use while traveling, and the creators know it. That's probably one of the reasons they created an auto-translate feature that can identify convo text in a foreign language. It makes meeting other singles of varying cultures a lot simpler and safer!
The Quality of Singles at Grindr
As much as we enjoy everything Grindr provides, we have to be honest. When 27 million people are using an app, you can only go so long before you run into a dud or five. Now, we don't know exactly how many misses you will have to scroll through before you find a hit, but there are some really cool and good looking men on the app. You just have to be willing to look for them!
How to Sign Up at Grindr
Signing up for Grindr is as simple as you might expect. The steps change slightly depending on whether you are using Android or Apple, so just follow the steps that pertain to your device.
Signing up for Grindr on an Apple Device
Download Grindr and choose "Sign up with Apple" from the home screen.
Read through and agree to the privacy notice from Apple.
Choose your Apple ID Email Address.
Decide whether to hide or show your email address.
Read Grindr's terms of service before agreeing.
Start using Grindr!
Signing up for Grindr on an Android Device
Download Grindr and choose "Sign up with Google Account" from the home screen.
Check out Google's privacy notice and accept app permissions before continuing.
Choose your email or enter and email.
Decide whether to hide or show your email address.
Read and agree to Grindr's terms of service.
Start using Grindr!
Price | How Much Does Grindr Cost?
Lots of price options here! So Grindr itself is free. However, Grindr Xtra is the paid option.
| Membership Type | Membership Length | Monthly Cost | Total Cost |
| --- | --- | --- | --- |
| Paid | 1 month | $9.99 | $24.99 |
| Paid | 3 months | $6.99 | $20.97 |
| Paid | 6 months | $4.99 | $29.94 |
| Paid | 12 months | $3.99 | $47.88 |
Customer Support Options
At first glance, we had high hopes for Grindr's customer support. The main help center page appears to have some contact information, but it turns out those emails are mainly for press and advertising purposes.
Instead, users must navigate a selection of FAQs and help topics to resolve their issues. Unfortunately, the sectioning of these items are stacked in an unnecessary way. For instance, if you have a billing question you don't just choose "subscriptions and billing." You must determine that the troubleshooting tab is for you, then scroll down the page to find a list of questions that fit the "subscriptions and billing" description.
The search bar wasn't much of an aid, as it just sent us to a seemingly unordered list of articles with our keyword.
Get Started Now!
---
FAQ
Is Grindr Only for Hooking Up?
Technically, no. Some people do use Grindr to try and find friendships that aren't sexual in nature. However, the vast majority of users on Grindr are seeking a sexual encounter and not much else.
Are Trans People Welcome on Grindr?
Absolutely! Grindr is open to all Trans people and offers a variety of gender identification tags to make it easy to fill out your profile and seek matches.
Can I Sign up for Grindr With My Facebook Credentials?
Yes, but you probably shouldn't. Facebook has a nasty habit of leaking users information, which means your Grindr info, pics and all, might end up on the harddrive of a scammer.
Should I Pay for Grindr Xtra?
Grindr Xtra is not necessary to use Grindr and have a good time. Still, we think the features on Grindr Xtra are pretty great! Honestly, we would be tempted to pay for Grindr Xtra for the Unsend feature alone!
Can I Access my Grindr Account on my PC?
No. You can use the Grindr website to access help articles and the community resource blog, but you won't be able to sign into your account or use any actual Grindr features.
What are some Long-Term Romance Alternatives to Grindr?
Grindr is fun for hookups, but it isn't so great for meeting your life partner. If you are interested in something more serious, check out our article on the best dating app for Gay singles!