Filipino people have a strong and beautiful cultural background that is carried with them no matter where they are in the world. For this reason many of these singles may feel more comfortable dating other Filipino singles. But what do you do if you live in an area with few or even no Filipinos to mingle with? Or perhaps you feel you've exhausted the options of your small community.
Many singles like you have turned to Filipino Cupid (in fact, they have over 5 million members).We know you don't want to waste your time, money, or emotional bandwidth on a dating app that's full of scammers, which is why we've put together this Filipino Cupid review. We left no stone unturned! 
We've looked through every tier of membership, spent time using the app and engaging with other singles, read user reviews of Filipino Cupid on and off the app, read the full terms of service, and even submitted a customer support tickets to gauge their response times.
If you are interested in trying out Filipino Cupid, take a look through what we've learned about the app so you can be confident you are making the right choice for your dating journey.
Is Filipino Cupid Legit? – The Bottom Line Upfront
We recently spent a week on FilipinoCupid, doing everything from testing the features to interacting with members. At the end of the week, we all agreed that it's one of the best Filipino dating apps when it comes to pairing Filipinos and Westerners. It's not perfect, but as you'll see in the remainder of our FilipinoCupid review, we think it's definitely worth using.
---
So, most Filipino dating apps feel transactional. Seriously, if you log into Pina Love (another popular Filipino dating app) or another similar online dating options, you'll feel like you're shopping for a spouse instead of looking for love.
FilipinoCupid focuses more on real relationships. It doesn't refer to women as "girls" like Pina Love does, and the profiles are much more robust. Lots of the profiles on FilipinoCupid contain hobbies, interests, answers to personality questions, details about living situations, and so much more.
The membership base is also quite active. Like Pina Love and other sites, men aren't likely to receive unsolicited messages from women on FilipinoCupid. However, both men and women are quick to reply here. In fact, our response rate currently sits at 80%, although we were selective when sending messages.
First, we chose to interact with people who were currently online, giving us close to 4,000 choices on a Wednesday afternoon. And second, we used the advanced search filters, which are possibly our favorite part of this dating app. We used about a dozen of the 20-plus filters and liked the results.
But…We wish that FilipinoCupid put more emphasis on personality traits when matching members, like eHarmony does.
Also, we encountered lots of fake accounts when using FilipinoCupid. They became easy to root out because the fakers tend to be more forward than real users, but it's still annoying to see on any dating app.
Even though it has some issues, FilipinoCupid is a solid dating app. If you're interested in a Filipino/Western connection, we recommend grabbing a free trial to FilipinoCupid.
---
Overall Filipino Cupid Rating
| Category | Score |
| --- | --- |
| Starting Cost | $16.67/month |
| Online Since | 2001 |
| Userbase | 5.5 Million Users |
| App Store Rating | 4.6/5 |
| Google Play Rating | 4.5/5 |
| Our Review Score | 7.8/10.0 |
7.8/10.0
Pros and Cons of the Filipino Cupid Dating App
Pros
Free FilipinoCupid members can respond to messages from paid subscribers
Robust search filters and CupidTags help fine-tune matches
Most members have detailed profiles and seem to be interested in marriage or serious relationships.
The app is affordable and has multiple tiers of service to account for different budgets.
There is a massive user base to help people find matches around the world.
Advanced features like auto translation can help facilitate romance with zero limitations.
Cons
Some of the best features are reserved for the most expensive tier of membership.
The free experience comes with ads that can be a little abrasive to the user experience.
The notification system on FilipinoCupid can be glitchy.
Westerners will likely need to pay since most Filipino members use free accounts.
You'll find some fake members, including multiple users with the same photos.
Filipino Cupid Features Overview
Cupid Media follows the adage that if it isn't broken, don't fix it. Because of that, you'll find the company's top features across its 33 niche dating apps. Thus, if you've used other Cupid Media brands, you'll be able to jump right in on FilipinoCupid. Still, let's go over some of the most popular features in case you're new to Cupid Media or need a refresher.
Robust Search Filters – Available to Standard and Premium Members
Most FilipinoCupid reviews mention the site's advanced search filters, and for good reason. These are honestly some of the best filters we've seen across both niche and mainstream sites. FilipinoCupid offers multiple options for filtering by location, appearance, lifestyle, background, and cultural values.
These filters blow other Filipino dating apps out of the water. Take FilipinoCupid's competitor, Truly Filipino, for instance. Truly Filipino only lets members filter by body type, location, religion, ethnicity, and age.  
Communicate with Premium Members – Available to Standard and Premium Members
We agree with other reviews of FilipinoCupid that state the app is a bit weak when it comes to free features. Even so, it does something that a lot of sites don't. It allows standard (unpaid) members to respond to messages from paid subscribers.
CupidTags – Available to Standard and Premium Members
CupidTags are basically Cupid Media's version of hashtags and can help you find what you're looking for on the Filipino dating site. You just need to search for a specific tag to find members who have added certain keywords, such as "relocate" to their profiles.
While CupidTags are popular on FilipinoCupid, we don't recommend solely relying on them since that'll limit your options. For example, when we selected the CupidTag "relocate," the app only came back with a mere 27 profiles.
Of course, the number of profiles you'll see varies greatly by the tag you choose. You can see how many profiles are associated with each tag when scrolling through the options.
Instant Message Translation – Available to Platinum and Diamond Subscribers
Most Filipinos speak English, so conversing on FilipinoCupid is normally easy. However, you could come across the ideal match, only to realize that a language barrier is standing in your way. If that happens, you can upgrade your account to unlock instant message translation. The app will translate the messages for you, even if you're conversing with a Standard member.
While we didn't need this feature as much as on some of Cupid Media's other dating services, we did use it in approximately 10% of the conversations we had on the app. Some of those members could speak English but felt more comfortable conversing in their native tongue.
Advanced Matching – Available to Platinum and Diamond Subscribers
We evaluated the matching system when compiling our review of FilipinoCupid, and it's a bit better for premium members. As a free member, you'll use the search filters to find people who meet your preferences. However, Platinum and Diamond subscribers receive Reverse and Mutual Matches.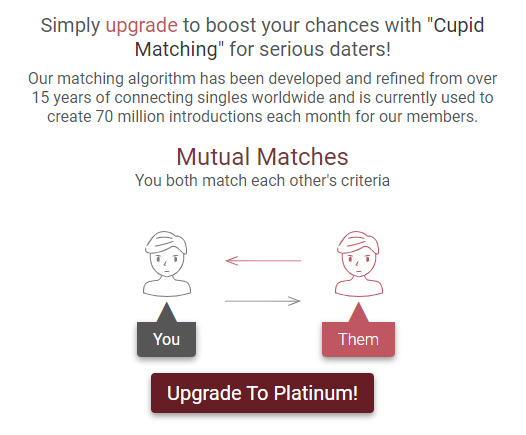 Reverse Matches are essentially the opposite of standard matches. Instead of matching with people who meet your criteria, you'll meet theirs. On the other hand, both parties meet each other's criteria with Mutual Matches. This is by far our favorite way to review profiles on FilipinoCupid.
Even so, the advanced matching options are far from perfect. Some of our Reverse and Mutual Matches didn't seem to be using the app anymore. However, some of them were online and ready to chat, so we were pleased overall.
Ad Free Experience – Available to All Paid Members
The first thing you'll notice when you upgrade your account is that all the ads on the site instantly disappear. No more pop ups, banner ads, or annoying web teasers. You will instantly get a much more polished, ad free, and streamlined experience.
If you ever find a negative review of Filipino Cupid that says the site is ugly or cluttered, you can almost guarantee they are on a free profile. To make back the money the site is losing on your membership, they run ads on the page.
Many free FilipinoCupid users can over look them, but if they're driving you nuts and making you question a service you might otherwise enjoy it may be time for an upgrade. Once you pay for a FilipinoCupid membership, they disappear!
Instant Access to Other Cupid Media Brands – Available to All Users
If you like FilipinoCupid but would like to expand your dating pool even farther this next feature is perfect for you. Since Cupid Media owns and operates over 30 niche dating apps you can instantly start a free trial account to any of their other international dating brands with the push of a button:
This feature definitely won't be for everyone, but if you're open to some variety or just want to mix things up after a dry spell this can be a stress free way to explore options in a familiar environment. Cupid Media claims to have over 60 million active users across their dating network so options is certainly not something you have to worry about with this feature.
How to Sign Up for Filipino Cupid
Sure, Filipino Cupid sounds great, but you may be wondering how grueling the signup process is. Well, don't worry. Even with the compatibility matching, the preliminary personality testing process and sign up is super short and sweet!
First, just input some basic information like your name, gender, match preference, and age. Then, you'll need to provide an email, password and agree to the app's Terms of Use and Privacy Statement (you can not continue without agreeing to these).
Once you've gotten through this step you will instantly gain access to FilipinoCupid and be able to start browsing available singles. That being said, we highly recommend taking some time to work on your profile.
By making sure you have an accurate location, upload good profile photos, and complete all details of your profile you greatly increase the chances of creating real connections. On any international dating site being able to verify you're a real person goes a long way.
Price Review | How Much Does Filipino Cupid Cost?
The cost of Filipino Cupid is pretty standard for what you would find on any of the Cupid Media dating apps, and like those other apps plans and pricing can change quite frequently. Their are 3 membership tiers (Gold, Platinum, and Diamond) and each can be purchased as 1 week, 1 month, 3 month, or 12 month memberships.
Typically membership will cost between $16.67 and $36.67 a month depending on the membership level you want and duration you plan to have it for. Like with all dating apps you save money by signing up for longer periods.
A great example of this would be comparing the cost of 1 week of diamond membership to 12 months ($60.99/week vs $36.67/month). If you were to continue week by week you would end up paying $243.96 per month.
This is for Diamond membership though. Gold, the lowest tier of paid Filipino Cupid membership, can be purchased for $25.48 per week and includes many of the critical premium features available. The chart below will help you understand what comes with each tier of membership so you don't end up breaking the bank for features you don't feel are essential.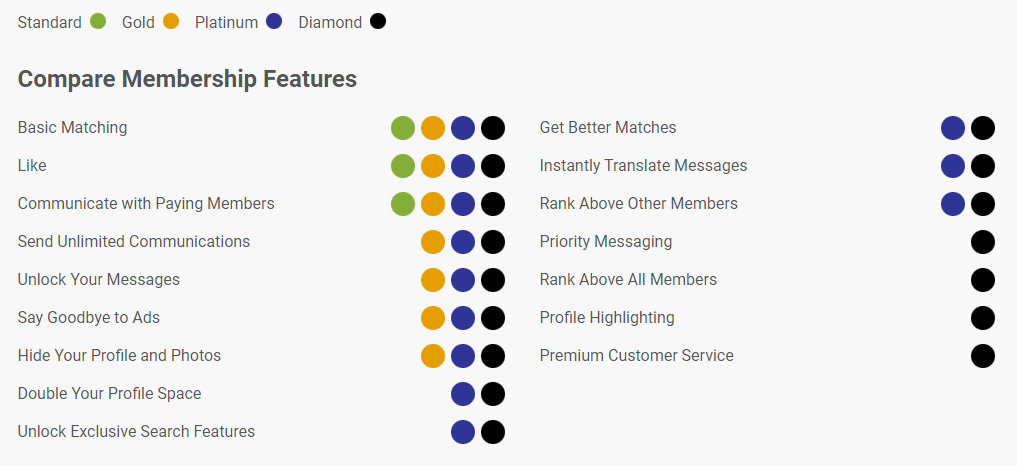 For all the latest on membership packages and pricing, info on payment options, refund policy, and more we recommend checking out our Filipino Cupid Costs page for a full breakdown.
Filipino Cupid Customer Support Review
Filipino Cupid has really stepped up their customer support options since the time of our last review. They now offer support via…
Phone – there are various FilipinoCupid support numbers depending on your country of origin:

United States or Canada: 1-844-387-8947
United Kingdom: 0808 164 6569
Australia: (07) 3062 7667
International: +61 7 3062 7667

Email –

[email protected]

Mail – FilipinoCupid Cupid Media Pty Ltd P.O. Box 9304 Gold Coast MC QLD 9726, Australia
Outside of these options the app still relies heavily on a self-guided customer support feature where you search for your problem and the FilipinoCupid.com website will try to auto-populate blogs, articles, and help posts to aid in your journey. However, this doesn't always work, so if you do search for something without a relevant post you will be able to fill out an email contact form.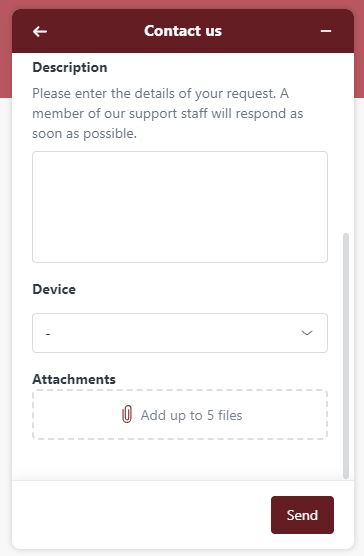 This form has you describe your issue in depth with details about the device you're using and up to 5 attached screenshots. When we tested this we received a confirmation email almost immediately and within 72 hours we had an answer from customer service.
We would still like to see the addition some kind of live chat support, but all things considered, the current system is pretty efficient.
Filipino Cupid FAQ
Congratulations! You've reached the end of our Filipino Cupid review. If you still have questions about FilipinoCupid.com we've listed some of the most frequently asked questions from our readers below:
Is Filipino Cupid only for Filipino singles?
No. While the vast majority of singles on Filipino Cupid are of Filipino descent, there are singles of all nationalities on the site, especially Southeast Asian nationalities.
Do I need to live in the Philippines to use Filipino Cupid?
No! While many singles on Filipino Cupid live in The Philippines, the singles on the site come from hundreds of countries including the US, UK, Australia, Canada, and more.
Is Filipino Cupid a Catholic dating site?
No. While Catholic singles are welcome and often found on Filipino dating sites, there is no religious requirement for using the site. You may be able to tag your profile with your religious preference or include information about your religion in your bio to aid in your compatibility matching.
Is Filipino Cupid free?
Signing up for Filipino Cupid is completely free! There are some additional perks and features that paid members get, but the initial signup is free.
Is FIlipino Cupid LGBTQ friendly?
Yes. While reviewing Filipino Cupid we confirmed that the site does allow gay men and women to sign up on the site and find their perfect Filipino match.
Can I message users on my free account?
If a premium member messages a free member, the free member may reply to the message. However, free members may not send any outgoing messages on their account.
How do I sign up for Filipino Cupid free?
If you are ready to sign up for Filipino Cupid, all you need to do is click one of the free trail buttons on this page or visit our Filipino Cupid Free Trail page for more details.
---
---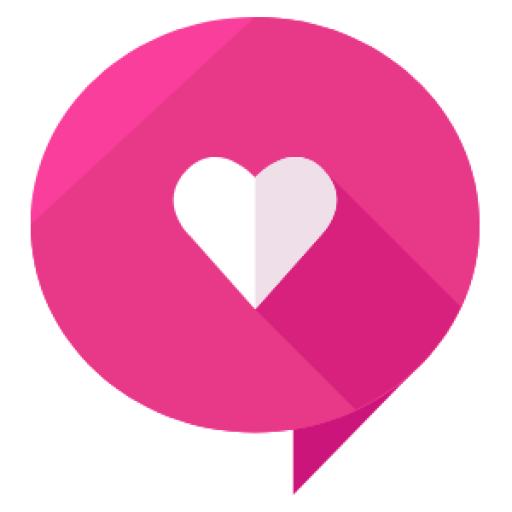 Written By: Healthy Framework Team
The Healthy Framework team has a combined 50+ years of experience in the online dating industry. Collectively, the team has reviewed over 300 dating apps and is known as one of the leaders in the relationship advice and information space. The team's work has been featured on Zoosk, Tinder, The Economist, People Magazine, Parade, Women's Health, Her Campus, Fox, and more.