By: Jason Lee | Updated – 2022
Looking for high-quality, educated singles? If you are, then you're going to want to stick around for our Elite Singles review. The dating app claims to have some of the smartest and most educated guys and gals on the singles scene. But, is Elite Singles legit?
To be fully transparent, when we first heard "Elite Singles", we thought it might be a private meeting of snobby people who were "too good and too elite for the rest of the world". Thankfully, our parents taught us never to judge a book by it's cover because we couldn't have been more wrong.
To find out exactly what we learned, stay tuned for all the details and the results of our Elite Singles review! Or if you're ready to check things out for yourself, we've included a free trial link below to get you started.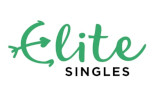 Is Elite Singles Legit? – The Bottom Line Upfront
Elite Singles claims to be a dating app catered toward singles who are more established in life, have higher levels of education or advanced training, and aren't looking to play games.
Do they live up to that claim? We absolutely think so. If you're a single who finds intelligence and success attractive, you're going to love Elite Singles. Additionally, while the "seriousness" of the dating isn't quite as hardcore as you might find at a site like eHarmony, Elite Singles definitely leans heavily away from people who are look to play games or who take a flaky approach to online dating.
Elite Singles scored a 9.7 out of 10 with the highest marks in quality of matches and ease of use. With over 85% of singles holding an above average education coupled with a more in-depth onboarding process, the caliber of singles is significantly higher than we've seen with many other dating apps.
Biggest Positive – Some of the highest quality singles you're going to find anywhere out there, especially if education is important to you in a match.
Biggest Drawback – Certainly not the most expensive option, but a few bucks more than some lower quality dating sites (pricing is outlined later on)
All in all, we think Elite Singles is definitely legit and worth checking out. As long as you aren't only hunting for casual hookups and you like smart and driven professional singles, you'll love the site. If you're ready to check things out, we've included a link to a free trial below to get you started right now. As the biggest cliché phrase of them all says, what are you waiting for?
---
Overall Elite Singles Rating
| Category | Score |
| --- | --- |
| Quality Matches | 10.0/10.0 |
| Features | 9.6/10.0 |
| Ease of Use | 9.7/10.0 |
| Support | 9.7/10.0 |
| Cost | 9.5/10.0 |
| Overall | 9.7/10.0 |
Pros and Cons of Elite Singles
Pros
Hundreds of thousands of new singles joining every month (381,000+ based on past month averages)

85% of members have some form of an above-average education or higher-level certification

Operates in the US, as well as 25+ other countries, in case you're looking for something international
Recently partnered with CitySwoon to offer in-person and virtual speed dating events in select major cities
'Have you met' feature, which is the site's swipe-style dating upgrade
Cons
Limited free trial; free users are unable to see photos of other members unless they upgrade
User interface is intuitive, but hasn't been updated in a while
Higher price point than some less effective dating apps
---
Elite Singles Review Table of Contents
Prefer to listen and watch instead of read? No worries. Below, we've included our video edition of the Elite Singles reviews.
---
Fast Facts About Elite Singles
Site Name: Elite Singles; EliteSingles; elitesingles.com
Paid or Free: Paid, Limited Free Trial
Average Sign Up Time: 15-20 Minutes
Paid Membership Pricing: Starting at $44.95 per month
Unique Elite Singles Facts and Figures:

381,000+ new members every month
85% of members hold an above-average education
90%+ of members are over the age of 30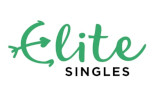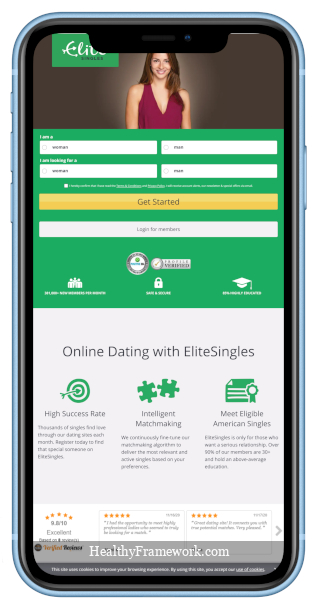 What is Elite Singles?

Elite Singles is an online dating company founded in 2009 by the German founders of the online dating site eDarling. The site is available through desktop, Google Play, and the iOS store. The main focus and driving force behind what Elite Singles is would be its focus on 'elite' dating.
In other words, the dating app heavily markets and targets singles who are established in their careers and have some form of above-average education or certification. Whether that be a college degree or advanced certifications in their respective fields, the singles on Elite Singles are ideal if you're someone that finds education and learning attractive.
As a result of this, over 90% of the userbase is over the age of 30 making the site less of a great option for those in their early 20s but a stellar pick for anyone late 20s or older.
How does Elite Singles Work?
Elite Singles works through a traditional online dating site approach where you create a profile and can search through a catalog of other single's profiles to find what you're looking for. Users are matched based on their selected preferences, their answers to the onboarding questionnaire, and the preferences of other users. As opposed to some traditional profile style dating apps where you have to do a lot of the work, Elite Singles gives you a best of both worlds type situation.
The site's algorithm will do a lot of the matching for you, or you can take the reins and do the searching yourself.
Are there good, quality matches on this site?
If anything was a home run during our Elite Singles review, it was 100% this category. It seems that their efforts to get quality dating matches and eliminate the riff-raff and flaky folks have been successful.
Regarding quantity, the site boasts an impressive 381,000 new members signing up each month. This is according to 2018 data from the site, but we imagine the current number isn't far of or very well may be more with the growth of online dating over the past few years. What does this mean for you? There is no shortage of quality matches with Elite Singles.
Not only does Elite Singles have a ton of new people, but they're quality matches. The site specifically targets higher-educated individuals and pushes that it's looking for people that "have it together."
Does this mean that you can't join the site if you don't have a college degree or parts of your life aren't perfect yet? Of course not!
Most of us have things that we're always working on improving so don't let that be a deterrent from joining this site. Frankly, if you want someone who has things "at least more together than most of the online dating world" then you would be silly not to join this site.
There are no restrictions on who can join in that sense. The only reason they point out the statistics about their members is because a lot of people who are new to online dating are scared that no one of quality and substance ever signs up.
The site also requires that you fill out a complete personality profile and all of your profile information BEFORE they give you access to the matches. While this might seem frustrating to some of you, it should come as a welcomed sign.
The sign-up process takes about 15-20 minutes (depending on how quick or slow you are with answering multiple choice questions about yourself). When we signed up to complete our Elite Singles review, we had to answer well over 100 personality questions during the personality test. This was a few years ago, though. Now, the Elite Singles personality test is significantly shorter, but still in-depth enough to help attract quality singles.
Why should this be a welcomed sign? It means that anyone that makes it through to the matches is most likely going to be serious about the dating process. You're going to be viewing and matching with people that are willing to dedicate some time to the dating process. This means they are going to be WAY less likely to flake on you or just abandon their account for no reason.
The bottom line here is the quality of matches on this site is high, and the influx of people is even higher. It's hard to get any better than what Elite Singles has done here. For that, we give Elite Singles an easy 10 out of 10.
How easy is the site to use?
Regarding ease of use during our Elite Singles review, we found the site to be pretty good. Let's talk about what we liked and what we think could be improved upon.
The sign-up process was very simple. It was straightforward and easy to navigate. They even give you a percentage indicator to let you know how far along you are in it. If you get sidetracked during the process, you can also always save and come back later when you have more time.
A straightforward sign-up process is always a plus for us and sadly something that a lot of online dating sites miss the boat on. It does take a good 15-20 minutes to get through the entire process, which really helps to keep the people who aren't serious out and those really looking for something in.
Keep in mind that you will need to complete the sign-up process before you get to see any of the matches. Again, this may be a turn-off to some people, but it really should be regarded as a positive. This means that you're going to end up at a site where everyone has a filled out profile and has put the time and effort into the process. There is nothing more annoying than searching through an online dating site that is stuffed full of empty and incomplete profiles.
Regarding navigating Elite Singles dashboard area, things were straightforward, easy to use, and we like that. Across the top of the site, you'll see a bar with all of your navigation buttons as well as any new notifications. It had a very "Facebook" feel to it which we found easy to get used to. If you've ever used Facebook, you'll probably find it easy to use as well.
Elite Singles also did make some slight changes to the look of the top bar, which does show that they're looking to continue making improvements to the app. Here is what it looked like before 2022:
And here is what the upgraded nav menu looks like:
Subtle changes, but still changes. There is no longer a search icon, which really isn't that surprising as the old search icon wasn't actually a search function. It's clear the Elite Singles app is moving more towards "doing the work for you" and further away from the catalog, browse-through-everyone features of older dating apps.
The bottom line is that Elite Singles is quite easy to use. Whether you're using it on desktop or through one of the downloadable app platforms (iOS or Google Play), you won't have any problems navigating through your matches, connecting, and sending messages.
Are there any great features?
Elite Singles has some really neat features to help you find that special someone. In the sections below, we'll walk you through the features we liked and the ones and the ones that we think are the most important for you to know about before making a decision to join Elite Singles or not.
The Matches Section
First, they have their traditional matches section. This is where they take your search criteria and give you a nice batch of matches that they think would be a good fit for you. The look and feel of this section has changed over the years, but the functionality has stayed relatively similar.
Here's what that looks like:
The Search Function
One of the first places we like to look with a new site is the search function. During our Elite Singles review, we were unable to locate a traditional search function. But don't fear! What they attempt to do it seems is drive you towards matches that, well, match with what you're looking for. Instead of having you sort through millions of matches, they try and help make things a little more personal for you. What you'll see is everyone that matches your personal preferences and then you can sort through those matches.
If you'd like to "expand your horizons", there is a workaround. You can always click the preferences tab that you see in the above picture and change what it is you're looking for. Then, the group you'll see will be those that match your wider search criteria. The options you have in there include:
Age and how important that is
Your height (and how important your partner being similar is to you)
Distance of matches and how important it is
If you would date someone with children under 18
If you want to have children in the future
How important a partner with a similar education level is
How important a partner with a similar income level is
Smoking and drinking habits (and how important it is in a partner)
The ethnicity of your partner (can select multiple or all options and how important it is)
The religion of your partner (can select multiple or all options and how important it is)
Have You Met? Feature
Our Elite Singles review also showed us they have a cool feature known as "Have you met?" This feature works a lot like Tinder or something of that sort where you have a group that you can swipe through whether you like them or not. It's not an actual swipe (you click an X or a smiley face), but you get the idea. Where it differs greatly from Tinder is that it shows you a ton of information about the person as well. It's not strictly a looks thing.
Additionally, you don't have to have a mutual match in order to send a message. If you see someone you like, you can send them a message right away and let them know you're interested. If there is a mutual match, though, you both will be notified similar to other swipe-style dating apps.
Additional Features
In addition to all of this, they have a few more features that will help you to have a successful online dating experience. They'll even show you who visited your page, who smiled at you, and the messaging platform is simple, straightforward, and easy to use.
One additional thing we liked during our Elite Singles review was that the Matches and the Have You Met? people were not all the same. A lot of times online dating sites will have a bunch of different features for meeting people, but they will just show you the same people in each. It was a nice change to see this not the case.
Who is Elite Singles Good For?
As you can probably guess, there are a lot of people Elite Singles is good for—and there are also a lot of people it's really not going to be a great fit for. What we wanted to do was take a look at a few different groups of singles and see how Elite Singles stacks up for them. Results and fit may vary within these groups, but we wanted to at least give you a general idea of what to expect when you go to review the app yourself.
Elite Singles For Women
From our experience, safety is generally the most important thing for women when it comes to an online dating app. Thankfully, Elite Singles shines there with data encryption, pro-active customer service, and safeguards to stop any guy who things sending a picture of his you know what is a great way to introduce himself. They can't protect you from every creeper, but they do a good job of stopping most of them and then giving you a way to report and block if they get through.
Outside of that, there are plenty of high-quality men on the site (if that's what you're looking for)!
Elite Singles For Men
Whether or not Elite Singles is good for men is pretty dang easy to answer. All you have to do is read whether or not the site is good for women—which it is. What that means is that you'll find a site loaded with high-quality ladies looking to connect!
Now, we have to say this because a lot of men tend to be more interested in casual dating or hookups. If that's you, that's totally fine, but this is probably not the right app for you. We'd recommend checking out the Elite Singles alternatives listed later in this review.
But if you're looking for higher quality women and you're interested in an actual relationship, Elite Singles is a great fit.
Elite Singles For Seniors
When it comes to seniors, Elite Singles might not be the first option that jumps to mind, but that doesn't mean it's not a viable option. In fact, the company has a fully dedicated section of their marketing efforts specifically for senior singles. While we do think you could have some success at a dedicated senior dating site, there's a lot to be excited about here.
First, the app operates like a traditional dating app and has a well-laid-out navigation menu. In other words, if you're older and not that great with technology, you can figure it out pretty easily. Second, it works on all devices (including computers and tablets), so you don't even have to have a smartphone. And third, the user-friendly customer support is another perk for any seniors who might be new to all of this.
Elite Singles For LGBTQ+
If you're gay, lesbian, or bisexual, Elite Singles is built to accommodate. You are able to set your preferences of what you're looking when you create your account, but you're not able to change those later without contacting support. While this seems annoying, it's to prevent heterosexual singles from "scoping their competition". Regardless, if you don't think which sex you're eyeing will change, it's no big deal. And even if it does change, you just have to send a support request.
Where Elite Singles does lack is once you get past gay, lesbian or bisexual. Any other alternative lifestyles aren't going to be dropdown options anywhere for you to choose. You are able to reflect this in your bio and profile, which is probably sufficient. Still, if you're looking for something a tad bit more inclusive, you can always check out a dedicated LGBTQ+ dating app.
Elite Singles For Black Singles
Where Elite Singles has a full marketing wing dedicated to senior dating, they also have one dedicated to Black singles. As opposed to black-only dating apps, Elite Singles offers you the option to meet Black singles, as well as singles from all other ethnic backgrounds. If you don't want any attention from non-Black singles, it's probably not an ideal fit. But if you're okay with getting a message every now and then from someone that might be outside of what you're looking for, no worries.
All in all, we think Elite Singles is a great dating app option for Black singles.
Elite Singles For Christians
In case you're wondering, no, Elite Singles is not a dedicated Christian dating app. However, there A LOT of Christian singles on the platform. You're able to share your religious views when you sign up, and then you're also able to adjust them later (if they change) right from within your member's dashboard. Christian is an option, and then you get to select how important this is to you in a partner. So, if you're a serious Christian, you can mark that!
And if that's still not enough for you, you can always check out a Christian dating app.
Tell me about the customer support.
Customer service for Elite Singles was more than adequate. They offer an extensive FAQ section with a lot of common questions, a contact form, as well as a fax or snail mail address if those are your thing.
Our interaction with customer support showed quick and intelligent responses. It was nice to see that they didn't skimp on their agents and try and find the cheapest in the business. Sometimes an online dating site will outsource this task, and it is terribly evident when they do.
Well done Elite Singles!
Here are a few quick tips we wanted to add to help you if you need to get some customer support from Elite Singles.
The contact form is available on the help pages within the FAQ.
Always include the email address associated with your account when you send in a request.
Requests are handled Monday through Friday in the order in which they are received.
If your problem is technical, Elite Singles recommends including an applicable screenshot in your message with as many details as possible.
Price | How much does Elite Singles cost?
Regarding pricing, we found during our Elite Singles review that the site did come in higher than some of the smaller sites on the market and a price right around comparable with some of the big players. Our initial thoughts are always that you're going to get what you pay for (why we shy away from free online dating sites). The Elite Singles pricing model comes with three different plans to choose from.
As is standard in the online dating industry, the longer the term you sign up for, the less expensive your membership is. With Elite Singles, you also get a few additional features when you sign up for the two upper packages. Let's break down the pricing of each and what you get. After we break things down, we will give you our suggestion on what we think the best package is for you.
| Membership Type | Length | Monthly Cost | Savings % | Total Cost |
| --- | --- | --- | --- | --- |
| Premium Classic | 1 month | $59.95 | 50% | $59.95 |
| Premium Light | 3 months | $57.95 | 51% | $173.85 total |
| Premium Comfort | 6 months | $44.95 | 62% | $269.70 total |
Unlimited communication with all members
Intelligent matchmaking functionality
View all, not just some, member photos
See everyone who visited your profile
Read receipts for all sent messages
The Premium Classic package is touted as their most popular, and it makes sense why. If you buy the 3-month package, you're committing to a longer term, but you're only going to save $2 a month. You might as well go monthly if your choice is between the Classic and the Light. The best value is, as expected, with the longest term membership. If you'd like to see more about the costs, check out our detailed Elite Singles pricing break down.
Try Elite Singles Today!
Hopefully, our Elite Singles review has gone a long way in helping you figure out if this dating site is right for you. If you're looking for quality matches that are a cut above the rest of what you'll find on the internet, you'll probably enjoy this site.
What we recommend is at the very least taking a minute to utilize the free trial we've secured for you below and see for yourself. The button below will automatically get you set up with a free trial to check things out. Take a chance and see what Elite Singles is all about now!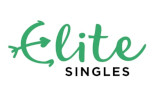 ---
Alternatives to Elite Singles
Sometimes you check out a dating app and you just realize that it's not right for you—even if it's an amazing site. And if that's how you're feeling with Elite Singles, that's totally okay! That doesn't mean you shouldn't be able to find someone special, though. What we wanted to do is offer a few suggestions for Elite Singles alternatives that you can try. Some of these apps and sites are similar to Elite Singles and some will be somewhat different.
eHarmony – If you're looking for more serious dating but you just don't like how Elite Singles approaches it, eHarmony might be a better option. Unlike Elite Singles, there is really no room at all for casual dating, though, so make sure you only choose this alternate option if you're looking for a committed relationship.
Zoosk – With all this serious talk, some of you might be starting to sweat! If you're not looking for something serious or maybe you want to take things slow or you're just not sure what you want yet, that's okay. While Elite Singles still could work for you, a site like Zoosk might be a better fit. With its 35 million members, the site caters to all relationship goals (casual, serious, hookups, etc). And what's really nice is that you can change what you're looking for with the click of a button, so the site can grow with you as your goals change (or stay the same).
The League – An amazing option for people looking to keep that elite status up is The League dating app. Touted as an app that's truly for the elite of the elite, it's an obvious option to include in the conversation. A few of the biggest differences between The League and Elite Singles are that The League requires users to get on a wait list to join, comes with a higher price tag, and you have to be approved (based on internal quality standards) to join the app. These aren't necessarily bad things if you're truly looking for elite dating.
Elite Singles FAQ
What is the success rate of Elite Singles?
Elite Singles claims a great success rate of matching singles. Every month, thousands of people find love on this premium dating site. The member community is active and there is an average of 381,000 new member sign-ups every month, so there's always new people to check out.
How long does Elite Singles take to work?
Well, you can't put a time on true love – but Elite Singles works as quickly as you can find someone that you really like. It depends on how much time you spend on the site scrolling and reading singles' profiles. If you are active on the site and spend a little time, you'll definitely find someone to connect with.
Does Elite Singles have fake profiles?
No, Elite Singles does not have a bunch of fake users or profiles. Singles on this dating site are real people looking for love and Elite Singles removes any profiles that appear to be inactive or fake.
Can I get my money back if I am not satisfied with Elite Singles?
This dating site makes it really easy to purchase a paid membership (so you can start chatting!) and if you're not satisfied, you can cancel your account at any time. The memberships are paid upfront in one payment, so you do not get a refund from that initial payment, but you won't be billed going forward once you cancel.
Can you cancel Elite Singles after a month?
If you really aren't happy with the site – which we think you'll love the singles you find on there – then yes, you can cancel after one months' time. Elite Singles doesn't lock you into any kind of long term contract and they make canceling easy from your Account Settings page.
Does Elite Singles have a free trial?
Elite Singles is an exclusive site that does offer a free trial membership, but it's somewhat limited. They push heavily to have users sign up for paid accounts. Elite Singles knows that when you pay for an account, two things happen – number 1: you are actually a real person and you weed out any fake accounts; and number 2: you are more likely to be active on the site because you've paid something. People on Elite Singles are not seeking to mess around and waste time. These singles are serious about finding love with someone of quality.
How much is a one-month subscription to Elite Singles?
This dating site caters to the single who is serious about finding love. Elite Singles does not offer a one-month membership term. They do offer several different reasonably priced memberships.
Is the Elite Singles dating site free?
No, this dating site is not free for any length of time. Elite Singles caters to a premium crowd that tends to be educated, affluent, and ready to commit to finding love. This site doesn't want any inactive, fake, or lurking members that aren't able to commit monetarily to the search.
Does Elite Singles have an app?
Elite Singles has an awesome mobile app. With a quick download for both Android and iOS devices, you can be scrolling and messaging right from your phone. You can favorite, upload photos on the go, and view your targeted matches easily with the sleek Elite Singles mobile app. You can even set up notifications so that you never miss a message!
Does Elite Singles still exist?
This site is active and matching singles for real committed love every day across Canada, the U.S., and 20 other countries around the world. They definitely do still exist! Check them out today and maybe you'll be one of their next success stories.
Does Elite Singles really work?
This dating site is proud to be matching singles for long term love. Elite Singles most certainly works: this site matches an average of 20,000 couples every month! There are so many kinds of singles to choose from with diverse interests, ethnicities, backgrounds, religious preferences, and ages – you're sure to find the person you desire in your life on this special dating site.
How long has Elite Singles been around?
Elite Singles was founded in 2009, so they've been around for a while now. They've created a great member community and the features make it easy to connect with other singles. They have developed a novel method of matchmaking using the Big Five Personality index, which makes their algorithms really accurate in matching the right people.
---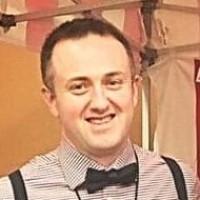 Written By: Jason Lee
Jason Lee is a data analyst with a passion for studying online dating, relationships, personal growth, healthcare, and finance. In 2008, Jason earned a Bachelors of Science from the University of Florida, where he studied business and finance and taught interpersonal communication.
His work has been featured in the likes of The USA Today, MSN, NBC, FOX, The Motley Fool, Net Health, and The Simple Dollar. As a business owner, relationship strategist, dating coach, and officer in the U.S. military, Jason enjoys sharing his unique knowledge base with the rest of the world.