By: Jason Lee | Updated for 2022
Undoubtedly the most well-known and most famous online dating app in the world is eHarmony. But just because it has boat loads of popularity and catch commercials, does that mean it's the top option for singles looking for serious relationships? Maybe…but maybe not.
If you're looking to answer this question, you want to know whether or not eHarmony is worth it, or you just want to see what other users are saying, then you're right where you need to be. Below, we've compiled all the results from our eHarmony reviews to help you decide if this is the right app for you or not.
Does eHarmony just talk the talk or do they walk the walk? Let's dive into our eHarmony reviews to find out.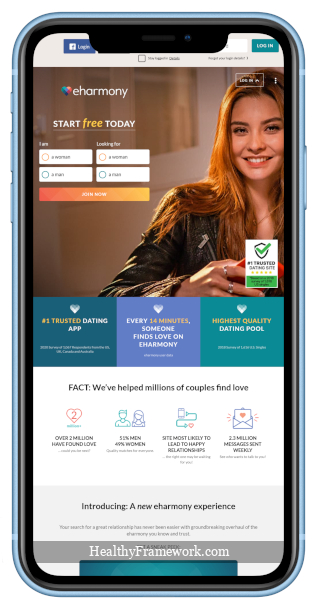 eHarmony – The Bottom Line Up Front
As a spoiler, you can see from our rankings and ratings below that eHarmony not only walks the walk, but they dance the dance, and do any other tricks you could ever want an online dating site to do. The site is going to be a big win for singles looking for serious and committed relationships. If you're looking for casual dating, though, eHarmony is not going to be a great fit at all for you.
eHarmony scored an impressive 9.8 out of 10 points in our most recent review with the strongest showing in Quality of Matches and Features. These review scores only pertain to singles looking for serious and committed relationships, and not for those looking for casual dating or friends.
Biggest Pro – An unmatched track record of success with over 2 million+ finding love (someone every 14 minutes on average)
Biggest Drawback – More expensive than some other online dating sites (though this does help to cut down on people looking to play games and not take the process seriously)
If you'd like to dive into eHarmony and check out things yourself (which we highly encourage), we've included a free trial link below that you can use to start digging around. Feel free to click now, or if you want to learn more, let's dig into some more details about what eHarmony has to offer that might be of interest to you.
5 Fast Facts From Our eHarmony Reviews
Over 2 million people and counting have found love through the eHarmony platform, making it one of the most successful dating apps for serious relationships.
Users are extremely active on the site with 2.3 million messages on average sent weekly, according to recent user data.
According to a 2018 survey, eHarmony has the highest quality dating pool in the U.S. (full transparency—this is an internally conducted study)
Over 96% of users on eHarmony have communicated with at least one other member (2020 survey), which means a really impressive interactivity rate.
eHarmony has some of the most advanced features to verify users are real and get rid of any fake accounts. This includes an SMS verification option, the ability to video chat before exchanging contact information, an in-depth sign up process, and a proactive support and security team.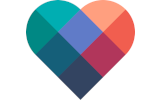 ---
Overall eHarmony Rating
| Category | Score |
| --- | --- |
| Quality Matches | 9.8/10.0 |
| Features | 9.9/10.0 |
| Ease of Use | 9.7/10.0 |
| Support | 9.7/10.0 |
| Cost | 9.1/10.0 |
| Overall | 9.8/10.0 |
9.8/10.0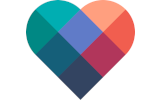 Pros and Cons of the eHarmony Dating App
Pros
Known for a high quality pool of singles
One of the cleanest and easiest to use interfaces we've seen (app and desktop)
High-tech matching system that has a profound success rate
Over 2 million have found love here and counting
51% men to 49% women (fairly equal balance)
New video dating platform integrated into the eHarmony app
Cons
Limited free trial, but free communication weekends regularly with full access
More expensive than some dating sites
Not ideal for singles looking for casual dating
Longer sign up process than many other dating apps
Through the link above, you'll automatically be set up with a free trial which includes the ability to participate in their free communication weekends which we'll outline more in depth in the features section below. Additionally, sign up discounts and promos are offered privately only to members who have signed up for a free trial account.
eHarmony Review – Table of Contents
If you'd prefer to watch the review, we've got that for you here!
What is eHarmony?
eHarmony is an online dating website and app that predominantly markets to single men and women who are looking for serious relationships, committed partnerships, and potentially marriage. While many people think that eHarmony is a Christian dating site, it's actually a secular dating site that caters to all faith walks and age groups.
What is eHarmony NOT
eHarmony is not an exclusive Christian dating site.
eHarmony is not only for people who want to get married right away.
eHarmony is not a dating site for people looking for hookups.
eHarmony is not a low-budget online dating site.
Quick Facts and Figures About eHarmony
Site Name: eHarmony (eharmony.com)
Paid or Free: Paid site with a limited free trial, occasional free communication weekends
Average Sign Up Time: 20-30 minutes
Paid Membership Pricing: Plans starting as low as $39.90 per month
Business and Founding History
eHarmony was founded in August of 2000 in Pasadena, California by Neil Clark Warren and Greg Forgatch. As the company crosses the two-decade mark in business, its operations have moved to its new headquarters in Los Angeles, CA. In 2017, eHarmony was acquired by ProSiebenSat.1 Media, a German company for the adjusted enterprise value of a whopping $85 million.
Since it's founding in 2000 up until current, eHarmony has remained a privately owned company and is not publicly or privately traded on any major stock exchanges. Due to the company's private ownership, the availability of user data and information on growth is a bit more challenging to find as there is no requirement to make anything public.
How does eHarmony work?
In the early days of eHarmony, the site operated significantly differently when it came to the matchmaking process. Over the past few years, though, the process of how eHarmony works has changed and is what they (and we) like to think of as a happy medium/best of both worlds.
In the early to mid 2000s and 2010s, eHarmony went against the grain. Traditionally, online dating websites and apps work on the "shopping" or "catalog" mindset. This is where you sign up and then have a big list of singles that you can search, swipe, or scroll through. It's certainly a quantity over quality approach.
With eHarmony (during that era), the site put a lot more weight into their matching algorithm and structured communication. Instead of giving you access to hundreds or thousands of singles, eHarmony had you go through an in-depth matching questionnaire/quiz to find out what's important to you in a mate. When you completed this, the site compares its findings with the other singles in the network to determine the best matches for you.
And then they only showed you some people that they thought were compatible. You didn't have much freedom to search on your own or to see people that they didn't think you'd match well with.
Today, eHarmony is a bit of both of these approaches. They've relaxed some of the restrictions and you're now able to search and filter through a lot more single men or women right out of the gate. But what is different, though, is you'll be able to see your compatibility and matching scores with everyone. So, if you want to trust in the eHarmony algorithm, you can! But if you want to go a little rogue and see what you can find out there, you have that flexibility too.
Does this all work? Well, eHarmony is responsible for over 2 million people finding love so far—and counting. It's hard to knock how eHarmony works with so many positive results and happy couples.
tl:dr; eHarmony has you and all the other users take a compatibility quiz. They then show you matches they think you're compatible with, but also give you the freedom to look around and search yourself. If you find someone you're interested in, you can send them a message or an online flirt to get the conversation started.
The Editorial Team's Review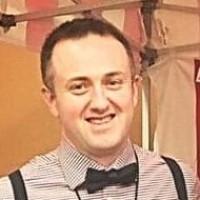 "I've become pretty intimately acquainted with eHarmony throughout this whole process. Overall, my eHarmony review revealed a dating site that might cost a few bucks extra, but in return you get results. If I had to do it all over again, eHarmony would be my first stop for a dating app for relationships and marriage."
– Jason Lee, Chief Editor of Best Online Dating
"There's something to be said about doing something right the first time. My eHarmony review showed a dating website that genuinely works to help out people looking for serious relationships. If you don't want to spend the next several years looking for love, a quality dating site like eHarmony may really be able to help."
– Linda Morris, Associate Reviews Editor
"Ladies, if you're looking for a serious relationship, there's no reason to look much further. The structured approach I saw during my eHarmony review is perfect to help you find Mr. Right. If you're only looking for Mr. Right Now, though, this isn't the site for you. "
– Christina Anne, Contributing Writer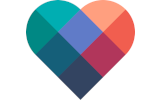 ---
The Sign Up Process (Average 20-30 minutes)
When signing up for eHarmony, it becomes clear VERY quickly that they take this process seriously. Not so seriously that it zaps all the fun, but in a way that gives you that nervous excitement because you're pretty sure they're going to give you a great shot at meeting that special someone.
When you first go to create an account, you can choose to create one manually with your email, log-in through Facebook, or log in with your Apple account if you're using the eHarmony app. For those choosing to use Facebook, good news, they never post anything to your Facebook wall or notify your friends or anything like that.
One thing that you may want to look at if you use the Facebook option is what information you want to provide to eHarmony. A bunch of stuff will be auto-selected including things like relationship status, your likes, your timeline posts…Our guess is that this is to help fill out your profile quicker, but it does seem like a lot.
What you can do is deselect everything and only give them the required information which is just your name, profile picture, and any other public info that you have. It's up to you, but this is what we chose to do because we wanted to fill out everything ourselves. Who knows what crazy stuff we have on our Facebook profile we forgot about? If you'd like to save time with the sign-up process though, by all means let them do what they do best and leave it all checked.
Once you get your initial account created, you'll go right into the compatibility quiz. Keep reading for details on how that process looks.
eHarmony Compatibility Quiz
We're not going to post the compatibility quiz questions here because we think it might mess up the process and we want you to get the most out of the eHarmony app experience. We can give you the details about how it works, though.
eHarmony will ask you a series of questions about you, how you feel about yourself, what you're looking for in a partner, and a whole lot more. They even have some odd questions that have you look at a bunch of pictures and decide which one you like the most. Seems strange, but their process has incredible results, so we're game.
It's not incredibly challenging, though, it will make you think a little about who you are and what sort of matches you are looking for. We highly recommend taking the eHarmony compatibility quiz seriously and really putting some time into your answers.
eHarmony boasts that this is the secret to all of their success and if you're someone who has been struggling to find that special someone, why not give them a chance to work their magic?
There are six sections to the compatibility quiz and it's probably going to take you at least 15-20 minutes to fill out if not longer if you really want to take your time on it.
The compatibility quiz takes the bulk of the sign-up time. Again, this should be a positive for you. Out of all the reviews we've done, eHarmony's clear goal of matching up compatible matches is the most evident during the sign-up process. The compatibility questions are all done on a scale of how much something applies to you. Here's what a few sample question looks like:
Once you get done filling out your compatibility quiz, the experts and the algorithms at eHarmony will go to work. Don't worry if you can't finish your sign-up all in one sitting. eHarmony will save everything for you if you need to come back at a later date.
After that, you'll be asked to upload a picture to your eHarmony profile either from your computer or from your Facebook account. If you don't feel like doing this right away, though, you are able to skip this step temporarily.
eHarmony Quiz Results
So, when you complete the eHarmony quiz, you aren't given results like with other online quizzes. Why? Well, because there are no right or wrong answers to the quiz. In fact, the answers mean absolutely nothing until they are compared with other users. Remember, the quiz isn't to learn about yourself, it's to figure out compatibility with others.
That means, the only place you'll see your results is in relation to other users. Particularly, you'll see them in two spots.
Number one—you'll see them on the profile cards of your matches. Here's what that looks like. Yes, we blurred the photos on purpose to protect everyone's privacy.
As you can see, we have a compatibility score of 84 with this person. Anything above 60 is considered baseline compatible, above 100 you're encouraged to reach out, and above 110 is highly compatible. From our eHarmony reviews, we saw that 140 is the max (which we have also confirmed on the website).
The second spot you'll see the eHarmony compatibility scores used is on an individual profile. When you click on someone, you'll see a breakdown of where you are and are not compatible. Here's what that looks like. Again, yes, we blurred the personally identifiable information.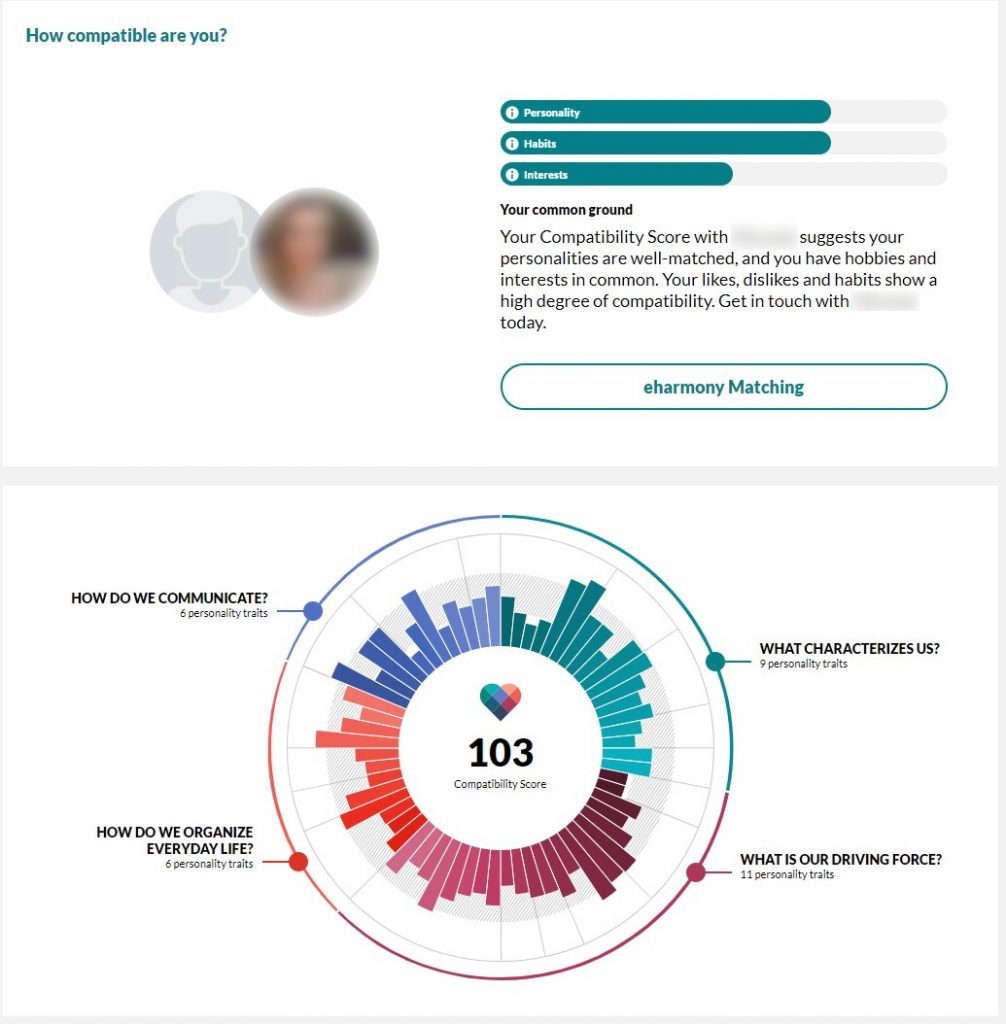 The expanded results actually go much more in-depth as each tab across the top has 5-6 breakdowns underneath it. Ultimately, this was our team's favorite part of the eHarmony reviews every time because it's neat how they visualize so much information for compatibility and what to expect with a match.
Are there good, quality matches on eHarmony?
The most important part of any review we do of an online dating site is whether or not there are quality matches for you to choose from. If eHarmony didn't have any members or they were of garbage quality, what's the point, right?
Well, as you may have already guessed, thanks to eHarmony's well calculated sign-up process and their aggressive marketing campaigns, the singles available on the site were plentiful and very high quality.
According to eHarmony's website, millions of people from all walks of life (ages, ethnicities, nationalities, and political and religious beliefs) have used their compatibility system and have successfully found long-term relationships. Specifically, eHarmony markets to and is available in the United States, Canada, Australia, and the United Kingdom.
As we commonly like to do, here's the bottom line up front. eHarmony's claim that they have a lot of high-quality members is true.
Recently, eHarmony upgraded the way that their profile match grid looks. Here's the updated look as of 2022. And, yes, we blurred the pictures to protect the privacy of the users. Paid eHarmony users will see unblurred photos.
eHarmony App Member Quality Testing
We tested out the matches in a lot of different cities (in the United States and internationally) including big cities and small cities and also with a lot of different parameters. What we found was plentiful. The number of singles on eHarmony is massive, and they all were fully filled out real profiles.
Unlike some online dating sites, eHarmony does a killer job of clearing out any spam or fake profiles that may have somehow slipped through the cracks. Although, we're not really sure how that could ever happen with their sign-up process.
We actually went back with our test review profile to update our review, and our account had been deleted from the site for not being a real account. While this made a little additional work for us, we were happy to see that eHarmony was quick to review and remove an account that was not active on the site and not a "real" account.
eHarmony does this to protect its existing members from people who might not be completely dedicated to the process or at least haven't taken that next step yet. Yes, that means people who haven't paid for an upgraded membership. You are able to see their full profile, though, which allows you to get to know the potential matches eHarmony has found for you.
eHarmony Profiles
Here's what the profile looks like BEFORE you upgrade to a paid account. Notice that you can see all the information about your match except for their photos. You'll notice that we included two pictures here. Why? We wanted to show you how the eHarmony app profiles have adapted over the years. The photo on the left is an eHarmony profile from a few years ago. The screenshot on the right (or below if you're on mobile) is what the profiles look like in 2022.
Also, in case you're curious, we blurred the personally identifiable information but you'll be able to see that information when you create your eHarmony app account.
Before the Update:
After the Update:
Profile sections include:
Introduction – This is a text area where singles can share information about who they are and what they're looking for.
About Me – This is a collection of short-answer questions listed below. You have to answer at least two of these questions when signing up, but you can answer as many as you want as well.

The most important thing I'm looking for in a person…
The most influential person in my life…
The first thing people notice about me…
The one thing I wish people noticed about me is…
My ideal first date…
I would describe my appearance like this…
My best attributes…
I should do this more often…
My happy place…
My most unforgettable travel story..
A perfect day for me…
If I need advice, I'm calling…
I would never ever…
The one thing that will always cheer me up…

An odd habit of mine…
I would really like to meet in person…
As a kid I had the firm conviction that…
I wish I could…
Something that always makes me laugh…
If I am in a bad mood…
Five years from now, I…
Things I can't live without…
Things I am thankful for…

Lifestyle – These are hobbies and interests that you can pre-select from a list
Sports – These are more preselection options you can pick for sports you like or participate in.
Food and Drink – More preselection options for the type of food you like. If you're vegetarian, you can mention that here.
Traveling – You can preselect the types of trips you enjoy.
Character and Traits – Here you can select options that describe your personality like generous, authentic, active, reflective, etc. There are 35 different options to choose from.
Top of the page: Name, Age, Occupation, Number of Photos, and Last Login
"Fact file"

City of residence
Occupation
Body type and height

Ethnicity
Degree and University
Languages spoken
Smoking habits
Drinking habits
Workout habits
Pets
Marital status
Children
Wish for children (do you want them or not)
Religion
Political view (this is a new addition)

Entertainment

Favorite TV shows and movies
Music likes
Favorite books
You don't have to fill in all of these sections. And if you don't answer something, it just doesn't show on your profile. You can also order the short answer questions how you want.
The Bottom Line on the Quality of Singles on the eHarmony App
The bottom line result of our eHarmony reviews is the site is packed full of high-quality singles who are serious about the online dating process. We did find that most everyone on the site is looking for something serious (marriage eventually) so this is not going to be a great site for anyone who is looking for a quick fling or something super casual. If you're looking to find someone who could develop into a partner for life, eHarmony is going to be great for you.
Regarding ages of singles, we saw people all over the spectrum. It did look like the mid to late 20s, 30s, 40s, and early 50s were the most prevalent age groups, but there were quite a few singles in the early 20's bracket and on the "more life experience" side of the bracket as well.
Hands down one of the easiest five-star ratings we've ever given an online dating site.
Is eHarmony a Christian dating site?
Questions we hear a lot are whether eHarmony is for Christians or if eHarmony is a Christian dating site? Let's answer both questions starting with the second one. No, eHarmony is not a Christian dating site. However, so many people believe that it is due to the more serious nature of the app's approach. What this results in is eHarmony attracts a lot of single Christians even though it's not a faith-focused dating app.
So, no eHarmony is not a dedicated Christian dating app, but it's a great site for Christian singles. You will find people of other faiths (or who aren't religious on the site), but you'll also find plenty of single men and women looking for religious-focused dating. And the site does come with some great features that will help you to quickly sort through your matches to find people who fit what you're looking for.
For those of you interested in a 100% faith-focused app, you can always check out our list of the top Christian dating apps.
How easy is the site to use?
If there is something that eHarmony spent more money on than marketing, it has to be their designers and coders. Their web and app interfaces are some of the smoothest and easiest to use that we've seen.
Finding what you're looking for is a cinch and certainly does not require a computer science degree to figure out. It's clear they designed eHarmony for everyone to use without pulling their hair out or bashing the computer against the wall.
Your member area has only three different links across the top of the page for you to choose from:
Under the matches tab, you'll see all of the matches that eHarmony currently has for you. They're laid out simply in a grid style format with features you can sort with across the top. You'll also be able to update your match preferences from this screen in case what you're looking for in a match has changed.
You'll also be able to look at your favorites, visitors to your profile, and profiles you have visited.
Under the messages tab, you'll find…your messages! We bet you didn't see that one coming. The layout of the message area is clean and looks similar to how things look on Facebook messenger only a lot cleaner. Again, it's clear that eHarmony really cares about the user experience down to the last little detail.
Here's what it looked like at the time of our last set of eHarmony reviews. Yes, we blurred the images again 🙂
The bottom line is that you're going to have no problems figuring out how to use the basic interface of eHarmony.
eHarmony Guided Communication
If you used eHarmony a while back, you probably remember the guided communication feature. The site would walk you through four steps to actually get to open chat. You'd do quick questions as an icebreaker, share your make or breaks, answer some "digging deeper" questions, and then finally get to eHarmony mail which is "normal messaging."
Recently, though, eHarmony moved away from this and it's normal ole' messaging from the start. It would seem from some other eHarmony reviews that some people didn't like how drawn out the process was (even though it did have strong results). Now, it operates much more like other dating apps do when it comes to messaging.
Are there any great features?
eHarmony has a lot of great, yet simple, features to help make your online dating experience that much more successful. If you're someone who loves a million different features, bells, and whistles to keep you busy, you aren't going to like eHarmony.
During our eHarmony reviews, we found that they care about one thing – helping you find love. This means that they didn't go overboard with a ton of unnecessary features that just entertain and don't help to achieve your goal. Let's take a look at a few of these features.
The Search Feature?
You may notice when you get onto eHarmony that they don't have a traditional search feature. Nothing like starting the list of features with a feature they don't have, right? Instead what they do is present matches to you that they think are compatible.
eHarmony really likes to be in the driver's seat when it comes to helping you pick your matches. Imagine them like your good friend who always wants to play matchmaker, except they are professionals and are really, really good at it. You don't produce millions of successful long-term relationships just by dumb luck.
You are able to look outside of the matches eHarmony presents you and you are able to search through your matches as well as the matches outside of your preferences. In a sense, this is a search function, but it's definitely not what you are traditionally used to and not the method they seem to prefer for you to use.
You are also able to update your match preferences which will change who shows up in your match feed. We don't really recommend doing this just to see more people. Trust the system and explore the matches they give you.
Here are the options you can update. Additionally, you can set which countries and regions inside those countries you want matches from. You can also set to search by distance from your home location, if that's what you prefer.
Why does eHarmony have no real search feature? They do this because they want you to trust in their systems and the processes they've put in place. Let's be honest for a minute…if you're here, you're obviously in need of some help, and eHarmony wants to make sure that you're taking it. They have such a high success rate with pairing up perfectly compatible people that we're totally ok with the fact that they choose to do the searching for you.
What If?
Sadly, the What If swiping feature has been discontinued. In our past eHarmony reviews, we were actually fans of this functionality. However, it looks like we were in the minority as the company has since discontinued it.
SMS Verification
eHarmony has added in the ability to verify your account through an SMS text message. It's a simple process, but goes along way to weeding out fake profiles. All you have to do is put in your mobile phone number and eHarmony will send you a text with a code. Once you input that code on the eHarmony website or app, you are verified! From then, you get a badge on your profile that shows you have been verified.
This process is 100% optional, but probably goes a long to increasing your likelihood of matches and message responses.
Integrated Video Chat
Probably the biggest highlight of our most recent eHarmony reviews was the discovery of the integrated video chat feature. This allows you to video chat with matches from right within the platform without the need to exchange phone numbers, Skype contacts, or anything like that. You are required to send messages before requesting a video chat, which is a nice feature to make sure you're not getting requests from people you don't want to talk to.
How do you find the feature? It's right here conveniently on everyone's profiles.
Free Communication Weekends
For those of you that aren't quite ready to join eHarmony, they have free communication weekends fairly regularly that will let you use a lot of the features for free. What we recommend is that even if you aren't planning on joining the site, you should create an account just so you can be ready for one of these weekends.
During the weekend, any member of the site is free to flirt, send questions, or write messages/respond to other singles.
There are a few features that you won't get access to without upgrading, though. These are the ability to see who visited your profile, the What If? function, and the ability to see other member's photos. The last one is a bummer, but you'll still be able to interact and start getting to know other members and see if it's worth it for you to upgrade and join the site.
If you'd like to learn more or get signed up for the next free communication weekend at eHarmony, we've put together a full guide with all of the important information you need to take advantage and make sure you don't miss out on this awesome feature.
Profile Completeness Requirements
One of the more annoying things that can happen when using an online dating site is getting a message from an empty profile. Nothing says "Hey I'm serious about finding love" like putting no effort into your profile! Thankfully, eHarmony has a feature to help curtail this. In order to be able to send or respond to a message, you have to complete at least 50% of your profile. While this can still be circumvented, it is a nice (and somewhat effective) attempt at stopping lazy messages.
Tell me about the customer support.
eHarmony has an extensive FAQ section that can be located from the bottom footer of the website. From our review, they look to have answers to almost any common question we could think of. What we did take a while to find was how to contact them with any other questions not covered.
If you click on a question and scroll to the bottom, you'll find an email and phone support option. We would have liked to see these more prominently posted somewhere, but it's clear they are trying to get people to use the FAQ support first. So, if you need help, go the FAQ section, click on a question and scroll to the bottom. You'll see the link for email support.
Oh, and if you want the phone number, we got you 🙂
Phone: 844-544-3173
8 A.M. to 5 P.M. PT, Monday – Saturday
Price | How much does eHarmony cost?
Here's a look at exactly what it costs to get a membership with eHarmony. In the past, there were different types of memberships that offered different levels of service. Now, though, all of the memberships offer the same features, including the read receipts and the new video features!
| Membership Type | Membership Length | Membership Cost |
| --- | --- | --- |
| Premium Light | 6 Months | $69.90 per month |
| Premium Plus | 12 Months | $49.90 per month |
| Premium Extra | 24 Months | $39.90 per month |
It's important to point out that eHarmony offers discounts and sales year round on most of their memberships. But, here's the secret! The only way to see these sales is by creating a free trial account. Once you do that and log into your account, you'll see what current offers the eHarmony app is pushing. Often, this can be upwards of 50% off or more in some instances!
If you'd like to see the current eHarmony discounts available, use the free trial link in the next section and you'll automatically get set up with a free trial account and the ability to see the details.
Is eHarmony worth it?
The bottom line of our eHarmony review is that it is one of the best online dating sites we've seen out there. While it is a little pricier than some of the other options, it is completely worth it. The features and the quality of the overall experience far outweigh the few extra bucks the membership costs.
Additionally, if you're serious about finding someone to spend the rest of your life with, that might be worth a few extra bucks.
If you're someone who is looking for a casual fling, eHarmony is not going to be worth it for you. You're going to have a big headache running into people that are frustrated with your relationship goals. If you're someone that is serious about finding love and something long-term and lasting, then eHarmony is certainly going to be worth it for you. You're going to LOVE it.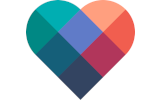 eHarmony Alternatives
While we are super high on the eHarmony app as a great choice for serious singles, it might not be the right fit for everyone—and that's okay. If you're still on the search for someone special, we wanted to share some other eHarmony options you may want to consider. We've linked below to our review of each dating app as well as shared who we think each is best for.
Christian Mingle – If you're looking for a 100% Christian faith-focused relationship, Christian Mingle may be an app worth checking out. The site boasts an impressive 15 million members and unlike eHarmony is 100% focused on Christian singles.
Zoosk – If you made it to our eHarmony app review and realized the site is a little too "serious" for you, that's okay. Maybe you aren't totally sure what you want in a relationship just yet or you're looking for some more casual dating. If that's what you find yourself saying, Zoosk may be worth checking out. There are still serious singles on there, but there are also single men and women looking for more casual dating.
Elite Singles – For those of you who are business professionals or are singles who find education sexy, then Elite Singles could be a better fit for you. The site boasts an impressive 86%+ of singles on there with an above-average form of education. Additionally, a large chunk of the members of Elite Singles are over the age of 30, which may or may not be a positive for you.
eHarmony FAQ
What is the success rate of eHarmony?
According to reports, 71% of women and 69% of men meet their spouse on eHarmony within a year of joining. Does this mean you'll have the same success rate? It depends on how active a user you are, whether you fill out your profile and upload pictures, and how much time you dedicate to sending messages and responding to messages from other eHarmony members.
What are the pros and cons of eHarmony?
When it comes to the pros and cons of eHarmony, the lists are lengthy. The biggest pros of eHarmony are the quality of the members, the usability of the site, and the track record of success. The biggest con of eHarmony is that it's only good for singles looking for serious and committed relationships. If you'd like to see the complete list, check out our article on the full list of eHarmony pros and cons now.
How long does eHarmony take to work?
The speed you fill out your sign-up questionnaire and how active of a user you are will have a big effect on how long things take to work. Unlike some dating sites that turn you lose to the full list of singles, eHarmony follows a more structured approach. This means you may see options slower, but the quality of options will be better, and you should get better results.
Does eHarmony have fake profiles?
eHarmony has a dedicated security team that works around the clock to remove and weed out any fake profiles that might try and make it onto the site. Obviously, there will be some that slip through the cracks, but because of the intricate and in-depth sign-up process, there are fewer fake profiles at eHarmony than at other dating sites.
Can I get my money back if I am not satisfied with eHarmony?
eHarmony offers their eHarmony guarantee, which does not give you a refund, but it does give you three months of free service if you don't find anyone special in the first three months. Be aware there are levels of interactivity you must meet in order to qualify. Details are spelled out in the link above.
Can you cancel eHarmony after a month?
You're able to cancel your eHarmony dating account at any time. However, you won't get a refund, and your account will stay active for the duration of the time you paid for. You won't have to pay ever again, though, once you cancel.
Does eHarmony have a free trial?
Yes! The eHarmony free trial is available to daters anywhere around the globe. You'll get unlimited time to upload profile photos, fill out your information, complete the matching tests and questionnaires, see other singles, and get acquainted with the software
How much is a one-month subscription to eHarmony?
The current cost of a one-month membership at eHarmony is $69.60. This does require a 6-month membership commitment. To see the full list of pricing and available options, check out our up-to-date- eHarmony cost page.
Is eHarmony dating site free?
You'll be able to sign up for a free trial to eHarmony through the links at the top and bottom of this page. For full access, though, you will need to pay for an upgraded membership.
Does eHarmony have an app?
Yes! eHarmony has a fully functional dating app available for iOS (iPhone) and Android users. The apps can be downloaded through the free trial links on this page or through your device's app store.
Does eHarmony still exist?
Yes! eHarmony was founded about two decades ago in 2000. eHarmony is still alive and well, with over 2.3 million messages being sent between prospective singles every week. Currently, the site has 51% men and 49% women.
Does eHarmony really work?
According to eHarmony, over 2 million people have found love through the website and app. If you ask us, those are great enough success rates to say eHarmony really works.
How long has eHarmony been around?
eHarmony was founded in 2000 in Pasadena, California. The dating site has now been around for over two decades!
Does anyone still use eHarmony in 2022 and 2023?
Yes! Just because eHarmony has been around for over 20 years does not mean that people are suddenly turning away from it. It's just as popular as ever (more so, even). What has changed, though, is that in the early years, people looking for semi-casual dating could have some success on the platform. However, that has changed with the advent of more casual dating options allowing eHarmony to really focus in on its core demographic.
---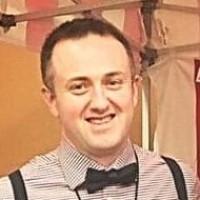 Written By: Jason Lee
Jason Lee is a data analyst with a passion for studying online dating, relationships, personal growth, healthcare, and finance. In 2008, Jason earned a Bachelors of Science from the University of Florida, where he studied business and finance and taught interpersonal communication.
His work has been featured in the likes of The USA Today, MSN, NBC, FOX, The Motley Fool, Net Health, and The Simple Dollar. As a business owner, relationship strategist, dating coach, and officer in the U.S. military, Jason enjoys sharing his unique knowledge base with the rest of the world.