It's been a long time coming, but there's finally an effective online dating site that specially caters to South Asians from all over the world. South Asians have a long tradition of arranged marriages, but in the modern world, it's time to take matters of the heart into your own hands. With Dil Mil, you can.
The niche online dating site currently boasts over 2 million users in ethnic groups of Gujarati, Punjabi, Sindhi, Bengali, Tamil, Telugu, Malayali, Maharashtrian, Kannada, and Rajasthani. However, it is not restricted to South Asians only. If you have always been interested in getting to know South Asians and understanding their culture, you know where to find them.
While Dil Mil comes with many useful features, most of which you can find on established online dating sites like Tinder, how does Dil Mil specifically cater to the needs of South Asians, and more importantly, how successful is it? Read on our complete Dil Mil review to find out.
Is Dil Mil Worth It? – The Bottom Line Up Front
The South Asian diaspora may be one of the largest in the world, and they have always been struggling between their traditional culture and values, and the liberal Western world they live in. This struggle is most prominently seen in dating, where they may be expected to find a partner compatible with their background, culture, and ethnicity, which can be incredibly difficult in modern Western society, hence many end up accepting marriages arranged by their parents and relatives.
With Dil Mil, South Asians can take back their autonomy in dating and find love first, before marriage. For the freedom to love, Dil Mil is surely worth the try. Click the link below to try Dil Mil for free:
---
Overall Dil Mil Rating
| Category | Score |
| --- | --- |
| Quality Matches | 8.0/10.0 |
| Features | 7.3/10.0 |
| Ease of Use | 8.0/10.0 |
| Support | 9.0/10.0 |
| Cost | 7.0/10.0 |
| Overall | 7.9/10.0 |
Pros and Cons of the Dil Mil Dating App
Pros
Clean interface that makes the platform look sleek and easy to use
Quick, hassle-free sign-up process
Free communication tools
Better quality matches due to predictive analytics and learning algorithm applied to match rankings
Available on web browser, iOS and Android
Sufficient customer support via email, mailing address and even live chat
Cons
VIP Elite pricing may be a little high for a platform with basic features
Users with free account has limited 'dils' (synonymous to likes) to issue per day, hence reducing chances of matching
Fake profiles are prevalent
Lack of matches near you
Platform on web browser has limited functionalities
Who Dil Mil Is Good For
Those looking to get to know and possibly establish a meaningful relationship with South Asian partners
Those seeking long-term, committed relationships
Younger South Asians below 35 are more dominant on the platform
Who Dil Mil Might Not Be Best For
Those who are not interested in understanding South Asian cultures
Those looking for casual flings
Dil Mil Review – Table of Contents
Fast Facts About Dil Mil
Site Name: DilMil.co
Paid or Free: Paid site with a limited free trial
Average Sign-Up Time: Less than 5 minutes
Paid Membership Pricing: Plans starting as low as $16.67 per month
Unique Dil MilFacts and Figures

20+ million matches made
2+ million South Asian singles from around the world on the platform
One relationship established per hour
One marriage created per day
Dil Mil Features Overview
Dil Mil's features are pretty basic, which makes the platform easy to navigate.
With a free account, you are able to chat with anyone you've matched with and you can view the likes you've received. However, you have a limited amount of likes, which means you need to be rather selective in choosing the profiles you like. You can also manually filter searched by gender, age, height, religion, location and country raised in, further improving the match algorithm.
While these standard features may be sufficient to help some users find a match on the platform we were especially impressed with the list of premium features that come with upgrading to a VIP Elite Membership. We've explained some of the more interesting features we discovered in our Dil Mil review below. Each is designed to improve the success rate of establishing more and better matches on the Dil Mil App.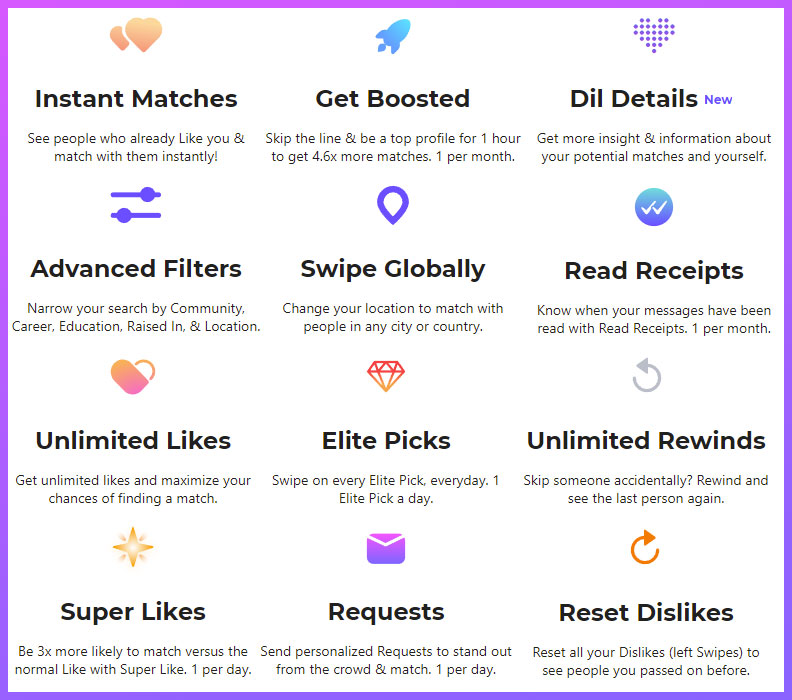 Potential Match Display
Profiles presented on the app differ from profiles presented on the web browser. On the app, you only get to see one profile at a time, suggested to you by the platform, whereas on the web browser, you can view potential matches on one page and click on the ones that catch your eye to see their profile and indicate if you like them. On the app, you can swipe to indicate your preference like Tinder, but on the web browser, you will need to indicate by clicking on the like or dislike button.
Refined Picks
With a premium account, you get to access the Elite Picks, who are deemed the "most attractive" on the site, and you can send a request to chat with them (one per day). Otherwise, you can always use the advanced filters and select the community, career and education of profiles you're most interested in seeing on your feed.
Rewind and Reset
You can choose to rewind to the previous match and re-indicate your preference or reset all your Dislikes with a premium account as well. This way, you won't have to worry about accidentally missing a perfect match and give everyone (as well as yourself) a chance to re-evaluate their suitability.
The Quality of Singles at Dil Mil
Through this Dil Mil dating app review, we found that the profiles suggested on our feed, despite not indicating any filters, are pretty consistent and of generally good quality. In terms of occupation, which is indicated along with their age on the profile photo, we can see entrepreneurs, research scientists, healthcare professionals, and engineers out there looking for a match.
Some may wonder about the distance being set as a 500-mile radius, instead of a closer proximity, but this may provide you a wider range of options, even if you may have to make the journey for an actual meet-up.
Other than that, we had a quick look at the reviews from actual users and are happy to see that there are several positive reviews coming from those who were successful in finding love through the app.
How to Sign Up at Dil Mil
Signing up for Dil Mil is a simple process that takes less than 5 minutes. Follow the steps below and you can complete the registration in no time:
Visit dilmil.co to create your profile
Indicate your gender preference and age range between 18-60
Key in your phone number and agree to their privacy policy
Receive a verification code to your phone – return to the site to enter the code
Key in your first name and gender
Enter your date of birth
Upload a profile photo
Provide your email address
Allow location tracking
Upon completion, you can start browsing singles on the web browser, but if you registered via the app, they will prompt you to provide further information such as your height, country, community (though there's an option for 'Other' or if you 'Prefer not to say'), education level, occupation, religion, what you're looking for, love language, whether your work out, dietary preference, type of attraction, and at least 3 personality traits. These help to improve the matching algorithm, so you can receive better quality match suggestions.
Price | How Much Does Dil Mil Cost?
Here's a current breakdown of Dil Mil VIP Elite pricing:
| Membership Type | Membership Length | Membership Cost |
| --- | --- | --- |
| VIP Elite | 1 Month | $34.99 per month |
| VIP Elite | 3 Months | $23.33 per month |
| VIP Elite | 12 months | $16.67 per month |
As a unique feature VIP Elite access can also be given as a gift. If know someone who you think would like Dil Mil and you would like to give them the gift of a few months of premium Dil Mil Membership it will cost the same as the prices seen above. (Only 3 month and 12 month memberships were available as gifts at the time of our Dil Mil review).
Customer Support Options
It's great to see that Dil Mil is ready to support you in any way they can, be it providing you their email address ([email protected]), mailing address (695 5th Street, #10, San Francisco, CA 94107), and even a live chat option for you to get the support you need instantly. They may not provide you their phone number, but having a live chat option ought to be good enough to resolve your issue.
Try Dil Mil Now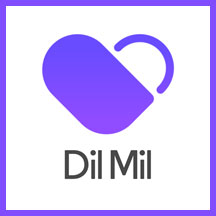 ---
Dil Mil FAQ
Is Dil Mil a scam?
Dil Mil was bought over by the highly acclaimed Dating.com Group in 2019, so you can be rest assured that the platform is not a scam and it won't run away with your money.
Can I access Dil Mil on a web browser?
You can, but you won't have the full access to its features on a web browser. It would be better for you to take in the full experience by downloading the Dil Mil dating app, which is available on Apple App store or Google Play.
Are there fake profiles on Dil Mil?
Unfortunately, with the simple signup process, it's also easy for fake profiles to enter the mix. There are verification processes in place, but hardly stringent enough to completely prevent fake profiles on the platform.
How do I delete my profile on Dil Mil?
Yes, you can simply head over to your Profile, go to the Settings by clicking on the gear icon, and scroll down to Deactivate Profile. Note that you will lose all your matches and conversations along with it, so only click on it if you are absolutely sure you want to remove your profile on Dil Mil. Otherwise, they have an option to hide your profile too, if that helps.