Dating Group acquired Dil Mil in 2020, and it's been growing its membership base ever since. Now, the site attracts around 1,000 new members a day, which is a good sign. Still, you can't help but wonder if it's bringing in high-quality members. Also, does the South Asian dating site get results?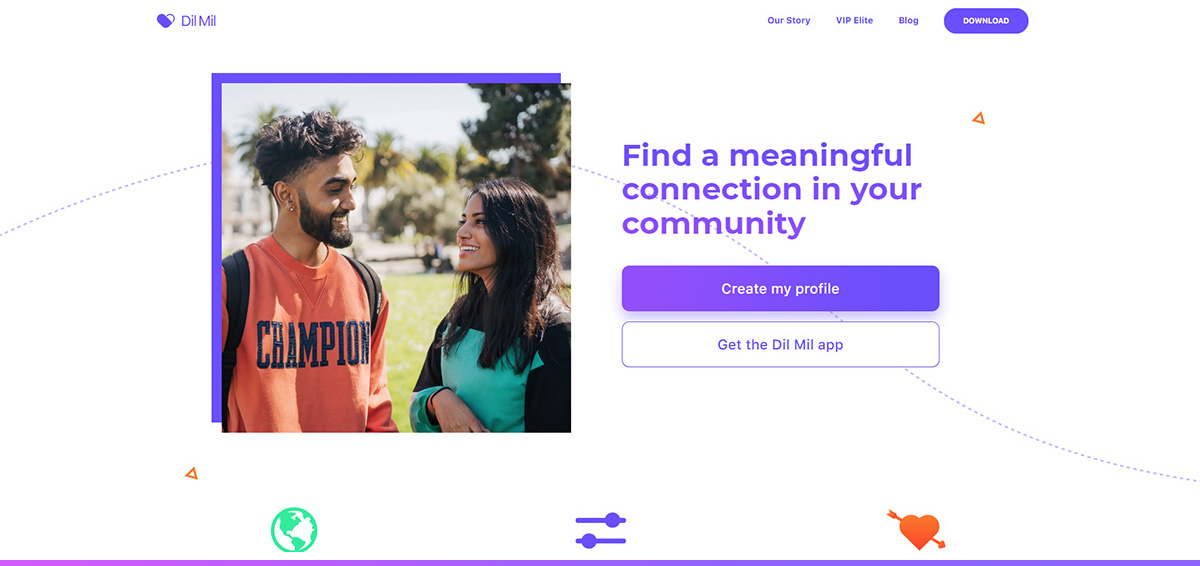 After using the site and interacting with members for two weeks, we have answers to those questions and more in our Dil Mil review. Keep reading to get the details about what we liked and didn't like when using this dating site for South Asians.
Overall Dil Mil Rating
| Category | Score |
| --- | --- |
| Starting Cost | $16.67/month |
| Online Since | 2014 |
| Userbase | 2 million+ |
| App Store Rating | 3.6/5.0 |
| Google Play Rating | 3.3/5.0 |
| Our Review Score | 6.5/10 |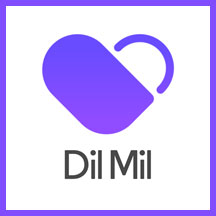 6.5/10.0
Is Dil Mil Worth It? – The Bottom Line Up Front
Dil Mil is a South Asian dating app for singles who want something more serious than a hookup app without the pressure of a matrimonial website. At first, it took a while for the site to take off, but the number of active users increased by 38% in 2021. With so many new members, we took another look at Dil Mil, and we're confident it's a good choice for South Asians interested in serious relationships. Still, it's much more effective for women than it is for men, so keep reading our review of Dil Mil to get the scoop.
So, let's start with the basics. You can join as a free or premium member. With a Dil Mil free trial account, you can:
Like up to ten profiles a day
Use basic search filters
Chat with matches
While the free accounts are usable, men generally have to upgrade to premium memberships to make connections. Premium accounts start at $16.67 a month if you sign up for a year and include the following features:
Unlimited likes
Elite picks
Instant matches
Profile boosting
Advanced filters
Global search
Super likes
Unlimited rewinds
First, we created a male profile and tested the free features. While Dil Mil has created over 20 million matches, we didn't get any when using the free account. However, we ended up with a handful of matches relatively quickly after upgrading since we were able to see who liked our profile.
We also didn't receive any messages as a free member but did get a handful after upgrading. However, our message response rate was a paltry 5% at first. We bumped it up to 25% after checking profiles and only messaging people with high response rates.
Now, things took a major turn when we created a female profile.
Our phone started pinging pretty much the moment we created the account, and it didn't stop. We averaged 100 or so likes and dozens of conversations a day. And judging by how quickly the guys hit us back after we responded, it felt like they were waiting to hear from us.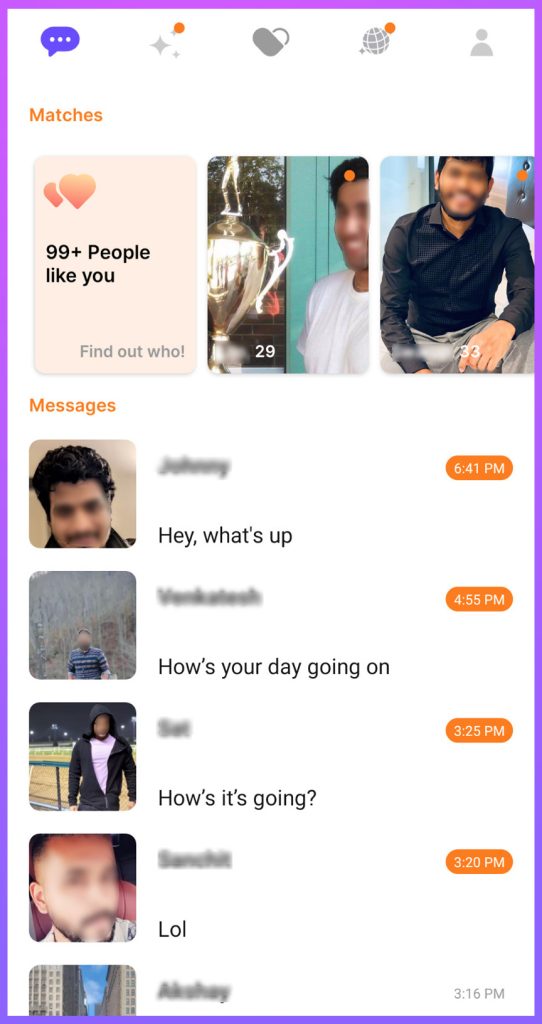 And this was all with a free account. Honestly, we don't think women need to pay to use Dil Mil because they're in such high demand here.
While getting matches was easy with our female profile, forming real connections was hard on both sides of the gender spectrum. Dil Mil uses basic preferences and interests to match people and only has six free and three premium filters. The poor matching algorithm meant we had to engage in lots of convos before finding people we actually liked.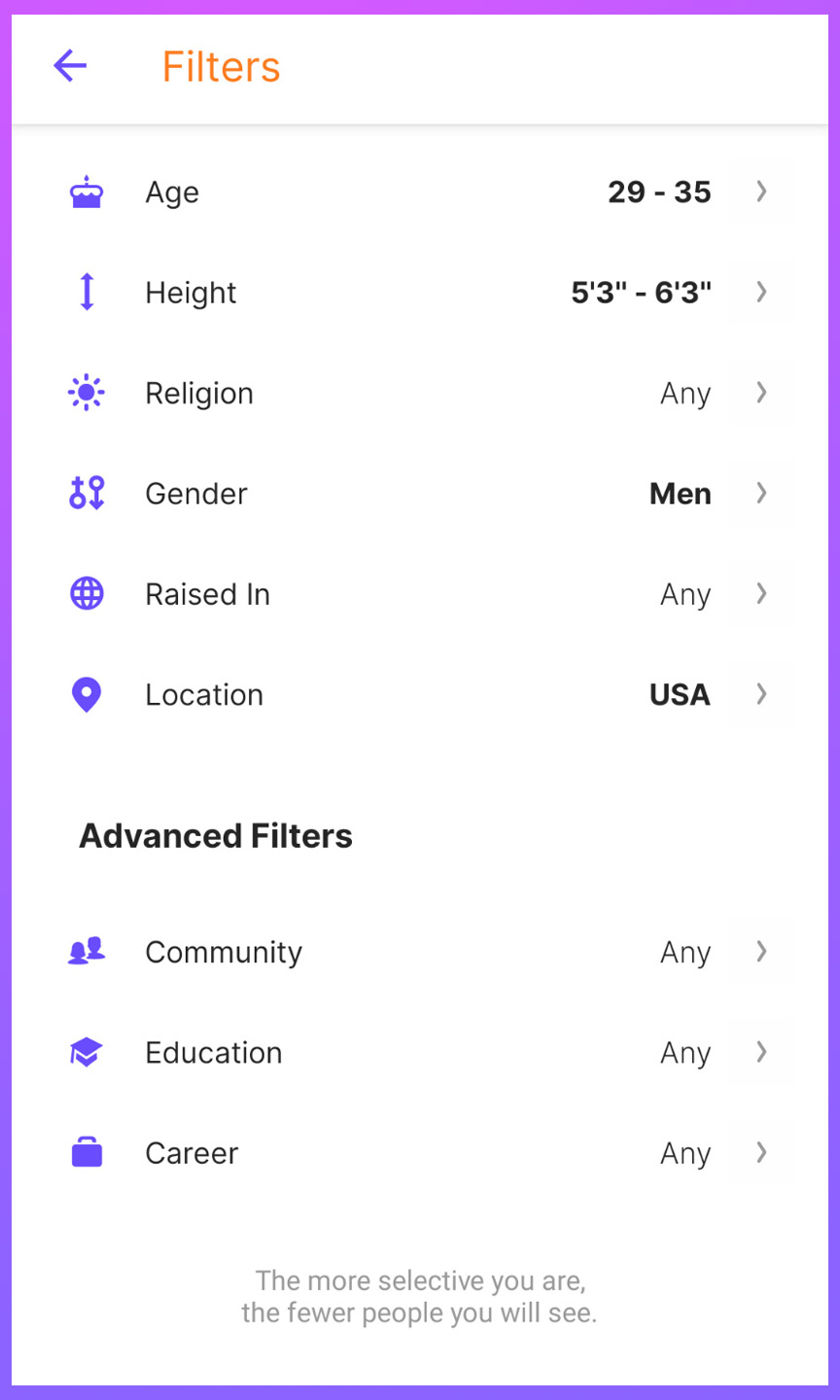 As you can see, Dil MIL is kind of a mixed bag. We think it's worth checking out, but you'll need to have some patience if you're a man. If you want something easier to use, download one of the best dating apps for Asians. Dil Mil didn't make the cut, but it's still a solid choice for South Asians seeking serious relationships.
Pros and Cons of the Dil Mil Dating App
Pros
Approximately 1,000 new members a day
Has created over 20 million matches
Almost all the members are Asian
Members with free accounts can chat with matches
Members can send "Requests" before matching
Cons
Matches are often located on the opposite side of the country
Women aren't responsive as men on Dil Mil
No distance filter, although you can search by location
Dil Mil Features Overview
Dil Mil isn't as feature-rich as some dating apps, but it still has a few unique offerings. Keep reading our Dil Mil review to get our thoughts on the different features as well as a breakdown of what you'll be able to do on a Dil Mil free trial account vs a paid membership to the app.
Requests – Available to Free and Premium Members
As a free member, you'll receive Requests after swiping right on some photos, although once you're out, you're out. You can also unlock this feature by upgrading to a premium membership. Once activated, you can send a Request to a member that you like before matching.
The person will see the Request, and if they're interested, you'll have a match.
So, we have mixed feelings about this feature. If you're a woman, you really don't need to use it since you'll probably receive tons of matches and messages anyway. On the other hand, men have a harder time getting likes and messages, so it can be helpful. Still, out of the 14 Requests we sent, we only received four responses, so it's hardly setting the dating world on fire.
Popularity Percentage – Available to Free and Premium Members
Have you ever wondered how popular people are on dating apps? You can find out by clicking on profiles on Dil Mil. Profiles include a popularity percentage, so you can see how much interest the members are receiving on the app. But while this looks pretty cool, looks can be deceiving.
We made it to the top 65% within 24 hours of using the app, and lots of people hit the top 20% without spending much time here. It's honestly not something we would recommend put much stock in for making your decisions on who to message.
Response Rate – Available to Free and Premium Members
This might be the most important feature we came across when compiling our review of Dil Mil. You can see members' response rates when scrolling through profiles. A lot of people have really low response rates, like 10% or so, and we recommend bypassing those singles. We increased our message response rate by 20% by only reaching out to people with high response rates.
Mil and Chill – Available to Free and Premium Members
Mil and Chill is Dil Mil's built-in community chat feature. You can only use it after verifying your profile, which is a definite bonus. That means you won't have to worry about catfish and scammers trying to grab your attention while chatting.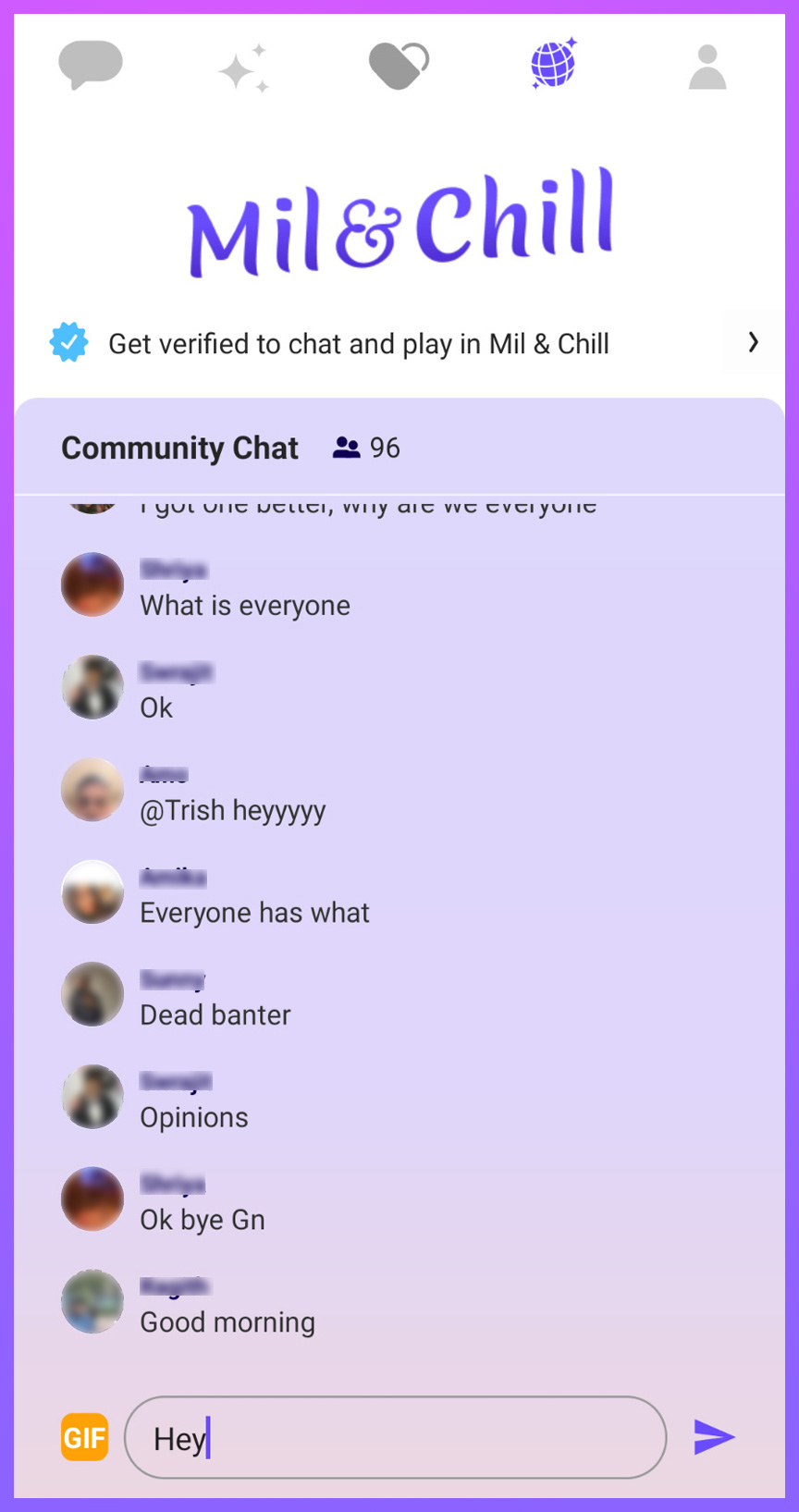 Mil and Chill is relatively active. For instance, there were over 80 participants in a chat on a random Monday afternoon, and it often grows in the hundreds in the evenings. Oddly, though, people don't seem to be chatting with each other. Instead, members send out basic chats without engaging in any real conversation.
Dil Details – Available to Free and Premium Members
Both free and premium members can access their Dil Details to see how they're performing on the South Asian dating app. Your details include the number of likes and requests you've received, the average age of people who like you, and the astrological signs that like you the most. Be sure to check out our astrological compatibility guide for some extra insight into dating by sign.
So, we want to use this to really illustrate the difference between male and female users on the app. We took snapshots of our Dil Details after 24 hours on the app. First, here's a picture of the Dil Details for our female profile (left), and then, the details for our male profile (right).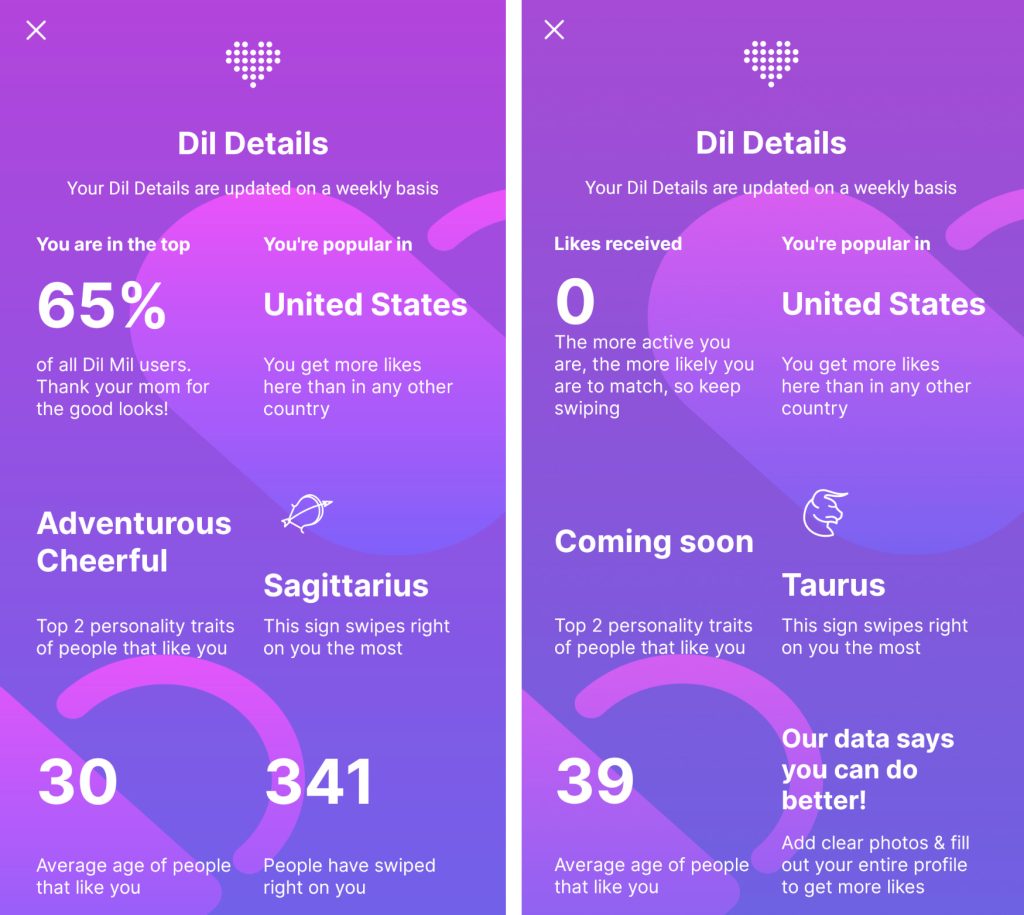 That's a pretty big difference, huh? Definitely reinforces our claim that female users probably don't need to upgrade their membership to see results on the Dil Mil app.
Instant Matches – Available to Premium Members
Premium members can see all their likes, and like the members back for an instant match. We didn't need to see who liked us to get lots of matches for our female profile, but it made a big difference when using the male profile. Still…
Because the women on Dil Mil aren't very engaged, we didn't get as many likes here as we do on other dating sites. For instance, we used the same feature on the casual dating app Hily, and could have received 100 matches a day just by sending mutual likes. However, we never ended up with more than seven matches in a day on Dil Mil, even when using this feature.
Quality of Singles – Dil Mil User Base Review
Overall, Dil Mil has a high-quality membership base, although the profiles are pretty basic. Most members add general details like their religion and education but don't fill out the bio or add voice prompts. Still, they do take their time choosing photos, and many of them have a nice selection of pictures.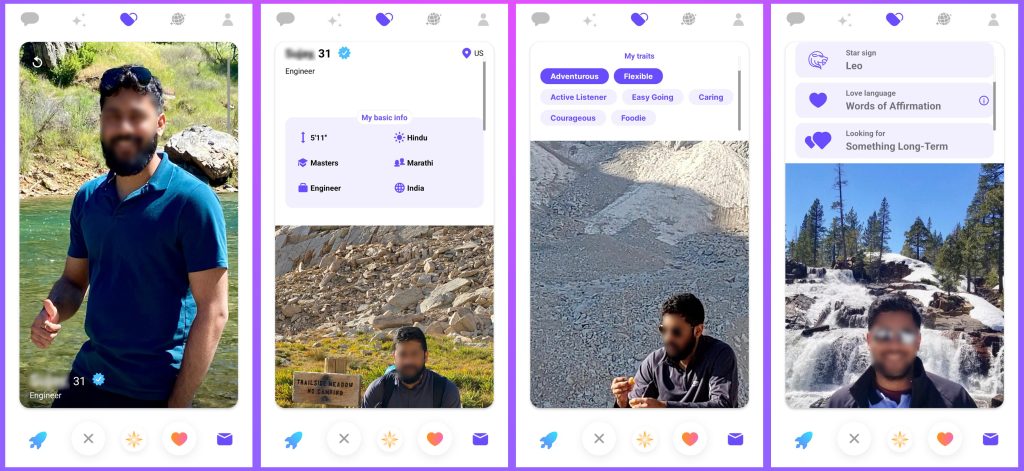 Also, Dil Mil scores high marks for mainly having legit users. We didn't come across a single scammer when using this dating app for South Asians, and that's after having well over 100 conversations.
While the profiles aren't that deep, we did glean a few key details…
For instance, a lot of the members indicate they value quality time, and many are looking for long-term relationships. Also, many of the members appear to be well-educated based on what we saw in their profiles.
Also, most of the members want to connect with other South Asians. This tracks with Dil Mil's internal research that discovered that more than 80% of South Asians date and marry people who are part of their community.
How to Sign Up at Dil Mil
Signing up for Dil Mil is a simple process that takes less than 5 minutes. Follow the steps below and you can complete the registration in no time:
Visit dilmil.co to create your profile
Indicate your gender preference and age range between 18-60
Key in your phone number and agree to their privacy policy
Receive a verification code to your phone – return to the site to enter the code
Key in your first name and gender
Enter your date of birth
Upload a profile photo
Provide your email address
Allow location tracking
Upon completion, you can start browsing singles on the web browser, but if you registered via the app, they will prompt you to provide further information such as your height, country, community (though there's an option for 'Other' or if you 'Prefer not to say'), education level, occupation, religion, what you're looking for, love language, whether your work out, dietary preference, type of attraction, and at least 3 personality traits. These help to improve the matching algorithm, so you can receive better quality match suggestions.
Dil Mil Price Review – How Much is VIP Elite Membership?
Here's a current breakdown of Dil Mil VIP Elite pricing:
| Membership Type | Membership Length | Membership Cost |
| --- | --- | --- |
| VIP Elite | 1 Month | $34.99 per month |
| VIP Elite | 3 Months | $23.33 per month |
| VIP Elite | 12 months | $16.67 per month |
As a unique feature VIP Elite access can also be given as a gift. If know someone who you think would like Dil Mil and you would like to give them the gift of a few months of premium Dil Mil Membership it will cost the same as the prices seen above. (Only 3 month and 12 month memberships were available as gifts at the time of our Dil Mil review).
Here is a quick look at some of the premium features that will be included when you pay for Dil Mil VIP Elite Membership: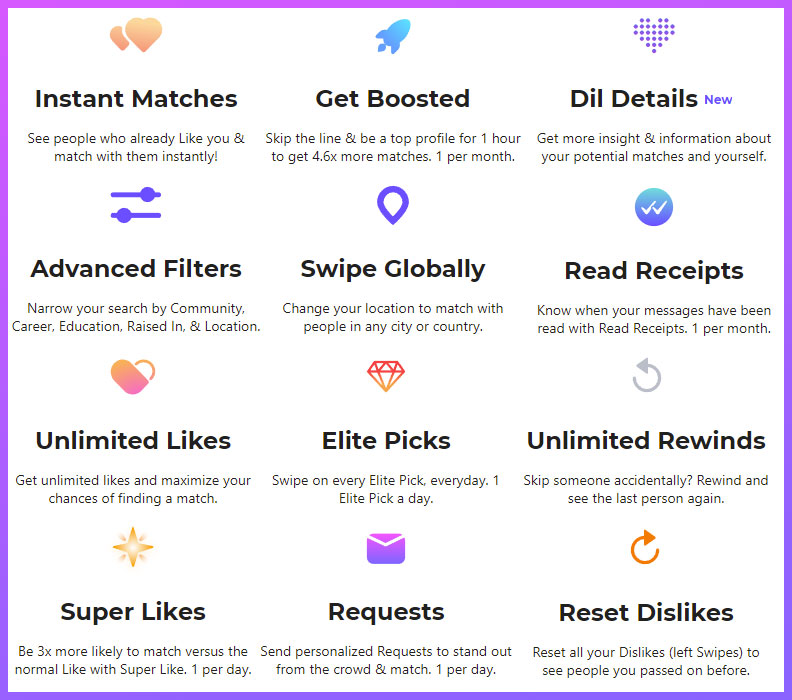 Dil Mil Alternatives
EME Hive – Asian-American dating app EME Hive has around one million members to Dil Mil's two million. While you'll find lots of legit users on Dil Mil, EME Hive has a problem with white men posing as Asians. Also, EME Hive hides most features behind a paywall, including reading messages. We recommend using Dil Mil over EME Hive (See full EME Hive Review).
AsianDating – As one of Cupid Media's niche sites, AsianDating is one of the most well-known Asian dating apps. It has over twice as many members as Dil Mil and more free search filters. However, it's mainly used for international dating, while Dil Mil is popular with people looking for love locally. Both dating sites can help you strike up a serious relationship, so choose one based on where you want to look for love. (Learn more about AsianDating)
Aisle – With over 3.4 million members, Aisle is a bit more popular than Dil Mil. Unfortunately, Aisle has a lot of fake profiles, although you can weed some of them out if you upgrade your membership. We recommend sticking to Dil Mil since it doesn't hide its legit users behind a paywall.
User Complaints About Dil Mil
While our review of Dil Mil is mainly positive, we do have some issues with the app. We poured over user reviews and realized that many others experienced the same negatives we did. Before using Dil Mil, check out some of the complaints that users have.
Wonky Filters – Dil Mil's filters are already more limited than most dating apps. Unfortunately, the filters don't always work. That means you'll end up seeing people who don't meet your criteria.
Limited Features with Premium – While you get unlimited likes and rewinds as a premium member, some features are limited. For instance, you only receive one Elite Pick, Super Like, and Request a day. Also, premium members can only access a single read receipt a month.
Same Profiles Keep Popping Up – Members report seeing the same profiles over and over, even after they've passed on them. We didn't notice this often but did see a few of the same people repeatedly. We think this issue will go away as Dil Mil builds its membership base.
Dil Mil FAQ
Is Dil Mil a scam?
Dil Mil was bought over by the highly acclaimed Dating.com Group in 2019, so you can be rest assured that the platform is not a scam and it won't run away with your money.
Can I access Dil Mil on a web browser?
You can, but you won't have the full access to its features on a web browser. It would be better for you to take in the full experience by downloading the Dil Mil dating app, which is available on Apple App store or Google Play.
Are there fake profiles on Dil Mil?
Unfortunately, with the simple signup process, it's also easy for fake profiles to enter the mix. There are verification processes in place, but hardly stringent enough to completely prevent fake profiles on the platform.
How do I delete my profile on Dil Mil?
Yes, you can simply head over to your Profile, go to the Settings by clicking on the gear icon, and scroll down to Deactivate Profile. Note that you will lose all your matches and conversations along with it, so only click on it if you are absolutely sure you want to remove your profile on Dil Mil. Otherwise, they have an option to hide your profile too, if that helps.
---
---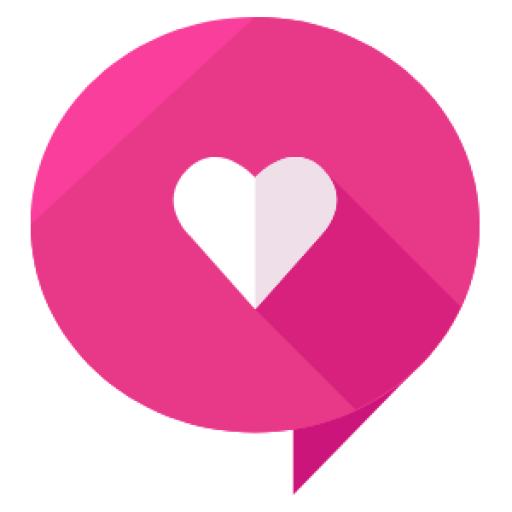 Written By: Healthy Framework Team
The Healthy Framework team has a combined 50+ years of experience in the online dating industry. Collectively, the team has reviewed over 300 dating apps and is known as one of the leaders in the relationship advice and information space. The team's work has been featured on Zoosk, Tinder, The Economist, People Magazine, Parade, Women's Health, Her Campus, Fox, and more.