If you have tried casual dating sites like Tinder, OKCupid, or Hinge, you may think you have seen everything these apps have to offer. Well, we'd like to show you Clover. This dating app claims to be a hybrid of swipe-apps and compatibility-focused apps. They've pulled features from Tinder and matching techniques from Match.com and created one of the most interesting date app hybrids we've seen.
Now, just because it is unique doesn't necessarily mean it is great, so we picked through each feature, every cost, and the user profiles themselves to determine if Clover is worth your time or your money. Want to see what we discovered? Read on for a closer look at this interesting app.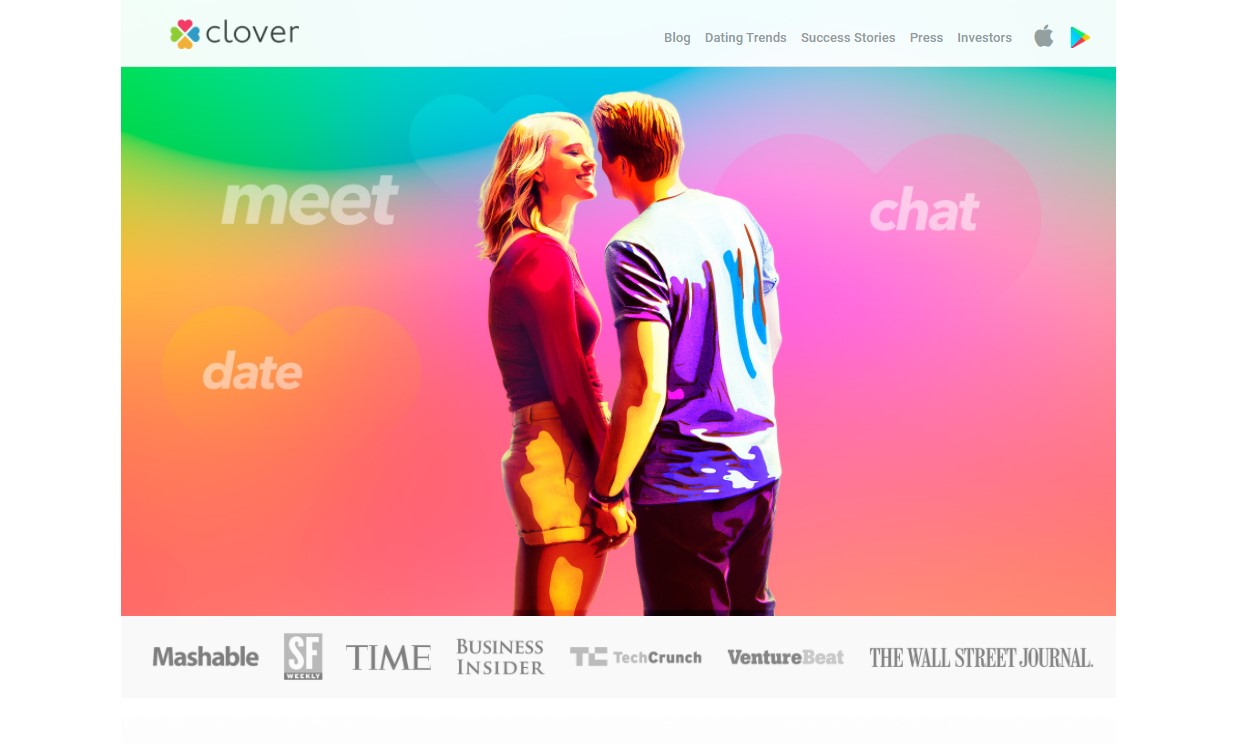 Is Clover Worth It? – The Bottom Line Upfront
Clover isn't quite as well-known as other dating apps on the market, but this little gem is definitely worth checking out. The free version of the app may not have all the bonus features of a paid membership, but you still get a great idea of what Clover has to offer. We love the focus on communication and building real connections, which is something you just don't get with many other casual dating apps.
Who Clover Is Good For
Singles who like casual apps but want to find people based on compatibility.
Those seeking a free app with an affordable membership option.
Anyone under the age of 35 who is looking to dip their toes into online dating.
LGBTQ singles.
Who Clover Might Not Be Best For
Mature singles over the age of 35.
Those looking for a dating platform that is focused solely on commitment and long-term relationships.
Those who want to be able to access their matches and profile on a computer.
Best Alternatives to the Clover Dating App
Overall Clover Rating
| Category | Score |
| --- | --- |
| Quality Matches | 8.0/10.0 |
| Features | 7.5/10.0 |
| Ease of Use | 8.0/10.0 |
| Support | 5.0/10.0 |
| Cost | 8.0/10.0 |
| Overall | 7.0/10.0 |
7.0/10.0
Pros and Cons of the Clover Dating App
Pros
Has the same ease of use as other casual dating apps with a larger focus on compatibility.
The app has a plethora of built-in icebreakers to help aid in building connections.
There is a free version available which gives you a really good feel for the platform.
Uses a community building feature called Mixers where you can find singles with similar interests.
Cons
Smaller pools of singles than on apps like Bumble or Tinder
Many of the features are hidden behind a paygate.
Customer support and guidance is a bit lacking.
Can't access your matches or profile from a computer.
Fast Facts About Clover
Was formed in 2014 when the dating app market was booming, and has managed to hold their own all this time.
4.2 star rating and over 100,000 reviews on the Apple Store.
4 star rating and over 40,000 reviews on Google Play.
Has a nearly 50/50 split in their user base in regards to gender identification.
Clover Review Information
Site Name: Clover.co
Paid or Free: Free site with paid membership option.
Average Sign-Up Time: Less than 4 minutes
Paid Membership Pricing: Plans starting as low as $15 per month
Clover Review – Table of Contents
Clover Features Overview
Clover has taken a few pages from their competitors to create a unique blend of fan-favorite features. While many of these features are saved for paid members, there are still plenty of amenities for free users. Here are a few of our favorite features and some info on how to use them.
20 Questions
You don't have to be a paid member to be a part of the fun games on Clover. If you want a great way to get noticed by other singles, try this classically flirtatious game out. You will be shown two cards with statements that might relate to you. You choose the card that fits you best. Then, you can see what options everyone else picked as well. Sometimes the cards might have innocent quips like "I love dogs" versus "I love cats." Other times they can be a little more scandalous, which makes the game all the more fun!
Boosts
Boosts are a pretty common feature on dating apps, but that doesn't take away from our excitement of seeing it here. When you use a boost, your profile shoots to the top of the list of other singles, so you are much more likely to get mutual matches. Just be aware that this feature is only available for paid members or those who purchase boost packs a la carte.
On Demand Dating
We can't get over how unique this feature is! We know how incredibly frustrating it can be to swipe through profiles and waste your likes or other bonus features on people who seem interested, then they just ghost you. Typically, it isn't because you did anything wrong, it is because they weren't truly committed to the idea of meeting someone.
The on demand dating feature completely erases that experience. If you know you want to meet up with people, turn on the on demand dating feature on your profile. You will be shown users who are also interested in meeting up. You can tell them "no thanks," if you aren't interested, or you can tell them, "I'm interested," and recommend a time and place to meet up with one another.
The Quality of Singles at Clover
Clover takes good care to prevent the creation of fake and spam accounts on their app, which automatically improves upon the quality of singles. We also love that the singles on clover are super into communicating and opening up about their personalities. All in all, we really have no complaints about the quality of singles on Clover.
How to Sign Up at Clover
Signing up on Clover is super easy and only takes a few minutes. Just follow these simple steps to get started, today:
Download the app on an Apple or Android device.
Fill in your information including: your name, age, gender, orientation, intention, and profile photo.
Link your profile to either your email address or an active Facebook profile.
You will also have the option to include your educational background. It is optional, but it can improve your matching odds if you include it!
Price | How Much Does Clover Cost?
| Membership Type | Membership Length | Membership Cost |
| --- | --- | --- |
| Premium | 1 month | $10 |
| Premium | 3 months | $37 |
| Premium | 6 months | $56 |
| Add-On Boosts | 1x | $2.99 |
| Add-On Boosts | 5x | $12.95 total |
| Add-On Boosts | 10x | $19.90 total |
Also, if you ever want to change your name on the Clover app for whatever reason, that costs $0.99. First time we've ever seen this, but figured we'd point it out just in case it matters to you 🙂
Customer Support Options
Clover is a little bit lacking in transparent customer support. There is easy access to an inquiry email address, which we appreciate. However, it is difficult to find and navigate tutorials, FAQs, or other media that might help users. There is also no link to any phone numbers or live chats for customer service, which leaves you with the one communication option. There are no guarantees on Clover's site about how quickly customer service will respond to users, but some reviews say it took less than 48 hours while others say they never heard back at all.
Get Started Now!
---
FAQ
Do I Have to Be a Paid Member to Use Boost?
Though paid members do have access to a single boost per month, you can also buy a boost pack on its own. You can buy a single boost for $2.99, 5 for $12.95, or 10 for $19.90.
How Do I Start a Conversation on Clover?
If a person has liked your profile, you can start a conversation directly through their profile. However, if you would rather outright request a date, this is an option as well.
What Are The Limitations of a Free Membership on Clover?
Free memberships only allow users to message profiles that have already liked them. They also miss out on a monthly refresh of boosts, advanced search filters, list sorting features, and read receipts.
Is Clover LGBTQ Friendly?
Yes. Clover has a large LGBTQ user base and there are plenty of mixers and other forms of communication where you can get to know other singles in your local LGBTQ community.
How is Clover Different From Tinder?
Clover focuses heavily on creating lines of communication and getting to know users on a deeper level than their profile pics. Of course, you can use features like demand a date to skip all the deep connection stuff if you'd prefer, but it is really great to know that if you want a meaningful and serious relationship, Clover can lead you there.