Clover might not be the most well-known casual dating app out there, but it's been steadily growing its membership base since launching in 2014. Now, it has around 9 million members, thanks in large part to its popularity with Gen Zers and Millennials.
If you have experience with online dating, you know that popularity is just one part of the equation when deciding if an app's any good. You also need to find out if it has a quality membership base, offers solid features, and provides results. After spending two weeks on the app, we're ready to share all that info with you in our Clover review.
Ratings and Our Clover Review Score
| Category | Score |
| --- | --- |
| Starting Cost | $10 a month |
| Online Since | 2014 |
| Userbase | Approx. 9 million |
| App Store Rating | 4.7/5 |
| Google Play Rating | 4.1/5 |
| Our Review Score | 7.0/10.0 |
7.0/10.0
Is Clover a Good Dating App? – The Bottom Line Upfront
Clover is a casual dating app at its core, and it's most popular with the younger crowd. Half of Clover's members are in Gen Z, while 42% are Millennials. If you fit into that demographic and want some casual fun, Clover is a solid choice.
Now, a lot of people are put off by Clover's expensive premium memberships, which start at $14.99 for a week and go up to $119.99 for a year. However, we quickly realized that the app gets the job done when using a free account. We were able to do the following without paying for a membership:
Like and pass on profiles
Chat with matches
View and stream live videos
See who favorited our profile
Join Mixers
Whether you use a free or premium account, Clover makes it easy to find dates.
If you turn on "Available for Dates," members can reach out to set something up. You can also search for people who are looking for dates and request that they join you for some fun. It took us some time to find active members looking for dates, but we managed to set one up. However, we also have some pending requests that have been ignored for a couple of weeks.
So, setting up dates is easy, but how do you know if you're compatible? While Clover isn't as deep as serious dating sites like eHarmony, it still has a pretty effective matching system in place.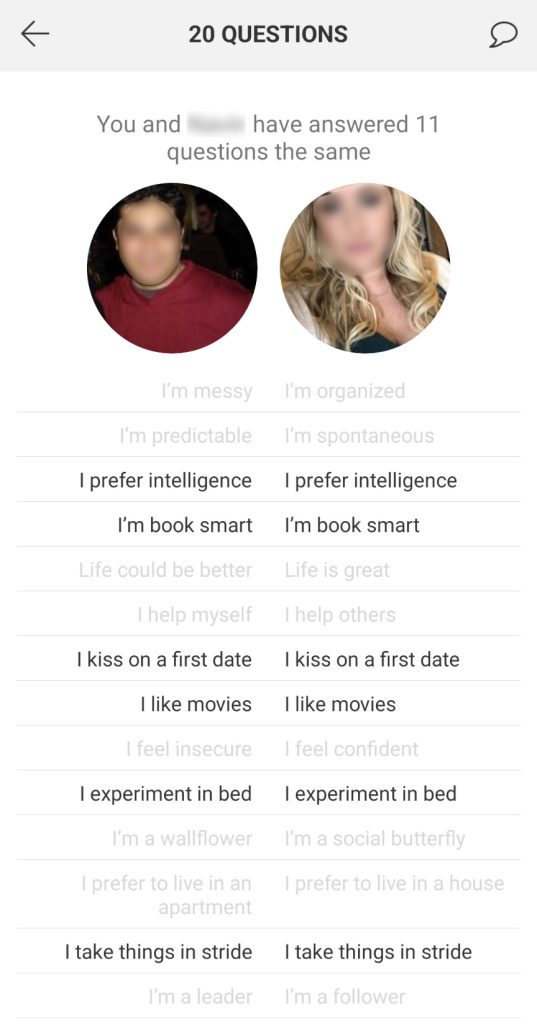 You can play the game of 20 questions and compare your answers with other members to see what you have in common. Plus, premium members can set up to 21 search filters, a massive increase from the four filters free members can use.
Clover also has some really cool features that make it ideal for younger singles, including social handles on profiles, video dating, and live streaming.
Now, live streaming isn't our favorite part of Clover since the videos are pretty boring. Still, the platform has potential, and we can see it becoming the next big thing as more people start using it. So, we're lukewarm on live streaming, but we did come up with a couple of negatives about using Clover.
A lot of our matches hadn't been online for a while, so most of our messages went unanswered. However, we did manage to have a couple of ongoing convos during the week we used the app. Also, as we mentioned earlier, the free search filters are really lacking, although comparing your answers to the 20 questions game helps you find compatible matches.  
Even with those issues, this is one of the best casual dating apps on the market. Grab a free trial to check it out.
Pros and Cons of the Clover Dating App
Pros
Connects members looking for in-person and virtual dates
Live streamers can earn real money
20 questions game makes it easy to find compatible singles
Virtual Mixers for all personality types, ages, and dating styles
Lots of members add social handles to their profiles
Cons
Large number of inactive profiles
Live streams are more promotional than romantic
Few search filters available with free accounts
Some members are more likely to respond on social media
Can't search for members who have been active recently
Reviewing Clover Dating App Features
Clover isn't like other dating apps out there. It's kind of like an influencer platform, dating site, and social network rolled into one. That can be confusing when you first sign up, so keep reading our Clover review to learn more.
Available for Dates – Available to Free and Premium Subscribers
You'll find "Available for Dates" under your privacy settings in the app. If turn on the feature, people can find you on the "Dates" tab and ask you for a virtual or in-person meetup. You can also enable "On Demand" to look for people on the "Dates" tab.
If you decide to ask someone out, you can pick the time and place or kick it back to the person to decide. The app displays a list of possible locations, so it's easy to choose a spot.
Not ready to meet in person? No problem since you can set up a video date if you're a premium member. Clover's video interface is smooth and seamless, so you can connect without any problems.
As you can see, this is a cool feature, but there is a problem.
We encountered lots of members who indicated they were available, but they hadn't been online in ages. After asking out a dozen people without a single response, we changed our approach and only asked out members who had logged in recently.
While we didn't find many options, we sent out three date requests to people who had been online recently and received one confirmation. If you use this approach, you should land some dates on Clover.
Are you nervous about going on a date with someone you just met online? If so, go over some tips for dating with confidence so you'll be ready to connect.
Mixers– Available to Free and Premium Subscribers
"Mixers" are the various groups on Clover, and there are lots of them. Like "The Walking Dead?" or "Cute Pets"? Join the Mixer on the Clover dating app. Or maybe you're into guys with beards. Again, there's a Mixer for that.
But what if you can't find a Mixer that fits your interests? If that happens, you can easily create one.
The Mixers are hit-and-miss, so you'll need to look through them to find an active group to join. When you do, you'll be able to see and interact with the posts. Members tend to upload lots of photos, and some receive a fair amount of engagement.  
Overall, we like the Mixers. They're a good way to find friends and maybe something more. Plus, Mixers point you toward Clover's active users. That's a huge bonus considering the smallish active membership base.
Live Streaming – Available to Free Premium Subscribers
We hopped on and off Clover morning, noon, and night for a week, and there were always live streams going on. A lot of streamers have tens of thousands of followers who get notified every time they go live.
You can use the chat feature when viewing a live stream, but the streamers are really competing for gifts. Simply buy some coins to purchase virtual gifts, and the streamers can cash them out for real money. We looked through the earnings, and some streamers are making a killing on here.
So, we spent a lot of time watching these streams and have to admit they're pretty boring. From trips to the gym to watching people listen to music, there isn't a ton of stuff going on – but the virtual coins are flying.
The live streams have a cam girl/guy transactional feel. Sure, you'll get noticed if you send virtual gifts, but that probably won't lead to anything. Still, if you want to become an influencer and earn a few bucks, you might benefit from streaming on the Clover app.
This part of our review of Clover is mixed because the live streams are designed for a very specific demographic. You'll love the streams if you want to become an influencer or vie for attention by sending gifts. However, if you're looking for a genuine connection, live streams probably aren't for you.
Quality of Singles – Clover User Base Review
Some dating sites have robust profiles that really let you get to know the other singles. Well, Clover isn't that app. It's set up for fast, fun, and superficial connections, and the profiles are really basic.
Most members don't take the time to fill out their bios, so the profiles mainly have info like height, hair, eyes, and interests. Now, some members play the 20 questions game, which is really helpful. The answers are pretty surface-level but can still help you decide if someone is worth your time.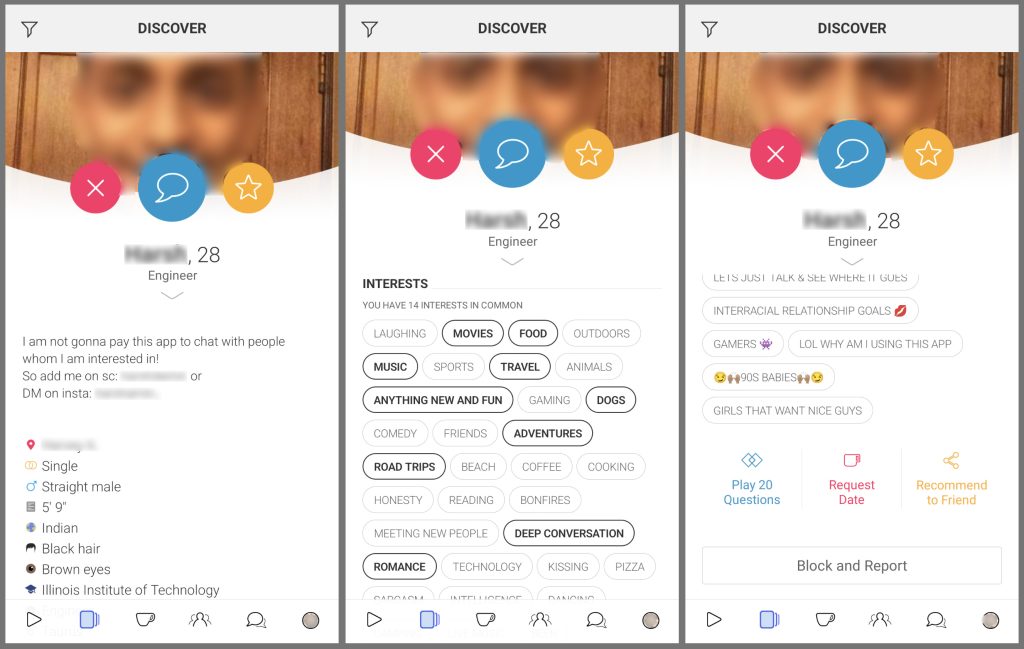 The members aren't as chatty as they are on some other casual dating apps, like Hily (see our full hily review here), but the messages do go back and forth a bit on here. However, they're as basic as the profiles. You can tell that the members want to see if they click on a superficial basis and then move things into the real world.
Now, about those members…
The membership base on the clover dating app tends to skew on the younger side, with most fitting in the Gen Z and Millennial demographics. If you're older, you'll have a hard time finding people to chat with and date on Clover.
It's also worth mentioning that most members use free accounts. About a tenth of the members have upgraded to premium, but we don't see that as an issue. As we mentioned earlier in our review of Clover, this casual dating app has plenty of free features.
Clover Dating App Alternatives
Clover is far from the only dating app that appeals to Gen Zers and Millennials interested in casual dating. There are a lot of choices, and we've selected the top ones. Get the scoop on the competition and see how each of these apps compares to Clover.
Tinder – For years, Tinder was "the" casual dating app, but its reign seems to be coming to an end. While it's still popular with Millennials, Gen Zers have lost interest in Tinder and have moved on to other dating apps, like Clover. Younger singles like the social elements available on Clover. Sure, Tinder has around 75 million members to Clover's 9 million profiles, but we still think Clover is a better fit for younger singles.
Zoosk – The casual dating app Zoosk is most popular with singles aged 25-34, although you'll find lots of older and younger users on it. Zoosk and Clover both offer live streaming, although you have to pay to stream on Zoosk. Clover is a good choice for hookups and short-term flings, while we recommend Zoosk for all kinds of casual relationships. Check it out by claiming a free trial to Zoosk.
Hily – Both Hily and Clover are popular with Gen Zers and Millennials, offer live streaming, and are good platforms for casual dating. While both apps keep things at the surface level, the conversations flow more on Hily. If you want to line up lots of potential dates, we think Hily is a better choice than Clover.  
User Complaints About Clover
Low Response Rate – Members can't filter profiles by recent logins, and the last activity isn't included on profiles. Because of that, it's impossible to tell if members are active users or not. Thus, a lot of messages don't get responses on Clover.
Cheesy Icebreakers – Clover recommends icebreakers when messaging members, and they aren't that impressive. A lot of folks complain about how generic and cheesy the icebreakers are. Avoid the icebreakers and use these tips for sending the perfect first message
Lots of Self-Promoters – From people trying to sell premium Snapchats to influencers chasing gems on live streams, Clover is full of people who are more interested in building a following than finding true connections. This can be frustrating if you're looking for dates on the Clover app.
How to Sign Up for Clover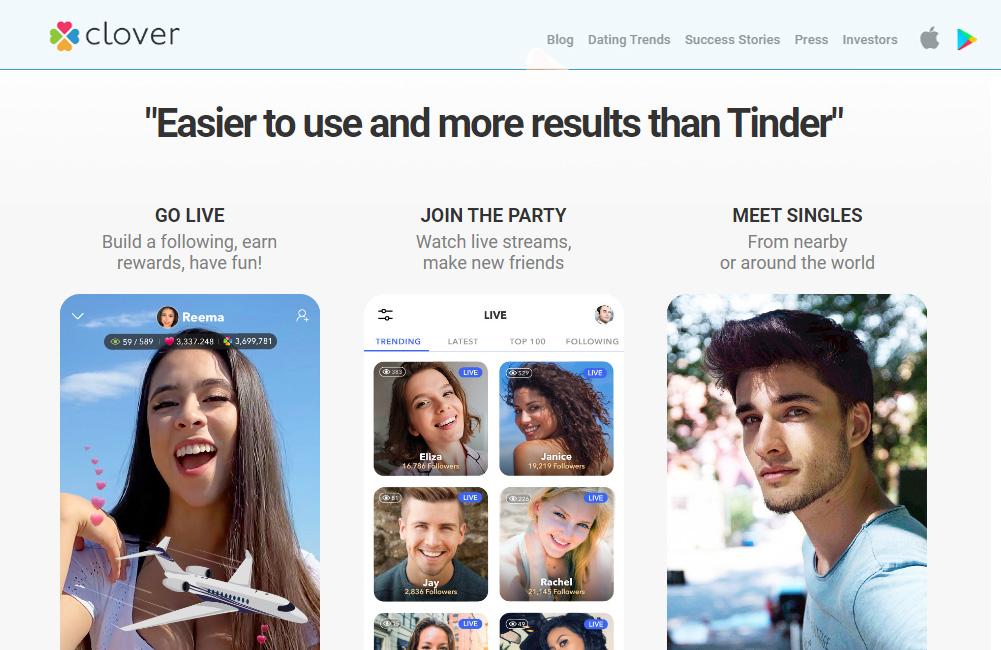 Signing up for the Clover dating app is super easy and only takes a few minutes. Just follow these simple steps to get started, today:
Download the Clover app from the App Store or from Google Play if you have an Android device. 
Fill in your information including: your name, age, gender, orientation, intention, and profile photo.
Link your profile to either your email address or an active Facebook profile.
You will also have the option to include your educational background. (It is optional, but it can improve your matching odds if you include it!)
Price | How Much Does Clover Cost?
| Membership Type | Membership Length | Membership Cost |
| --- | --- | --- |
| Premium | 1 month | $10 |
| Premium | 3 months | $37 |
| Premium | 6 months | $56 |
| Add-On Boosts | 1x | $2.99 |
| Add-On Boosts | 5x | $12.95 total |
| Add-On Boosts | 10x | $19.90 total |
Also, if you ever want to change your name on the Clover app for whatever reason, that costs $0.99. First time we've ever seen this, but figured we'd point it out just in case that matters to you.
Clover Dating App FAQ
Do I Have to Be a Paid Member to Use Boost?
Though paid members do have access to a single boost per month, you can also buy a boost pack on its own. You can buy a single boost for $2.99, 5 for $12.95, or 10 for $19.90.
How Do I Start a Conversation on Clover?
If a person has liked your profile, you can start a conversation directly through their profile. However, if you would rather outright request a date, this is an option as well.
What Are The Limitations of a Free Membership on Clover?
Free memberships only allow users to message profiles that have already liked them. They also miss out on a monthly refresh of boosts, advanced search filters, list sorting features, and read receipts.
Is Clover LGBTQ Friendly?
Yes. Clover has a large LGBTQ user base and there are plenty of mixers and other forms of communication where you can get to know other singles in your local LGBTQ community.
How is Clover Different From Tinder?
Clover focuses heavily on creating lines of communication and getting to know users on a deeper level than their profile pics. Of course, you can use features like demand a date to skip all the deep connection stuff if you'd prefer, but it is really great to know that if you want a meaningful and serious relationship, Clover can lead you there.
---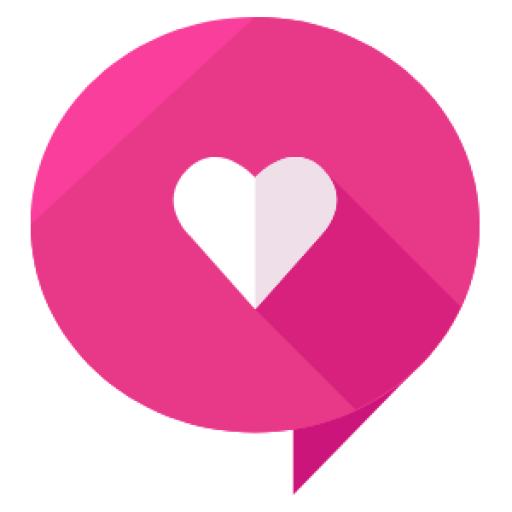 Written By: Healthy Framework Team
The Healthy Framework team has a combined 50+ years of experience in the online dating industry. Collectively, the team has reviewed over 300 dating apps and is known as one of the leaders in the relationship advice and information space. The team's work has been featured on Zoosk, Tinder, The Economist, People Magazine, Parade, Women's Health, Her Campus, Fox, and more.