BlackPeopleMeet is a dating app that caters to singles of color who want to meet others that understand their cultural background and way of life. Many black singles (or singles of color in general), say that standard dating sites are often wrought with bigots or fetishists, making the experience unpleasant.
While we do know that using a dating app with great moderators can prevent these issues, it is still wonderful to see niche apps like BlackPeopleMeet where singles can feel comfortable and safe on their digital dating journey. But is BlackPeopleMeet doing a good job of filling this hole in the market?

Today, we are taking a look at everything BPM has to offer to see if it is worth it or a waste of time. If you're wondering if this is the right app for you we're confident our BlackPeopleMeet review will help you make that decision today.
Is BlackPeopleMeet Worth It? – The Bottom Line Up Front
BlackPeopleMeet's large membership base, options for serious and casual dating, and low number of bots and fakers make it one of the better dating apps for black singles on the market. Still, it doesn't stand up to many of the top mainstream dating sites, such as eHarmony (serious dating) or Zoosk (casual relationships). In short, it may be worth a try if you want to meet Black singles, but we recommend using it alongside other dating apps for the best results.
So, what makes BlackPeopleMeet good but not great? Let's start our BlackPeopleMeet review with one of the biggest problems we encountered – limited free accounts. With our free account, we were able to:
Send unlimited likes
Choose basic match preferences
Sort search results
Message one Top Pick a day
We sent one free message a day for a week and didn't get a single response. Two members initiated contact with us and both of those messages were hidden behind a paywall.
At that point, we realized we needed to upgrade to premium if we wanted to connect on the app.
We had a lot more success when using a premium account with the "Reply for Free" add-on. Over the course of a week, we sent 20 messages to members and received seven replies. That's less than half, but still, a pretty good response rate overall. We were especially happy that all those responses were from legit people instead of bots or catfish trying to get us over to WhatsApp.
That being said, premium BlackPeopleMeet accounts are far from perfect.
The matching system is a big miss for premium and free members. You can set basic preferences, including "Dealbreakers". However, profiles that didn't fit our preferences still showed up in our results. Also, the search filters don't address personality traits, and the profiles are pretty basic and limited, so it's hard to know if someone's really worth your time.
Even with the negatives we uncovered when preparing our review of BlackPeopleMeet, we still think it's a solid app if you're willing to put in some work. Check it out by claiming your BlackPeopleMeet free trial today.
Who BlackPeopleMeet Is Good For
Black singles who are looking to find singles that understand their cultural background.
Singles of color who are tired of dealing with bigots that exist on non-niche dating sites.
Singles who are willing to pay for necessary features and functionality when online dating.
Who BlackPeopleMeet Might Not Be Best For
Singles that aren't interested in dating a person of color.
Those who want a larger dating site with high-end algorithmic matching or more substantive free features.
Singles looking for a dating site with a huge user base filled with people of all backgrounds and ethnicities.
---
Our Overall BlackPeopleMeet Rating
| Category | Score |
| --- | --- |
| Starting Cost | $9.99/month |
| Online Since | 2002 |
| App Store Rating | 4/5 |
| Google Play Rating | 3.4/5 |
| Monthly Users | Approx. 2 Million |
| Our Review Score | 6.0/10.0 |
6.0/10.0
Pros and Cons of the BlackPeopleMeet Dating App
Pros
Almost all members are Black, although the site is open to all races and ethnicities
ConnectMe allows members to call each other without disclosing their contact details
Free members can message one "Top Pick" a day
Most of the members are legitimate people (instead of bots or catfish)
Has apps available for Android and iOS users.
One of the most prominent dating sites for black singles to meet in a safe and open environment.
Cons
Many features, including communication features, are restricted on free accounts.
Premium subscribers have to purchase the "Reply for Free" add-on to chat with free members
Many of the recommended profiles don't meet members' matching criteria
BlackPeopleMeet Profiles are pretty basic, so it's hard to know if someone is a match
Extremely low response rate with free messaging
The site is only accessible to those in the US or Canada
BlackPeopleMeet Redesign (2023)
If you keep up with BlackPeopleMeet app updates you will notice something they say a lot is, "We've completely redesigned our App with our members at top of mind", and at the time of this review we do actually have a pretty nice design change to cover.
Old Design (2022)
New Design (2023)
When looking at features and functionality, BlackPeopleMeet is still very much the same app it was a year ago, but this new design has definitely added a lot of modern polish and professionalism to their product. In reality it's not altogether that new though. In fact, BPM is now almost an exact replica of it's sister site Match.com.
Since Match.com has been very successful this can be seen as a good thing or a bad thing, but as we said the core of this site is still the same, it just has a new skin. One thing we did notice was that this new design seems to show less ads than the old one, and I think that's something we can all get behind.
BlackPeopleMeet Features Breakdown
BlackPeopleMeet is a pretty basic dating site, so you won't find a ton of features here. However, we did encounter a few surprises when preparing our BlackPeopleMeet review. Check out the unique features and get our thoughts on each one.
Message a "Top Pick" – Available to Free and Premium Subscribers
Previously called "our picks", this feature picks 8 daily matches for anyone and everyone using the BlackPeopleMeet app and allows them to start messaging for free! But this isn't one of those now you have to pay situations. Messages sent using "top picks" will then show up under a "Free" tab in the messaging area.
While premium members have unlimited messaging, free account holders can message one Top Pick a day. As nice as it is to get a free message, we didn't have any luck getting replies with this feature. After all, online dating is often a numbers game, and sending a single daily message isn't going to generate a lot of responses.
Old Design – "Our Picks"
New Design – "Top Picks"
As with most things this feature now looks better, but has seen very little change beyond a new color scheme. It's still certainly a nice perk of free BlackPeopleMeet membership, but we can't ignore the downside that premium members don't seem to respond to free accounts very much making it very hit or miss.
Topics – Available to Free and Premium Subscribers
While BlackPeopleMeet doesn't focus much on personality, it does offer Topics. You can choose a few to add to your profile, such as what your ideal first date looks like and your pet peeves. Unfortunately, the answers tend to be on the short side, so you can't learn much about people by reading the topics.
Still, topics do provide some insight into the people who use the site. We recommend taking your time when filling out the answers if you want to increase your responses. Also, check out our online dating profile cheat sheet for additional tips.
Dealbreakers – Available to Free and Premium Subscribers
So, we noticed that a lot of user reviews of BlackPeopleMeet mention the same problem. According to members, their search results are full of profiles that don't meet their criteria or preferences.
BlackPeopleMeet's Dealbreaker filter is designed to address this issue. You can set your preferences as Dealbreakers, meaning people who don't meet that particular preference won't show up in your searches. Problem solved, right?

Wrong… It's true, setting Dealbreakers weeded out some people who didn't meet our criteria, but we quickly discovered it isn't as powerful as we first thought. See, most members don't answer all the questions when setting up their accounts, allowing them to sneak into our search results.
With that in mind, we're lukewarm on Dealbreakers. Still, we recommend setting them up since they do help a little bit.
Mutual and Reverse Search – Available to Free and Premium Subscribers
We also tried to improve our matches by using Mutual Search and Reverse Search. Let's start with Mutual Search. You can click on this tab to find people who meet your criteria, and vice versa. This is a good concept, with a major flaw. The web and app versions are completely different.
When we logged into the website, we had zero mutual searches, with the recommendation to change our criteria. However, we had 915 mutual searches on the app. Pretty odd, huh?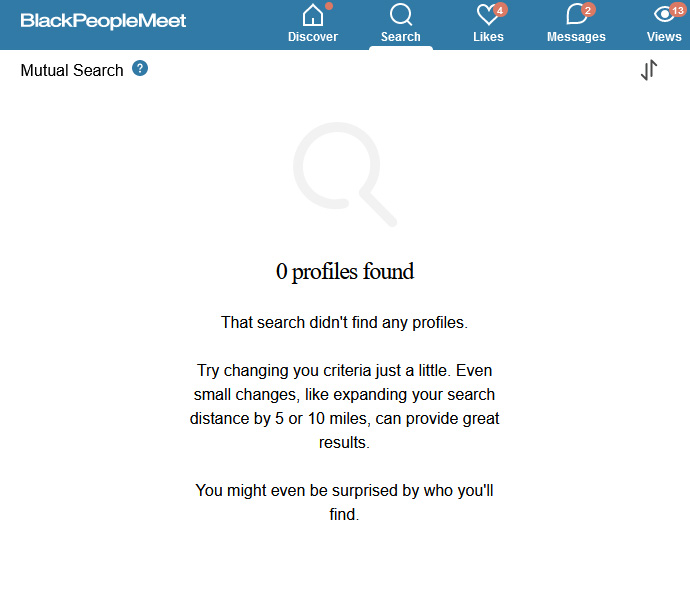 We tested it with Reverse Search, too, which means we meet their criteria, but they don't meet ours. This time, the number of matches on the app and website lined up. Unfortunately, the quality of the matches was subpar at best. Our biggest problem was distance. Most of our matches were way too far away to consider starting anything up.
Look, we like the idea of Mutual and Reverse Searches, but we know it can be done better. Take BlackCupid, for instance. Now, you do have to pay for a premium account to unlock Mutual and Reverse Matches, but they are on point and worth the money.
Boost Your Profile (Formerly "Promote Me") – Available to Free and Premium Subscribers
This is another feature with a new name and a new look, but is still virtually the same.
Available as an a la carte purchase, this BlackPeopleMeet feature allows you to push your profile to the top of others' search results for 60 minutes. They claim this will get you four times as many views as you normally would.
Here are the biggest changes from "boost" to "promote me"
They used to claim promote me would double your matches, now they claim you'll see "4x more views"
Feature is no longer purchased with tokens (which have been discontinued). It used to cost 20 tokens (or about $1), but can now be purchased in packs of 1, 5, or 10 boosts ranging from $1.49 to $2.49 each depending on the deal.
Connect Me – Available to Premium Subscribers
Now it's time to discuss our favorite feature – ConnectMe. Sadly, as much as we love this feature it's only available to those who pay.
Premium Subscribers can use this service to get an anonymous phone number to use for communication on the site. It allows you to call your matches while keeping your real phone number hidden and protected. Like a normal phone it also has a built in Voicemail feature so your matches can leave messages when you're away.
We checked this feature out, and it's legit. However, it's just one step you need to take to stay safe online. We encourage you to learn more by reading about online dating safety and security.
Price | How Much Does BlackPeopleMeet Cost?
With the latest update BlackPeopleMeet prices have also changed a bit and unfortunately for users that change is a trend toward getting more expensive. You can see the latest prices below or check out out complete BlackPeopleMeet costs page for more details.
| Membership Type | Length | Monthly Price | One-Time Payment |
| --- | --- | --- | --- |
| Standard | 6 Months | $9.99 | $59.94 |
| Standard | 3 Months | $13.29 | $39.87 |
| Standard | 1 Month | $20.64 | $20.64 |
| Premium | 12 Months | $10.25 | $123.00 |
| Premium | 6 Months | $12.10 | $72.60 |
| Premium | 3 Months | $18.32 | $54.96 |
| Boost - 10 Pack | N/A | N/A | $14.90 ($1.49 each) |
| Boost - 5 Pack | N/A | N/A | $9.95 ($1.99 each) |
| Boost - 1 Pack | N/A | N/A | $2.49 |
| Message Read Alerts | variable | $4.99 | variable |
| ConnectMe | variable | $4.99 | variable |
| Reply for Free | variable | $6.99 | variable |
| Private Mode | variable | $4.99 | variable |
Try BlackPeopleMeet for Yourself
At the end of the day, only you can decide if BlackPeopleMeet is the right dating app for you. We've given you the facts and even some opinions based on the experiences of our staff, but the best way to know if you'll like the app is to jump in and start poking around.
If you're ready to give it a go visit BlackPeopleMeet.com or click one of the app store links below:
---
BlackPeopleMeet FAQ – Get Answers to Your Questions
Does BlackPeopleMeet Have a Mobile App?
Yes! You can download the BlackPeopleMeet app from the Apple App store or Google Play, which means IOS and Android users have access to the app! You can even sign up for a membership directly through the app and link your Facebook for a faster login!
Is BlackPeopleMeet a Swipe Dating Site?
Yes! BlackPeopleMeet is a swipe dating app (sometimes called a fast dating app). This means that you will be shown a selection of photos and short bios for nearby singles. Then, you will quickly determine whether to like or pass on each photo. When someone likes your photo and you like their photo, a match is made.
Do I Have to Be Black to Use BlackPeopleMeet?
No. The site is targeted toward people of color, specifically black people, but users of all ethnicities are welcome. There is just no guarantee a non-black single will get as many matches since many users on the site are looking for a back partner.
Are Mixed Raced Singles Welcome on BlackPeopleMeet?
Yes! Mixed race singles are welcome on BlackPeopleMeet! In fact, users of all ethnicities are welcome on the site!
What's the best way to contact BlackPeopleMeet?
Like most modern dating sites, BlackPeopleMeet's first approach to customer service is a searchable list of FAQs. If you don't find the answer to your question there, you can message their customer service team, who will respond via email. They are also fairly active on social media platforms (Twitter for example @BlackPeopleMeet).
Is BlackPeopleMeet support any good?
While we typically are disappointed to see a lack of instant customer service features, we can say that the customer support team responded to our inquiries very quickly. The first time we received a response within an hour. When we sent a message over the weekend, we received a response in less than 72 hours.
How Can I Pay for BlackPeopleMeet?
BlackPeopleMeet accepts all major Credit/Debit cards as well as PayPal subscriptions. If you have a payment method that isn't accepted, you can contact customer support for further assistance.
Can I try BlackPeopleMeet if I've been banned from other dating apps?
That really depends on the other apps you've been banned from. According to BlackPeopleMeet's privacy policy if you were banned from another Match Group service (such as Match, tinder, POF, OkCupid, etc…) your information can be shared to prevent you from creating a BPM account.
---
---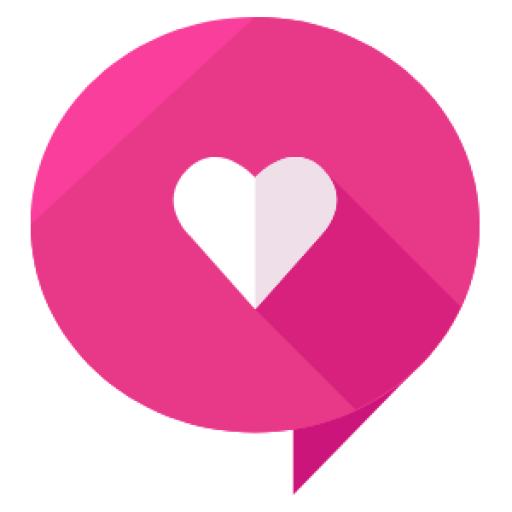 Written By: Healthy Framework Team
The Healthy Framework team has a combined 50+ years of experience in the online dating industry. Collectively, the team has reviewed over 300 dating apps and is known as one of the leaders in the relationship advice and information space. The team's work has been featured on Zoosk, Tinder, The Economist, People Magazine, Parade, Women's Health, Her Campus, Fox, and more.