Does the thought of having a Latino or Latina partner by your side make your heart flutter? You can turn your romantic dreams into reality with help from a dating site. And when it comes to Latino dating, Amigos.com is one of the most well-known names out there. Part of Friend Finder Networks, it launched in 1996 and continues to attract a steady stream of men and women from the United States and around the world.
But do those Latinos find what they're looking for on the site, or do they duck out right after signing up? That's just one of the many questions we'll answer in our unbiased Amigos.com review.
Is Amigos Worth It? – The Bottom Line Up Front
Amigos.com is a local and international dating site for Latinos, Latinas, and those who love them. It takes less than a minute to sign up… so, Amigos doesn't gather much info from members. Because of that, it matches users based on location and basic Cupid Preferences instead of personality traits and lifestyle.
When you combine the weak matching algorithm with the fake profiles, low engagement rates, and limited free accounts, it's clear this is far from being the top Latino dating app.
So, the free accounts on Amigos are among the most restrictive we've ever seen. As a free member, you can do the following:
Set up to seven Cupid Preferences
Access up to ten matches
View limited profile information
Spend points on virtual gifts and tips
Add members to the Hotlist
Use chat rooms (which are usually empty)
Upload video greetings
Email premium members who have the "Standard Contacts" add-on
It's hard to understand just how limited this is, so we've added some visuals. As a free member, here's what you'll see the following when browsing profiles.
You'll be prompted to sign up for a premium membership if you click on a profile. If you don't want to pay, you can hover your mouse over the profile to pull up a little more info (painfully little).
We quickly realized that we couldn't create a review of Amigos.com without upgrading our membership. Amigos offers two membership tiers: Silver and Gold. Silver is kind of like a starter premium membership, allowing you to view profiles and message members, while Gold gives you free rein over the site – and the option to message new members before anyone else.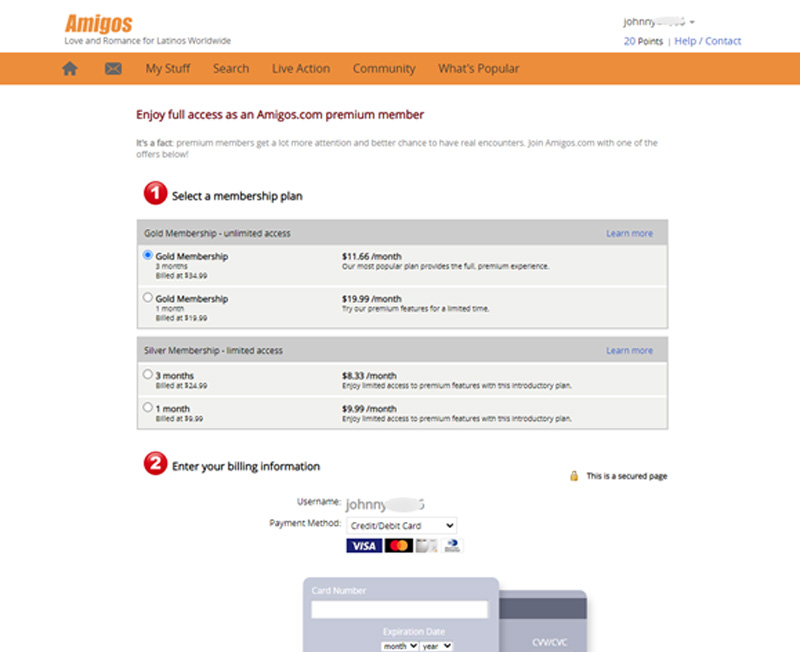 We decided to go with the Silver plan, and that's when we ran into the next problem. Two separate banks blocked the transaction due to Amigos' risk profile. Not the type to give up, we purchased a pre-paid Visa gift card to upgrade our membership.
The site was much more usable after we upgraded, but it wasn't without its flaws. First, we were disappointed with the quality of the matches. When you click on a match, you'll see a Compatibility Chart based on your Cupid Preferences. As you can see, the Compatibility Chart is far too basic to indicate if someone is or isn't compatible.
And perhaps the poor matching system might explain the dating site's low engagement rate. After upgrading our Amigos.com membership, we sent dozens of messages to members and received only a single reply.
We did find a little more action when browsing the Top Members. Members can place bids to become Top Fans, pushing popular users to the top of the leaderboard. But while we saw some solid engagement, we also encountered fakers. We conducted reverse image searches on the first 50 Top Members and found three members using fake profile photos.
Reverse image search is just one way to spot scammers. If you're still planning to give Amigos.com a try we guarantee you're going to find some sketchy profiles, so check out how to spot online dating scammer photos to protect yourself.
The bottom line is we're not going to tell anyone to use Amigo.com for online dating.
Instead of Amigos, we recommend LatinAmericanCupid. With over 30 search filters and a high engagement rate, it has so much more to offer. Get the scoop by reading our complete review of LatinAmericanCupid.
---
Overall Amigos.com Review Rating
| Category | Score |
| --- | --- |
| App Store Rating | N/A* |
| Google Play Rating | N/A* |
| Active Users | Approx. 200,000 in the USA |
| Online Since | 1996 |
| Starting Cost | $8.33 a month |
| Our Review Score | 4.6/10.0 |
4.6/10.0
Pros and Cons of the Amigos.com Dating App
Pros
Premium subscribers can purchase an add-on to communicate with free members.
Gold members can chat with new members three days earlier than everyone else.
Members can redeem points for upgrades, prizes and cash.
The signup process is super fast and easy. 
Lots of communication features, including webcam chats.
Cons
Extremely limited free accounts.
Superficial matching system.
Lots of fake profiles.
Some banks refuse charges from Amigos.com.
Fewer users than most other Latino dating sites.
Communication features are limited for free members.
Members in rural areas may see fewer local results.
Amigos Features Breakdown
We recommend skipping Amigos and using one of the best Latino dating apps instead, such as LatinAmericanCupid (click to claim free trial). We know you might be curious about Amigos, though, so let's look at the features.
Hot or Not
You'll see pages of profiles when browsing members or looking through your matches. Viewing too many profiles at once can cause online dating burnout. Fortunately, you can slow things down by using the Hot or Not feature on Amigos. Then, you'll give a thumbs up or down for each profile you see before moving on to the next.
As we mentioned earlier in our review of Amigos.com, the matching algorithm is pretty much non-existent. Thus, we ended up clicking "Not" a lot more than "Hot" when using this feature.
Top Members/Top Fans – Available by Spending Points
You can click on the "What's Popular" tab and select "Top Members" to see the Top Members on the site. Members earn Top Member status based on the number of fan points they receive. If you want to become a Top Fan, you'll need to use points to place a bit. The site charges $10 for 1,000 points, and you have to bid at least 50 points to become a Top Fan.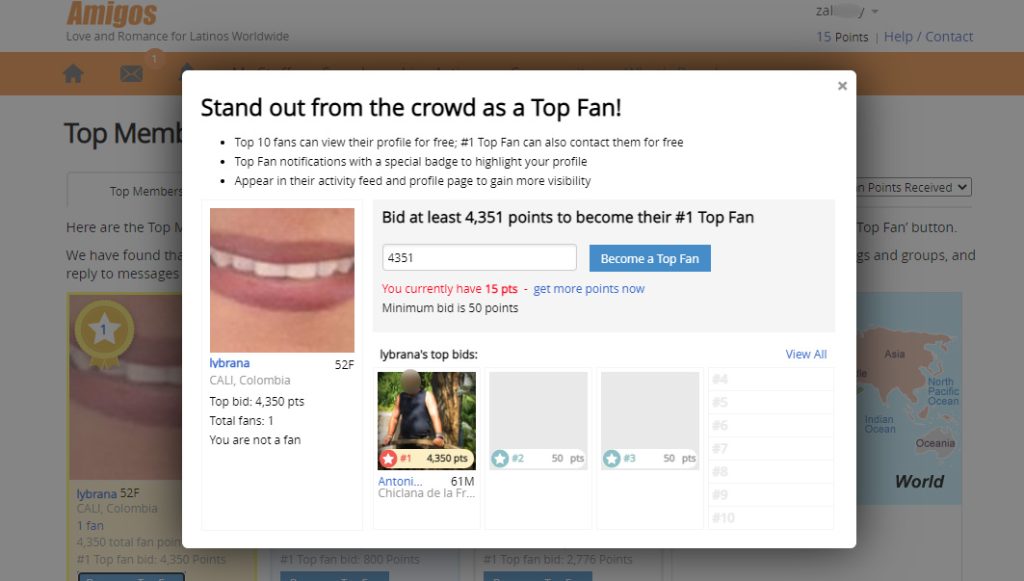 The site says that becoming a top fan is a way for free members to stand out. However, it also looks like a way for members to scam people. We started our Amigos.com review by talking about how we checked the first 50 Top Member profiles, and at least three were fake. Unfortunately, members are spending real money to send points to fake users.
Chat Rooms
Once your profile is approved, you can enter Amigos' chat rooms. We like the idea of chatting with members, but sadly, there's no action here. We never saw more than one person in a chat room at any given time, and most of the time, the Amigos chat rooms were completely empty.
Groups
At first, we thought the Group feature was a great way to make friends and maybe find someone to date, but after checking them out, we know that's not true. The majority of the "most active" groups haven't received any posts in years.
Popularity Privileges
Our review of Amigos.com discussed the limits the site puts on free accounts. However, there is a workaround – Popularity Privileges. If lots of members view your profile, you'll get some special privileges that other free accountholders aren't afforded.
Popularity Privileges include the ability to view 50 complete profiles and initiate ten conversations. Amigos.com hasn't announced the number of views you need to get special privileges but keep in mind that it won't be an easy task. We only received ten views in a week.
Quality of Singles – Amigos User Base Review
If we were to choose a word to describe Amigos' membership base, "diverse" wouldn't be what you'd expected. After all, the site mainly attracts Latinas and Latinos, although there are people of other ethnicities sprinkled in, too. Still, we're going with "diverse" due to the various relationship goals the members have.
Some people treat Amigos like a hookup site, which makes sense considering that AdultFriendFinder is its sister site. Members who use the dating site to find sexual partners often include steamy photos and some innuendo in their profiles.
And sometimes, they even include shirtless pics of Chris Hemsworth in an effort to score a hookup. Hey, a guy can dream, right?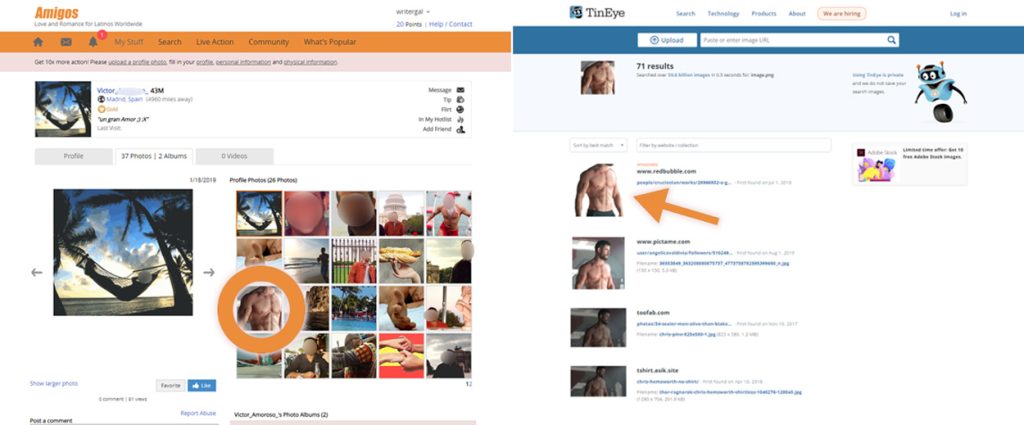 And then others use the site to build a following. The Top Members section of the Amigos dating site seems to be full of users who are more interested in getting their name out there instead of finding love.
And finally, Amigos.com attracts guys and gals hoping to find long-term partners. Unfortunately, Amigos doesn't let members search for people based on what they're looking for, so the serious daters have their work cut out for them on here.
We found profiles from casual and serious daters in English and Spanish, but they had one big thing in common – they're pretty basic. Sure, we saw some robust profiles here and there, but most of the members provide the bare minimum (See screenshots below).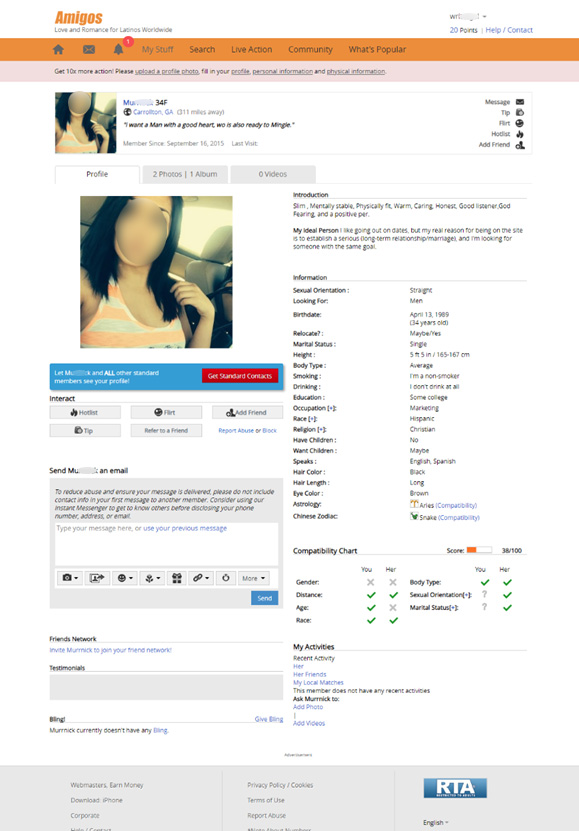 The low-quality profiles speak to an unmotivated membership base, and that comes through in a big way when looking at the number of premium members. Even though the free accounts aren't very functional, most members haven't upgraded. We filtered our search results to bring back Gold members and ended up with 80 results.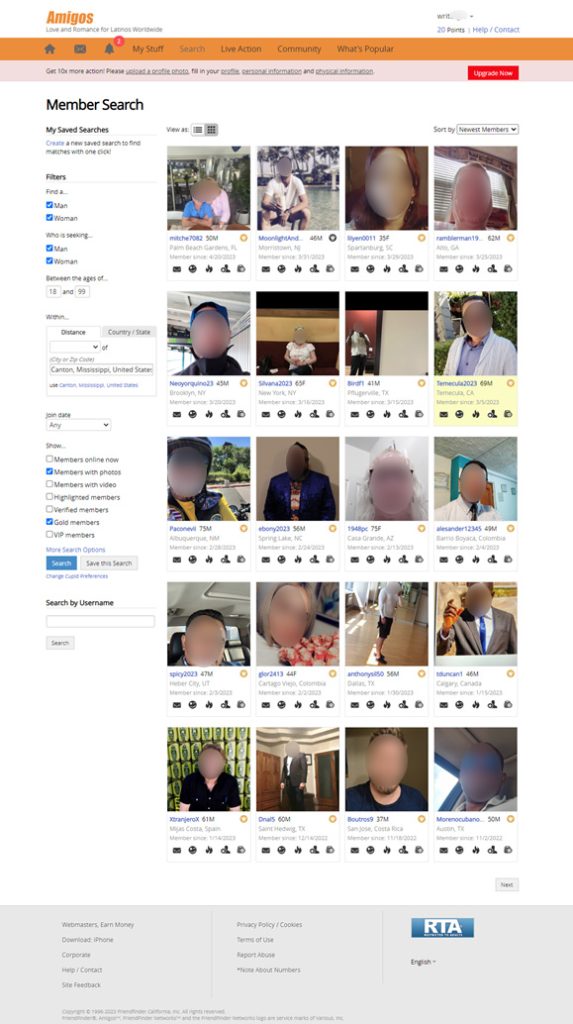 With so many strikes against it, you'll want to avoid Amigos. Fortunately, there are lots of other options out there. In fact, let's explore some of them right now…
Amigos Alternatives
Our Amigos.com review has been largely negative, but we aren't going to leave you hanging without a dating site. We're going to share a couple of Latina dating apps we love, along with one you'll want to avoid.
LatinAmericanCupid – Both Amigos and LatinAmericanCupid have a problem with scammers and fake profiles. Still, LatinAmericanCupid has some advantages over Amigos, including a larger membership base (over 5 million), more free search filters (30+ to Amigos' 7), and high levels of engagement. Since both sites work for local and international dating, we recommend LatinAmericanCupid over Amigos, no matter your dating style or goals. (Get a Free Trial to LatinAmericanCupid)
Chispa – Both Chispa and Amigos use pretty basic matching algorithms to help people find partners. Still, Chispa has tons of free features, including chatting with mutual matches. That gives it a major edge, so claim a free trial to Chispa today. (Read Our Unbiased Chispa Review)
AmoLatina – Amigos might have some fake profiles, but AmoLatina takes it to the next level. Some former members say the site pays models to pose as interested singles, and that checks out. Also, while Amigos has a transactional feel with its points and virtual gifts, AmoLatina made us feel like we were spending money to get someone to talk to us. (Check out Our Complete AmoLatina Review)
User Complaints About Amigos
After reading user reviews of Amigos.com, we realized that we aren't the only ones who have issues with the Latino dating site. Previous members have many of the same complaints that we do. We've selected the three top complaints to share with you.
Limited Free Accounts – Our Amigos.com review mentioned that free accounts are extremely limited, and members agree. They're so limited that you can't really test the site without upgrading.
Inactive Membership Base – This is another complaint that we share with former members. We don't know if there are just a lot of old profiles that haven't been deleted or if people sign up and check out, but folks here aren't very engaged.
Fraudulent Billing – We mentioned earlier that we received two fraud alerts from separate banks when trying to upgrade our membership on Amigos.com. This could be due to the site's reputation for fraudulent billing practices. Numerous members say they were still charged after canceling and didn't get much help from customer support. You can get some support on Amigos' help pages, but that's little comfort if you're being charged for a canceled membership.
Reviewing Amigos.com Prices – How Much Does Membership Cost?
Depending on the membership level and duration of membership you can expect to pay between $9.99 and $34.99 for Amigos.com membership. These prices have been the same for years so we don't expect that they will change anytime soon.
Here's a full breakdown of Amigo.com membership pricing options:
| Membership Type | Membership Length | Monthly Cost | Total Cost |
| --- | --- | --- | --- |
| Silver | 1 month | $9.99 | $9.99 |
| Silver | 3 months | $8.33 | $24.99 |
| Gold | 1 month | $19.99 | $19.99 |
| Gold | 3 months | $11.66 | $34.99 |
---
There are a variety of accepted payments methods include Visa, Mastercard, Discover, and JBC (see all options in the screenshot below), but our experience was that not all banks and credit card companies will be willing to process the payment due to Amigos.com being classified as a risky purchase.
As we mentioned earlier in the review we ended up heading out to grab a visa gift card so we could proceed with the Amigos membership purchase… but let's be honest, you should never have to do this. None of the best dating apps have this same problem.
In short, our review of Amigos.com pricing is that it's definitely not worth the money or the hassle. Seek out better options!
---
---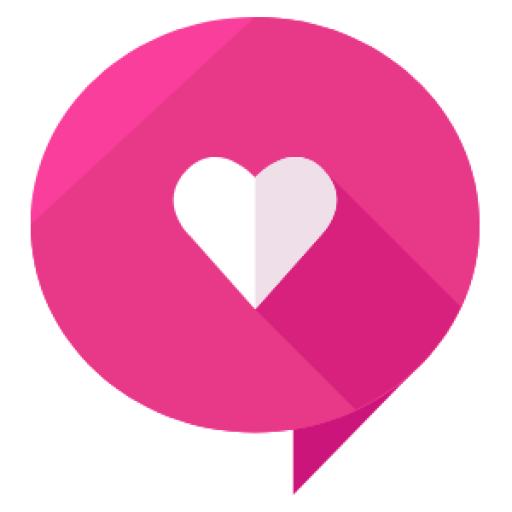 Written By: Healthy Framework Team
The Healthy Framework team has a combined 50+ years of experience in the online dating industry. Collectively, the team has reviewed over 300 dating apps and is known as one of the leaders in the relationship advice and information space. The team's work has been featured on Zoosk, Tinder, The Economist, People Magazine, Parade, Women's Health, Her Campus, Fox, and more.