Silvr Singles can help you broaden your horizons to a dating pool that matches your exact wants and needs. If you aren't sure if the site is right for you, the SilverSingles free trial can help you to figure that out without the need to use a credit card or anything.
As this website is one of the top dating sites for singles over 50, we're excited for you to check things out. These are your golden years; don't spend them wasting time on bad dates with the same men you've run into over and over again when you can get a free trial of SilverSingles to see your new options.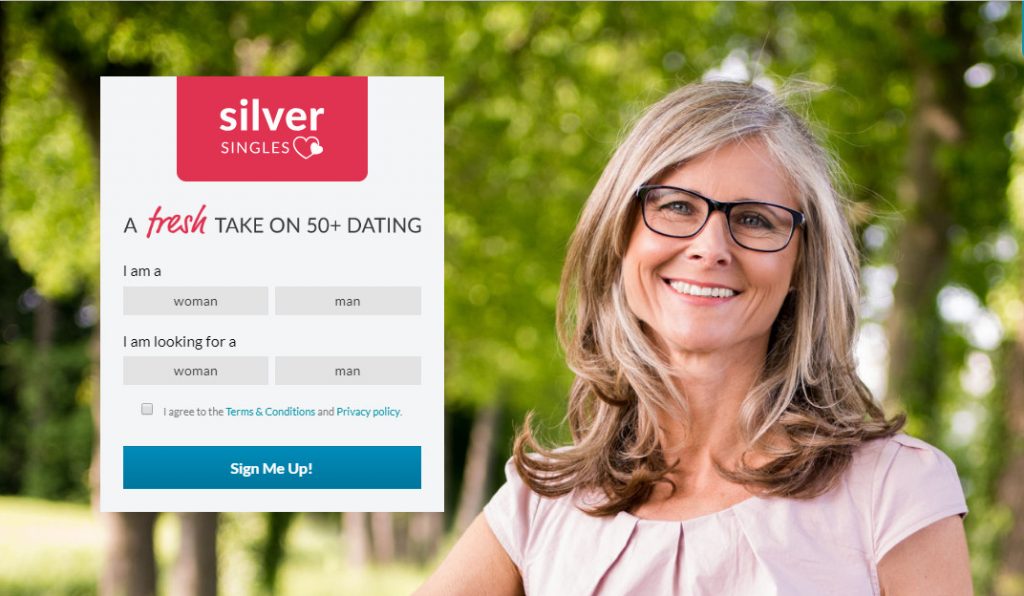 What You Get With Your SilverSingles Free Trial
View personality and bio information for matches.
View compatibility percentage of matches.
Send smiles to matches.
See users who live near your location.
Read messages sent from users.
Ability to fully personalize your profile and preferences.
What You Don't Get
Ability to send or reply to messages.
Ability to see unblurred profile photos.
Ability to view profile viewers.
---
Silversingles.com Site Highlights:
Site Name: SilverSingles | Silversingles.com
Paid or Free: Paid, Unlimited Free Trial
Average Sign Up Time: 20-30 Minutes
Paid Membership Pricing: Starting at $19.95/ Month dependent on payment frequency

How Much Does the SilverSingles free trial Cost?
SilverSingles free trial is completely free. In fact, it isn't even a trial – there is no time limit or need to enter your credit card information to access the free version of the dating site. You can try out this site without the worry of compromising your financial information.

What You Get With the SilverSingles Free Trial
SilverSingles allows you to complete all of the personality and preferences evaluations before you ever even enter your name. They show you upfront that they are there to find you what you want in a relationship regardless of which membership type you hold.
Once you have set up your account you get to see all your matches and access a special menu called "have you met," where you can see singles that are nearby. This is a great way to still stick to local dating while finding matches you might not on your own.
Free users also have the ability to send smiles to the profiles that interested them and add matches to their favorites list. Additionally, the free page is an ad-free experience, with the only banner being for the SilverSingles premium membership options.
If you are overwhelmed by matches, free users can also use the match filter options to narrow their list down. Though you can't send messages, you can see who has messaged you or sent you smiles.

What You Don't Get
The SilverSingles free trial has a few limitations to offer an incentive to purchase a premium membership.
The first and most noticeable restriction is that free users cannot see the profile photos of their matches. Additionally, you cannot message your matches, even if they have messaged you first. Another restriction on free profiles is the ability to see who has visited your page. You also will not be able to activate read receipts on your messages.
The free version of SilverSingles can find you a lot of matches based on your location and general profile, but the advanced algorithm for matching is reserved for premium account holders.
How Long is the SilverSingles Free Trial Good For?
The SilverSingles free trial isn't limited by time. Instead, the service offers a basic version of their dating site to allow you to try out basic features at your leisure. This version of the site gives you a good idea of the number and quality of available matches and lets you test out the interface for as long as you'd like.
Getting Started With a SilverSingles Free Trial Today!
Getting started with SilverSingles is simple! When you navigate to the website, you'll immediately begin the account questionnaire, which begins by confirming your gender identity and your dating preference.
From there you will be navigated through SilverSingles' lengthy and in-depth set of evaluations. The first set of questions focuses on your basic information like height, profession, and marital status, as well as your preference in all areas for your partner.
Once your personal information is complete you begin a series of personality tests that range from having you select images and seasons that intrigue you, to answering questions about how you handle certain situations and stresses.
Once you have finished your personality test, you can upload a profile photo and input your name and location.
Free users then get access to the basic features of SilverSingles. You can navigate your matches and read their profiles – their images are blurred – and even send smiles to profiles you like. When you attempt to use a feature that isn't included in the free package, you are redirected to the upgrade page.
SilverSingles is well known in the older dating scene because the site focuses heavily on what you want in a partner and what details and personality traits you have no time for. It really helps to weed out all the crummy dates with partners that are just incompatible.
It's time to find someone to enjoy your best years with, that's why you should check out the free SilverSingles trial by clicking the link below.