Are you fishing for a free way to use Plenty of Fish? It's as simple as claiming your POF free trial. We're going to show you how to score the free trial and go over what you'll get after signing up.
But hold up – before we direct you to your free trial for POF, we want to issue a warning. POF has so many fake members that some people call it Plenty of Catfish instead of Plenty of Fish. We recommend skipping POF and using eHarmony instead.
eHarmony is geared toward a similar age demographic and is also geared toward serious relations, but it has a legit membership base and killer matchmaking system that's made it one of the best dating apps for years. (Check Out Our eHarmony Review for 2023)
Do you still have your heart set on POF? Keep reading to see how the free trial offer stacks up against a premium subscription.


What You Get with a POF Free Trial
| Feature | POF Free Trial | POF Paid Membership |
| --- | --- | --- |
| Create/Edit Profile | Yes | Yes |
| See Who Is Online | Yes | Yes |
| Meet Me | Yes | Yes |
| Search | Yes | Yes |
| My City | Yes | Yes |
| First Contacts | Yes (1 Per Day) | Yes (50 Per Day) |
| Recommended | Yes | Yes |
| Live Stream | Yes | Yes |
| Chat with Matches | Yes | Yes |
| Show Up First on Meet Me | ❌ | Yes |
| View Extended Profiles | ❌ | Yes |
| See Who Likes You | ❌ | Yes |
| Unlimited Likes | ❌ | Yes |
| Search by Usernames | ❌ | Yes |
| First Look at New Members | ❌ | Yes |
| Extended Profile Viewing | ❌ | Yes |
| Read Receipts | ❌ | Yes |
| Add Up to 16 Images to Your Profile | ❌ (Can Add 8 Images) | Yes |
| Eliminate Ads | ❌ | Yes |
| Profile Boost | Additional Fee | Additional Fee |
| Live Credits | Additional Fee | Additional Fee |
When you look at the chart, it's clear that the Plenty of Fish free trial isn't overloaded with features. Still, you might have some questions about how to use the dating app after signing up. With that in mind, let's dig into the most important features included with your membership.
5 Ways to Find Your Match
The free trial to POF includes five ways to browse profiles. We've listed them all below, along with screenshots of each option.
Online: Use this feature to see members in your area who are online. Some of the members might be several hours away from your current location.
Search: The free trial to POF includes the same search filters that come with the premium membership. You can play around with the filters to discover different profiles.
Meet Me: You can swipe through profiles one at a time with Meet Me. If another member likes you back, it'll show up in your Mutual Likes.
Recommended – This is where you'll find your matches. To be honest, we weren't impressed with what POF sent our way, though. Let's just say that we found dealbreakers in most of the profiles before we even made it halfway through reading them.
My City – This section contains members who live in your city or nearby.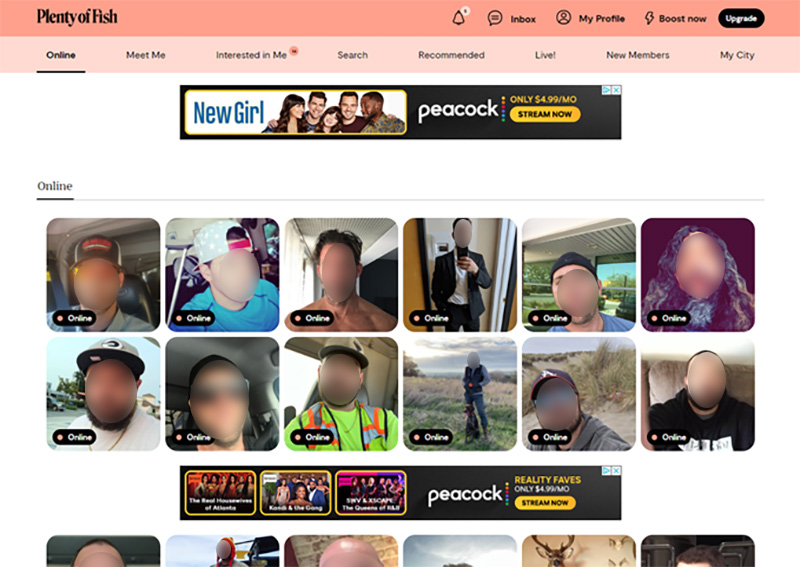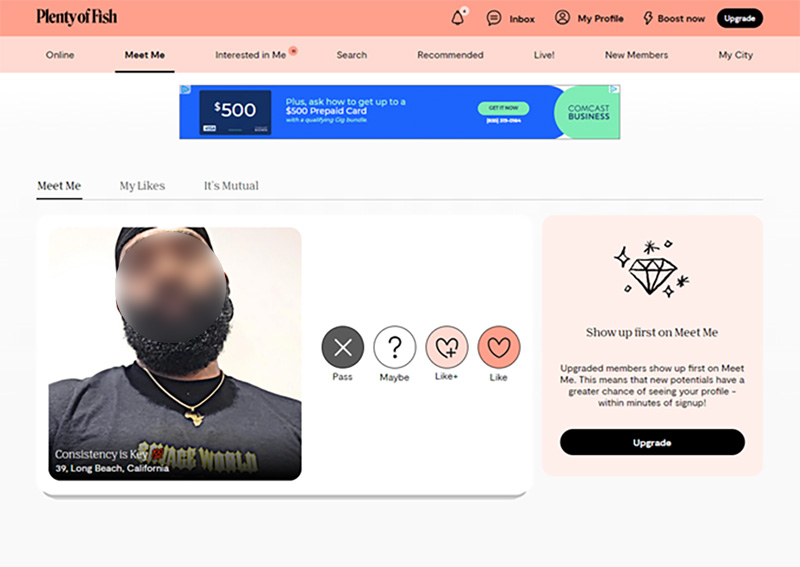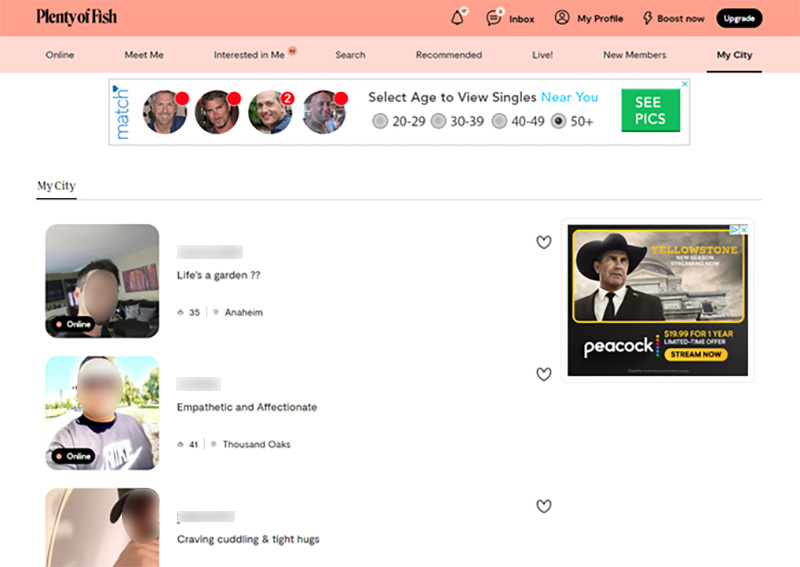 Even with all those options, it's hard to find a real connection on here. Check out the best dating apps for serious relationships if you're ready to find your soulmate.
First Contact
If you don't want to wait for a match before messaging, you can reach out using the First Contact feature. Your free trial membership includes one First Contact a day, so use it wisely.
Live Streams
You can also use your free trial to Plenty of Fish to stream and watch live videos. The live stream has the following categories:
Trending – View the most popular live streams so you can get in on the action.
Nearby – Watch live feeds from streamers in your area by browsing the "Nearby" tab. This is a good choice if you want to make a love connection.
New – Check out streams from new content creators in this section.
Date – Play Next Date for a chance to go one-on-one with a streamer.
What You Don't Get with a POF Free Trial
A lot of people stick with the free trial to POF, but you'll miss out on some important features. Remember, we recommend going with eHarmony instead of POF, so we don't think it's a good idea to spend your money here. Still, let's look at some of the premium features.
View Extended Profiles – Premium members can view three additional pieces of info when looking at profiles. First, there's the members' birth order, which isn't all that important. However, the extended profile also lets users know if the member will date smokers and parents.
More Exposure – If you upgrade to premium, you'll get the first look at new members and show up first on Meet Me. Plus, you'll receive 50 First Contacts a day instead of one, so it'll be easier to make connections.
POF's premium membership is pretty affordable, but we still don't think it's worth it. However, if you're interested in upgrading, check out our POF membership pricing page for more info first.
Is the POF Free Trial Worth Your Time?
Nope! You're more likely to catch a catfish than make a real connection with the Plenty of Fish free trial. If you're ready to find "the one," Claim your free trial to eHarmony instead.
---
---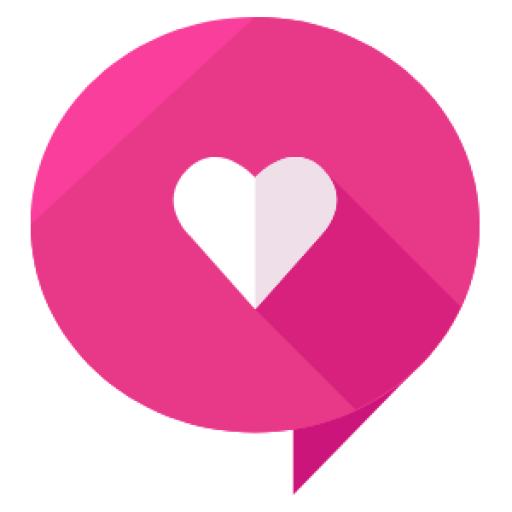 Written By: Healthy Framework Team
The Healthy Framework team has a combined 50+ years of experience in the online dating industry. Collectively, the team has reviewed over 300 dating apps and is known as one of the leaders in the relationship advice and information space. The team's work has been featured on Zoosk, Tinder, The Economist, People Magazine, Parade, Women's Health, Her Campus, Fox, and more.