Match.com isn't the number one dating website for nothing: It's filled with real people (over 9 million!) and it's super easy to use their website to find singles in your own area. You get a lot of cool features with a Match free trial account and nothing that's really essential is blocked from your access. They even have a mobile app so that you can search easily from your phone.
Match.com is definitely the site to be on if you're only going to be looking on one website and don't want to waste your time. With the Match free trial, you even get the Match Picks and the Mutual Matches features, which many sites do not give to you when you have a free account. The Match free trial really beats out other dating websites!
You can stay in the free trial for as long as you'd like to lurk – but when you're ready to talk to others, you'll need to purchase one of their reasonably priced subscriptions.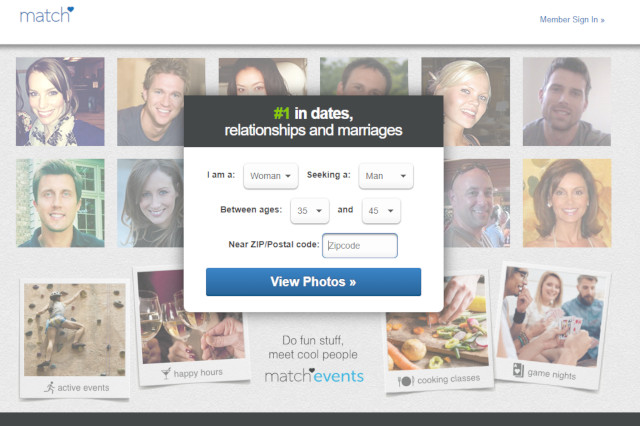 What You Get With Your Match.com Free Trial
Match.com sign-up is easy and takes about 5 minutes.

Once you create your free account, you can start searching singles by location.

No credit card is required for sign-up: you only need your email address, password, and your birthdate.
What You Don't Get
Match.com has a very thorough "Get to Know You" questionnaire. It may take extra time to fill out all of the questions, but it'll ultimately lead to a better match for you.

There are ads on the footers and sidebars of peoples' profiles, which is kind of distracting.

Unfortunately, with a free trial, you can't chat or send and receive messages. But you can send likes to as many singles as you want.
---
Match.com Site Highlights:
In almost every city across the U.S., you'll find hundreds of Match members.

Match.com is one of the top-rated dating sites – it has great features and a great community.

There are over 9 million people on Match.

How Much Does the Free Trial on Match Cost?
The Match free trial is truly free – they don't trick you into needing a credit card during sign up like some other sites do. The sign up is super easy and only takes a few pieces of information to create an account. After creating your free Match account, you'll be scrolling cute singles within minutes!

What You Get With the Match.com free trial
The Match free trial offers great features and you don't need a credit card to sign up into a paid account. Get your email address, a password, and your birth date ready for account sign up. You must also verify your account by text message before Match will let you start browsing.
Free trial accounts get the ability to perform several different search types, like mutual search, reverse search, and the ability to save searches. Saving a search is a great way to repeat a successful set of search parameters.
Most singles have photos up so you're not searching blind. We tried a few searches around different cities in our state, and numerous singles came up in every search.
There are guys and girls available on Match for every type of person, so you just have to get scrolling! If you want to flirt with someone, the free trial allows sending "likes" with the heart icon.

What You Don't Get
Well, there's a reason why Match has paid accounts: if you want to message with someone you've met by flirt, you're going to have to purchase some kind of a paid account. But at least you can get on with the Match free trial and see who's in your area, start flirting, for free before you have to decide to pay.
Another downside is – well, nothing! Match has such a great site and you could seriously scroll for hours for singles in your area.

How Long is the Match Free Trial?
The Match free trial is great because it lasts forever – well, until you decide that you've found that special person that you want to have a conversation with. You are welcome to browse in the free account for as long as it takes. The features don't change after you've been a member for a while either. So enjoy the Match free trial as long as you want.
Getting Started with the Match Free Trial Today
If you're interested in reading more about Match features and about the paid account features, then check out our full review here. You really get a lot with the Match free trial and you can look around as long as you like.
Everyone's heard about Match, so it's likely that there's a ton of singles available in your area too! Sign up for the free trial is easy and it only takes a few minutes to get you to browsing cuties. Match also has an app, so you can search on the go and get notified when someone likes you back.
When you've found that special person and you're ready to start chatting it up, the Match subscription accounts are reasonable and give you a bunch more features.
Try Match's free trial out today and you'll see what we are talking about in numbers of singles available – all the hot singles really are on Match!