The Large Friends free trial is fairly extensive compared to other free trials in the online dating industry. The industry standard is that you gain access to the inside of the site, can look at a few matches, and typically have no communication abilities. With the Large Friends free trial, you get way more than the industry standard.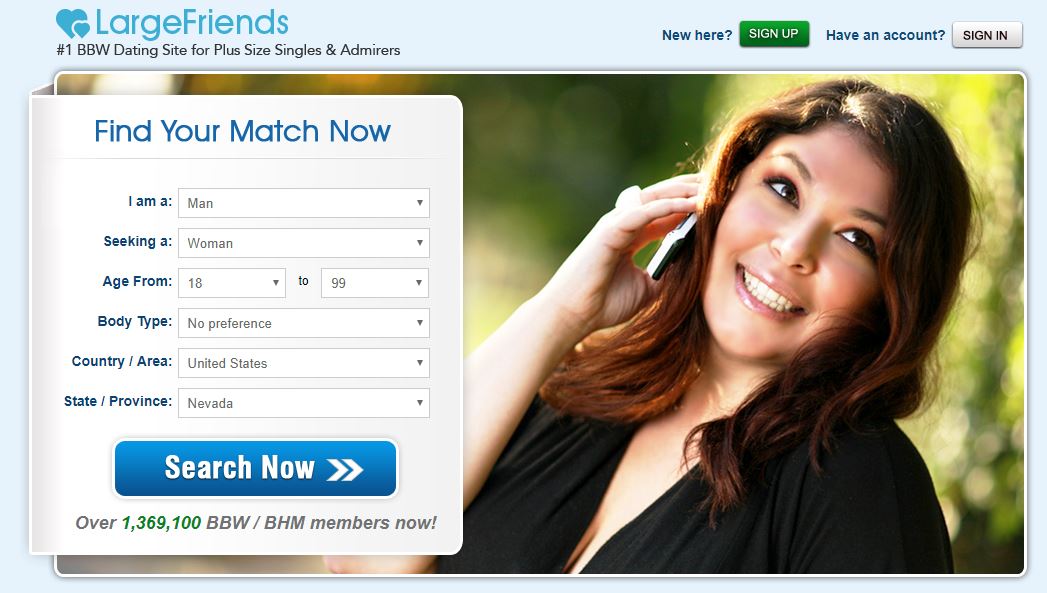 What You Get With Your Large Friends Free Trial
You can create your entire profile, put in details about your desired match, and upload up to 25 profile pictures
You can reply to unlimited messages and online chats from paying members for free!
Post date ideas and view others, post questions to matches/friends and respond to others, and comment on profiles, photos, blogs, and forums
Access to the "Let's Meet" features and access to ALL member's full profiles and all of their uploaded photos and information
What You Don't Get
Initiate the sending of messages or chats to members (you can only respond to others)
You can't see how often a member replies to messages
You won't be able to search by who is new, interested in you, location, body type, or who marked that they were interested in you
---
Large Friends Site Highlights:
One of the most well-known and respected BBW dating sites for men and women who are big and beautiful or interested in dating someone who is
A clean and user-friendly member area that makes finding and communicating with your matches simple.
About the Large Friends Free Trial
Not only do you have access to every member's profile and all of their photos, but you are able to respond to messages and chats from other members completely free of charge. This means that with your Large Friends free trial, you may be able to find that special someone you're looking for before you even have the chance to consider upgrading to a paid account.
Here's what you can do with your Large Friends free trial. First, you can get your dating profile all set up with your information, what you're looking for, and up to 25 pictures of yourself to share with the community. Don't worry; you aren't required to upload pictures for your free trial. You can always elect to do that later, though, we recommend you do it because you never know when you might get a message from someone you'd be interested in.
Secondly (and most importantly), you get quite a few communication privileges with your Large Friends free trial. You can respond to messages from paying members AND you can respond to their live chat messages as well. Some online dating sites have started allowing members to respond to messages, but this is one of the first that we've seen that also allows you to respond via the live chat function.
The third thing that you get with your Large Friends free trial is the ability to search through all of the other members and singles on the site. This includes the free and the paid members. Now, you won't be able to search with all of the criteria that a paying member gets to, but you will be able to use the basic functions and see what is out there. Honestly, when we played around with it, the functions they gave you were plenty to get a feel of whether or not the site was going to be a good fit for you or not. s
Whether your future plans include upgrading to a paid account or not, you would be silly not to at least create a free profile on Large Friends. You never know when someone great might stumble upon your profile and send you a message. You'll be notified and able to reply and chat without ever upgrading your account. Basically, only one person in a conversation has to have a paid account. Unlike other dating sites, you would never be required to upgrade if you didn't want to.
There are two main things that you won't get with your Large Friends free trial. First, you won't be able to initiate any conversations. If you stumble upon someone you're really interested in, you're going to have to either hope they stumble across you and have a paid account, or you're going to need to upgrade. Second, you won't get all the benefits of being bumped to the top of searches. Large Friends goes out of their way to make sure their paying members get priority in being found and matched, so that is something you may want to consider if you like what you see with the site.
The bottom line is that it only takes a few minutes to set up a free trial account and you'd be silly not to at least take a peek around and see if there is anything you like.
About Large Friends
Large friends is a niche online dating site that caters to the big and the beautiful. The site focuses on creating a safe and judgment-free zone for those with a lot more to love or those who are looking for those with more to love. As a member of the Successful Match family, Large Friends offers a great experience for those that are looking for something different than the traditional mainstream online dating experience.
If you're looking for someone special or just to make some new friends in your area, Large Friends is certainly a site that you're going to want to check out. The site offers so much with their free trial, but you may still be interested in upgrading and being able to take advantage of all of those benefits. If you're curious, here's what a paid membership costs at Large Friends.
The best news is that you can check the site out without committing to anything. Take advantage of the free trial by clicking the link below or at the top of the page. Your free trial will be automatically credited to your account, and you'll be able to start searching for matches in a matter of minutes.