Niche dating sites (sites that cater to a specific audience) have become increasingly popular over the last 10 years. Now that online dating is more accepted, it seems these sites have realized that helping people with specific attractions find mates is the smart thing to do.
One niche site that has been getting a lot of attention is InterracialDatingCentral, a site where singles of all races who are interested in different races can come to meet.
It is one of the most open-minded niche sites out there, and we know how you can try out their site, completely free!
If you are interested in seeing what the InterracialDatingCentral free trial is all about, simply read on!
What You'll Get With a InterracialDatingCentral Free Trial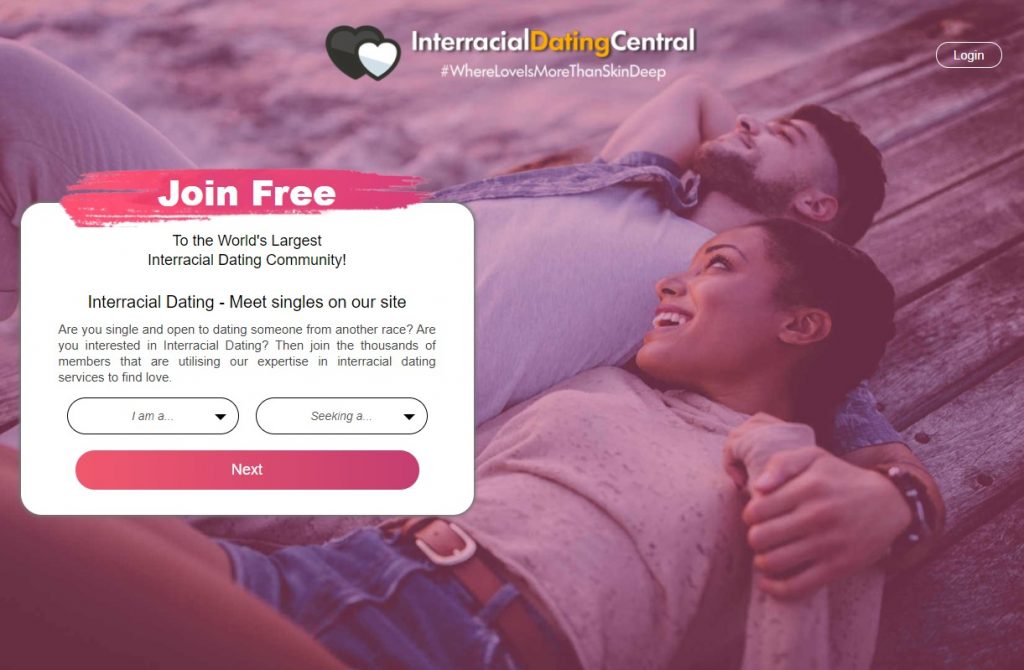 Create and Account
Upload Profile Details/Photos
Read Incoming Messages
Respond to Incoming Messages
Search Profiles
Use Basic Filters
Send Likes
Other Dating App Free Trials Worth Trying
Features You Won't Get With a InterracialDatingCentral Free Trial
Send Messages to any User you Want
See Who Sent Your Flirts
See Who Visits Your Profile
Browse Anonymously
Create Private Chat Rooms
Send Anonymous Voice Calls
Send Anonymous Video Calls
Unlock All Search Filters and Capabilities
An In-Depth Look at the Great Features an InterracialDatingCentral Free Trial Has to Offer
InterracialDatingCentral offers a surprising number of features to free users. This includes, reading incoming messages, responding to incoming messages, sending likes, and creating a full profile.
The most important of these features is the ability to respond to incoming messages. While some dating sites keep all messaging behind a paywall, InterracialDatingCentral actually allows users to respond to any messages they receive from premium users.
This means it is potentially possible to find a great match and begin a relationship without ever paying for a full InterracialDatingCentral membership.
Most importantly, though, the free trial allows just enough amenities to let users determine if the site is worth the effort and cost before spending any money on a premium membership.
A Quick Guide to Signing up for an InterracialDatingCentral Free Trial
Signing up for an InterracialDatingCentral account doesn't take much time at all. In fact, when we created our account, we were on to researching features and amenities within 3 minutes!
To start, make sure you have your mobile phone nearby and an email address you can easily access. This is because you may need one or both to verify your account before you can use it.
You will also need to provide some basic information about yourself and your location so the site can create your profile. Some information for the profile can be skipped or minimally completed to start, but we always recommend going back to fill in all your info and upload photos so you can get the best experience on the site!
InterracialDatingCentral Free Trial – Is it Truly Free?
We've all seen dating sites or other online services that offer a free trial, only to find out the "free" trial was a simple trick to get you on the hook for an impossible-to-cancel recurring subscription.
It is infuriating and honestly feels like it should be illegal.
Luckily, InterracialDatingCentral isn't into tricking people to pay for their service. Instead, their free trial is completely free and you don't even have to add your credit card details to get started!
Once you ign up for your free trial account, it lasts until you are ready to upgrade. The site may have popups that try to convince you to do so, but you will never be charged a fee without your permission.
Of course, once you sign up your fee is charged on a recurring basis. So be certain to read all the information they give you before choosing a premium option!
Do I Have to Be a Certain Ethnicity to Use an InterracialDatingCentral Free Trial?
No! InterracialDatingCentral is a site where singles of all races are welcome, so long as they are open to dating singles of other races. That's the beauty of InterracialDatingCentral, it is one of the most open-minded dating platforms in the world!
InterracialDatingCentral Free Trial FAQs
How Many Days of Service Do I Get with an InterracialDatingCentral Free Trial?
The InterracialDatingCentral free trial does not have a set cutoff point. This means you can utilize your free account as long as you need to. Your free trial only ends if you cancel your account, upgrade your membership, or have your account banned.
Do I Need to Link My Free Trial Account to Facebook?
No! You do not need a Facebook, or any other social media, account to sign up for an InterracialDatingCentral free trial.
Can I Message Users with a Free Trial Account?
You cannot send unsolicited messages while using a free trial account. However, you can respond to any messages sent to you by premium account holders.
Can Other Users See That I Have a Free Trial Account?
Yes. There is a profile marker that denotes which users are premium account holders. This means that the lack of that marker can show other users that you are using a free account.
Sign Up for a InterracialDatingCentral Free Trial Today
Singles who are looking for open-minded, loving, attractive singles from any race will adore InterracialDatingCentral.
This site has a streamlined design, great features, and a free trial with more amenities than you can imagine. If you are ready to begin trying out your InterracialDatingCentral membership, just follow our free trial link!
You will need to fill in your profile, link your email, and upload a few photos. Then, you can begin searching for amazing singles from all over the world!