It doesn't matter if you're slightly commitment-phobic or just like to try before you buy. You'll be happy to know that we've got the inside scoop on a Coffee Meets Bagel free trial.
So, if the name caught your attention and you want a glimpse behind the curtain, we'll fill you in on what to expect and how to get the ball rolling. The Coffee Meets Bagel (CMD) free trial might not give you a supersized membership, but we consider it to be more than a sampler.
What You Get with Your Coffee Meets Bagel Free Trial
Set up a custom profile and establish yourself as the newest "bagel" (aka member)
Free use of the Coffee Meets Bagel app
Suggested daily matches
Liking, passing, and chatting with suggested bagels
A few free beans (the official in-app CMD currency)
Access to the coffee shop where you can spend your beans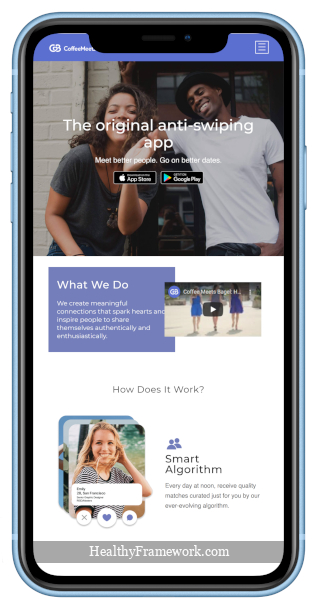 What You Don't Get
Activity reports
Read receipts
Unlimited likes
Skip the line opportunities
Monthly boosts
---
How Do I Get a Coffee Meets Bagel Free Trial?
You don't have to stand in line and place your order, as we've got the direct link to the Coffee Meets Bagel free trial above.
All you have to do is grab your smartphone (Android or iPhone) and click our dedicated link to set up a CMD free membership that provides you with everything you need to make a love connection.
No upgrade requirement
You'll be prompted to establish a profile and then will have immediate access to other bagels. The best part is that you won't have to spend anything unless you decide to upgrade to premium access or buy some beans.
How Much Does the Coffee Meets Bagel Free Trial Cost?
If you're in a coffee shop and the Barista offers you a free coffee and a bagel, you'd immediately wonder, "what's the catch?". But with a Coffee Meets Bagel free trial, we can confidently share that there isn't one.
Yes, there are upgrades open to you, but they're not mandatory. You can stick to the basic membership you establish as a free CMD member for as long as you'd like. However, there are times when buying a bag of beans is enticing.
Breaking Down What You Get with the CMB Free Trial
When you set up a Coffee Meets Bagel free trial, you're a member, or bagel, just like everyone else on the app. You can like or be liked, and chat with your matches. CMD will provide some suggestions and will even kickstart your adventure with a handful of free beans to get you started.
What You Get
The Coffee Meets Bagel dating app is premised on three main activities, all included in the basic membership.
Suggested
Discover
Likes You
Suggestions are the best matches based on profile matching, and they come out at noon. You don't have to stick with suggested bagels, though, as you can venture off and Discover on your own.
Then, you've got the "Likes You" option where you can make instant connections.
With all of these opportunities offered to all CMD members, you can see that basic access is still valuable.
The store is open
Another benefit to the Coffee Meets Bagel free trial isn't typical of many complimentary dating app plans.
Basic members have access to the CMD store and can buy beans. The CMD beans are like currency used to purchase upgraded features like activity reports and likes. That means you can take advantage of premium perks through an a la carte menu.
You might be aware that other dating services typically require you to upgrade your membership before you can buy individual add-ons. So, an in-app store that's open to everyone is a valuable perk – especially for CMD free trial users.
What You Don't Get
While you can do quite a bit with your CMD free trial, premium members have all-inclusive plans. They don't have to buy individual activity reports, read receipts, or likes. Bagels with premium access can buy beans, but they don't necessarily have to as they already have upgrades built into their Coffee Meets Bagel experience.
One of the best features of the premium plan, not included with free access, is a monthly boost. If you're willing to upgrade your account, you'll end up at the top of other bagels' feeds for 48 hours every month. That one perk is enough to get you noticed (and liked!).
Coffee Meets Bagel Pricing Plans
If you're curious about the Coffee Meets Bagel cost comparison, we've got an entire post dedicated to breaking down the features, benefits, and different payment options. You can go premium for as little as a month or pay for an entire year upfront and save more than 55%!
Or, you could take a middle-of-the-road approach with a Coffee Meets Bagel free trial and then buy yourself a small, medium, or a large bag of beans. You'll have to use them wisely, or you'll run through them quickly. But you'll get the best of both worlds without an auto-renewing premium membership.
Get a Coffee Meets Bagel Free Trial Now
We've covered most of the benefits of a free trial to Coffee Meets Bagel. But there's one more to consider.
Play the free trial dating game
Coffee Meets Bagel is one of a handful of dating apps with a valuable free membership instead of just giving you a glimpse at the service. So, you could register a CMD profile and pick a few other dating apps with equally impressive free trials. That way, you can take a few for a solid test drive.
You'll have a much better idea of which service is the best for you before you decide to invest in upgrades or special features.
To get the ball rolling with the Coffee Meets Bagel free trial though, all you need is the link at the top of this page.