As is customary with any dating site that is part of the Cupid Media family, the Asiandating.com free trial offers much more than the industry standard. Specifically, they allow you to respond to unlimited messages from paying members free of charge. This is HUGE when it comes to free trials. Most online dating sites will allow you to get your account and profile set up, poke around the features a bit, but usually don't offer any sort of communication abilities.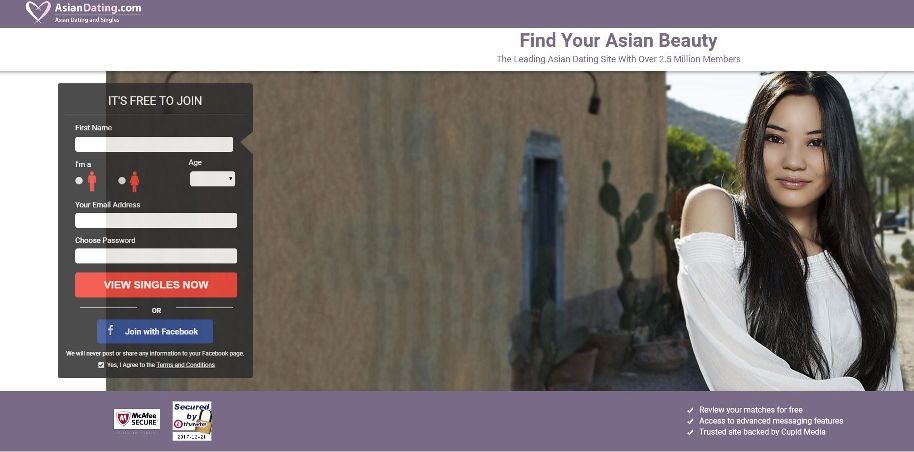 What You Get With Your Asiandating.com Free Trial
Communicate with paid members who message you first free of charge
Able to create your profile, upload photos, and access all account features
Basic matching algorithm and access to use the search functions
Send flirts (interests/winks) to all members
What You Don't Get
Can't initiate conversations/send messages to members
You aren't able to see full-size images of members (only with the main image)
No ability to browse anonymously or use the live chat function
---
About the Asiandating.com Free Trial
Additionally, you do get all of the other benefits you would "expect" to get with a free trial membership. You can create your profile, search and browse for other members, read through their profiles and look at their pictures. The one thing that was different from some of the other Cupid Media sites that we looked at was that you can only see a person's main profile picture full size during your trial. The rest of the images they have loaded you can only look at in small squares unless you choose to upgrade to a paid plan. Not a big deal, but just something that we want to bring to your attention.
There are quite a few other features that you don't get with the Asiandating.com free trial, but nothing major that is going to inhibit your ability to evaluate the site. Remember, free trial accounts are usually designed to let you get an insight into the inner workings of the site to make a decision about whether or not you want to upgrade to a paid membership. The fact that Asiandating.com allows you to respond to messages during your free trial is a HUGE perk.
Honestly, even if you have no plans of upgrading to a paid plan, it's reason enough to create a profile and upload some photos. This way, paid members can send you messages and you're able to respond free of charge. You won't be able to initiate any conversations with matches you like without upgrading, but you'll at least have another hook in the water in case someone awesome comes along and messages you.
If you're ready to give this site a try for free, click the free trial button on this page and you will automatically be setup to get started with your free trial account.
About Asiandating.com
Asiandating.com Site Highlights:
One of the leading dating sites dedicated to Asian dating
Prices for paid memberships are far less expensive than industry standards
Part of the well-respected Cupid Media group of dating sites
Asiandating.com is a niche dating site catering to Asian singles or those people with a little love for the Asian persuasion. Our overall review of the site was positive. We found that they had an easy to use interface, quality matches to choose from, and the pricing was some of the least expensive that we've seen in the industry, especially for a niche dating site. If you'd like to learn more about the site before giving your free trial a shot, check out our complete and thorough Asiandating.com review.