If you follow our site, you know that AfroIntroductions is one of the best Black dating apps of 2023. It's so much more than that, though. As the largest African dating site, you'll find people of all ethnicities on AfroIntroductions – and you can test it out for free.
The AfroIntroductions free trial is one of the most comprehensive we've seen. You can use it to connect with members around the globe and find love. And all you need to do is click the button below to set up your free account on AfroIntroductions.
---
Are you the type of person who likes to study up before committing to a dating site? We're the same way, so keep reading to learn all about the free trial membership to this African dating site. Plus, we're going to show you how it stacks up to AfroIntroductions' three premium membership tiers.
What You Get with an AfroIntroductions Free Trial
| Feature | AfroIntroductions Free Trial | Gold Membership | Platinum Membership | Diamond Membership |
| --- | --- | --- | --- | --- |
| Create and Edit a Profile | Yes | Yes | Yes | Yes |
| Basic Matching | Yes | Yes | Yes | Yes |
| Search Profiles | Yes | Yes | Yes | Yes |
| See Likes and Favorites | Yes | Yes | Yes | Yes |
| Send Messages | Yes | Yes | Yes | Yes |
| Reply to Messages from Premium Subscribers | Yes | Yes | Yes | Yes |
| Like Profiles | Yes | Yes | Yes | Yes |
| Add Profiles to Favorites | Yes | Yes | Yes | Yes |
| Communicate with Free and Premium Members | ❌ | Yes | Yes | Yes |
| Reverse and Mutual Matches | ❌ | ❌ | Yes | Yes |
| Ad-Free Browsing | ❌ | Yes | Yes | Yes |
| Instant Message Translation | ❌ | ❌ | Yes | Yes |
| Double the Profile Space | ❌ | ❌ | Yes | Yes |
| Rank Above Other Members | ❌ | ❌ | Yes | Yes |
| Priority Messaging | ❌ | ❌ | ❌ | Yes |
| Profile Highlighting | ❌ | ❌ | ❌ | Yes |
| Standard Customer Support | Yes | Yes | Yes | Yes |
| Premium Customer Service | ❌ | ❌ | ❌ | Yes |
That chart makes it clear that the AfroIntroductions free trial is packed with features, but what can you really do with it? Next, we're going to cover some of the top features that you'll unlock as soon as you claim the free trial.
Basic Matching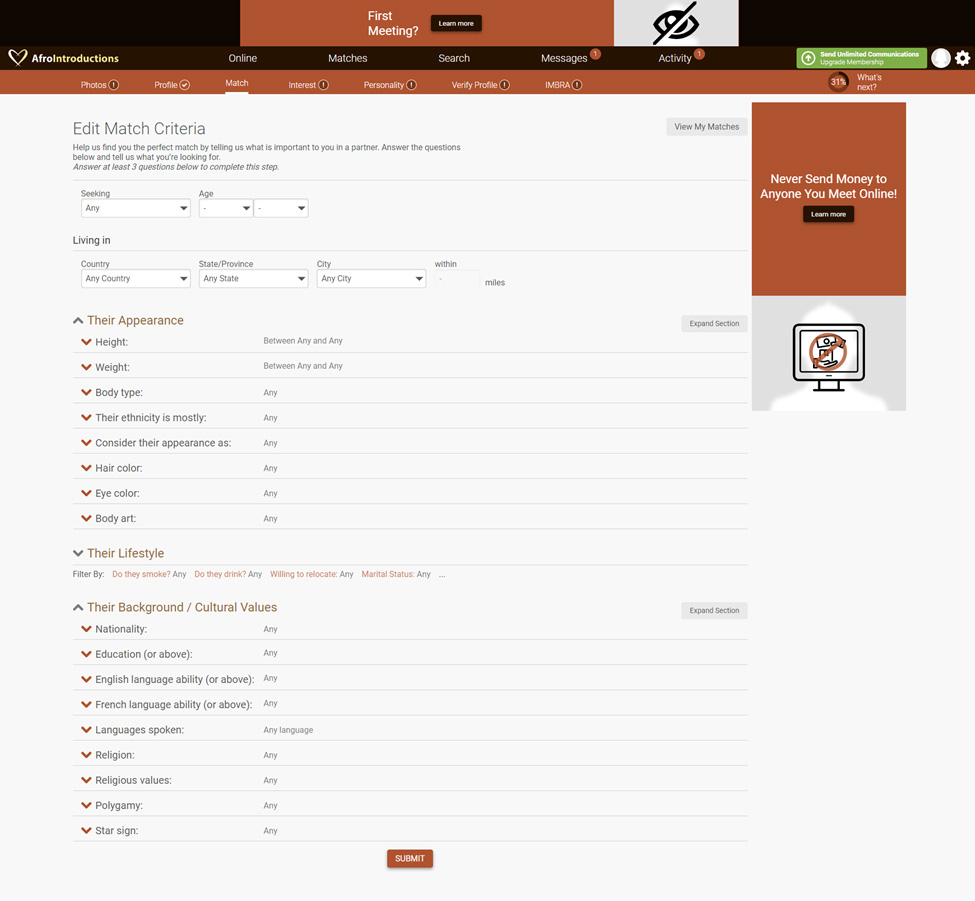 Free members can set over 30 match criteria when looking for love on AfroIntroductions, including options for cultural values and lifestyle. After setting your criteria, you can browse your matches and click on profiles. Then, use the color-coded system to see how well you and the other person meet each other's criteria.
Other Ways to Search
You can also use your AfroIntroductions free trial to browse online members or search for profiles. The search function includes four the following options to help you refine your quest for good matches:
Advanced Search – Set over 30 search criteria to find members on the African dating site.
Saved Searches – After setting the criteria, save your searches so you can browse again without resetting the filters.
Search by First Name or Member Number – Find members you know by searching by first name or member number.
Popular Searches – Look for members in your area, browse profiles of the most popular users, and more by accessing Popular Searches.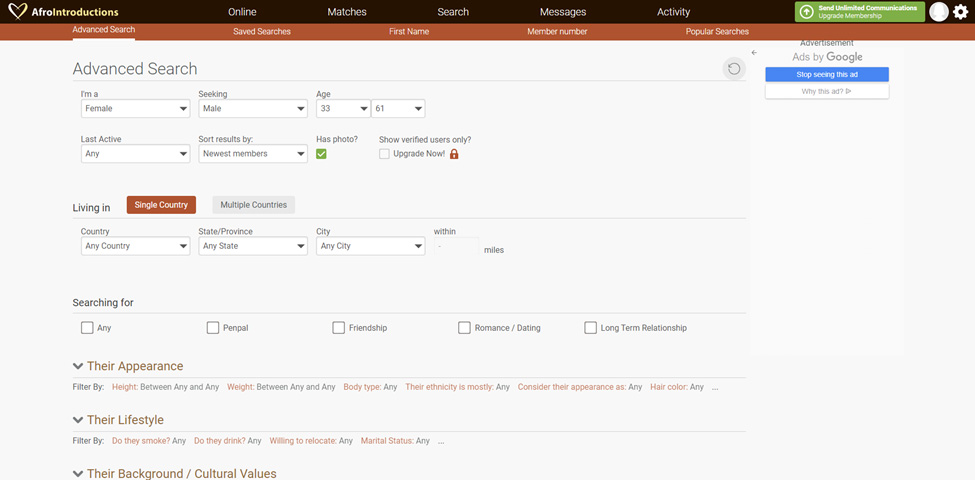 These tools do a lot of the work, but you need to take the right approach to find "the one." Get all the info you need by checking out some tips for searching for singles on online dating sites.
Find Out Who is a Premium Member
So, this is one of the coolest parts of the free trial to AfroIntroductions. As a free member, you can enjoy some of the benefits of a premium subscription when chatting with paying subscribers.
First of all, premium members can chat with anyone – even free members. That means if a premium member sends you a message, you can keep chatting. Also, if you're chatting with a Platinum or Diamond member, you'll be able to translate messages.
Fortunately, you don't have to wait for premium members to message you since you can send unlimited messages. The trick is sending those messages to premium subscribers, and they're easy to find! You can find premium members in the following ways on your AfroIntroductions free trial:
Profile Size – Platinum and Diamond subscribers receive double the profile space
Profile Avatars – All members have avatars next to their names on their profiles. The avatars follow a color-coded system:

Standard Members – Gray avatars
Gold members – Gold avatars
Platinum members – Blue avatars
Diamond members – Black avatars
What You Don't Get with an AfroIntroductions Free Trial
The free trial to AfroIntroductions is honestly really impressive. However, we wouldn't be doing our job if we didn't cover some of the key features you won't receive with a free membership. Let's take a look at a couple of areas where your free trial membership will be lacking.
Features to Stand Out from the Crowd – AfroIntroductions has around 4.5 million members, and most users end up with thousands of matches. Platinum and Diamond members stand out by ranking above other members and receiving larger profiles. Also, messages sent from Diamond subscribers go to the top of the recipients' inboxes.
Instant Message Translation – Instant message translation is only included with Platinum and Diamond memberships, although members can also use it when chatting with those subscribers. This feature allows you to connect with people all over the world, regardless of language. You just have to click on the translate button to read messages in your native language.
So, those are our favorite premium features, but you'll get so much more if you upgrade. Take a look at everything included with the three premium membership options.
Do you want to upgrade to premium so you can hit the ground running with all those extra features? First, check out our AfroIntroductions membership cost page. It breaks down the cost of the three membership tiers, along with the features included in each one.
Is the AfroIntroductions Free Trial Worth Your Time?
Absolutely, yes! AfroIntroductions is part of Cupid Media's network of sites, which are among the best for international dating and serious commitments. Try it for yourself by grabbing your AfroIntroductions free trial today!
---
---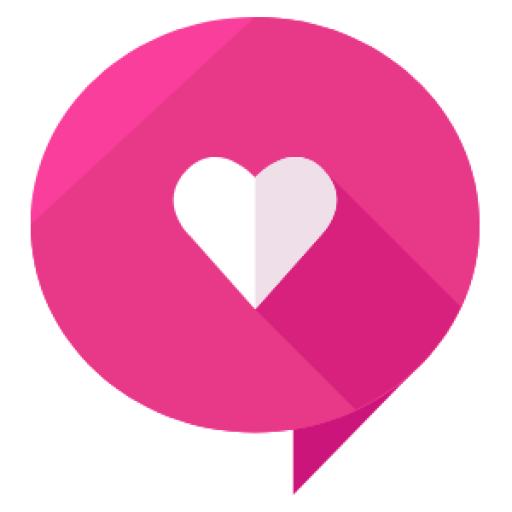 Written By: Healthy Framework Team
The Healthy Framework team has a combined 50+ years of experience in the online dating industry. Collectively, the team has reviewed over 300 dating apps and is known as one of the leaders in the relationship advice and information space. The team's work has been featured on Zoosk, Tinder, The Economist, People Magazine, Parade, Women's Health, Her Campus, Fox, and more.