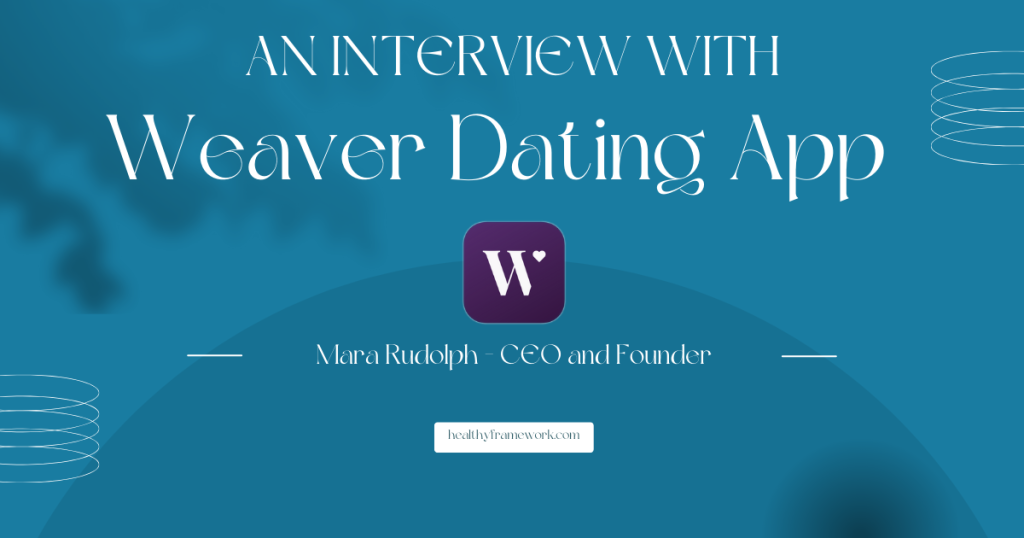 It's always interesting to see new start up dating apps working to shake up the traditional norms of online dating. One such app is Weaver, a dating app built around core values that alerts users of red flags prior to the first message being sent.
Today, our Matt Seymour took some time to catch up with Mara Rudolph, the Founder and CEO of the Weaver Dating App. The two talked about what makes Weaver stand out from the pack, what users can expect to see in the future, and qutie a few more topics about the apps growth.
Let's take a listen to what the two had to say! The video and full transcript of the interview is posted below.
Full Weaver Dating App Interview Transcript
Matt Seymour:
Perfect. Hi everybody. This is Matt from Healthy Framework. Today I'm very excited to be joined by Mara Rudolph, founder and CEO of Weaver Dating. Mara, thank you so much for joining.
Mara Rudolph:
Thanks for having me.
Matt Seymour:
Absolutely. Well, let's jump right into it. Can you tell me what separates Weaver Dating from the rest of the dating apps out there?
Mara Rudolph:
Weaver is the first and only dating app based off of core values and it alerts users to red flags and deal breakers before the first message. The interesting thing about that is most relationship focused apps are based off of personality and interest-based compatibility, and within the past eight years, studies have come out basically disproving the efficacy of that. Basically, it doesn't correlate at all with long-term relationship satisfaction, and nobody has ever really delved deep that means defining them. There was no really preexisting set of questions that targeted core values. Except all the dating experts, all the relationship experts in the space, time and time again, talked about how vital it is to vet your partners, your dates, based off of your core values and making sure those align. That's essentially why I created Weaver and all of that. I'm very fascinated about relationship science.
Matt Seymour:
Yeah. No, that's awesome. I like the different approach that you're taking versus the standard set. That's really unique. I like that. If somebody's inquiring or looking, how would you describe that ideal customer that Weaver Dating is designed for?
Mara Rudolph:
Definitely daters who are sick and tired of their experiences that they've had on the existing dating apps. There's a lot of fatigue. Superficiality has become very pervasive in a lot of the apps, even the apps that are supposed to be for more serious daters. Weaver is really for those intentional daters who are really trying to find long-term partners. People who are kind of sick of wasting their time carrying on conversations that don't end up going anywhere or ending in meeting the person. They want to know immediately when they see a profile, how does that person actually align with them on the deeper things? Not just are they attractive, look at their photos, what are their interests, what do they say about them in their bio? That doesn't really get you any deeper and tell you a lot about that person. Those are kind of who we're trying to attract.
Matt Seymour:
That makes sense. I think to your point, by being able to go a little deeper and understand or align on those core values, it can save time because perhaps you match and you spend all this time chatting and then realize there's essentially a deal breaker that your app it seems can help. Nope, let's move along essentially. That's kind of nice. It seems like it'd be a great time saver.
Mara Rudolph:
Yeah, exactly.
Matt Seymour:
Excellent. What would you say is one area that you feel Weaver Dating could be doing a better job on?
Mara Rudolph:
Yeah, so I think right now where we are, awareness is really big. I think just in terms of getting new daters on the app, we're still growing. We're still somewhat small, so that's an area that we're always trying to improve in. Along the same lines, there's a lot of improvements that are planned or in the works that haven't been implemented yet. As we're early on, there are some user experience improvements that are planned but haven't been done yet. I think that's a big room for improvement that we can delve deeper in once we grow.
Matt Seymour:
Yeah, and that makes sense. I mean, you guys are still relatively young compared to some of the other ones out there, so I'm sure with time you guys will continue to make those updates and refinements. Perfect. Changing gears a little bit, a hot button, which I think unless you've been under a rock, people are aware of the buzz so to speak, but is AI technology. It's been the really hot button for the last six months to a year at this point. Is Weaver Dating using AI technology at all? If not, do you have plans to use it in the future?
Mara Rudolph:
Yeah, I love this question because I think there is such massive potential for AI. Weaver isn't currently utilizing AI, but I've definitely thought about how it can be used to basically improve the experiences across all dating apps. Specifically in terms of safety, helping prevent scams. Inappropriate content, I think that's really a big area that AI can drive a lot of advancement and improvement. Making sure everybody is who they say they are and that everyone is having a safe, good, happy experience on the apps.
Matt Seymour:
Yeah. No, that makes sense. Sticking along the same lines, but looking more dating industry as a whole, I think you just listed a lot of really positive things in terms of AI technology and the potential impact. Do you foresee any potential concerns for the dating industry as a whole when it comes to AI technology?
Mara Rudolph:
Yeah. I think a big, not a concern, but something I see a lot of the times when leadership within dating app companies focus a little bit too much on business and flashiness and how to attract attention because they're doing the newest, flashiest, trendiest thing. I think they can take AI a step too far and actually remove the genuine connection element that is so important with dating apps and finding partners and creating those budding relationships. I think when AI starts to be used as a conversation helper, but then you see it and they're not even writing their own messages. The AI is. They're using generative AI to write their own messages and then you're not even really talking to a human anymore, you're talking to a bot. You're not forming genuine, real person to person conversation connections. I think that's where it can be taken a step too far.
Matt Seymour:
Yeah. No, that makes perfect sense. If you're out on an actual date, eventually the chat-
Mara Rudolph:
It's all you.
Matt Seymour:
Right. Like, hang on, let me see what the app says I should say. Yeah. No, those are all very valid points there. Kind of along those same lines, and you just mentioned a second ago scams, but for us, we're seeing romance scams on the rise across the United States. How does Weaver Dating combat this growing problem?
Mara Rudolph:
Right now, in order to prevent bots coming on the app, the way that we confirm that you're a real person, we do phone number verification. Then on top of that, once the person has completed their profiles, we do manual reviews just to make sure that all the photos are to standard, are quality, that there's no inappropriate content in terms of inappropriate photos or what they're saying in their profile. Those are the steps that we take currently. Of course, we have reporting systems within the app. If a user has kind of a shady experience with someone, there's a way to block people and report that. Of course, we're alerted and review everything and take everything super seriously because dating is a very vulnerable thing. You're putting yourself out there, and so we want to be really careful with that.
Matt Seymour:
Yeah. No, that makes total sense. It does get touchy with people's lives, but it sounds you guys have some great checks and balances in place. I'm sure those will develop more with time too, with you guys.
Mara Rudolph:
Yes. It's a tough issue, especially when the safest thing you could do is check people's social security numbers and their criminal history and make sure that everybody on the app is clean and good and everything like that. Unfortunately, that's a very hard thing to circumvent.
Matt Seymour:
Yeah. No, it makes sense. I think you guys already have some great systems in place at this point with everything, so that's awesome. Obviously, and we've touched on this a bit, Weaver Dating's quite new and we've heard that one of the hardest things for a new dating app is getting that first critical mass of users. How are you guys going about acquiring those initial customers at this point?
Mara Rudolph:
Yeah, so everything is organic efforts. We've been very lucky launching basically in the Tampa Bay area as we did. We were able to gain a lot of free press, which was extremely valuable. That was kind of how we solidified our initial user base. Then from there, we started doing some low budget paid ads on social media. We started seeing trickles of people coming in from there. Then also just organic efforts of posting TikTok videos and being on and engaged on social media. That's kind of been the extent of our marketing efforts until we get external funding in a seed round or something, then that would be really helpful to boost and really get a more aggressive growth strategy in place in terms of marketing.
Matt Seymour:
No, that's great though, the free press and everything. I know they say no press is bad press or whatever, but it sounds like you got some amazing free press, which really helps spread the word overall.
Mara Rudolph:
Yeah.
Matt Seymour:
Awesome. You just touched on there, so great segue into this next one for me. Your app started in that Tampa area only. Is there anything unique about the Tampa dating scene that you're able to share?
Mara Rudolph:
Yeah, so actually my partner, Matt Spalding, who's Weaver's CTO, he's based in the Tampa Bay area, and when he joined he had pretty deep connections in the area and he's the one who said, "Hey, why don't we focus in on the Tampa Bay area?" Then I did some digging and that coupled with the fact that there's been a lot more young professionals coming into the area in recent years, big time. I think in any city there's always going to be singles, there's always going to be relationship seekers, no matter the city you're talking about, but I think everything kind of aligned for Tampa to be our launching base.
Matt Seymour:
Yeah, that makes sense. I know we talked on our pre-call that I spent some time there. I think it's a very vibrant dating scene, especially for a younger crowd with everything. I think it's a pretty solid launch spot for you guys, so that's awesome. Last question then is, and I guess it's kind a two part here, how does the future of Weaver Dating look? How quickly would you expect members to grow or expand into new areas? What do you see as you look into that crystal ball as you've got it at this point there?
Mara Rudolph:
Yeah, so we definitely hope to soon raise a funding round to be able to become established within the US. In terms of the future of Weaver, I would absolutely love to become more than just the best tool for relationship seekers. Because in the end, dating apps are tools, they're not the end all be all. It's all about how you use them and the attitude you go in with them and go into dates with and everything. I would love to be an educational resource as well.
No one teaches people how to date. There's no class of this is what a healthy relationship looks like, this is what you should be looking for in a partner. These are all green flags and these are some really big red flags you should be watching out for. Becoming more, not only a resource for connecting with the right people and seeing how their core values align with yours, but also becoming more of a place to educate people really on how they should be dating, whether they do have bad habits that they're not aware of, or refocusing their attention on the things that really matter most versus what are some things that don't matter so much that maybe they're putting too much of their focus on.
That's how you really pass and miss out on a really good connection, because you kind of get used to passing on the same types of people and those people might be great. That's what I really hope out of Weaver. Again, kind of my relationship science passion and sociology, my love for that kind of shows through. In the end, the mission is to help people date better, not more. I want to save people time so that they can spend more of their time on the right people and less on the people that they wouldn't work out with.
Matt Seymour:
Yeah. No, I love the idea for the future there and saving people time and making more of it with everything. We're definitely excited to keep in touch and watch you guys as you grow and see. Maybe we do another interview at some point in the future to touch base then. Really thankful for you joining today to help give us some insight and we're super excited to watch as you guys blossom. Thank you again for joining and we really appreciate it.
Mara Rudolph:
Thank you. I appreciate you.
Matt Seymour:
No problem.