Three Day Rule Interview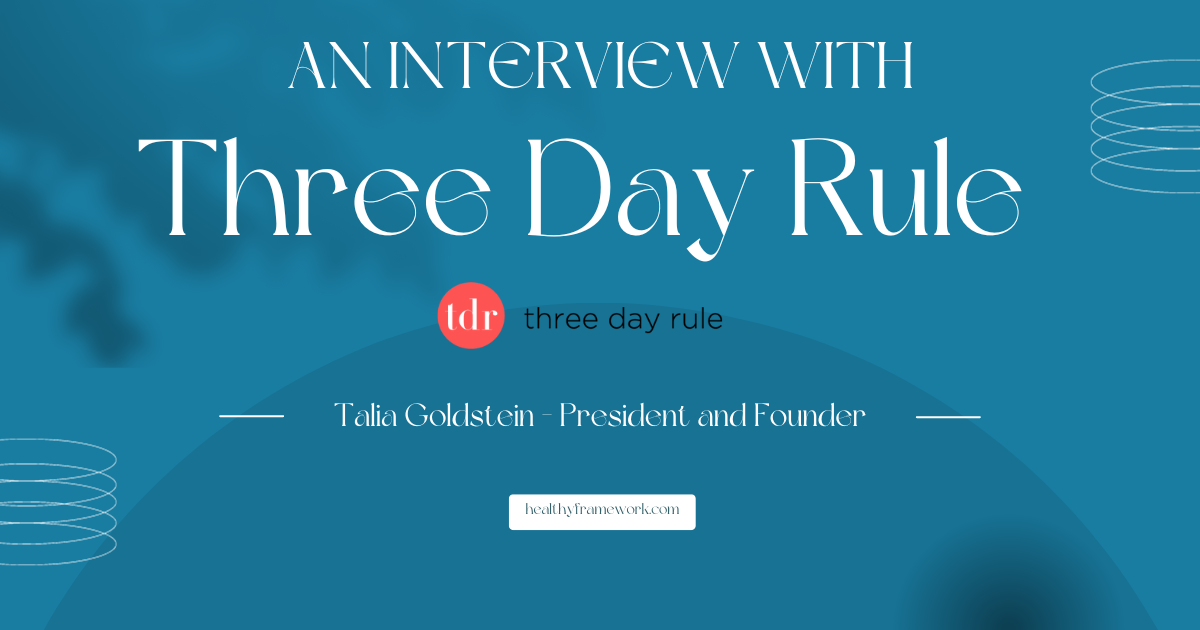 For many, dating apps just aren't cutting it. That's where matchmaking services step in to save the day. Today, our very own Matt Seymour got a chance to sit down with Talia Goldstein, the founder and President of Three Day Rule. Three Day Rule is a premium matchmaking service operating in 11 different cities across the US including big hubs like NYC, LA, Chicago, Miami, and more.
In this interview, the two discuss how Three Day Rule is different than other companies on the market, the matchmaking process they use, what makes them unique, misconceptions about matchmaking, success stories, and what the future looks like for Three Day Rule.
Let's have a watch!
Full Three Day Rule Interview Transcript
Matt Seymour:
Perfect. Hi everyone. This is Matt from Healthy Framework. Today I'm super excited to be joined by Talia Goldstein, the founder and president of Three Day Rule. Talia, thank you so much for joining.
Talia Goldstein:
Thanks for having me.
Matt Seymour:
Sure thing. Well, hey, let's jump right into it. A lot of folks may not be super familiar with Three Day Rule. How would you describe the ideal customer that Three Day Rule is designed for?
Talia Goldstein:
Yeah, so we service a wide range of clients. We work with clients ages 20 to 80. We're nationwide. We have an LGBTQ department, so we work with a lot of clientele. The main theme is successful, busy professionals, that's typically who the client is. And the clients that we love working with are the ones that are really ready for a relationship, and they come into the process with an open heart and an open mind, and they're willing to trust their matchmaker and the process.
Matt Seymour:
Oh, that's perfect. That's a very clear description for it, so that's excellent. Obviously, hiring a personalized matchmaker's more expensive than using a traditional dating app. How would you rationalize the cost to someone who may be concerned about that higher price tag?
Talia Goldstein:
Yeah, it's interesting. So in dating, you're either going to pay with your time or you'll pay with your money. So you can do online dating, but in that version you'll pay with your time. The average online dater spends 12 hours a week online. And then on top of that, you go on the dates, the people don't look like they're pictures. You don't even align on the basics because you have such little information going into the dates. So it can take up a chunk of time. With matchmaking, obviously it's an investment, but then you end up saving so much time and energy. So the matchmaker's job is to get to know you and what you're looking for, and then to go and do all the interviews. We're essentially going on all of your bad first dates, and we're only sending you the ones that are the best of the best, that are really worth your time. So matchmaking is an investment, but it's an investment in yourself, and it truly is a worthwhile one, and it will save you so much time and energy.
Matt Seymour:
No, that's great. And that's an interesting way to think about it. I hadn't necessarily thought about it that way myself, of you guys are doing those first dates on behalf of your clients, so to speak, and filtering it through. So that's a really good response. I like that.
Talia Goldstein:
Well, in that, a lot of people look really great on paper, but then once we go through the interview, they're ultimately not the right fit. So that's the problem with online dating is some people look amazing on paper, but they're not really the right fit.
Matt Seymour:
Yeah, totally. Would you say, are there any drawbacks to using a matchmaker that people should be aware of?
Talia Goldstein:
I don't see any drawbacks to using a matchmaker. You don't even have to only use a matchmaker. You can use a matchmaker and do online dating and meet through friends and going out to bars. Matchmaking is just part of your dating portfolio. It's just one tool that you're using. And through a matchmaker, you learn so much about yourself, you become a better dater that even if you go through the process and you meet someone out, you're just more equipped to date. So I don't see any drawbacks. Really there are so many benefits to using a matchmaker. I mean, you're hiring a matchmaker because we are the experts in compatibility, and often we are better than you at picking the right person. It's hard to pick for yourself. And we've seen it countless times where we've matched people that wouldn't have found each other.
So one example, we worked with this client, Sunny, she's amazing, she's a professor. And we matched her with this guy, John, that we recruited for her, and they ended up getting married. And after they were married, John admitted he swiped left on her on Bumble. And because he had made all these assumptions about her profession and her headshot. But it's so much easier for us to know that they're a match because we have so much more information about them.
Matt Seymour:
Yeah, no, that makes sense. I mean, you guys are the professionals, which is why people are paying for your services and you're good at what you do with everything. So that's excellent. Would you say, is there anything unique about the way that you might find matches for somebody?
Talia Goldstein:
I think so. I mean, the number one way that we find matches is actually through referrals. So typically what's happening is we match a couple successfully. They tell their friends about us, we match them, they share with their friends. So we have hundreds of thousands of people in our network that came through word of mouth, but we don't even limit the matching to that group. We search outside of the network as well. So we have a team of 50 full-time matchmakers across the country. When they go to yoga class, when they're out at parties, we're recruiting people. And then we have a team of recruiters that will search on LinkedIn or Instagram, they'll watch TED Talks, sky's the limit. We're going to find you or hopefully we will find you your perfect person. And so we don't want to limit it to one group. So your match might be another client. Your match might be in the network or someone that we find for you outside of the network.
Matt Seymour:
That's excellent. That's a large, you said 50 matchmakers, full-time matchmakers. That's pretty [inaudible 00:05:33].
Talia Goldstein:
Yes. And we all work very closely together. So if we're working with a client, the whole team knows, and so maybe another matchmaker will end up finding the perfect match and sharing with your matchmaker.
Matt Seymour:
Perfect. I like that. And I like the approach. Off of that, because you just said we hopefully find your perfect match, have you ever struggled to find an ideal match for a client? And if so, what's your process when this happens?
Talia Goldstein:
So we don't work with everyone. The process is you go to the website, you create a profile, and you're assigned a new member strategist. So I'm on this team, and our job is to get to know you and what you're looking for and make sure we feel we can deliver, because we only want to work with the clients that we truly believe we could have success with. So if we feel we can deliver, and you become a client, you're paired with a matchmaker. Everyone's coming to us at different stages. So some people, it's a matter of putting the right person in front of them and they're done. Others need a little more coaching. Some people are fresh out of a divorce and they're just getting back out there.
So every client is unique and they're coming to us at different stages. So sometimes we knock it out of the park on the first match and we're done. That's the best for everyone. But others, it does take a little bit longer to iterate. So if a client goes through the three or six-month period with us and we haven't found their perfect person, but we're getting really close, they can renew and continue working with us. And sometimes it does take an extra couple matches or a couple months to find their person.
Matt Seymour:
Yeah, that's excellent. That makes sense. I like the process again of going through the flow. It makes sense you're not going to hit everyone the first time, and sometimes it may take a few to go through. Perfect. Would you say, are there any misconceptions about matchmakers that you'd like people to better understand?
Talia Goldstein:
Well, I do think some people believe matchmaking is for those who are desperate, but it's actually exactly the opposite. Our clients can get a date any night of the week. They're interesting and successful and attractive. They've everything going for them. So they're not signing up to just go on dates. They're signing up to get the highest quality matches. So matchmaking really is for people who have a full life and they're just trying to save time and energy. They want to hit their goal of being in a relationship, but they don't have the full-time job of being a matchmaker. So they're outsourcing to us.
Matt Seymour:
Yeah, no, that makes sense. And I think you said the stat earlier that the average person, is it 12 hours a week that they're spending dating or on the apps, was it? It was just 12 hours on the apps.
Talia Goldstein:
Yes, just on the apps.
Matt Seymour:
Wow. Yeah. That's a part-time job.
Talia Goldstein:
Exactly.
Matt Seymour:
Excellent. So to close this out, do you have a favorite success story that you'd like to share with us?
Talia Goldstein:
That's an impossible question. Every story is my favorite. And every week we hear about clients that got engaged or married, and I love every story, so I don't really have a favorite, but we have one interesting story that I love. So we had a client, her name was Kat, and she heard an advertisement on NPR and they were asking if they could follow somebody going on a date. So Kat volunteered and said she was working with Three Day Rule, and so we had to pair her up with someone to go on a date and NPR was going to follow them. So we matched her with this really great guy named Kevin. He also was a client. They went on the date, they had a blast. They closed down the restaurant and it was a huge win for everyone. And then a year later, they surprised us. They went back on NPR to announce they had gotten married.
Matt Seymour:
Oh, wow.
Talia Goldstein:
It was such a fun, exciting time. And obviously, everything worked out and they're just the best.
Matt Seymour:
That's incredible. And I'm glad to hear that you have many favorite stories, so to speak. But thank you for sharing that one in particular.