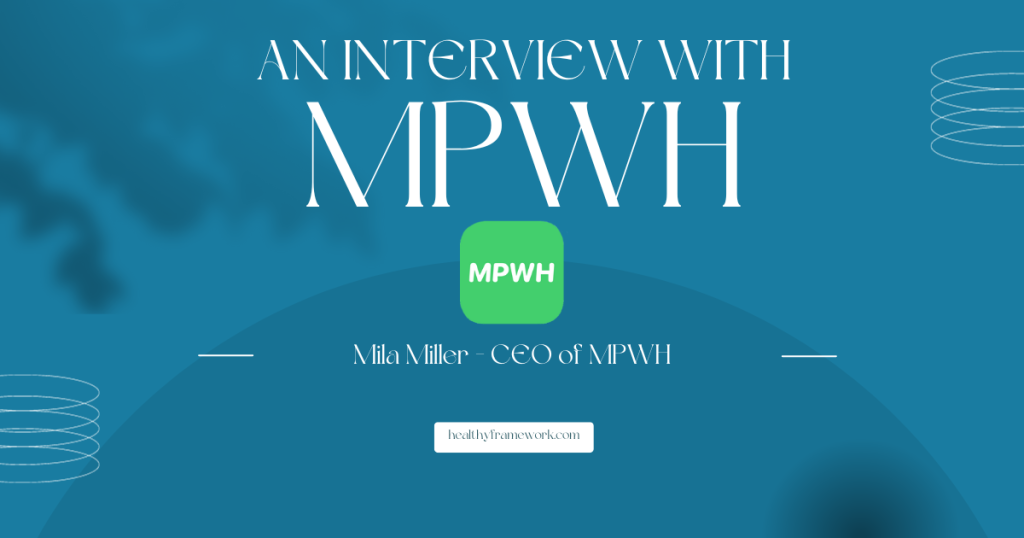 One of the fastest growing areas of the dating industry are niche dating apps designed to serve a unique purpose and audience. Recently, the Healthy Framework team was able to catch up with Mila Miller, CEO of MPWH, a leading niche dating app designed for people living with certain STDs. Below, you'll find the transcript of our complete interview with Mila where we talk the future for MPWH, what helps the brand stand apart, and even a look at how MPWH may be using Artificial Intelligence (AI) in their daily operations.
September 2023: Healthy Framework interview with Mila Miller, CEO of MPWH
---
What separates MPWH from the rest of the dating apps out there?
Mila: MPWH offers an exclusive platform for herpes positive singles who are living with oral herpes (HSV-1) and genital herpes (HSV-2) to find love and support. MPWH is a herpes-only dating community that filters out other STDS like HPV, HIV.
---
How would you describe the ideal customer MPWH is designed for?
Mila: People who have been diagnosed with herpes want to find friendships, support, and advice.
---
MPWH seems to really embrace the idea of community and support offering a lot more than just a traditional dating app. Could you share some of the different things you offer to support members?
Mila: Yes, MPWH is not just a traditional dating app, except for those traditional dating features such as Search, Messages, Likes you, Winked at You, Viewed You, etc. We offer these unique features for members.
Blogs: Our members can create and read blogs, sharing their personal stories, triumphs, and challenges. It's a fantastic way to connect on a deeper level and inspire one another. Blogging is a great ice-breaker that helps you get acquainted with others.
First date ideas: Our members can exchange their first date ideas with other members so that they can always have a way to keep things exciting! Whether it's a candlelit dinner or an outdoor hike. It also provides expert dating advice specifically tailored to those living with herpes.
Fun Events: Any member can organize local events where members can meet up, have fun, and make lasting connections. It's a chance to take the online experience offline in a relaxed and friendly setting.
Disease Q&A: This service is anonymous and confidential. It is limited to questions about disease and discussions of emotional, psychological or physical symptoms only. It helps members to find useful information which is from our members or std counselors.
---
Obviously the target client for MPWH may have higher levels of concern around privacy and discretion. What are some of the challenges with that and how does MPWH handle that?
Mila: Yes, privacy and discretion are paramount for our members. We are committed to providing a safe and confidential platform. Here are some of the challenges we face in this regard and how we address them.
We've blocked search engines and members who aren't logged in from seeing any member's profile.
We never disclose, sell, or rent any personal information to any third-party organizations.
Private Album – Allows members to discreetly store their photos and only share with those they choose to.
Privacy Settings – Ensures member's profile can be hidden from certain members. Members can do these settings:
Show my profile to all members
Hide me from all members
Hide me from women
Hide me from men
Show only to members I liked/favorited
Show to my liked/favorited members or other premium members
Show to members with the same STD
Browse profiles anonymously
Hide my last login date
Hide my online status
Hide my activities in "latest activities
---
Are there any new features or changes users can expect to see in the coming months and years?
Mila: We have just added the "Refer friends and earn cash" feature, it can help their friends earn extra premium membership and get commissions.
We added a "Do Tasks, Earn Points" feature to help members use some premium features by completing some small tasks.
---
Is MPWH using AI technology at all, or do you have plans to use it in the future?
Mila: Now we only use AI to assist our customer service. We may use it to improve our product or service in the future.
---
Are there any concerns for the dating industry as a whole when it comes to AI technology?
Mila: While AI technology has the potential to revolutionize the dating industry in many positive ways, there are indeed some concerns to consider.
AI can be used to create convincing fake profiles or chatbots, leading to issues of authenticity. Users may have difficulty distinguishing between genuine interactions and those with automated entities, potentially eroding trust.
---
Romance scams are on the rise across the US. How does MPWH combat this growing problem?
Mila: Machine reviews and customer people review every profile to prevent romance scams.
We encourage all members to verify their profiles by providing accurate information and photos. While we respect the need for privacy, this helps in ensuring that users are genuine and sincere. And we have a robust reporting system in place that allows users to report suspicious or fraudulent activity. Our dedicated team reviews and investigates all reports promptly. We empower our users by providing features that allow them to block and report any member they find suspicious or engaging in fraudulent activities. We are constantly improving our system to combat scams.
---
Are there any misconceptions about MPWH that you'd like to clear up?
Mila: MPWH is Only for Dating: While MPWH is primarily a dating platform, it now serves as a community and resource hub. We offer educational content about herpes, herpes dating tips, and a sense of belonging to those who may feel isolated due to their condition.
MPWH is All About Premium Memberships: While we do offer premium memberships with enhanced features, we provide free basic features that allow members to explore and engage with the platform. We believe in making meaningful connections accessible to everyone, regardless of their membership status.
MPWH is not the first herpes dating brand. Not like the world's largest STD community Positive Singles, MPWH is the original herpes dating site since 1999.
---