SilverSingles is a really special dating site geared toward singles in the seasoned stages of life. Read on below for a thorough breakdown of the SilverSingles costs and a little about the features the site offers. Additionally, we'll talk about other things like auto-renew, payment options, and whether the value is worth the prices. If you're in the aged 50+ crowd and you're ready for love, then this is the site to find it!

SilverSingles Membership Price Table
| Membership Type | Membership Length | Monthly |
| --- | --- | --- |
| Premium Classic Plan | 1 months | $54.95 |
| Premium Lite Plan | 3 months | $37.95 |
| Premium Comfort Plan | 6 months | $27.95 |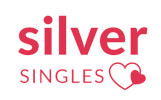 ---
SilverSingles Payment Options
When it comes to paying for your SilverSingles membership, you do have several options that They accept all major credit cards and PayPal as payment for their subscriptions. Keep in mind that all memberships are billed in a one-time lump sum payment and that monthly values are only for comparison of pricing.
Here is a complete list of the SilverSingles payment options:
VISA

Mastercard

American Express

Diner's Club

PayPal
A Breakdown of SilverSingles Costs and Membership Prices
Let's talk a little further about the different memberships offered on SilverSingles and some of the features that you get with a paid account. Remember that they do have a SilverSingles free trial account if you want to just take a look around, but it won't give you access to messaging or viewing photos.
Plan Options
All three of the SilverSingles membership plans come with the same features. There are no additional premium add-ons, upsells, or additional charges to be expected outside of the membership fee. This should make it easier when selecting the plan that is right for you.
Membership Term Length Options
So, if all the plans are the same, why are there three SilverSingles premium plans? The reason is that you have different term lengths you can select. The shortest membership is three months and the longest membership is 12 months (1 year). To restate that, the only decision you need to make when buying a membership is how long you want to purchase for.
Here are a few tips to help you select the right length:
All SilverSingles memberships are billed in one lump sum (you pay for all of the months at once)
The longer term memberships offer a discount for choosing a more committed option.
The monthly cost of the 12 month membership is 47% cheaper than the 3 month membership every month.
Do SilverSingles Memberships Auto Renew?
The SilverSingles subscriptions are set to auto-renew at the end of each membership cycle for the plan that you have selected. For example, if you purchase a six-month plan, at the end of your first six months, it will auto-renew for another six months. Additionally, the savings promotion you're getting on the first term are not applied to the renewal, so it will be a few bucks more expensive. With this in mind, if you're thinking there's a chance you'll be on the site for a while, opt for a longer term option out of the gate.
Can I turn off auto renewal at SilverSingles?
Yes! You are free to turn off auto-renewal at any point and time up to 24 hours before your membership is set to renew. In fact, you can turn it off the second you sign up and you will still get your full membership term.
Details About the SilverSingles Free Trial
It's important to note that the free trial is really just a peek into the door of SilverSingles. It's designed to let you test out some features, see the potential matches in your area, and ultimately figure out if the site is the right one for you.
If you're serious about connecting with some of the matches on the site, you're going to need to purchase a membership so you can message (and use the other helpful features, like the mobile app and wildcard matches).
What's great, though, is that the SilverSingles Free Trial is quick to sign up for and will give you some limited access to the site and features! Use the links at the top and bottom of this page to automatically claim yours now.
Is SilverSingles Worth the Cost?
If you're truly ready to meet your next love, then SilverSingles is the right site to invest in yourself and your future. The member community is active and you're sure to find someone that has the qualities you are seeking in a long term partner. Membership also gets you access to their mobile app so you can search and respond on the go and never miss a message.
SilverSingles is proud to create an average of 2000 new couples every month in over 20 countries across the world. Each of the three paid subscriptions has a great value for the access you gain. Check out this wonderful dating site by clicking the link below. You'll be delighted in the quality of the new people you meet!