Secret Benefits is one of the most popular Sugar Daddy/Sugar Baby dating sites on the web. A lot of their popularity comes from their discrete approach to payments and their decision to not charge monthly fees to any of their members.
We've looked at Secret Benefits features and sign up processes and are already impressed with what they have to offer, but today we are focusing on exactly how much they charge to use their site and features.
Do you want to learn about Secret Benefits' pricing structure before signing up? Then read on for an easy to understand cost breakdown, on us!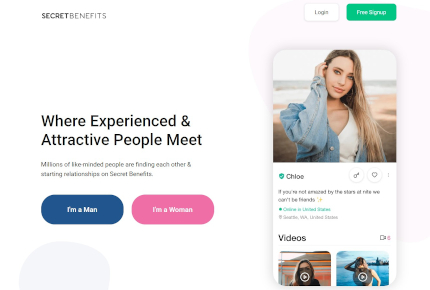 The Cost of Secret Benefits Credit Bundles
| Membership Type | Total Credits | Membership Cost |
| --- | --- | --- |
| Introductory | 100 | $59 total |
| Elite | 500 | $169 total |
| Best Value | 1,000 | $289 total |
---
A Breakdown of Secret Benefits Costs
Credits are purchased in Bundles starting at 100 for $59.
The bigger the bundle, the cheaper the credits.
Credits are priced as low as $0.29 a piece.
Female members never pay for features.
Payments are not on auto-renew, so there are no surprise charges.
Credits can be spent on unlocking private messaging and secret photos with a Sugar Baby of your choosing.
Is Secret Benefits Expensive to Use?
Secret Benefits has one of the most interesting pricing structures we've seen in a dating app and it caters to users who only want to talk to a few women and those who want to shoot their shot with as many ladies as they can.
This means that you can bundle your credits up to 1000 at once and knock the price of credits down to $0.29 a piece.
The average Sugar dating site costs around $50/month, though some are far more expensive! This means that Secret Benefits users who are purchasing the starter bundle and using it over a 1-2 month period are already saving money!
Some users even report the small bundle lasting them multiple months of testing the waters with a selection of beautiful Sugar Babies!
All-in-all, Secret Benefits can cost as little or as much as you need, but the average user is not spending any more than they would on other, lower quality Sugar dating sites.
Do Sugar Babies and Sugar Daddies Pay the Same Costs?
No! Sugar Babies do not have to pay for any of the features on Secret Benefits. This perk has helped Secret Benefits to garner a large female user base, better than most other Sugar dating sites.
The trade off for Sugar Babies is that there is a strict photo requirement and verification system in place to ensure they are who they say they are. So, even though the women aren't paying for features or communication perks, they are unlikely to be scammers, bots, or catfish!
Secret Benefits Payment Options
Visa
Mastercard
Discover
Japan Credit Bureau (JCB)
Secret Benefits prides themselves on the ability to keep users safe and secure during checkout, so they only allow payment methods they can fully trust. At this time, members can pay for their credit bundle with a Visa credit or check card, Mastercard credit or check card, Discover credit or check card, or a JCB credit or check card. Their charges will always show up on your bill discreetly, so you don't need to worry about nosy family members or bank tellers seeing what you're up to!
Do Secret Benefits Credit Bundles Auto-Renew?
No! One of the best things about Secret Benefits' payment system is that it is not a recurring fee. In fact, you can choose to purchase credit bundles as many or few times as you'd like. Each bundle comes with a large chunk of coins that are spent on in-app features. You might get a notification when you have zero credits left, but Secret Benefits will never charge you money without you starting the transaction on your own accord.
The Secret Benefits Free Trial
Signing up for a free trial at Secret Benefits is the perfect way to see how they set themselves apart from other Sugar dating apps. You will get to see the huge selection of beautiful, interesting Sugar Daddies and Sugar Babies on the site have to offer, plus get a preview of the layout and chat features.
Want to go ahead and get your photos and account verified? You can do that too at no cost!
Men will especially love that they can take a look at what the paid credit bundles can unlock and decide for themselves if the credits are worth purchasing. It is the best way to know that your money is being spent wisely!
Want to try it out? Check out the free trial link below!
---
Is Secret Benefits Worth the Cost?
Are you a fun, adventurous woman who wants to never spend a dime on their journey to finding a Sugar Daddy? Then Secret Benefits is totally worth it for you!
Are you a sauve, interesting older gentleman who only wants to spend money on ladies that actually pique your interest? Then you are going to really love Secret Benefits' no-membership pricing system!
Sign up is quick and easy and getting your account verified takes about 60 seconds! Check out the link below to get started, today!