Here's an online dating site that you'll definitely want to check out if you're seeking Russian cuties from all around Europe: Russian Cupid. This site is an exclusive singles community of over 1.5 million members. We've got the price breakdowns below for all membership options. Make sure to check out the free trial information too, as this free membership is a great way to check out Russian Cupid for yourself.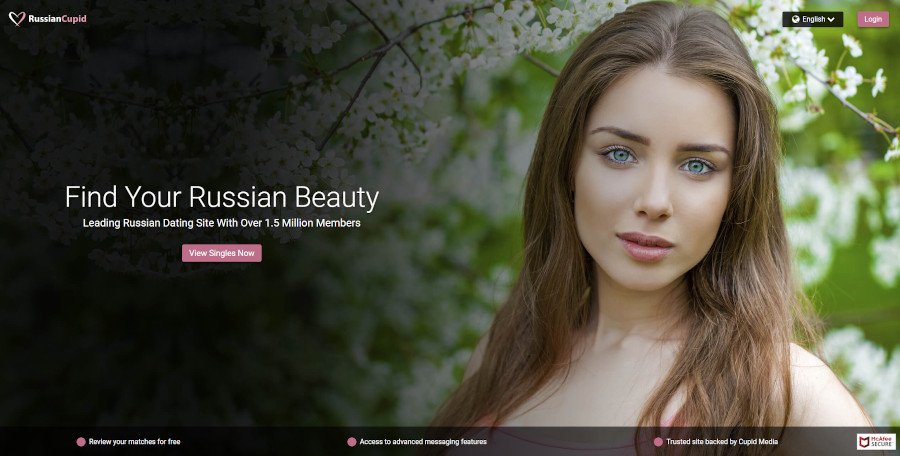 The Price of a Russian Cupid Membership
In addition to the free trial membership, Russian Cupid has 6 paid membership subscriptions available to choose from. All of these plans offer you access to elite features like messaging any member, removal of ads in your browser window (and mobile app), and lots of profile highlight features.
| Membership Level | Monthly Cost | Total Cost |
| --- | --- | --- |
| Gold - 1 Month | NA | $34.99 |
| Gold - 3 Months | $23.33 | $69.98 |
| Gold - 12 Months | $11.67 | $139.99 |
| Platinum - 1 Month | NA | $39.99 |
| Platinum - 3 Months | $26.66 | $79.98 |
| Platinum - 12 Months | $13.33 | $159.99 |
---
Russian Cupid Payment Options
Visa
American Express
MasterCard
PayPal
Paysafe card
Bank transfer
Skrill

Securing your paid membership with Russian Cupid is quick and easy. Sign up only takes a couple steps once you've reviewed the type of plan you'd like to go with – they each offer different lengths of memberships and also access to lots of "bells and whistles!"
Russian Cupid accepts most of the major credit cards, PayPal, bank transfer, and other methods. So they keep it pretty easy. Remember that whatever method you choose, the membership will auto-renew if you don't change it by the end of your membership term.
A Breakdown of Russian Cupid Costs and Membership Prices
Membership plans on Russian Cupid get you access to a fun online community of attractive singles located all across Europe. While the free trial is a good sneak peek, you're going to want to upgrade to a paid membership so you can communicate freely and gain access to their advanced matchmaking picks.
Russian Cupid's Gold Plans range from 1-, 6- and 12-month plans. These value-priced plans give you access to messaging all members on the site and also get you into the chat rooms, where you can chat live with singles from all around the world. These features are also available on their mobile app.
The Gold plans also allow you to browse anonymously through other members' profiles and removes all annoying ads from your view of the site. Platinum membership plans also have these same features as the Gold plans, but there are a few extras that make it worth the extra cost.
Russian Cupid Platinum memberships are really the elite experience on the site – these members get exclusive ranking above other members in the search results that potential mates see. You also get double the profile space and profile highlighting. Your profile will really stand out with these extra features!
In addition to these cool features, the Russian Cupid Platinum plans have advanced algorithm match choices sent to you every day. So you're always meeting new people every day and your chances of finding love go up. Russian Cupid also offers these members the ability to translate messages into different languages right from in the messaging system. They've really thought of everything you'll need to be successful in your search.
Do Russian Cupid Memberships Auto-Renew?
Yes, Russian Cupid memberships all auto-renew at the end of the current subscription term. So if you currently have a 6-month membership, at about the 5 month mark, you'll want to make any changes to your subscription because the auto-renew is happening soon. Russian Cupid memberships renew at the same rate as your current subscription.
The Russian Cupid Free Trial
The free trial on Russian Cupid is just that – completely free! No credit card or personal information, past your email address, is needed to secure the account. Consider the Russian Cupid Free Trial as your backstage pass to check out the member community and all to get a small taste of all of the neat features that you could experience with a paid subscription.
There are some limitations to the free membership, such as not being able to message any member you find interest in, and not being able to chat with other members in real-time. These are big stumbling blocks that ultimately make the paid accounts worth the extra cost.
Is Russian Cupid Worth the Cost?
So is Russian Cupid worth the cost of a membership? We say yes. The features are fun and make flirting with others singles super easy. The live ready to chat member count was really impressive – about 2,000 members ready to chat at any one time. If you're from Europe or if you're interested in Russian singles, this is the site for you.
Try a free trial account today to check out the elite member community just waiting to meet you. Once you've checked out the community and different membership plans, find the best one for you and then get scrolling! Russian Cupid's matchmaking tools can help you find a match and make love a success for you too.