Millionaire Match is one of the most elite dating sites on the web. It is a place where the most elite singles can gather and meet. Whether their elitism comes from attractiveness or wealth, Millionaire Match hosts some of the most amazing singles you could ever hope to meet.
This high end dating experience comes with a higher price tag. This is par for the course with these types of dating sites, but some can definitely take those prices to an extreme. So, before you sign up for a recurring membership with Millionaire Match, let's take a look at the cost of membership.
In addition, we will see how features are separated between basic accounts and premium accounts to see if the price tag is actually worth it.
Millionaire Match Membership Cost
| Membership Type | Monthly Price | Total Price |
| --- | --- | --- |
| Premium - 1 Month | $70.00 | $70 |
| Premium - 3 Months | $56.67 | $170 |
| Premium - 6 Months | $45.00 | $270 |
Why Is Millionaire Match So Expensive? – 3 Top Reasons
Millionaire Match is definitely more expensive than a lot of popular dating sites. There are a few reasons for this.
First, Millionaire Match's premium features are extensive. We will discuss these features in detail further in this Millionaire Match cost breakdown, but there are dozens of advanced features available for the cost of a premium membership. 
Another reason the price is higher is to match the status of using the site. This is a platform for wealthy singles, and being able to pay the premium membership cost helps to prove your wealthy status. 
The last reason the prices seem high is because of the bundling option. If you bundle together 6 months of service into one payment you are saving around 65% on the standard monthly cost. So, the prices may seem high at first glance, but they break down to a fairly reasonable price that is comparable to standard dating sites. 
Is Millionaire Match a Sugar Dating Site?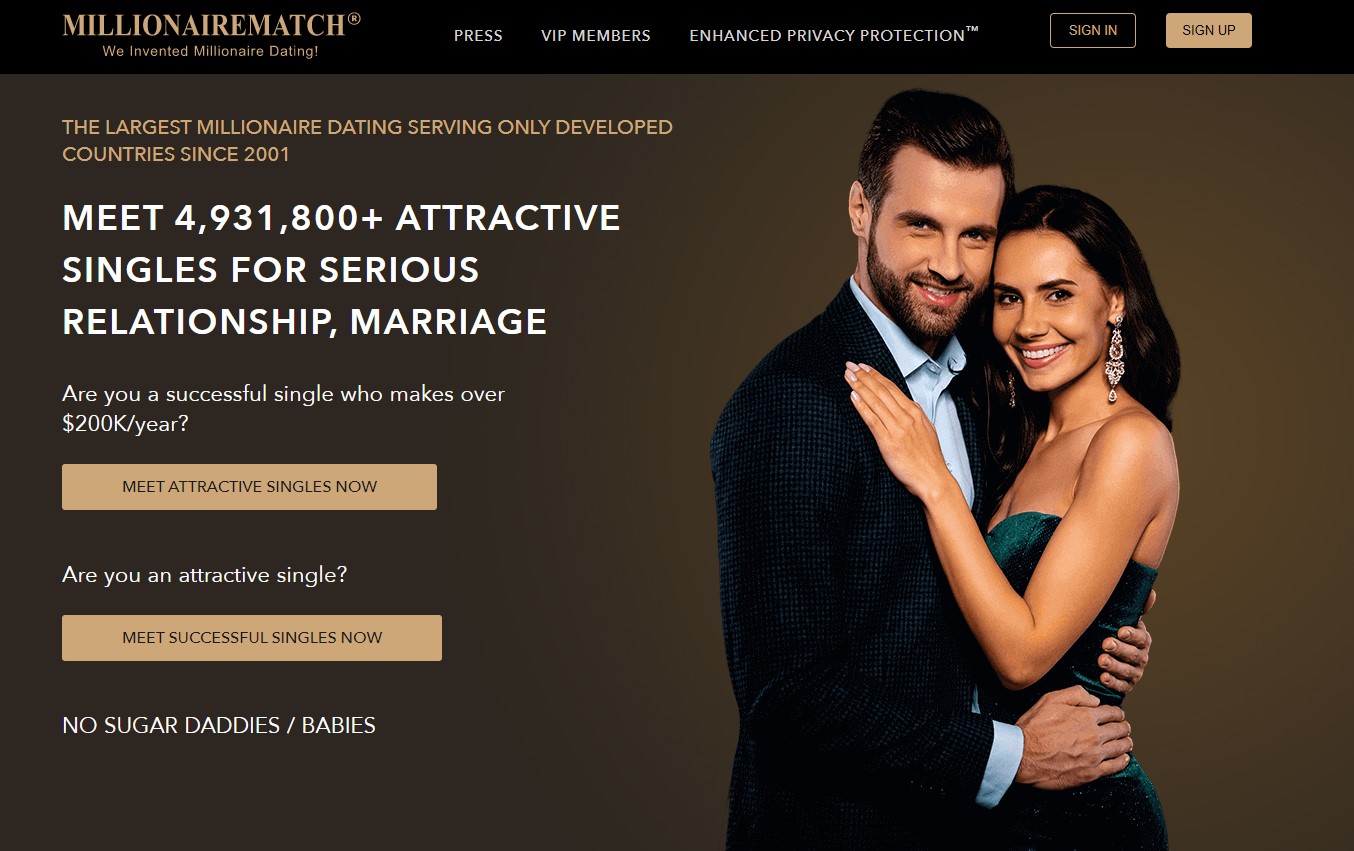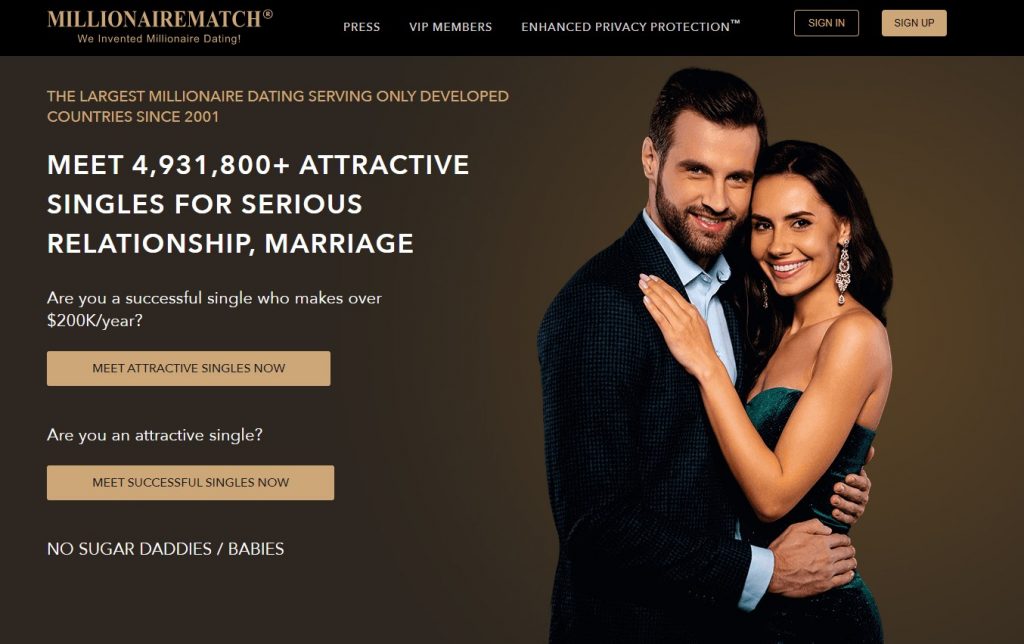 Millionaire Match is not the same as a standard sugar dating platform. The site exists for wealthy, successful people to meet each other or meet attractive singles. The same is true for attractive singles.
While some users may utilize the site for activities similar to sugar dating, that is not the goal of the platform. If you visit MillionaireMatch.com you will clearly see "No sugar daddies / babies" on the homepage.
Free vs Paid Millionaire Match Membership
Free Features:
Request Live Chat Support
Respond to Messages
Send Winks
Upload to a Private Album
Show Off Luxuries
Create and View First Date Ideas
Make Profile Notes
Post and Answer Match Questions
Use Spark Feature
Use Advanced Blog Tools
View User Activity
Post Comments on Profiles, Blogs, and More
Access to Mobile App and Site
Paid Features:
All Free Features
Access MM Counselor
Initiate Messages and Live Chats
Check Online Lists
Respond to First Date Ideas
Advanced Search Experience
Search by Location
Search by Income
See Who Likes/Favorites You
First Look at New Members
View Reverse Matches
View Certified Millionaires
View Login History
Hide Profiles
Browse Anonymously
Take Priority Place in Search Results
Become a Certified Millionaire
Set Profile Privacy Settings
Undo Spark skips
View Dating and Safety Tips from Professionals
Get Priority Customer Support
Get Access to Personal Account Manager
A Look at Users' Favorite Millionaire Match Premium Membership Feature – CERTIFIED MILLIONAIRE
"Certified Millionaires" on MM are those who have gone through a stringent verification process to prove they are exceptionally wealthy. The verification requires proof that a person has earned a minimum of $200,000 dollars for the fiscal year.
Premium users can choose to go through this process which can increase the interest on their account by up to 500%!
Premium users, whether they are "certified millionaires" or not, can access certified millionaire profiles for matching. So, if you want to meet the most elite singles on MM, having a premium membership is the way to go!
Millionaire Match Pricing and Payment FAQ
Payment Types Accepted at Millionaire Match
Millionaire Match can be paid using a few different methods. The main method is credit/debit card. Most major cards are accepted (Visa, MasterCard, Discover, Amex, etc.).
You can also use Paypal CCBill to pay for your subscription.
How Will Millionaire Match Show Up On My Bill?
Millionaire Match makes your billing and records keeping very simple. Your membership will show up on your bill as "MillionaireMatch."
Is My Millionaire Match Membership a Recurring Charge?
Yes. Your membership will renew automatically at the end of your billing period (1 month, 3 months, 6 months). To prevent your membership from renewing, you will need to cancel the auto-renewal before the end of your billing period.
How do I Cancel a Millionaire Match Membership?
Millionaire Match makes it easy to cancel your premium membership. You simply need to log into your account, go to settings, and click "Membership." From within this menu you will find information about your membership and the option to disable your account.
Can I Get a Refund on my Millionaire Match Membership?
If you need to adjust your membership or request a refund, you can do so through the customer contact page on Millionaire Match. There is no refund guarantee, but in some circumstances Millionaire Match may provide a full or partial refund of services.
Try Before You Buy on Millionaire Match
It can take a lot of confidence to be ready to pay for a high end dating app like Millionaire Match, which is why having the ability to sign up for free is so important! With our free trial link, you can get on the road to starting a free membership in a matter of minutes.
There's no need to add credit card information and no risk of being charged a recurring fee after your trial. You can try out the free version of the site for as long as you please and when you are ready to take the next step, sign up for a full premium membership.