If you're looking for the most up-to-date Military Cupid cost sheet, you've come to the right place. In the chart below, we'll break down the costs of each type of membership offered at Military Cupid. Additionally, we'll break down exactly what you get and what you don't get with each member in the sections below.
The Military Cupid cost of membership depends on whether or not you select their gold-level membership or their platinum-level membership. Pricing per month gets cheaper the longer the membership that you sign up for. Military Cupid also comes with a few different free trial options that we'll outline for you below.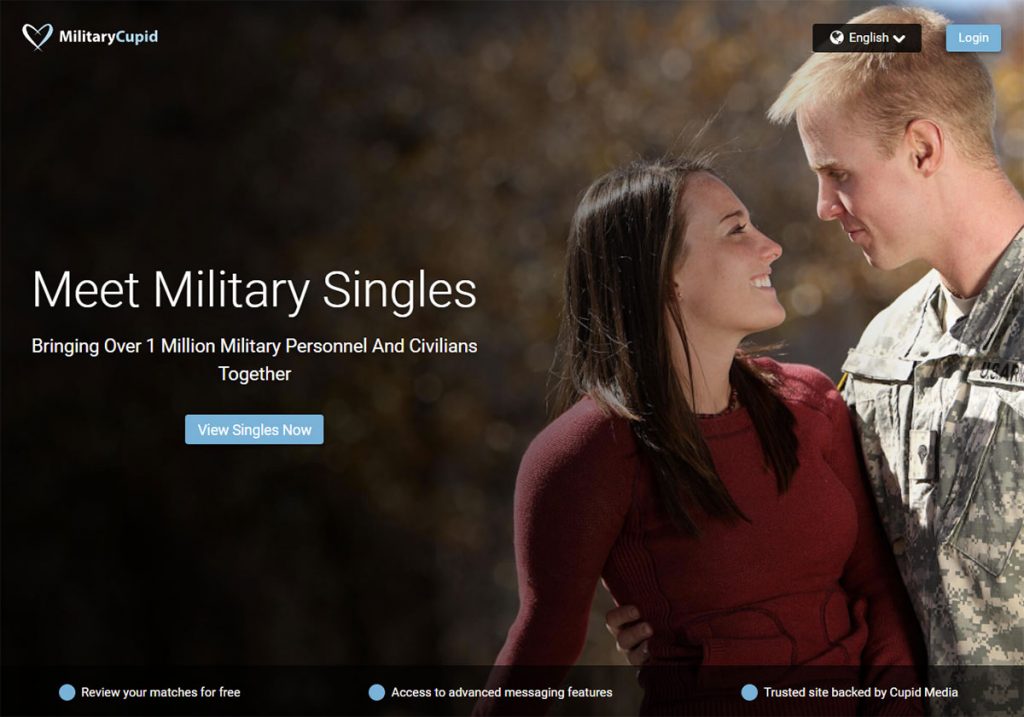 | Membership Type | Membership Length | Monthly Cost | Membership Cost |
| --- | --- | --- | --- |
| Gold | 12 Months | $11.25 | $134.99 |
| Gold | 3 Months | $22.49 | $67.48 |
| Gold | 1 Month | $33.74 | $33.74 |
| Gold | 1 Week | $67.4 | $16.85 |
| Platinum | 12 Months | $14.17 | $169.99 |
| Platinum | 3 Months | $26.66 | $79.98 |
| Platinum | 1 Month | $39.99 | $39.99 |
| Platinum | 1 Week | $79.92 | $19.98 |
| Diamond | 12 Months | $28.33 | $339.98 |
| Diamond | 3 Months | $53.32 | $159.97 |
| Diamond | 1 Month | $79.98 | $79.98 |
| Diamond | 1 Week | $160.00 | $40.00 |
---
Membership Options
Depending on the membership you choose, the Military Cupid cost and features you receive will be different. Captain obvious, we know. If you select the Gold membership, you're going to be looking at a starting monthly price range between $10 and just under $30. As you might expect, the longer the term you agree to, the lower you will be on the scale of monthly costs. A 12-month Gold Membership will run you just over $11 a month while a 12-month Diamond Membership will run you $28.33.
With the Gold Membership, you'll get the basic features you get with your free trial as well as full messaging capabilities with ALL members. We put all in caps because you'll be able to communicate with free trial members who haven't paid to upgrade. Basically, anyone, who is on the site you can contact and message. Can they write you back if they don't upgrade? Yup! That's one of the coolest perks of the membership and makes the already low Military Cupid cost of membership even more worth it.
Additionally, the Gold Membership will also get all ads removed from your member area, give you access to the live chat function, and the ability to hide your profile and browse anonymously.
The Platinum Membership falls within the price range of $14.17 to $39.99 depending on the length of membership you sign up for. The one-year membership drops the price to $14.17 a month and the higher price is for a one-month-only membership. If you want something in the middle, you can always purchase the 3-month Military Cupid membership for just over $26 a month.
Diamond membership is double the price of Gold but comes with so many more perks that it is a really attractive option. It allows others to see Diamond profiles easier and more often, including the auto-translate feature and higher ranking, this will help you find love quicker.
Regarding features, you get everything you get with the gold membership plus some added features to increase your chances of being found on the site. These include ranking above other members in searches, doubling your profile space, VIP profile highlighting, the ability to translate messages if need be, and advanced matching algorithms.
Military Cupid Cost Comparison by Membership Type
The paid memberships come with the same messaging capabilities, but you do get some added perks with the Platinum and Diamond membership. Platinum gives you a lot better odds of finding a match with increased search function and highlighting. It's really going to be up to you whether or not you want this feature. In our opinion, you can use Military Cupid with the Gold membership and still have a lot of success. The Platinum and Diamond upgrades are there if you want a little added boost.
The fact that the Military Cupid cost of the Platinum membership is only a few bucks more does make it quite appealing. Again, though, your time at Military Cupid will probably still be enjoyable with the Gold membership. The Platinum is only an extra $3-$5 a month depending on the term length you pick.
We recommend that you start with the free trial from the link at the bottom or top of the page, add a picture to get the free hour as Platinum on Military Cupid, and check things out. If you like what you see, then you can make the decision on whether or not you want to go Gold or Platinum. We do recommend that whichever membership you go with, you opt for a longer term. With some online dating sites, the difference isn't much, but it's significantly cheaper when you go out for a year.
Payment Options
Something we thought was pretty cool with Military Cupid is that they were set up to take payment through a lot more different means than most online dating sites. They take major credit cards including VISA, AMEX, Discover Card, MasterCard, and Diner's Club. They also take PayPal, Paysafe Card, bank transfers, and Skrill (the website formerly known as MoneyBookers).
All Military Cupid membership costs are paid at the time of purchase. This means that while the prices are broken down per month, you'll be paying for your entire membership upfront. This is why they are giving you the discount. This is pretty standard across all sites in the online dating industry.
Auto-Renewal
All Military Cupid memberships are set up to renew automatically. This means that at the end of your membership term you will be billed again for the same length term and your membership extended. If you don't want this to happen, just go into your settings and switch it off or contact support and ask them to remove it for you. You can do this from day one and then still use your membership for the duration that you paid for. We actually recommend you turn off the auto-renewal on day one and then you can always turn it back on if you want to spend more time on the site.