When we talk about the Coffee Meets Bagel cost, we're not referring to the price of a latte and a schmear. However, we will cover bagels and beans, as they're the key to success in this uniquely named dating app.
Bagels might soon be your objects of affection, and beans are the way to reach them.
Intrigued? We were too, so we spent some time researching the cost of Coffee Meets Bagel (aka CMB). And, we're going to share all of the juicy details with you so that you can place your custom order.
Coffee Meets Bagel Membership Cost
| Membership Type | Membership Length | Monthly Cost | Total Cost |
| --- | --- | --- | --- |
| Basic | Ongoing | $0.00 | $0.00 |
| Premium | 1 month | $34.99 | $34.99 |
| Premium | 3 months | $25.00 | $74.99 |
| Premium | 6 months | $20.00 | $119.99 |
| Premium | 12 months | $15.00 | $179.99 |
Key Takeaways of the Coffee Meets Bagel Cost
The Coffee Meets Bagel cost of a basic membership is free
Only one level of premium membership
Save more when you prepay for multiple months
Three-month and longer CMB memberships are paid in full (not monthly)
You can take advantage of a more than 55% savings paying for an entire year compared to the month-to-month CMB premium plan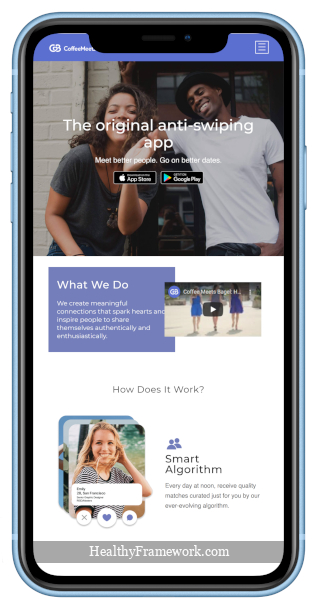 Coffee Meets Bagel Alternatives (with free trials)
---
Is Coffee Meets Bagel Relatively Expensive?
When you compare the Coffee Meets Bagel cost to other similar dating apps, you'll find that they're pretty much comparable when it comes to monthly memberships.
CMB shines with its annual plan, though. A month of premium access is just slightly higher than what you pay for a single movie ticket. But you have to be willing to go all-in and prepay for a year.
It's a bit of a quandary, though. The cost of Coffee Meets Bagel's premium membership is appealing. But the premium plan is designed to elevate your profile and increase your match potential. So, if all goes as planned, you might only need a month (or a week?).
Coffee Meets Bagel's Premium Membership Plans
Before we list the perks of the CMB premium membership, the first thing you'll want to know is that the benefits are slightly different based on your smartphone. Apple users have a few more options, but Android access provides quite a few more beans. And, as we mentioned, beans could be the key to brewing up mutual likes.
CMB Premium Membership Benefits – iPhone Users
Activity Reports
Read Receipts
One Monthly Boost
Bonus Beans – 15% more than non-premium members
Eight Monthly Likes in Discover
Unlimited "Skip the Line" Opportunities
CMB Premium Membership Benefits – Android Users
Activity Reports
Read Receipts
One Monthly Boost
Bonus Beans – 6,000 free beans
It all boils down to iPhone-using bagels (aka CMB members) assigned specific features. However, Android-using bagels receive more beans, providing more flexibility in spending them.
Specific CMB Premium Membership Perks
Every dating app uses different designations for member benefits and tools. For example, beans are pretty much a Coffee Meets Bagel exclusive, which makes sense.
Even a simple designation like "activity report" can have multiple meanings, though. If you're willing to pay the Coffee Meets Bagel cost of premium membership, you get access to activity reports that clue you in on other bagels. They'll cover things like how many times a member makes the first move or their habits within the CMB community.
The read receipts feature gives you a heads up when someone you're interested in has accessed your message.
Worth the Coffee Meets Bagel Cost of Upgrading
However, the monthly free boost might be one of the most valuable perks of CMB premium access.
You'll be a star for 48 hours, pushed to the top of the list. So, your profile will be the first thing many bagels will see when they open the app. It's like hitting number one in Google search results!
The Cost of Buying Beans on Coffee Meets Bagel
You can't make coffee without beans. While you could meet a bagel without them, it's easier if you have a bag handy.
Beans are the currency within Coffee Meets Bagel. They pay for things including "likes" and more bagels in the daily suggested list, which comes out at noon. If you're not a premium member, you can unlock read receipts and activity reports, but you'll have to pay every time.
Bag of 200 – $2.99
Medium Bag – $4.99
Bag of 3,000 – $24.99
Premium CMB members receive 15% more than bagels on the basic plan. But premium members don't need to purchase beans like everyone else, as most of the "bean perks" are included in the price of Coffee Meets Bagel premium access.
Coffee Meets Bagel Payment Options
Google Play
App Store
Credit cards
Debit cards
Gift cards
PayPal
The Coffee Meets Bagel cost of membership and buying beans is all handled through the Google Play or Apple App Store. So, we've included a comprehensive list of ways to pay, but it depends on your device and which banking methods you've connected to your app account.
CMB doesn't specify which cards or e-wallet to use. That's up to Google or Apple, which should make it easier for you to get started, change plans, or cancel when you're ready.
Do Coffee Meets Bagel Memberships Auto-Renew?
We live in a world where our bank or e-wallet accounts are hit with seemingly endless debits as most services rely on auto-renew for convenience and consistency.
But, while the cost of Coffee Meets Bagel is automatically renewed depending on your plan, you don't have to jump through too many hoops to stop it whenever you want. You could even make your payment and stop future debits from the Google Play or App Store. That's handy if you wish to give the app a try for a month or take advantage of the multi-month discount but avoid future charges.
Does Coffee Meets Bagel Offer Free Trial Accounts?
Not only does Coffee Meets Bagel offer a free trial account, but we've got your hook-up to it.
Our Coffee Meets Bagel free trial page will clue you in on everything you can and can't access without paying a dime. You might be surprised at how much you get with nothing more than your investment of time and maybe a few magic beans.