Ever wonder how much it costs to get a membership at Bumble? While the basic membership is free, there are a lot of premium options and upgrades available you may be interested in getting. In this guide, well walk you through everything you need to know about the Bumble cost, the membership plans, payment options, and auto renewals.

Bumble Cost
| Membership Type | Membership Length | Membership Cost |
| --- | --- | --- |
| Premium | Lifetime | $149.99 |
| Premium | 6 months | $99.99 |
| Premium | 3 months | $59.99 |
| Premium | 1 month | $29.99 |
| Premium | 1 week | $13.99 |
| Premium | 1 day | $3.49 |
| Boost | 6 months | $59.99 |
| Boost | 3 months | $39.99 |
| Boost | 1 month | $18.99 |
| Boost | 1 week | $6.99 |
| Boost | 1 day | $1.99 |
| Spotlights | 1x | $4.99 |
| Spotlights | 5x | $12.99 |
| Spotlights | 15x | $29.99 |
| Spotlights | 30x | $49.99 |
Key Takeaways of the Bumble Cost
The basic Bumble membership is free, but you are limited in what you can do without upgrading to a paid account.
Optional deluxe features include Bumble Boost, Bumble Premium, and Bumble Spotlights.
Weekly, monthly, three-month, six-month, and even daily billing cycles are available for upgraded memberships.
A one-time lifetime Bumble Premium membership fee is less than nine months of subscription-based service.
Bumble Bizz and Bumble BFF are included in all of the subscriptions, including the free basic Bumble membership.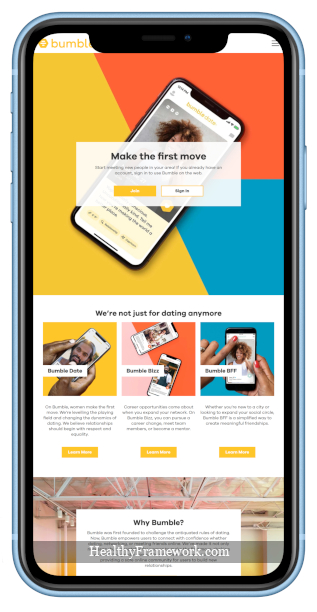 Bumble Alternatives to Try (With Free Trials)
Is Bumble Expensive?
Bumble is one of the rarities with dating apps in that its basic plan is entirely free. Simple registration with no payment method required is all you need to get the ball rolling.
Of course, if you're serious about meeting someone, you want to give yourself as much of an advantage as possible, and that's where the upgrades come in handy.
Bumble is all about making quick decisions. If you snooze, you lose with your potential matches. But the deluxe memberships give you options to extend your decision-making window, backtrack, and take advantage of unlimited swipes.
You can get by with the free membership. But even with the upgrades, Bumble is one of the more affordable dating apps. Paying for multiple months in advance can save you as much as 74%, keeping your price for a Boost add-on to well under $10 a month.
Bumble's Premium Membership Plans
Bumble has two premium membership plans – Bumble Boost and Bumble Premium. The concept is similar, but Bumble Premium has a few extra features and an affordable lifetime membership.
You might wonder why you'd upgrade a Bumble membership if you could get by with a free service. There are plenty of Bumble users who stick to the basics, but most find that putting the spotlight on themselves or telling someone they're "confidently interested in them" with a SuperSwipe is useful.
Other benefits to the premium membership plans are the options to backtrack, rematch, and extend the time on current opportunities.
Bumble Boost
One Spotlight
Five weekly SuperSwipes
Unlimited Swipes
Extend matches for an additional 24 hours
Backtrack
Bumble Premium
One Spotlight
Five weekly SuperSwipes
Unlimited Swipes
Extend matches for an additional 24 hours
Backtrack
Rematch with expired users
Access advanced filters
Access the list of admirers in the "Beeline" who have expressed interest
Travel mode – connect with Bumble users in other locations
When you compare plans, there doesn't seem to be enough incentive to warrant more than double the Premium cost over Boost. But, again, that Bumble Premium lifetime membership is the best opportunity overall. You won't have any subscription payments, and you can take advantage of all of the tools in the Bumble toolbox.
Spotlights
If you're not interested in a full Premium or Boost upgrade, you could always take the Spotlight route. It's a simple service that elevates your user profile, moving you to the top of the stack for 30 minutes.
For less than $2 a pop, you can buy a package of 30 Spotlights – a single purchase, no auto-renew required.
Bumble Payment Options
Google Play
iTunes
PayPal
Credit Cards
Venmo
Recently, Bumble added Venmo as a payment option. This is always a nice touch as any additional options are always welcomed in the payment processing department.
Do Bumble Memberships Auto-Renew?
Yes, Bumble memberships do set to auto-renew upon purchase. Unless you have a lifetime Premium membership, if you opt-in to the Boost or Premium plans, they will auto-renew daily, weekly, monthly, quarterly, or semi-annually based on your preference.
As Bumble relies on Google Play and iTunes (Apple) for membership payments through the app, you can easily cancel your plan directly through either provider. If you're using Bumble Web or a credit card on Android devices, click on your profile photo and cancel by clicking "manage your subscription" or "manage your boost."
Does Bumble Offer Free Trial Accounts?
There's no need for Bumble to offer free trial accounts as the basic membership is free. While there's no free trial for the deluxe features, you can give them a test drive. Weekly plans are available for both the Premium and Boost add-ons – just don't forget to cancel if that's your intent, as weekly plans auto-renew as well.
Frequently Asked Questions About the Cost of Bumble
What happened to Bumble coins?
Bumble is replacing its Bumble coin program with the two optional deluxe membership upgrades (Boost and Premium). Additionally, the pay-per-feature opportunity provided by Bumble coins is now known as Spotlight. You can buy anywhere from one to 30 Spotlights at a time to shine the light on your profile.
Do I have to provide a payment method when I join Bumble?
When you use the Bumble app, it links to your Google Play or iTunes account. However, you're not charged anything unless you decide to upgrade to Bumble Boost, Bumble Premium, or purchase Spotlights. If you are using the web platform, you also don't need to link a payment source unless you are planning to upgrade to premium.
What is Bumble Bizz, and how much does it cost?
Bumble Bizz is a part of the overall Bumble service focusing on business networking. Career changes, mentoring, expanding your contacts are all integrated into Bumble Bizz, which, in turn, is part of the full Bumble service. There are no additional costs involved with Bizz.
How about Bumble BFF? Do I have to pay extra?
Like Bumble Bizz, Bumble BFF is part of the overall service. BFF focuses on friendships instead of romance and is free to use.
Does Bumble accept PayPal?
Yes, Bumble accepts PayPal for premium memberships.
Does Bumble accept Venmo?
Yes, Bumble recently added Venmo as a payment option for premium memberships and add-ons.
Does Bumble offer refunds on purchases?
No, Bumble clearly states in its Terms of Service that there are no refunds on any purchase, no matter the reason. It also goes further to state this includes if you are not happy with the quality of the service.