Maybe you heard it mentioned on a commercial, or you overheard someone talking about it at the water cooler at work? Or maybe your mom was butting into your dating life asking if you've given it a try? We're talking about the online dating site eHarmony. And if you're brand new to all of this internet dating stuff, you might be wondering what is eHarmony?
Well, we're about to get you all caught up on the latest information about eHarmony. Here's what we're going to cover in this article.
What is eHarmony?
How does eHarmony work?
eHarmony Resources
How long has eHarmony been in business?
Who is eHarmony made for?
How do I try eHarmony out myself?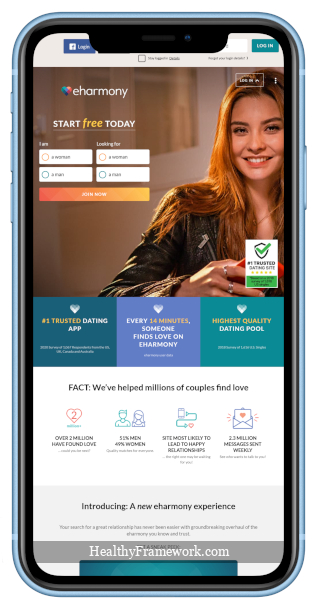 > Get an eHarmony Free Trial Account Now
What is eHarmony?
eHarmony is an online dating website and app that predominantly markets to single men and women who are looking for serious relationships, committed partnerships, and potentially marriage. While many people think that eHarmony is a Christian dating site, it's actually a secular dating site that caters to all faith walks and age groups.
What is eHarmony NOT
eHarmony is not an exclusive Christian dating site.
eHarmony is not only for people who want to get married right away.
eHarmony is not a dating site for people looking for hookups.
eHarmony is not a low-budget online dating site.
How does eHarmony work?
The area where eHarmony differs from many other online dating sites is how the site works to match singles. Traditionally, online dating websites and apps work on the "shopping" or "catalog" mindset. This is where you sign up and then have a big list of singles that you can search, swipe, or scroll through. It's certainly a quantity over quality approach.
With eHarmony, though, the site puts a lot more weight into their matching algorithm and structured communication. Instead of giving you access to hundreds or thousands of singles, eHarmony has you go through an in-depth matching questionnaire/quiz to find out what's important to you in a mate. When you complete this, the site compares its findings with the other singles in the network to determine the best matches for you.
And then instead of turning you lose to start chatting, eHarmony works through what it calls structured communication. This process slows things down and really puts the focus on getting to know one another.
Does this all work? Well, eHarmony is responsible for over 2 million people finding love so far—and counting. It's hard to knock how eHarmony works with so many positive results and happy couples.
eHarmony Resources
How long has eHarmony been in business?
eHarmony was founded in August of 2000 in Pasadena, California. Currently, the company is headquartered in Los Angeles, CA. As the company passes the two-decade mark, it's safe to say that eHarmony has solidified its position as a leader in the online dating space.
Here are a few more facts about eHarmony:
The company was founded by Neil Clark Warren and Greg Forgatch.
eHarmony was the first online dating site to boast a matching algorithm.
ProSiebenSat.1 Media, a German company, purchased eHarmony in 2017. The adjusted enterprise value of the acquisition was $85 million.
Who is eHarmony made for?
eHarmony is 100% designed for single men and women looking for serious relationships. The marketing messages, longer sign-up process, slightly higher pricing, and overall atmosphere of eHarmony work hard to deter singles who are looking to play games or may be flaky about what they want. If you're someone who is looking to find real love and a committed relationship, eHarmony is a must-try.
How do I try eHarmony out myself?
If you'd like to check out eHarmony, we'd encourage you to try out the eHarmony free trial now. While there are limits to the free trial, it does allow you to take your matching questionnaire, set up your profile, upload photos, and start testing out many of the dating app's features. Additionally, the site often offers discounted pricing to people who have signed up for the free trial (not publicly posted).
Click here to try eHarmony now.