If you ask anyone, married or single, to name online dating apps or services, you will no doubt hear a big majority of them (especially those over 30) mention Match.com. Launched all the way back in 1995, Match was a bit of a pioneer when it came to using digital means to connect singles.
And while our team has already conducted a pretty exhaustive Match.com review, there's a section that people always want to know more about—the pros and cons. What are the very specific things that make Match.com great, and what are the very specific things that might be cause for concern for someone considering joining?
If you haven't already, we'd encourage you to start by reading the review linked in the previous paragraph. But if you just want the down and dirty quick facts, let's dive into the pros and cons of Match.com right now.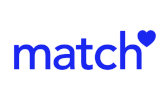 4 Biggest Pros of Match.com
Starting off, we want to share the things that Match.com does well. Obviously being in the industry for over 25 years (approaching 30 years), there has to be a lot that people like about you.
1. An established track record that should build trust
We just said it but we need to make sure it's on the list. When you're in business for as long as Match, you have to be doing something right. We'd certainly include their track record and ability to continue generating new business as a big pro.
2. A well-regarded mobile app experience for iOS
Match has a 3.8 out 5 star review on the iOS app store. The Android rating is still pretty good at 3.3, but not quite as good as the app store rating. Reading through the reviews, users reports that while they app may feel a bit dated, it does operate smoothly and reliably. If you're someone looking to date online by using your Apple device, this is certainly a positive to be aware of.
And in Match's defense about Android, almost all dating apps we've reviewed tend to have lower review scores in the Google Play store.
3. International options (not just the US)
Currently, Match.com is available in 60 different countries around the world. While the global sites don't all intersect (you can't really use this as an international dating app option, it's still pretty neat to see service offered to all of these different areas. If you're based somewhere other than the US, this is a welcomed pro of Match.com. The biggest markets we're aware of are the United States, the UK, and Australia.
4. Mutual match features
We have our reservations about swipe-style features and how healthy they may be to use, but we'll keep that to ourselves for today. What's important is that the latest trend in the market is for mutual match type features where you indicate interest in a match and if they also have interest, they let you know.
Many of the more traditional and "serious" dating apps have stayed away from adding this functionality (or added it and removed it). But if that's something you want, you'll be happy to know that Match.com does have a mutual match feature integrated into their platform.
3 Biggest Cons of Match.com
As is the case with literally anything in the world, there are two sides to every story. Now that we've looked at the biggest pros of the Match app, let's talk about the drawbacks, or cons, of Match that you should be aware of.
1. History of fake profiles and fake messages that resulted in a law suit
Let's face it. Online dating is never going to be perfect, as even apps with the tightest security run into issues with hackers, scammers, catfishing, and other disreputable users.
But we include fake profiles on our Match.com cons list as the issue has come up frequently over the years. Additionally, the FTC sued the dating service in 2019, alleging that Match created false messages to entice free members to pay.
As Match.com was set up at the time, free trial users couldn't read their messages. The suit claimed that Match.com sent free users false communications that they knew were from fake accounts. The correspondence led these users to believe that quite a few singles were interested in them, prompting a plan upgrade.
It's never great when a dating service is called out for deceptive practices. Most likely this problem has been rectified since the suit but it's something to keep in mind if you decide to join the Match community.
2. Lack of updates to the platform
While we're sure that Match does release updates for security purposes and browser compatibility, it's been quite a while since we've seen much done to the look and feel of the site. While you could argue that if it's not broke, don't fix it—we'd still like to be using a platform that makes us feel like we're on the latest and the greatest.
All we're saying here is that we'd really like for Match to head into the digital spa and get a facelift.
3. We're not completely sure on who Match.com is best for
Most dating apps out there focus their efforts on a particular group (Asians, fitness lovers, college students, etc.) or on a particular relationship goal (serious, marriage, casual, etc.). And when apps do this, it helps them to really offer a higher level of service as you don't have users getting bombarded by people they don't want anything to do with.
With Match, we're not really sure if they're designed for casual dating or for more serious dating. The problem is that mixing these two groups of people is usually the worst recipe for a dating app. There's nothing worse than looking for love and having to deal with people who are only looking for hookups.
Now, in Match's defense, they do have some filtering in place where you can separate some of these things out, but we'd really prefer for them to choose a direction and go for it.
If it sounds like Match isn't going to be the right fit for you, here's a link to some Match.com alternatives you can check out.