You've undoubtedly seen the commercials, and you may have already read our review of eHarmony. So, you know that it's one of the highest-rated dating services and has been for more than 20 years.
But, despite the hype and overwhelming positive feedback, you'll still want to weigh the pros and cons of eHarmony before you dive into the dating pool.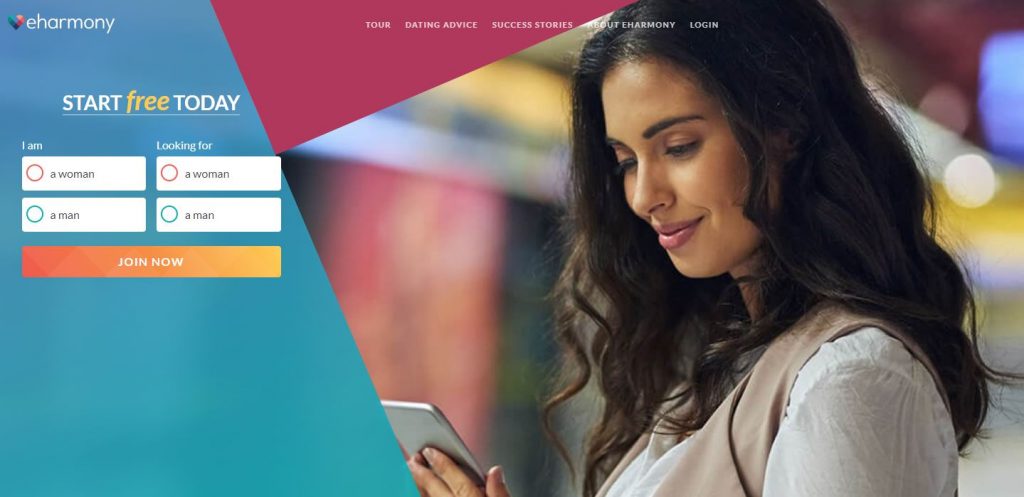 Pros of eHarmony
More than 20 years in the business with a proven track record
Compatibility quiz with the proprietary 32 DIMENSIONS® model
Balanced membership
Free communication weekends
Video dating
Focuses on long-term relationships
eHarmony Longevity
It wasn't the first, as Match.com launched in 1995. However, eHarmony has been around for more than 20 years. The website was introduced in 2000, making it the first algorithm-based service.
Only about half of small businesses endure the first five years, and not only did eHarmony survive, but it thrived. The company boasted six million users five years in and has hovered around the five million annual member mark ever since.
This particular dating site promotes that its users find love every 14 minutes. That amounts to more than 2,000,000+ successful matches! So, you can see why we put longevity and track record on eHarmony's pro list.
Compatibility Formula
These days you can join pretty much any dating site and take advantage of some proprietary algorithm. It's the math behind the matches, and more data equates to greater accuracy.
As we mentioned, eHarmony was the first to introduce a more scientific approach to matchmaking with its algorithm, and it continues to lead in that area. Most people are aware of the extensive onboarding process that began with 150 questions. Today's compatibility quiz is 80 questions, all part of a 32 DIMENSIONS® model covering "values, attitudes, habits, and interests."
Registration is both a pro and con of eHarmony as it takes a while, but 45 minutes of soul searching leads to millions of soulmates.
Balanced Membership
Let's say that you're a woman excited to go into a hot new club in your neighborhood, and you're intent on meeting a man who could be that special someone. You walk through the door and enter a sea of other women. The ratio is about 90/10, so the odds are not in your favor.
That same scenario applies to some dating apps. You'll find that many skew in one direction or the other.
eHarmony publicizes a balanced membership, though, with near equal registrations from men as women.
Free Communication Weekends
They're kind of a well-kept secret, at least until the big announcements. But we have to include Free Communication Weekends as one of the pros of eHarmony. That's because they give potential users a chance to try the premium service without investing anything but time.
There's no official Free Communication Weekend calendar, but we've got an entire eHarmony free communication weekend post dedicated to them. It includes tips on when to expect the event reveals and how you can receive invites in your inbox.
Video Dating
Even though the service hasn't evolved significantly since 2000, eHarmony's video dating service is a new and welcome addition.
Video dating is a premium option recommended after you get to know someone through messaging first. It's a safe and secure option for a first date and a way to narrow the field even more.
Just like other communication methods, it's up to you whether or not to participate, though. If you receive an invitation to a video date, you can accept or reject it – no pressure.
Long Term Relationships
We include long-term relationships on the benefits list, as there are more apps focused on dating and fewer that lead to long-lasting commitments.
eHarmony isn't premised to send you out on a bunch of dates to see what sticks. Instead, it handles the vetting process. So, when you're matched with someone, there's a genuine possibility of true compatibility.
Cons of eHarmony
Lengthy sign-up process
Membership pricing is comparatively higher than most competitors
No Instant Gratification
As we mentioned, the lengthy sign-up process is on both sides of the pros and cons list for eHarmony, because it's all in the way you look at it.
Yes, you have to invest quite a bit of time to get started with this particular dating site. However, when you look at the track record and read success stories, that effort pays off with quality matches.
eHarmony isn't a swipe right and swipe left dating service. It's designed for singles serious about long-lasting relationships. So, if you want to leap right in with a five-minute process, then you'll probably be happier with a different dating app.
Membership Pricing
Not only do you have a more significant time commitment, but eHarmony is a pricier dating app. We don't even like to use "dating app" as the designation, though, as it's more of a full-service matchmaking provider.
Even though you will find a higher price tag on eHarmony than most, it's not significant, especially if you're willing to prepay for a year or two.
One Plan but Three Ways to Pay
This particular service has one premium plan with different price points depending on how many months you pay in advance. If you opt for one month at a time, then you'll find that eHarmony is about twice as much as what most competitors charge. But if you go all-in for a year or two, the price drops almost 50%.
So, while we include membership pricing on the con list, it doesn't need to stay there.
Overwhelmingly More eHarmony Pros than Cons
When we compiled our list of top pros and cons of eHarmony, we focused on singles looking for committed relationships. It's a dating service premised on long-lasting love. So, keeping that in mind, you can see how there are many more positives than negatives.
Of course, we recognize that some people like more options and are looking to meet as many other singles as possible. From that perspective, you might find that the pros are cons in your book.
eHarmony isn't ideal for quick hookups or securing a date for every night of the week. It's time-consuming to register, and you won't receive long lists of potential matches. But if you're willing to put in the time and provide honest answers to the compatibility quiz, you could end up with a spot on the two-million successful matches (and counting) list!