One of the best ways to evaluate the quality of anything in life is to look at the pros and the cons. And when it comes to online dating apps—that's no different, especially when you have literally thousands of options to choose from.
If you happen to be honing in on eHarmony as an option, that's where we want to spend our time today. And before we get started, if you haven't already, take a minute to read our full review of eHarmony. Coupling the information in that review with the list of pros and cons here, you'll have all the information you need to make an informed decision.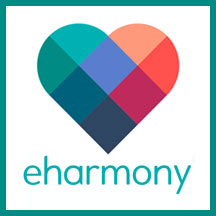 5 Pros of eHarmony
Starting off on a positive note is always fun, and that's what we're going to do today. Here are five of the biggest pros about using the eHarmony dating app.
And just in case these pros get you excited to give things a try, we've include a link to the eHarmony free trial at the bottom of the list for your convenience.
1. Longevity and a proven track record of success
It wasn't the first, as Match.com launched in 1995. However, eHarmony has been around for more than 20 years. That's literally two decades. And in that timeframe, we've seen changes, adaptation, and growth that helped keep eHarmony at the top of the industry.
What this means for you is a proven partner that is battle-tested and has the results to back up it's claims. Over the years, eHarmony has been referred to as the dating site responsible for the most marriages and for helping over 2 million people find love.
2. A well-balanced membership
No matter how you choose to slice and dice the membership base at eHarmony, one phrase always comes to mind—well balanced. eHarmony states that their current mix of men and women on the site is 51% men and 49% women. No matter what type of relationship you're looking for, this means a lot of options and not an overload of competition.
When it comes to ethnic diversity and cultural diversity within the eHarmony membership base, all we have is anecdotal evidence. However, from our test searches and review process, we've seen nothing but great things across the board which would signal great balance
3. Free Communication Weekends
They're kind of a well-kept secret, at least until the big announcements. But we have to include Free Communication Weekends as one of the pros of eHarmony. That's because they give potential users a chance to try the premium service without investing anything but time.
There's no official Free Communication Weekend calendar, but we've got an entire eHarmony free communication weekend post dedicated to them. It includes tips on when to expect the event reveals and how you can receive invites in your inbox.
4. A proprietary matchmaking algorithm
eHarmony was the first to introduce an intense scientific approach to matchmaking with its algorithm, and it continues to lead in that area. You may or may not be aware that when you create an eHarmony account, you're asked to answer about 60-70 questions covering a whole host of things about you, what matters to you, your life, and a whole lot more.
eHarmony takes your answers and uses it to provide you with incredibly compatible matches. What this means for you if you don't have to waste your time searching for matches and the higher quality means better odds of finding someone special.
5. An impressive effort to get rid of flaky singles
With most online dating apps, it takes about two minutes to join and there aren't many checks and balances in place to make sure you're serious about being there. This results in larger membership bases, but ones that are filled with flaky singles who are much more prone to just wanting to things like flaking and ghosting.
eHarmony goes above and beyond to ensure that the singles on the app are serious about finding a committed relationship. This is accomplished through intentional marketing, the longer sign up process, membership price points, and a whole host of clever features and integrations.
4 Cons of eHarmony
In the spirt of being fair and balanced, we also want to make sure we share the drawbacks and the eHarmony cons you should have on your radar. Keep in mind that depending on your situation, many of these cons may actually be things you like—and that's okay.
1. No instant gratification
The lengthy sign-up process we already talked about is on both sides of the pros and cons list for eHarmony, because it's all in the way you look at it. eHarmony isn't a swipe right and swipe left dating service. It's designed for singles serious about long-lasting relationships. And because of that fact, things are designed to move a bit slower than they do at other dating apps.
So, if you want to leap right in and be going on dates in like five minutes, you'll probably be happier with a different dating app.
2. Memberships are not inexpensive
We're not going to say that eHarmony is expensive because you should be investing in something as important as who you might spend your whole life with. However, we are also not going to say that it's inexpensive. The exact price of an eHarmony membership ranges somewhere from $40-$60 per month. Compared with some of the other dating apps out there, this is toward the top of the middle-tier range. However, when you factor in the value that you get (and that a slightly higher price point really helps to keep out people who aren't serious), it's not that bad.
3. The free trial is pretty limited
We've provided a link higher up in the article that automatically gets you an eHarmony free trial—which is awesome. However, it's worth mentioning that what comes with that for this app is a bit limited compared with the rest of the industry. Yes, you can see your matches, but their pictures are blurred. Yes, you can send messages during special events, but you will have to upgrade to regularly communicate. This shouldn't be that big of a deal for someone who understands the important of investing in their future, but it's certainly a negative to be aware.
4. There are no swipe-style features
Okay, this is one that's going to be a positive for some and a negative for others. The current dating app climate is pushing more and more toward swipe-style/show me as many people as fast as possible. Some people like this, but others find it exhausting and unhealthy.
If you want to be able to swipe for fast matches, you're not getting that with eHarmony. This used to be a feature they added about five years ago, but it has since been removed.