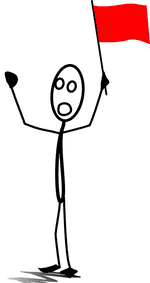 Sound the alarms! It's our online dating red flag series back with a vengeance. We're here to get you all the knowledge you need to find love without the extra headaches and hardships. If it's your first time with us in this series and you're new to online dating, welcome!
If you're a veteran, you know what you're in store for. This series is all about uncovering the red flags that you might find in a potential match when you're dating online. When you see these red flags, the majority of the time it should be a signal that you need to run for the hills because something is wrong.
Today we're talking about the guy or gal who has all of the right answers.
Fear of the Right Answers
Shouldn't we be looking for singles that have the right answers to our questions? The more they answer the way we like, the better it is, right? If you think the answers to these questions are both yes, we're going to need to hit you with a cliché phrase to wake you up. If something seems too good to be true, it probably is. We aren't huge fans of cliché phrases, but sometimes they say things much clearer than we ever could.
This is a touchy dating red flag because it's going to require some interpretation of things on your part. The good news, though, is that we're here to help and we'll teach you everything you need to know.
First, let's look at what we're not worried about. We don't want to be worried about someone who has a lot of the right answers and seems to be pretty perfect. These people do exist, and you would not want to discount someone just because you thought they were too good to be true. A lot of times this becomes an issue if you have lower self-esteem or if you've had some bad luck dating.
You might start to think that no one good exists out there and that every man or woman is inherently terrible and out to get you. Let's squash that now. You deserve to find love from someone great. These great people DO in fact exist. They are not always easy to find, but they do exist. Keeping that in mind, don't discount anyone that doesn't seem like a terrible waste of space.
What We're Looking Out For
What we are on the lookout for, though, is the person that has the right answer to EVERY question we ask. We're looking for the singles that don't seem like real people. The best way to spot this is with the more specific questions. If someone has the right answers to "how many kids do you want?", "what kind of movies do you like?", and "what are your life goals?", you shouldn't automatically assume they're trouble. There are going to be lots of people that link up with you on these bigger ticket issues.
Online dating is amazing because it allows you to find people that are like-minded much easier than bumping around a bunch of sloppy drunks at a bar. If you're brand new to dating online, it might seem weird to see so many quality matches in one place. This is why we are such big advocated for online dating, so don't run from everyone just because you see quality for the first time in a while.
The issues start to happen when people have the right answer for the very particular questions that are usually in response to something you've said or is in your profile. For example, let's say you have in your profile that you love cats, like to run 5ks, and only eat vegetarian. If a potential match starts telling you about their cat charity that they run on alternating Saturdays, so they have time for their 5k training and farmer's markets, you may want to slow down just a little.
AGAIN, we want to say that you shouldn't immediately discount someone just because they seem perfect for you. There could be someone that is that perfect for you and loves carrots, cats, and calf exercises. What we're looking for is a bit more than this.
Finding a Pattern
What we're really looking for is a pattern of the right answers or comments that are just too perfect to be real. Let's say we tell our friend from the above example that we're going to an air show this weekend and then going to read a romance novel at our favorite park. If they come back and talk about how they've loved airplanes since they were a kid, but only because they would see them flying while reading 50 Shades of Grey at the park every weekend, we may be stumbling on a red flag.
If you start to suspect that someone might be giving you the right answers, you can start paying closer attention to what you say and how they respond. You might even try dropping some more obscure facts about yourself and seeing if they have something to say about that. If they have something for nearly everything you like, that might be a date you want to miss.
Why This All Matters
The reason we're telling you to look out for this is because people that always have the right answers are lying to you. They're making up whatever it is they have to say to make you happy. Usually, this means one of two things.
One, they could be just trying to get something out of you. This could be trying to appease you to get sex or something like that.
Two, they could have some severe self-esteem issues or some mental problems that you don't want to touch with a ten-foot pole. There is nothing wrong with having self-esteem issues, but it's probably not the right time to be looking to bring someone else into that equation.
If you see this red flag, poke around for some more information. If it starts to develop into a pattern, test them with some very obscure facts about yourself. If the pattern continues, find someone else to talk to and cut your losses. Online dating gives you access to thousands of people. There' s no need to waste your time on someone who is going to lie to you about who they are and what they're all about.