So, should you join a dating site at 20 years old? Technically, you should finally be out of that phase where everyone tells you that you're too young for things, right?
Unfortunately, it's something you're probably going to deal with for the rest of our life or at least until you're in your 70s. If you've told anyone older than you that you're thinking about online dating, you've probably gotten mixed results.
Some of those people probably were excited for you, and some of them probably told you that you were too young to resort to something like online dating.
Here's a spoiler. One of these groups of people is right, and the other is horribly, horribly wrong. In this blog, we're going to dive into the question of whether or not you should join an online dating site at the age of 20 and show you once and for all who is right.
Why People are Telling You You're Too Young
Most of the people that are telling you that you're too young to join a dating site are probably anti-dating sites no matter what your age is. It's just easier to tell you it's because you're too young than to explain things. Parents, ever use this trick with your kids? We bet you have. In online dating's early days, it was for the socially awkward and those that weren't capable of finding love on their own in the "real world."
Today, though, online dating is just as popular as going to the bar (which you can't do yet and drink) or going out in public to try and meet someone special. The difference is that it's much more effective and saves you a lot of time, money, effort, and heartache.
Why Shouldn't You Get These Benefits
If online dating is so great and affords people all of these awesome benefits, why shouldn't you be able to take advantage of them just because you're 20 years old? The answer is that you SHOULD be able to take advantage of them.
The people that are telling you that you shouldn't join a dating site because of your age are wrong. We bet if you were 30 years old they would probably tell you not to join because it's full of weirdos and creepy people.
A lot of people like to shoot things down that they don't understand or have had a bad experience with themselves. Here's the thing. You're an adult now, and you are fully capable of making your own decisions. It's nice that people care enough to give you their input, but that does not always mean their input is correct.
You should 100% join an online dating site if you're interested in meeting new people. What's nice about dating in your early 20's is there is a lot less societal pressure on you to get married in the next 24 hours or whatever they try and say to single men and women in their 30s and 40s. Take advantage of the fact that technology is available and will make your dating life easier.
And yes, we are talking about more than just Tinder. You can use all of the mainstream sites and are going to see plenty of people in your age bracket or that are interested in your age bracket (some welcomed, some not so much).
How to Respond to the Nay-Sayers
Now that we've cleared up that it's completely okay for you to join an online dating site at the age of 20, we should talk about how to deal with the flack that you may get from other people. The answer is that you don't have to explain yourself at all. You're an adult now, and you get to make your own decisions. Some of these decisions people won't like, but that's just a fact of life.
If you're forced to respond to someone because they're important in your life, you can kindly thank them for their input, but let them know you are going to at least check things out. If they continue to be negative, you can thank them again and end the conversation. At the end of the day, it's your life, and if they want to be a part of it, they will have to realize that they have to accept your decisions whether they like all of them or not.
So, should you join an online dating site at 20? Heck yes. Go for it!
Best Dating Sites for 20 Year Olds
---
---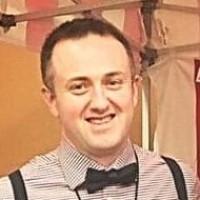 Written By: Jason Lee
Jason Lee is a data analyst with a passion for studying online dating, relationships, personal growth, healthcare, and finance. In 2008, Jason earned a Bachelors of Science from the University of Florida, where he studied business and finance and taught interpersonal communication.
His work has been featured in the likes of The USA Today, MSN, NBC, FOX, The Motley Fool, Net Health, and The Simple Dollar. As a business owner, relationship strategist, dating coach, and US Army Veteran, Jason enjoys sharing his unique knowledge base with the rest of the world.
Jason has worked in the online dating industry for over 10 years and has personally reviewed over 200 different dating apps and dating websites and continues to be a leading voice in the relationship and dating community, both online and in person.