SecretBenefits is a top-tier dating app built exclusively for Sugar Daddies and Sugar Babies to connect with one another. Though their features and user base are fantastic, you may be wondering, "Is it worth it, overall?" 
Don't worry, we are going to settle that debate, today!
The website works a little different for Sugar Babies and Sugar Daddies, so be sure to read through and get all the info you need to make a decision on whether you should use SecretBenefits to find your perfect match! 
Our 5 Favorite Perks of Using SecretBenefits
Signing up is free and very easy. You don't have to be a tech-savvy person to figure SecretBenefits out! 
Sugar Babies never pay a dime to use the site, which puts SecretBenefits above many other Sugar dating sites.
There is a photo verification system to prevent the upload of inappropriate photos, plus it helps keep catfish away.

Sexy pictures are completely fine, but we're talking about in-your-face, leaving nothing to the imagination right out the gate.
There are also "secret" photo albums where members can store their more risque' photos to share.

You can get your identity verified with a mod, which will make people feel much safer talking to you! 
SecretBenefits takes your privacy and financial safety very seriously. All charges are discreetly named and there are no recurring fees! 
Is SecretBenefits Worth It For Sugar Babies?
Absolutely!
Not only is SecretBenefits completely free for Sugar Babies, but the utilization of account and photo verification makes it a much safer site to find matches. SecretBenefits is super straightforward to use, which makes it a site Sugar Daddies love to use. You will definitely find tons of men to choose from! 
Is SecretBenefits Worth It For Sugar Daddies?
We think you're going to really enjoy this site!
SecretBenefits has done everything right to garner a large pool of Sugar Babies to choose from. Not only that, but the system of buying credits versus paying a monthly fee can save you money and keep your activities very discreet.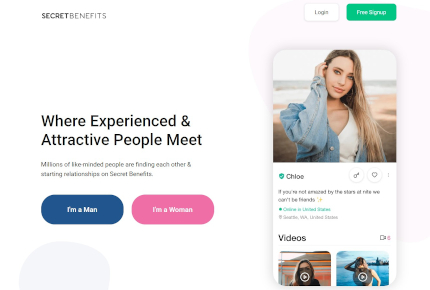 Places SecretBenefits Could Improve
There is no option to download an app for searching and chatting on the go. That being said, you can use the website for a mobile-friendly option (through your browser, just not a dedicated app).
There is no wealth verification, which is available on alternative Sugar dating sites.
There is no built-in video chatting feature.
There aren't as many search filters as you see on similar sites.
Are The SecretBenefits Credit Bundles Worth The Cost?
SecretBenefits doesn't charge any monthly fees to access all the features of the site. Instead, Sugar Daddies can buy credits that are used to unlock unlimited chatting with a Sugar Baby, secret photo albums, private video albums, and incognito browsing. 
The premium features cost around 10 credits a piece, which means the bundles have more than one purchase worth of credits within them. You can even purchase up to 1000 credits at a time!
We love that the more you buy the cheaper they get. So, a small bundle of credits costs $0.59 per credit, while a large bundle only costs $0.29 per credit.
If you plan to take your time looking through matches and interacting with a handful of people at a time, the credit system can be way cheaper than other dating apps with membership fees. However, if you are a "numbers game," kind of player and want to interact deeply with every single match you see, it definitely could get a bit pricey!
SecretBenefits Resources You Need to See
If you are reading through this worth it page and thinking to yourself, "I want to know more about these features," then you will definitely be interested in these additional SecretBenefits resources! Take a look through any of these articles for more information about what SecretBenefits has to offer! 
Is SecretBenefits Worth it – The FAQs
What is a Sugar Baby/ Sugar Daddy?
Sugar Babies are women, usually under the age of 35, who are interested in a mutually beneficial relationship with an older man.
Sugar Daddies are older, usually wealthy, men who offer their wealth, skills, and life experience as a perk to maintain a relationship with a stunning, younger woman.
Is SecretBenefits Just About Finding a Sexual Partner?
Not at all. Many of the Sugar relationships garnered through SecretBenefits are about companionship and having someone to learn new things with.
Is SecretBenefits Worth it For Women On The Fence About Sugar Dating?
SecretBenefits is a great place to begin a Sugar Baby journey. You can use the entire site for free and only communicate with Sugar Daddies that have verified accounts and photos. That will keep you much safer as you test the waters! 
Is SecretBenefits Cheaper for Sugar Daddies Than Other Sites?
It is definitely dependent on the way you use the site. If you buy thousands of credits a month, it could be a bit pricey. However, most users spend less a month on credits than you'd pay for a monthly membership on similar sites!
No way! SecretBenefits only ever charges you for credits you choose to purchase. There are no recurring fees or sneaky charges to worry about! 
Getting Started With A SecretBenefits Free Trial
After all is considered, we definitely think that SecretBenefits is worth a try. Whether you are a Sugar Baby looking for a Sugar Daddy or vice versa, there are so many features for you to love. But before you sign up, we have a gift for you – a free trial! 
Ready to give SecretBenefits a try? Follow our link and give it a try for free!