For Christian singles, it can feel like a real challenge to find a faith-based partner. And if you're here with us today, you probably feel like you've already exhausted a lot of your options—church, singles ministry, friends, etc. Thankfully, Christian dating sites provide a unique way to meet other like-minded religious singles in your area (or around the country or world).
And when it comes to online Christian dating, you've probably heard of Christian Mingle. Maybe you heard about it on a commercial or from a friend at church. But is Christian Mingle worth it? Is Christian Mingle a good dating site? Is it worth your time, money, and investing your emotions?
Well, grab your popcorn and take a seat because we're going to answer all of those questions today!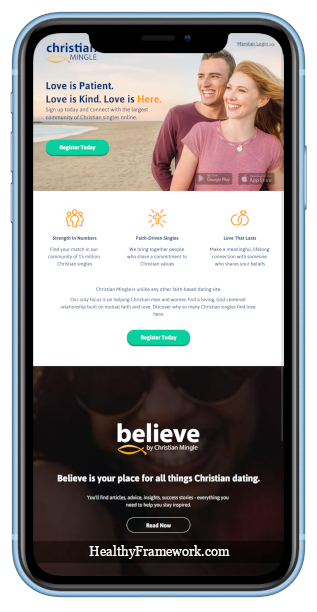 The Easiest Way to Get the Best Answer
The single greatest way to determine if Christian Mingle is worth it is to test drive it yourself. And, what's awesome, is that Christian Mingle offers a free trial where you can actually start to search through matches, create your profile, and test out many of the features that come with a premium account.
If you'd like to take a few minutes and check things out now, we've included a link to the free trial below for your convenience. You will eventually need to upgrade to a premium account to initiate conversations, but this is an incredible way to determine if it's worth it. Check it out now!
Is Christian Mingle Worth the Money?
One of the greatest things about the Christian Mingle dating app is that it's one of the least expensive options out there. A premium membership right now is under $15 a month. What this means is that getting your money's worth is a lot easier than it would be with a more expensive dating app.
But just because Christian Mingle is less expensive doesn't automatically mean that it's worth the money. To answer that question, you have to compare the price of a membership with the features and perks you get for that.  
Here are some of those highlights:
15 million + Christian singles with accounts
Highly regarded as the industry leader in Christian dating since 2001
iOS (Apple) app, Android app, and computer desktop options
Focus on important faith-based issues and denomination considerations
So, is Christian Mingle worth the money? In our opinion, absolutely yes. Even if the membership were more expensive, we'd still think that it's worth it, especially for faith-based singles.
Is Christian Mingle Worth Your Time?
The next thing that needs to be addressed when determining the worthiness of Christian Mingle is if it's worth your time. More specifically, here are the questions we look at:
Is Christian Mingle easy to use?
Is it easy to match, message, and meet singles?
Does it take a long time to get signed up?
Is the dating app user-friendly?
While we are always advocates for dedicating and investing time into finding someone special, you shouldn't have to spend any longer than is necessary to find your faith-based love.
How does Christian Mingle stack up here? Really well. In fact, out of all of the Christian dating sites out there, it's probably the most user-friendly option out there. The sign-up process is in-depth enough to help you get quality matches, but not too long that it's overdone. And if you're not great with technology, you'll love how intuitive the apps and the desktop versions are.
Another checkmark in the win column here for CM.
Do the Results Make it Worth It?
The last piece of the puzzle when it comes to answering whether or not Christian Mingle is worth it is the results. A dating site can be easy to use and inexpensive, but if it doesn't help you find love—what's the point?
Here's the answer. Can Christian Mingle guarantee you results? Absolutely not. Can any dating site guarantee you results? No way, and if they do, they're lying. Everyone's results are going to be different. And as Christian singles, you know that it's not about finding someone to date that works, but it's about finding the match that God has in store for you.
With all that in mind, what we have to look at is if Christian Mingle creates an environment that produces results and gives you the tools to find that special someone.
The answer? Yes, absolutely! While we can't guarantee results either, we can guarantee that Christian Mingle has the matches, the features, and the user-friendly setup that can put you in a position to find the love you're looking for!
The Bottom Line
So, the bottom line here is that we 100% think Christian Mingle is worth it if you're looking for a Christian relationship. If you're not looking for a faith-based relationship, it's probably not going to be right for you. But if you want to find someone whose faith and religion are important to them, then you definitely want to give this site a try.
---
Additional Resources
If you're still on the fence about it, that's okay. While we still think the best option is to check it out yourself, you may be looking for some more insight and guidance. We've got a full Christian Mingle review that is a great next step if this is where you are right now.