Is it proper etiquette to throw a party for five years of marriage? How can you be creative with a traditional gift theme of wood? Should others give you gifts when you and your spouse reach the five-year mark?
There are quite a few unknowns. But there really shouldn't be, as who's to say when and how to celebrate your special occasion. We're going to do our best to provide answers to all of your questions, though. Whether you need to know how to plan a 5 year anniversary celebration for you and your spouse, or you're looking for ideas for another couple, you've come to the right place.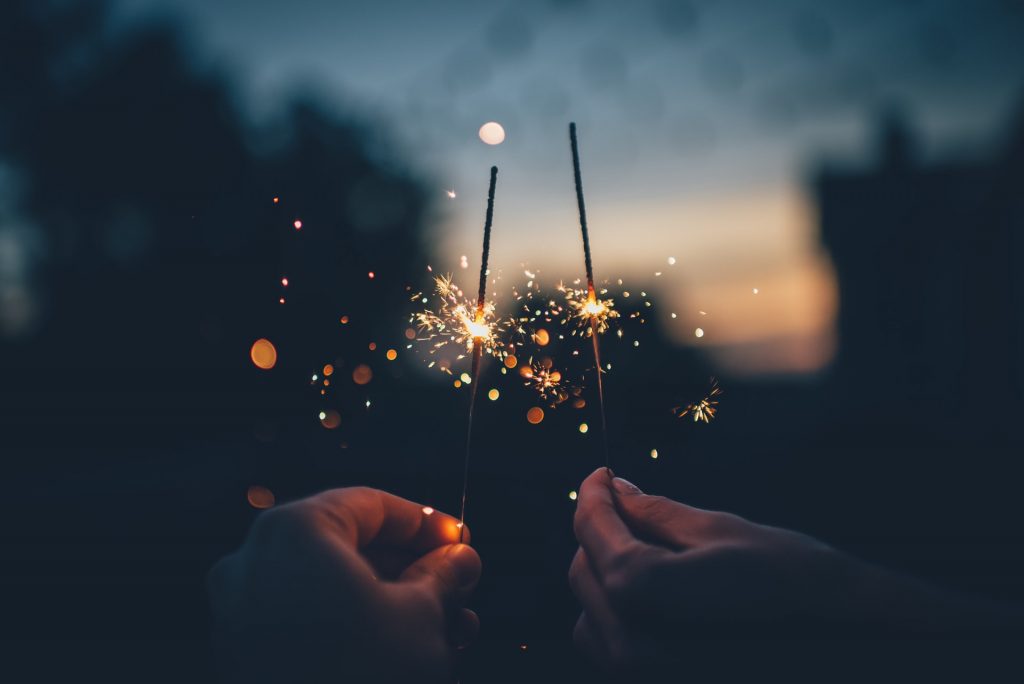 The Meaning Behind the 5 Year Anniversary
Just about 100 years ago, a 5 year anniversary would be a big deal. That's because marriage milestones were celebrated every five years. So a fifth would essentially be a first.
These days, we tend to recognize more events. Are you familiar with the monthiversary?
Anniversary Themes
There's no right or wrong way of doing things. However, when you're planning a 5 year anniversary celebration, you can turn to tradition as a jumping-off point. You'll find some themes and gift ideas attached to every year, starting with the first anniversary and paper.
Some of the themes are challenging on the surface. But when you dig deep and start letting your creative juices flow, you'll find hidden meaning and unique ways to celebrate based on traditional gift ideas. Wood is the suggested theme for five years. You've also got the daisy as the official flower and sapphire or pink tourmaline for the gemstones.
Anniversary Stone = Sapphire or Pink Tourmaline
Anniversary Flower = Daisy
Traditional US or UK Gift = Wood
The 5 Year Anniversary is Wood
Wood is indicative of a solid foundation, which is undoubtedly built after five years of wedded bliss. We've got a few ways to creatively incorporate wood into the mix with your 5 year anniversary plans.
But, again, nothing is set in stone. Pick and theme that's fitting, and go with it!
How to Plan Your Own 5 Year Anniversary Party
When you get to your 25th anniversary, the chances are that your children or other relatives or friends will take on the duty of party planner. Plans for your 5 year anniversary might be in your hands, though.
Now you could always keep it between the two of you and head off to an uber-romantic dinner or a weekend getaway. But if you like parties and want to throw one to share your happiness with others, why should you wait another five, 15, or even 20 more years?
A Getaway for Everyone
Better yet, you could set aside a big formal party for the time being and set up a remote celebration for your closest family and friends. Or maybe just invite your wedding party?
Remember, the theme for the 5 year anniversary is wood. So we recommend a glamping excursion. Stay in log cabins. Sit around a campfire. You can share a toast (or 10!) and not worry about driving.
Benefits of planning a 5 year anniversary celebration in the woods:
Cost-effective
Everyone can pitch in with food and supplies
Can accommodate small or large groups
Plenty of glamping locations across the country
Adults-only or all ages
No need to factor in décor, entertainment, etc. as they're already part of the experience
Of course, if you and your spouse aren't outdoorsy, you can always take the more traditional route. We've got a few suggestions to help plan a 5 year anniversary party.
Planning a 5 Year Anniversary Celebration for the Couple
There are unlimited possibilities for planning a 5 year anniversary party without going over the top as you would with a silver or gold milestone.
Whether you opt for a formal or informal event, you'll want to start with a bit of pre-planning. Don't forget to cover the bases with:
Budget
Guestlist
Venue
Theme
Décor
Entertainment
Gifts
We've got a go-to page with other anniversary party considerations that'll help you formulate a plan. But once you've got the budget and a general idea of how to proceed, you can let your imagination run wild.
Party Under the Sun or Stars
If you want to go all-in with the wooden theme, we suggest an outdoor party. Whether it's in someone's backyard or you rent an outside venue, you've got a lot of room to play – literally.
You could have a large bonfire where you toast marshmallows. Play some games with oversized wooden dice. Or maybe a little croquet with those wooden mallets?
Details Matter
It doesn't matter if it's a large or small budget affair. All of the little touches will make the difference. Consider a buffet where you identify the dishes with wooden framed chalkboard and wine served from oak barrels? How about wooden toys or brain teasers as party favors?
The best events are the ones that stand out. So, embrace the traditional wood theme when you plan a 5 year anniversary celebration, and it's sure to be memorable.
Gift-Giving Etiquette for 5 Year Anniversary Celebrations
It's challenging enough for a couple to decide what to give each other for their anniversary. But if you're a family member or friend, are you expected to give a gift?
While we'd love to give you a definitive answer, the jury's out on this. Or, to be more accurate, we should say that it depends on the situation. For the most part, gifts are reserved for parties or significant milestones (like 25 and 50 years). However, if you feel compelled to give something to someone, regardless of the longevity, go right ahead. Generosity is always appreciated.
Address Gifts on the Invitations
We're not talking about a major milestone at five years. So, if you're the one planning a 5 year anniversary celebration, we suggest making life easier for the guests. Include information about the gift situation on your invitation – whether they're expected or it's a no-gift party.
And, if you're a guest and you weren't provided with any gift directive, don't hesitate to ask. If it's the couple throwing the party, it's trickier, though. It's probably best to get in touch with some of the others attending, so you're on the same page. When in doubt, though, it's better to be prepared than come empty-handed. A gift card tucked away in your pocket could do the trick.
However, if you're in the market for something special for a 5year anniversary, we've done the homework for you. Be sure to bookmark our 5 year gift ideas page, as it'll save you quite a bit of time.