Dating in the modern age is fun and less intimidating than you might think. No matter if you are new or old to meeting people through online dating, there are a few new tools that can powerfully add to create your best online dating experience possible.
Other than choosing one of the best dating sites in the USA that we've shared in our other guides – you'll want to prioritize finding a site with the features that will help you get results. One of the most effective tools to help you get to know potential matches is the new Video Date feature being offered with any eHarmony paid membership.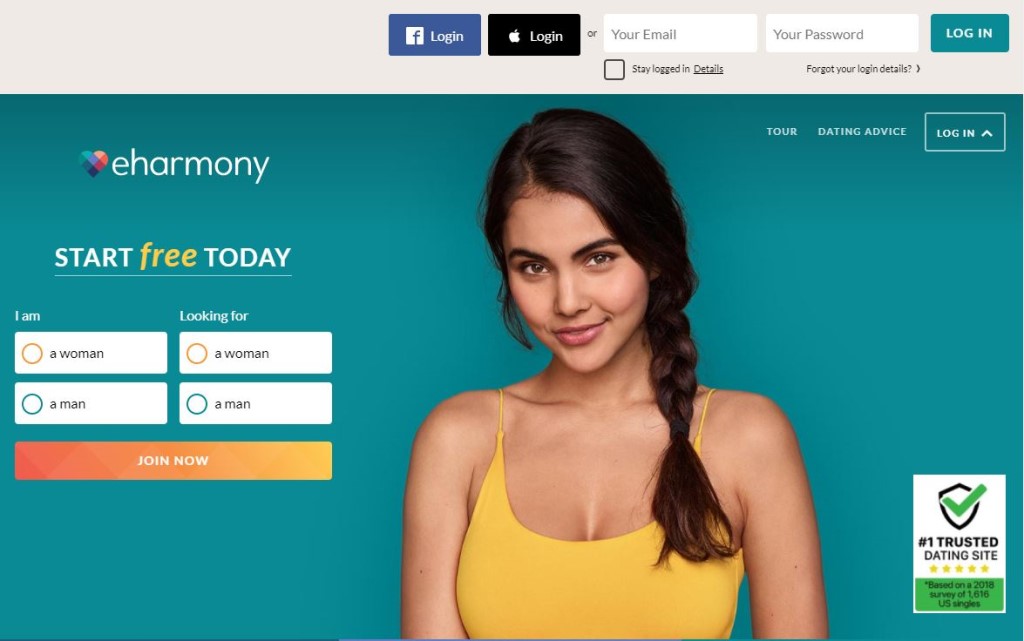 Video Date is a secure video chat through eHarmony's mobile app where you get to talk face to face with a potential match that you've already connected with through messaging or by requesting a connection through the user's profile. Read on to find out how to acquire the right membership, how to download the mobile app, and to learn a few quick tips so that you can have the best video chat experience. There are a handful of other online dating sites offering video dating – but eHarmony is definitely the king (or queen) of the Video Date.
Signing Up for A Membership
One caveat to obtaining access to any of eHarmony's communication features is that you will need to pay for a premium membership. Premium memberships are moderately priced and they offer several different subscription lengths – 6, 12 and 24 month options. Know that eHarmony memberships auto renew before the end of the current subscription term ends.
Sign up for eHarmony is pretty easy, minus the compatibility survey that is quite detailed and takes about 15 minutes to complete. Since a paid membership is required for access to the Video Date feature, you will be required to enter a payment method. eHarmony accepts many different payment types, including all major credit cards and PayPal.
Installing the Mobile App
In order to utilize the Video Date feature, you're going to need to download the mobile application to your phone or tablet. Navigate to your mobile device's application store – this will be either the Google Play or the iTunes store, depending on your device type. Downloading the mobile app takes under a minute. To sign into the mobile app, use the same login credentials that you would use to sign into the regular eHarmony website. You'll see Video Date in the messaging features of the app, with singles that you've already connected with.
Tips About the Video Chat Feature
Once you've connected with a potential match through chat, you can choose Video Date right from the messaging interface on the eHarmony mobile app. You can also request a Video Date from the user's profile with no previous connection, but this isn't recommended – you wouldn't just video call someone you've never spoken to offline, would you? Always try to connect through chats and winks; and then consider asking if your date wants to video chat with you.
Using eHarmony's Video Date is always a better experience if you have a good internet connection. Make sure that your mobile device is connected to a wi-fi network with reliable internet, so that your video call has the best quality available. Also, remember that this is a person that you are just meeting "in person" and therefore you should follow the same dating etiquette you normally would – dress nice, be ready to chat and give them your full attention; and don't give out too much personal information until you verify that you can trust this person.
If you're ready to check out eHarmony's premium online dating community, then sign up for a free trial membership: click the link we've provided below to get started in a few simple steps. If you like the site, upgrade so that you can have full communication features and gain access to Video Chat.
Get Started Now!
---
Some Additional Resources
If you're looking for some more information on eHarmony, we've got a lot of great resources that can help. Whether you're looking for the price of an eHarmony membership, an honest eHarmony review, or a breakdown of the eHarmony free trial—you're in luck. Our team works hard to keep these resources up to date, so that you can make the most informed decision about your online dating plans.