Sure, love knows no boundaries. But finding someone who shares the same views on life as you do that also lives in the same city or state is big. And if you're a Christian single looking for a faith-based relationship in Florida, you're right where you need to be.
In this guide, we're going to take a look at Christian dating in Florida. We'll look at the best places to find love in the Sunshine State, what the dating scene looks like for singles in the south, and offer some helpful tips to get you started.
Christian love is alive and well in Florida! Let's get you plugged into the scene right now.
The Best Places to Find Christian Singles in FL
Wouldn't it be nice if there were a way to search for single men or women who live in Florida, are in the same age bracket as you, and share the same religious beliefs? You can! Enter online dating. Thanks to the robust search and matching algorithms that come with the top dating sites, you can find singles who match your exact wants and needs. No more guessing if someone shares the same views as you or is single or not.
Best Christian Dating Site for Florida Singles
| Rank | Site | Free Trial Link | |
| --- | --- | --- | --- |
| #1 | eHarmony | Free Trial | Best Overall for Relationships |
| #2 | Christian Mingle | Free Trial | Best for 100% Faith Focused |
| #3 | Zoosk | Free Trial | Best for More Casual Dating |
| #4 | Higher Bond | Free Trial | Best New Christian App |
| #5 | Christian Cafe | Free Trial | Best Christian-Owned Site |
| #6 | SilverSingles | Free Trial | Best for 50+ Aged Christians |
Other Options for Christian Dating in Florida
Church – Florida is situated right in the southern tip of the Bible belt. What this means is that there are going to be a lot of churches that are often filled with plenty of quality singles. You'll see in the stats we've posted below that Florida was 4th for the most congregations in the state in the last U.S. Religious Census.
Volunteering – One of the easiest way to strike up a conversation with someone new is by volunteering! If the event is put on through the church, the chances are high that most of the people there are going to be Christians. You'll have to do a little work to find out who is single and who isn't (another reason we really like online dating so much). If the event isn't put on by the church, realize that not everyone there is going to be a Christian.
Christian Events – Florida is home to a lot of major Christian events like conferences, retreats, and even major concerts like Rock the Universe (Night of Joy was cancelled by Disney World back in 2017).
Florida Christian Dating Stats
According to the U.S. Religious Census (2010), there were 15,611 religious congregations in the state of Florida. Fast-forward a decade, and that number most likely has increased. This was good for the 4th most in the country behind Texas, California, and North Carolina, respectively.
According to the Pew Research Center, 70% of adults in the state of Florida identify as being religious. Here's the breakdown by denomination:

Evangelical Protestant – 24%

Mainline Protestant – 14%

Historically Black Protestant – 8%

Orthodox Christian – Less than 1%

According to the same study:

64% of adults in FL believe in God; absolutely certain

18% of adults in Fl believe in God; fairly certain

53% of adults in FL say that religion is very important in their life; 25% say it's somewhat important

35% of adults in FL attend religious services at least once a week; 33% say they attend once or twice a month

56% of adults in FL say they pray daily; 15% say they pray weekly
Tips for Success with Christian Dating in Florida
Take advantage of online dating – Long gone are the days when online dating was considered odd or strange. Today, thousands of quality Christian singles in Florida use apps to make meaningful and lasting connections.
Be open about your beliefs – When you first start talking with someone, talk about your faith. Ask questions. See where you both stand on the issues. The cliché that you shouldn't talk about religion on a date is silly and certainly doesn't apply to Christian singles in FL.
Don't compromise – Know where you stand on your religious beliefs, and what you're comfortable with. No matter what, don't compromise. Stay true to yourself and to your faith.
---
---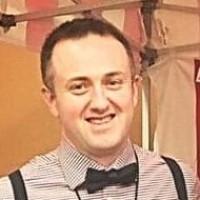 Written By: Jason Lee
Jason Lee is a data analyst with a passion for studying online dating, relationships, personal growth, healthcare, and finance. In 2008, Jason earned a Bachelors of Science from the University of Florida, where he studied business and finance and taught interpersonal communication.
His work has been featured in the likes of The USA Today, MSN, NBC, FOX, The Motley Fool, Net Health, and The Simple Dollar. As a business owner, relationship strategist, dating coach, and US Army Veteran, Jason enjoys sharing his unique knowledge base with the rest of the world.
Jason has worked in the online dating industry for over 10 years and has personally reviewed over 200 different dating apps and dating websites and continues to be a leading voice in the relationship and dating community, both online and in person.