With each new year there are new pressures and struggles to find the love that will be the final piece to our puzzle. Though it is important to remember that you don't need a spouse to be a happy and fulfilled person, we know that life can feel a lot easier with a great partner at your side. So, if you're ready to advance your dating game, you should know that online dating is one of the most full-proof ways of finding the best partner for you.
Not every dating app or site is made equal, so we've compiled the 5 best dating apps for 2021. Whether you are looking for someone with your same religious background, commitment choices, or really anything else, these are the top choices for the new year.
1. eHarmony – Best for Finding a Committed Partner
Uses a complex matching algorithm to ensure the singles you see are the top picks for you.
Results in more marriages and happy relationships than any other app
Focuses on long-term commitment over quick dating and hookups
Why is eHarmony one of the best dating apps for 2021? – eHarmony is one of the most well-known dating apps for a reason. Their high-quality matching algorithm makes finding singles that vibe with you on an emotional and spiritual level easy. And that is something we could all use in 2021.
---
2. Christian Mingle – Best for Singles Looking to Find Fellow Followers of Christ
Let's users search for partners based on religious denomination and belief
One of the most intuitive interfaces of any modern dating app
Amazing customer service and moderation teams
Why is Christian Mingle one of the best dating apps for 2021? – Christian Mingle will always be a top dating app because the ability to match with a partner that holds the same faith is incredibly important to many people. Couple that with their consistently updated platform, Christian Mingle will be just as successful in 2021.
---
3. Elite Singles – Best for Business-Minded Singles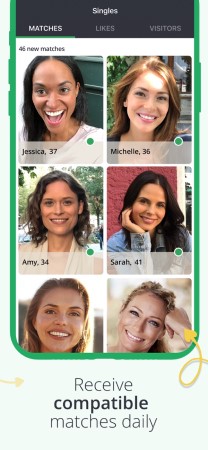 Over 80% of their users are college educated
Hugely popular with over 2 million monthly users
Fantastic search and filter system
Why is Elite Singles one of the best dating apps for 2021? – Education and motivation are important aspects in a partner. Especially when the world is in such an odd time. Elite Singles is perfect for talented professionals who want to find a partner that meets their high expectations.
---
4. Silver Singles – Best for Mature Singles with Established Lives
Great for singles over the age of 50 looking for commitment
Easy-to-us app with a fun approach to online dating
Smart, algorithm-based matching
Why is Silver Singles one of the best dating apps for 2021? – Singles over 50 are more susceptible to Covid-19, so online dating is especially important for them. Silver Singles offers a modern place for old-school daters to meet and fall in love without the risk.
---
5. JDate – Best for Finding High-Quality Jewish Singles
Moderators are some of the best in the industry
Access to expert tips on dating and safety
A fantastic and safe place for Jewish singles to meet
Why is JDate one of the best dating apps for 2021? – JDate's fantastic moderation and safe dating environment make the app one of the most desirable for 2021 dating. It is crucial to stay safe in a world of turmoil, and JDate can offer that!
---
What's Most Important for a 2021 Dating App
Great Filtering Options – If we have learned anything in 2020 it is that we need to be careful about who we let into our lives. There is some darkness out there that none of us should have to see. Now, if only we could get filtering options like, "covid denier," or, "anti-masker."
Top Notch Moderation – As people get restless and online trolling grows and grows, we will need apps that have great mods to keep users in check. 
A Free Trial – Times are tough and we are basically all broke, so free trials are going to be a big selling point for 2021 dating apps.
---
How Does Covid-19 Affect Online Dating in 2021?
Just like we've seen over the last few months, Covid-19 will make it basically impossible to safely meet new people in 2021. That is why online dating is going to be so important. These apps will give you a place to socialize romantically and keep yourself healthy and appropriately distanced.
---
Tips to Choose the Best Online Dating App in 2021
Shop Around – There are great options out there and they almost all offer some form of a free trial. So, dip your toes in a few places and see what fits!
Focus on Your End Game – Whether you are looking for marriage or a one-night-stand, there is a dating app out there for you. 
See What Users are Saying – There is no review like and honest review. If you are between a couple sites, take a look at the user reviews and see how other people feel about the interface, amenities, and more. Just take the reviews with a grain of salt. Some people might just be bitter that a date didn't end well. 
Read our Reviews – We have a large list of dating site reviews and comparisons, so be sure to take a look at what we found before paying for any memberships. 
---
Is it Safe to Date Online During Covid-19?
The regulations regarding public safety vary from country to country, state to state, and even city to city. However, the one place it is definitely safe to meet new people is online. Online dating is a great way to safely interact with other singles. Then, if you are ready to take your dating to the real world, just be sure to follow all the safety protocols laid out for your city and state.
Pandemic restrictions are emotionally draining on everyone, but you don't want to risk your health or anyone else's health to go on a date that could have/ should have been done remotely.
---
Written By: Brandi Brown
Brandi Brown is a daytime copywriter and nighttime novelist. Her projects range from marketing content and commercial scripts all the way to narrative poetry and short fiction. Her debut novel, Bleached, is set to release in 2021.