Online dating is scary. Let's not kid ourselves. We used to preach not to even give out our names to a stranger. Now we're putting our pictures and entire lives out on the internet in hopes of finding love and not a parade of creeps!
Don't run away just yet! We're not trying to scare you away from online dating. We just want to be real with you and let you know we understand that it takes a lot of courage and some would say craziness to step off the ledge and into the world of online dating. Because of all of this, we thought it would be important for us to put together a complete beginner's guide to the world of online dating.
Maybe this is your first time? Maybe you have been dating for a while, and it's just going terribly? Maybe it's been a few years, and you need to knock the rust off before you get back out there? Wherever you are on your journey, we are here to help.
Take your time and read through this guide. We hope it helps you as much as these tips have helped other daters in the past.
How Online Dating is Different
If you think at all that online dating is anything like real life dating, you're both terribly wrong and absolutely correct. What? Sorry for confusing you right off the bat, but is a bit of a confusing question. The good news for you, though, is we're prepared to take you through it step by step. All of this information will prove to be invaluable to your success in online dating.
First, let's talk about the ways that online dating and dating in person are similar. Once you get to the point where you meet the person in real life, it becomes exactly the same. Once you take that awkward stroll out of the car, walk up and ask if they are so and so, and then begin your first date, everything becomes the exact same as it would in "normal" dating. You'll get the same butterfly feeling, the same sweaty palms, and the same nervous excitement.
Everything before that awkward walk for the car, though, is totally different.
The Amount You Know About Each Other
With normal dating, you usually don't know much about the person when you go on your first date. You may know some general information about them if you've met before (maybe at work, church, or school). You'll know what they look like and at least some basic information about them.
With online dating, though, you are going to know WAY more about someone than you might after going on several dates. Why? Well, online dating profiles are chalked full of every deal-breaker, juicy question, or intimate detail that you might want to know about someone. They'll usually have filled out how many kids they have, if they've been married before, what religion they are and how important it is, what their favorite things are, what they like to do…everything.
This has its benefits, and it's stranger sides to it. The plus side is that it helps you not to waste your time. You're not going to go out with someone who has something so blatantly against what you like or what you believe. You'll have already seen that from their profile and moved on to someone who aligns more with what you're looking for.
On the flip side, you may end up passing over someone that is great just because they don't 100% match up with your checklist. There may be something that you could normally deal with, but because there are so many options online, you decide to gloss over that person. Is this a bad thing? It could be. It all depends on what the issue is. If it's something major like different religions and that's important to you, then this is a big win. If it's something like they love to hike and you hate snakes, then it might be something worth reevaluating.
The other thing that you need to be aware of is that not only are you going to know all of this information about them, but they are also going to know all of this information about you! Again, this is a double-edged sword. Personally, we think it's an overall positive the more you know about each other. We just want you to be aware that this is going to be significantly different than with normal dating.
The Sheer Number of Options
If you've never dated online, you may think it's tough to find qualified matches to date. You may be considered slumming it even or lowering your standards. This is because you may not be at a lot of places where eligible singles are going to be. But with online, you may run into option overload! You may be shocked on day one at how many eligible singles there are in your area.
This is awesome, but you need to make sure you don't let this overwhelm you. Don't try and talk to every single person under the sun at once. Take your time and talk to a few people that you are interested in. If it doesn't work out with them, the rest of the matches are most likely going to be there still.
We've seen too many people go nuts trying to talk to 50 people at once and they end up missing out on someone great because they are spreading themselves too thin. Remember, quality over quantity when it comes to matches.
The Ease of Approaching
For a lot of people, they struggle to get dates because it's tough to ask or they don't know if someone is interested or not or whether they are single or not. Online dating makes this WAY easier. First, you have to realize that everyone on the site is there because they are single and looking for someone special. This makes things way easier, to begin with. Imagine being able to walk into a bar and knowing that everyone there is single and looking.
Second, online dating sites typically have functionality that allows you to "flirt" in a very passive-aggressive manner. This means that you can go to someone's profile and click wink or poke or nudge or something like that. This lets the other person know that you are interested. If they aren't interested, no harm no foul. If they are interested, though, they can message you back or even wink/flirt back to give you the green light to shoot a message over.
You'll be amazed at how low stress this is. It makes letting all the people you are interested without you having to put yourself too far out there on the line.
How to Have Success
Having success at online dating is simple as long as you don't try and overcomplicate it. We're going to give you our best tips to try and get you started on the right track. If you follow these tips, we are sure that you're going to find that special someone you are looking for. It might not be overnight, but we know that you will find them.
Picking the Right Site
The absolute most important thing that you can do is pick the right online dating site. With so many options out there, we completely understand that this in itself can seem overwhelming. To help you out, we've put together a ton of honest and accurate online dating site reviews as well as our list of top online dating sites. We highly recommend you make one of these two pages one of your first stops when you get done with this guide.
While flipping through these reviews, we recommend that you keep a few things in mind. First, what kind of person are you looking for? What kind of site would that person be on? If you're looking for a classy person, they probably aren't going to be on jigglybuttsdating.com or something like that. Don't worry, that's not a real site we don't think at least. The point is that you're not going to find the person you're looking for unless you go where they are.
Secondly, you want to make sure that the site is current and has plenty of matches to choose from. The point of online dating is to have more options than you're used to. If it's the same ole same ole, or a bunch of outdated and old profiles that aren't active, you're not going to have much success. Check our reviews if you need to know how a site fares in this category. We create accounts and go in and do regular testing to make sure we tell you where things are good and where they're a bit scarce.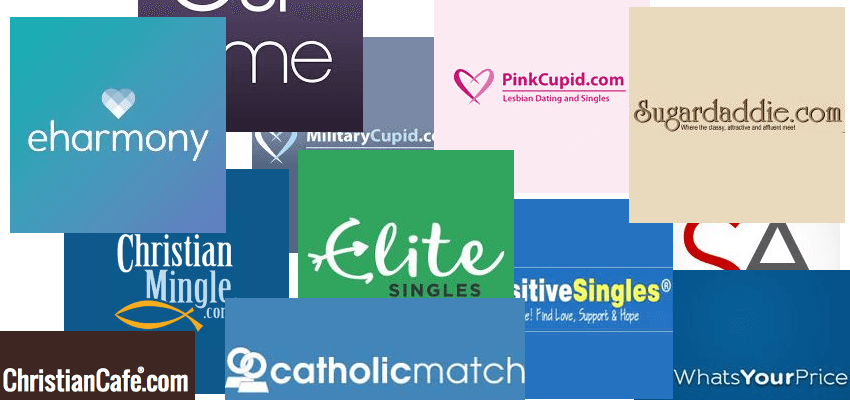 Make an Investment
Look, we totally get it. Free stuff is awesome most of the time. There's not a lot of things that are free that you won't see us jumping for joy about. The problem is that with online dating, you're going to be getting what you pay for. Or in this case, you will be getting what you don't pay for.
Online dating sites that charge a membership fee ALWAYS have higher quality matches, less flaky people, and an overall better experience. The good news is that joining is usually only a few bucks a month and could be the best investment you ever make. Remember, you aren't shopping for a new vacuum here. You're looking for someone that you may potentially spend the rest of your life with.
If you can't bring yourself to drop a few bucks a month on your search, you shouldn't expect to have much luck dating. We wish this weren't the case, but it is unfortunately so. We've heard too many horror stories not to recommend this. If you are still not sure on whether you're onboard with paying a few bucks a month for a site, check out our dedicated guide on Free versus Paid Online Dating Sites.
Creating Your Profile
This is one of the most important steps to your success in online dating. Here's the biggest piece of dating advice we will give you in this whole article (besides the safety stuff). Do not lie on your profile and do not misrepresent yourself. If you do this, you are setting yourself up for failure. Even if the person never finds out, you've just started a new relationship based on lies. You're also going to end up matching with people that aren't looking for you and at the same time miss out on people that are looking for you.
Fill out your profile by being completely honest. Sure, you can frame things in a great light, but don't go so far as to misrepresent yourself. You'll end up in a world of hurt.
With your pictures, make sure that you have several pictures that show quite a bit about you. Make sure that the pictures are an honest representation of you too. If you're "more to love," be proud of that. If there are parts of you that you don't like, own them. People are going to like you and love you for who you are. You're also going to have a terribly awkward first date when your date shows up and realizes they've been catfished.
What kind of pictures are the best? Look for ones that are clear, show you well, and show some of the activities that you like to do. Like to play at the lake? Get a picture of you at the lake. Like to read books? A cool picture of you with some books would be awesome. Use your dating profile pictures to show off who you are and give your potential matches more of an insight into who you are.
If you don't have current pictures or good ones, get a friend and go take them! There is NOTHING wrong with taking pictures specifically for your dating profile. In fact, we wish more people did this. It shows the most current and the best version of you there is!
Finding Your First Match
The great part about dating whether it be in person or online is that you are in control of the situation. You're not going to be forced to meet with someone like you might be in speed dating. You get to choose who you want to spend your precious time with. That being said, you need to take 100% advantage of this ability and make sure that you're not wasting your time with someone that you know is not going to work out or is bad news.
How do you do this? First, make sure that you have all of your priorities laid out BEFORE you start looking. Know what is a complete deal breaker, know what you prefer, and know what you're willing to give a little on. It can be tempting to look for someone who is 100% perfect, but we're here to tell you that doesn't exist. Is there someone out there that is perfect for you? Yes. Are they going to match up 100% with what your current checklist probably is? No chance.
Be ready to stick to your guns on the deal breakers (no matter how cute or how hot she is). But also be prepared to flex a little as not everyone is perfect. Know what is important to you BEFORE you get mesmerized by someone who is bad news for you.
The best way to find top matches for you is to take your time. Utilize the features and functions that the sites have for you. They're designed to help you get the best results possible. Each site's success depends on the success of the people using it. If everyone is finding terrible matches and no one is finding love, then the site is going to go out of business. This is why they spend so much money on their features and technology to help you succeed.
If a site recommends people to you, take the time to look at them. Don't just get lost in someone's photos. Remember, beauty fades, but obnoxious people are forever…or something like that. Take the time to really read through someone's profile to get a feel for who they are. If they haven't filled out their profile, this could be a red flag (unless they are brand new). Someone who can't commit to taking the time to fill out their dating profile might either not have the time for you or might not be taking this whole thing too seriously. This leads us to our next and mega important section…
Online Dating Red Flags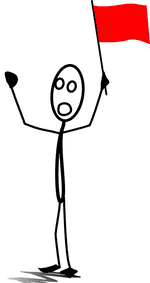 While we wish online dating was all rainbows and unicorns, it sadly is not. There are some bad apples hidden throughout the bunch that you need to do your best to avoid. With a few simple precautions, you can avoid a ton of these people and only spend your time with the quality matches.
To help you out, we want to point out a few of what we call red flags. A red flag is something that you see that should indicate that there may be a problem with someone. The operative word here is that there MAY be a problem. Red flags don't always mean that something is wrong, but they do mean you should investigate further or keep your guard up a little bit. If you see too many red flags at once, run for the hills.
Incomplete Profile
We touched on this a bit earlier but wanted to drive this home. If someone doesn't fill out their dating profile and they aren't brand new, it could be a red flag. It usually is the sign of someone who doesn't care, doesn't have time, or doesn't want to take the process seriously. This is someone you should expect to be flaky and possible not invested in the process.
WAY too Salesy
If their profile sounds like an ad for a used car, you may want to be on guard. If everything they do is "the greatest" and they are "the best" at every "awesome thing" they do, you may be walking into something that's not right. People like this may be overly conceited or may be trying to hide or compensate for something else. Make sure also that you're profile doesn't end up sounding this way. It could and should be a turn off to quality matches.
Unclear or Inconsistent Photos
People dating online should have great photos. They should also be current, accurate, and paint a realistic picture of the person you are looking at. If they don't fit all of these criteria, then they are misrepresenting the person you are looking at. Look for photos that look like they were taken years ago or ones where the person looks different in every photo. Also look for photos that are blurry or don't always show the full person or their face. People are crafty with their photos and think they can pull a fast one.
Too Good to Be True
This will serve as our catch-all red flag. If ANYTHING on their profile seems too good to be true, you need to have your guard up. We aren't saying that there aren't incredible people out there who have everything together, but we are saying that they are few and far between. This is why we say that you don't have to run away, but you at least need to have your guard up. Sadly, most of the time that things seem to be too good to be true, they usually are. This doesn't stop when it comes to online dating. It's up to you to protect yourself from this.
Remembering Dating Safety
We can't stress enough how important it is for you to be safe when you're dating online. In fact, we have actually put together a fully dedicated guide to online dating safety that is a must-read for anyone that is getting out there or has been out there for a while. The things that you have to look out for are real and always changing.
Should you be terrified of online dating? Not at all! But, you do need to be real and take some precautions to make sure that you're keeping yourself safe. Take a few minutes and read through our dedicated online dating safety guide. If you know someone who is dating online or thinking about it (maybe a friend, coworker, or family member), we HIGHLY recommend you send them the link to this guide so that they can make sure to be up to speed on what they need to do to protect themselves.
The Wrap-Up | Having Fun
Well, you made it to the end of the guide! That's step one on your journey. If you follow all of these tips and strategies, we can guarantee that your online dating experience is going to be much better than it would be if you didn't follow these tips. We aren't saying that everyone who reads this is going to find love overnight, but we are saying that you've now greatly improved your chances and are on the road to success.