In a state where the tourism and travel slogan is 'Virginia is for lovers,' one would think it should be easy to find other Virginia singles looking for love. However, the fact you're here may show that you haven't quite found that to be true (and that is okay)! In this guide, we're going to help you remedy that.
Our team is going to showcase an up-to-date list of the best Virginia dating sites, show you which cities are the best for singles, share some data on the singles community, give you some VA-specific dating tips, and send you out the door with some free trial links!
The Top 5 Virginia Dating Sites
---
Key Takeaways – Being Single in Virginia
There are 136,281 more women than there are men in the state of Virginia.
Richmond ranks 8th best city for singles in the U.S. Norfolk came in at 11th, and Virginia Beach at 33rd.
Harrisonburg showed the highest levels of search traffic interest for online dating apps and topics over the past 12 months.
With several military installations in the state, there are specific dating apps that cater well to military singles and those looking to date people in uniform (details below).
---
Which Virginia Cities Are Best for Singles?
Recently, our research team completed a really intensive and exhaustive study on the best and worst cities in the U.S. for singles. The team looked at 36 different data points and thousands of pieces of data for the 90 largest cities in the US. The result? A detailed ranking of which cities are best set up for singles.
How did Virginia fare? Rather well, actually! The city found itself on the list three times with one city in the top 10 and one just outside the top 10. If you want to see the full results, the link above will take you to the complete study. We've included a few of the highlights for you below.
Richmond, VA Ranks Top 10 (8th)
Ranked 8th overall out of the 90 largest cities in the U.S.

25th best for cost of dating category

28th best for quality of the dating pool

25th best for dating amenities
Norfolk, VA Barely Misses the Top 10 (11th)
Ranked 11th overall out of the 90 largest cities in the U.S.

51st best for cost of dating category

24th best for quality of the dating pool

13th best for dating amenities
Virginia Beach Ranks 33rd
Ranked 33rd overall out of the 90 largest cities in the U.S.

52nd best for cost of dating category

62nd best for quality of the dating pool

17th best for dating amenities
---
Cities in WV with the Most Internet Search Interest in Online Dating
Data is awesome. One of the coolest things that data allows us to see is which cities in the state of West Virginia have the most interest in online dating. These digital hot spots can be identified by looking at Google Trends data and search traffic volumes over the past 12 months. The city that came out on top with the highest level of interest was Harrisonburg, VA. But isn't that in a different state? Yes, but that area includes a lot of the cities and suburbs that go into WV. Because the study looks at major metropolitan areas, this is how the data shakes out.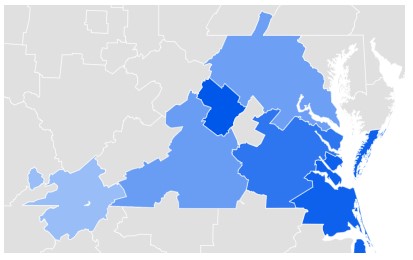 Harrisonburg VA – (100)
Norfolk-Portsmouth-Newport News VA – (92)
Richmond-Petersburg VA – (74)
Roanoke-Lynchburg VA – (41)
Washington DC (Hagerstown MD) – (39)
Tri-Cities TN-VA – (14)
Charlottesville VA
Bluefield-Beckley-Oak Hill WV
---
Dating Stats and Demographics – Virginia Singles
Knowledge is power when it comes to dating, and well, just about anything in life. To help you in your search for Virginia singles, we wanted to get you as much data on the community as possible. Below, we walk you through things like demographics, marriage stats, who has access to online dating, and even if there are more men or women in the state (spoiler, the ladies take the trophy here).
Total Population
Population in Virginia by Gender
There are 136,281 more women than men in Virginia
50.8% female
49.2% male
Overall Singles by Gender
50% of women in Virginia are single
47% of men in Virginia are single
Population in Virginia by Age
Median age = 38.3 years old (0.1 years older than the national average)
13.7% aged from 20-29 years old
13.7% aged from 30-39 years old
12.8% aged from 40-49 years old
13.3% aged from 50-59 years old
21.7% aged 60+ years old
% Households With Internet in VA
85.7% of households in Virginia have internet access (80.4% national average)
Source(s): Census.gov
---
Best Dating Tips for Virginia Singles
Use search parameters wisely. One of the coolest things about the best Virginia dating sites is the ability to sort through the thousands of singles quickly. As long as you take the time to figure out what you're looking for, this can really increase your chances of finding love. You can sort by things like location, religious preferences, age, what they're looking for, interests, and more!
Don't rely solely on the bar scene. Yes, we are partial to online dating, but not just because it's what we focus on. The bar scene can be great for some people, but it has its drawbacks. It can feel like a waste of time, can get expensive, and may only show you a small sliver of the Virginia single population. You can certainly use bars to find love, but don't be afraid to let technology work its magic.
Use specialty dating sites if needed. Norfolk is home to the largest Naval base in the world. If you're in the military or looking for military singles, you might have some luck at one of the top dating sites for military singles. Plenty of people in the military and looking for singles that fit this description are on all the mainstream sites we've recommended, so this isn't 100% necessary. All we're saying is that if you're looking for something super specific, you have options.
---
Free Trial Accounts to Try the Best Virginia Dating Apps