The Lone Star State doesn't need to be the lonely star state if you're someone looking for love. In a state with over 28 million people, there are definitely plenty of high-quality Texas singles ready to get to know you. In this guide, our experts break down helpful data on the singles community, a list of the best Texas dating sites, and provide several great resources to get you started on your love search today.
For those of you ready to get into the action right now, let's start with a list of our top picks (with some awesome free trials).
The Best Dating Sites in Texas
---
Table of Contents:
---
What Makes These the Best Texas Dating Sites?
Plenty of Texas singles in the major cities and outlying areas
Affordable paid memberships that deliver a ton of value
Easy to use mobile and desktop interfaces
Flexibility in searching features so you can find exactly what you want
Singles from all different age groups and walks of life
While bigger is better may be the motto in parts of Texas, it's only part of the equation when we're looking for the best Texas dating sites. Sure, we want to see a lot of quantity, but we also want to see quality. All of the best Texas dating sites have tons of singles, quality members who are active, and a management team that cares about you having success.
Whether you choose to use a free dating site or pay to upgrade, you should be getting quality service. Everything we have recommended here has been vetted, tested, and retested to ensure quality.
Key Takeaways About Dating in the State of Texas
Arlington ranks as the 9th best city for singles in the entire United States.
Laredo barely missed last place in the same study coming in at 87th.
Access to online dating in Texas is high with 89.2% of households in the state having internet access.
San Antonio had the highest levels of search traffic for online dating over the past 12 months.
Exactly 50.0% of the women in Texas are unmarried, whereas only 47.7% of the men are.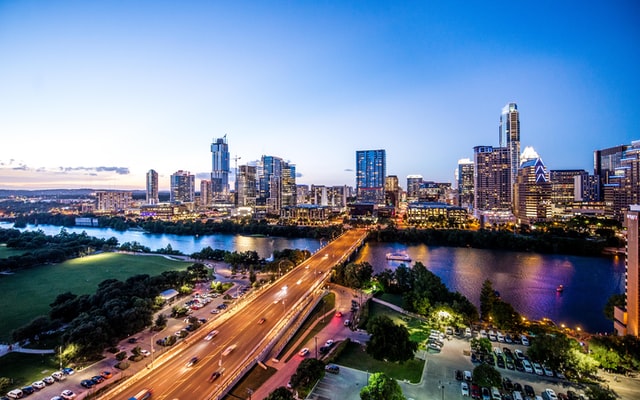 How Dating Stacks Up in Specific Cities in Texas
Did you know that a record-breaking 12 cities in the state of Texas made the top 100 in our list of the best cities for singles in the U.S.? Well, if you didn't, you know now! What's wild is that only one city made the top 10 and the rest are scattered throughout the listings. Here's a quick look at the cities that made it and the cities that are trailing.
The study looked at each of the top 100 cities in the nation over 36 different data points. Each city received a score in three categories that make up the overall score and ranking:
Dating Pool Score – This metric looked to capture the quality of the dating pool in each city. Examples of factors included are % of the population that are single, diversity of males vs. females, Google search trends for dating in the area, and the % of high school graduates in the city.
Cost of Dating Score – This metric aims to see how expensive it is to date in each city. Examples of included factors are cost of living index, average costs of dining out, movie tickets, cocktails, and gym memberships (to stay fit, of course).
Dating Amenities Score – With this category, the study looked at the available amenities for dating in the area. Some example factors include total number of entertainment locations, crime statistics, food and bar locations, and the Park Score index.
Arlington Cracks the Top 10 (9th)
78th in Dating Pool Score
9th in Cost of Dating Score
4th in Dating Amenities Score
Dallas Ranks 39th Overall
49th in Dating Pool Score
47th in Cost of Dating Score
38th in Dating Amenities Score
Fort Worth Just Misses the Top 40 (41st)
74th in Dating Pool Score
41st in Cost of Dating Score
22nd in Dating Amenities Score
Austin, TX Clocks in at 46th
15th in Dating Pool Score
72nd in Cost of Dating Score
48th in Dating Amenities Score
Lubbock Comes in At 50th Overall
40th in Dating Pool Score
13th in Cost of Dating Score
88th in Dating Amenities Score
Plano, TX is Close Behind at 56th
79th in Dating Pool Score
53rd in Cost of Dating Score
18th in Dating Amenities Score
El Paso Ranks 58th
81st in Dating Pool Score
4th in Cost of Dating Score
75th in Dating Amenities Score
San Antonio Towards the Bottom at 64th
57th in Dating Pool Score
19th in Cost of Dating Score
84th in Dating Amenities Score
Houston, TX Slides in at 69th
55th in Dating Pool Score
40th in Cost of Dating Score
73rd in Dating Amenities Score
Irving, TX Falls to the Lower Quarter of Cities at 79th
87th in Dating Pool Score
48th in Cost of Dating Score
32nd in Dating Amenities Score
Corpus Christi In the Bottom 10 at 85th
77th in Dating Pool Score
35th in Cost of Dating Score
82nd in Dating Amenities Score
Laredo Barely Escapes Last Place at 87th Out of 90
86th in Dating Pool Score
58th in Cost of Dating Score
78th in Dating Amenities Score
The full study on the Best U.S. Cities for Singles can be found here.
Is Dating Any Good In Texas?
While this is a wildly subjective question and the cliché "individual results may vary" is pertinent, we do want to share our opinion on the dating scene in Texas and let you know if it's any good.
In our opinion, dating in Texas is awesome for several reasons. First, with a population of over 28 million and nearly half of them being unmarried, the single's scene is going to be packed with options. Second, Texas is a wildly diverse state with a lot of culture with southern influence from the east, Hispanic influence from the South, and midwestern influence from the North. In a sense, it's a mini-melting pot within the melting pot of the US. How cute, right?
For singles in their late-20s and early-to-mid 30s, you'll be happy to know that the median age in Texas is 34.8, which is about 3-4 years below the national average.
And when it comes to dating amenities (a.k.a places to meet singles or take people on a date), it all depends on where in Texas you live. As you can see from our data study above, places like Arlington came in at 4th for amenities whereas places like San Antonio came in 84th. It doesn't mean you can't have success and have fun with a new match in San Antonio or the other TX cities that scored lower, but it's just not as ideal in some of the other cities.
Overall, we'd rate the dating in Texas as pretty good, but not the best, and heavily dependent on what you're looking for and where you live in the state.
What Texas Cities Are the Most Interested in Online Dating?
A really cool way to look at the online dating picture in the state of Texas is to find out which cities show the most interest. Even though there are thousands of singles in every city in TX, this is a neat way to get some insight into the single's scene. What our team did was pull the Google Trends data for the last 12 months for all cities in the state to see which metropolitan areas had the highest search traffic for online dating. Here are the results.
San Antonio TX – (100)
Tyler-Longview(Lufkin & Nacogdoches) TX – (96)
Houston TX – (84)
Dallas-Ft. Worth TX – (79)
Waco-Temple-Bryan TX – (77)
Austin TX – (73)
Corpus Christi TX – (64)
Harlingen-Weslaco-Brownsville-McAllen TX – (52)
El Paso TX – (34)
Shreveport LA – (27)
Abilene-Sweetwater TX – (20)
San Antonio takes the top spot with the most search traffic in Texas for online dating over the last 12 months. Surprisingly, the Tyler-Longview metropolitan area was a very close second with 96% of the level of traffic seen in San Antonio. The final spot on the podium goes to Houston, with Dallas-Ft. Worth, Waco, and Austin close behind.
Texas Singles – Dating Statistics
We tend to believe that the cliché "knowing is half the battle" is actually quite correct. Before you can start your search for Texas singles, it's probably wise to get to know what you're getting into. In the next few sections, our team of dating researchers breaks down all of the important information you need to know. We'll talk age, the number of singles, access to the internet, and a whole lot more!
Total Population
Population in Texas by Gender
50.3% women in Texas
49.7% men in Texas
Overall Singles by Gender
50.0% of women in Texas are single
47.7% of men in Texas are single
Population in Texas by Age
14.4% aged from 20-29 years old
14.3% aged from 30-39 years old
13.0% aged from 40-49 years old
11.9% aged from 50-59 years old
17.8% aged 60+ years old
% Households With Internet in TX
89.2% of households in Texas have internet access
Source(s): Census.gov
FAQ – Texas Dating
What is the number one Texas dating app?
The number one Texas dating app of this year is Elite Singles. This is especially true if you live in one of the bigger cities in Texas like Dallas, Austin, San Antonio, Ft. Worth, or Houston. If you live in one of the suburbs of the major cities, this recommendation is also true. If you do happen to live out in sticks, you may have better luck on a TX dating app like Zoosk that has more options to choose from. Best recommendation, though, is to use the free trials and search both to see who is available in your area.
Do these Texas dating sites work on mobile?
Not only are these Texas dating sites great to use on your computer, but they also have great mobile apps as well. If you want to find love on the go, you're covered whether you use Apple, Android, Google, Windows, or most any other provider out there. Finding love shouldn't mean you have to stay home and can only connect from a desktop.
Can I use these Texas dating apps for free?
The best thing about quality online dating sites is that you can usually give them a test drive for free. All of the Texas dating sites we've recommended here come with free trials. How do you get a free trial? Glad you asked! All you have to do is click the links below, and you will automatically be set up with a free trial. The best way to find the best dating site in Texas for you is to test drive it yourself!